A Quick Trip To SLO And The Pacific Coast Highway – San Luis Obispo, California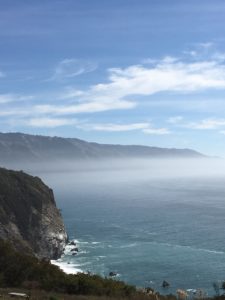 Let me just start by saying, this is NOT pronounced San Loo-ee.  If you pronounce it San Loo-ee, you WILL be corrected – by EVERYONE, even people who do not live there!  🙂  FYI, just say "SLO".
Now that the pronunciation is out of the way, let me also say, I am so behind on my blogging!  I am going to catch up!  Between traveling to spots where the internet connection pretty much does not exist, and then prepping for Thanksgiving, and then eating Thanksgiving (Tryptophan 🙂 ), and now with the start of everything Christmas, I am falling behind.  I did not even get a picture of Scout with her turkey this year, but here she is with her turkey leg.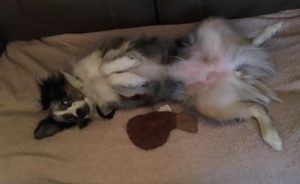 Unfortunately, turkey is just a piece of brown fabric now.
We only had one full day to spend in SLO, and we wanted to make it a great day.  Our first night in town, we wandered into the "downtown district".   SLO is very much a college town.  While it is not very big, it has everything you could want – shopping, restaurants, cute little parks, and lots of history.  We walked around downtown, and had supper at a local brew pub, which was pretty delicious.  One day, when there is more time, there are a few historic areas that I would like to go back and visit.
We had reservations to tour the Hearst Mansion on our one full day there.  The night before, when we returned from supper, a photo of the Pacific Coast Highway caught my eye.  We had talked about going on the PCH while we were in Monterey, but I was too busy loving my beach time, and we never went.  After a short discussion about which activity we may enjoy more, I cancelled our reservations at the mansion, and the decision was made to drive up the Pacific Coast Highway the next day!  So exciting!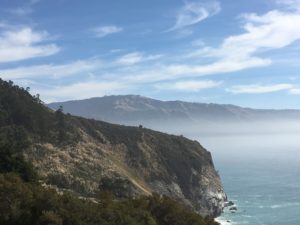 The Pacific Coast Highway is over 600 miles of one of the most beautiful drives that hugs the California coastline.  We drove about 250 miles on it, getting on in Morrow Bay, and taking it north to the Bixby Bridge.  It is possible to drive the entire length of it in a (very long) day, but you will not want to.  There is so much to see, and do, that it is best to just take your time, and go slow.  Not to mention, the road is way to dangerous and scary to go fast.  If you are looking for a quick drive from point A to point B, the PCH is not the road to take.  If you are looking for some of the most beautiful scenery you can see, this is the ticket!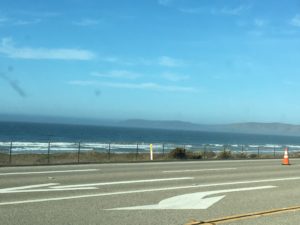 Morrow Bay, where we entered onto the PCH, is a small coastal town with beautiful beaches.  Its little harbor is sheltered by a naturally occurring sandspit.  It is a pretty popular spot for fishing and for bird watching, as well as for surfers, hoping to catch the perfect wave.
As we entered onto the highway, there were signs that read "RV's and Semi's not advised".  At first, as we drove along the beaches of San Simeon, past the Elephant Seal Rookery and past the Point Piedras Blancas Light Station, we did not understand why they were not advised.  Shortly after, we found out.  The steep hills and extremely sharp curves, and narrow lanes, make it very dangerous for anything larger than a pick-up truck.  Still, we passed many RV's.  I was scared for them.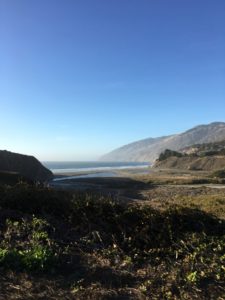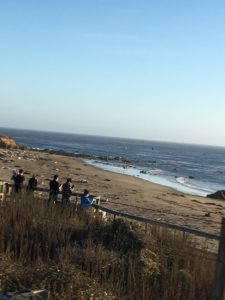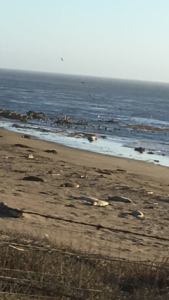 The rugged stretch of coast north of San Simeon, is known as Big Sur.  It is here that the narrow road begins its winding turns over the cliffs, offering some of the most breathtaking views of the coastline below.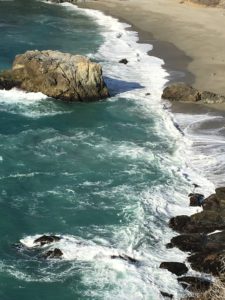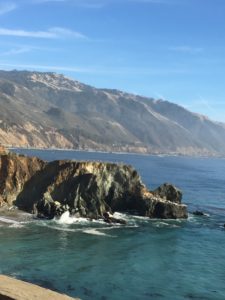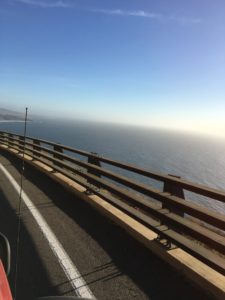 The drive took us through a couple of State Parks, one of which was Limekiln State Park.  Not only does the highway take you along the cliffs overlooking the coast, it also takes you through a redwood forest.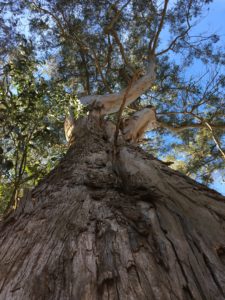 Back in the late 1800's, this area was home to 4 kilns that were used for lime smelting.  The redwoods were used to fire the kilns.  There is also a 300 ft Rock Shed that you drive through.  This stretch of the highway has a lot of rockslides.  As a way to protect the traffic and the road, a Rock Shed was built.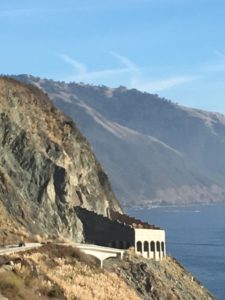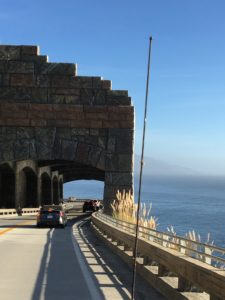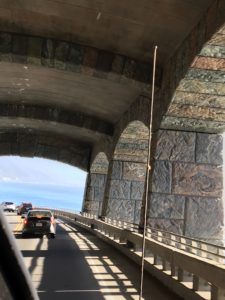 Another State Park that we went through was Julia Pfeffer Burns State Park.  We decided to pullover and do a little hiking in this area.  The coastline was really rugged, but there were a lot of trails leading both down toward the coast, as well as up into the forest.  We came across McWay Falls, which is an 80 foot waterfall that spills off of a granite cliff into the ocean below. Some of the ridges in this area are right around 3000 feet.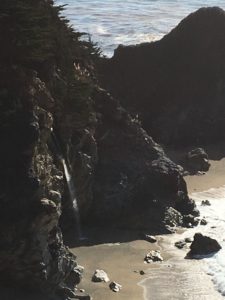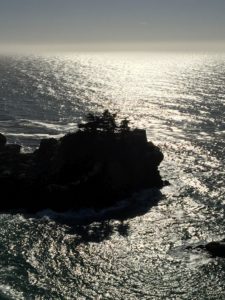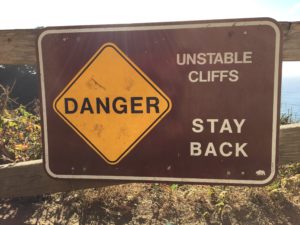 Point Sur Lighthouse sits atop a giant rock formation 360 feet above the ocean.  The light itself is still in operation, and they do allow tours of the lighthouse.  However, it is only open certain days of the week, and the day we went, was not one of those days.  I will just have to make another trip back, so that I can get a stamp in my lighthouse passport 🙂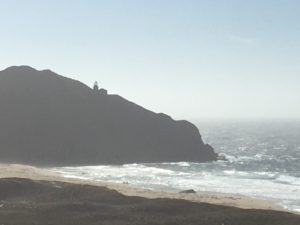 Bixby Bridge was our turn around point (once we went over it).  The bridge was built in 1931 and is one of the tallest single span concrete bridges in the world.  It is 714 feet long and is 260 feet above the ocean.  It is also one of the most photographed bridges in California, and the day we went over it, the traffic was completely backed up with people taking photographs.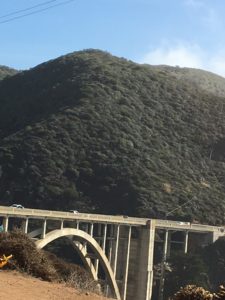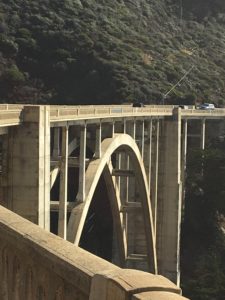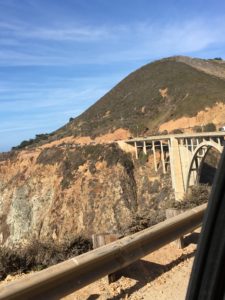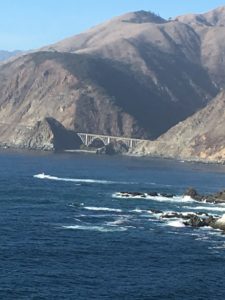 As we made our way back, the sun was starting to dip down.  The view of the rocks and cliffs as they stood out over the water, was just amazing.  Occasionally, we pulled over to get out and just look over the side and take some pictures.  It was truly one of the most beautiful drives I have ever taken.  I am sure the mansion would have been an interesting tour, but I am glad we decided to take a drive on the Pacific Coast Highway.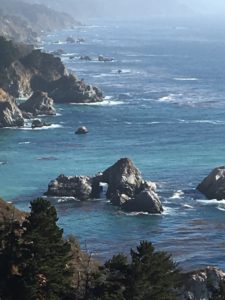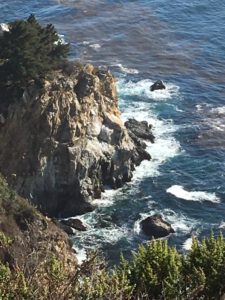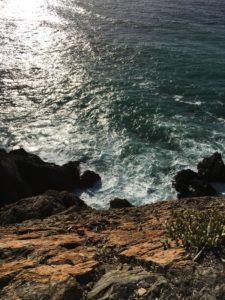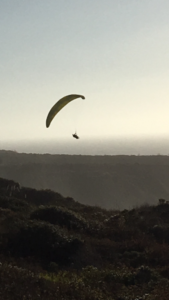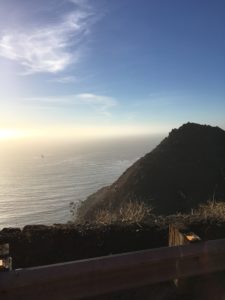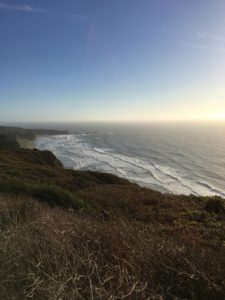 I had never been to California before.  I have to say, that I was pretty happy with my first visit.  Like any state, there are areas that I never want to venture into.  But, there are also a lot of really amazing places as well.  You just have to find them.  I would happily go back and re-visit any of the places I saw in California.  In fact, #7 on my Bucket List, is to hike the Pacific Coast Highway – at least a portion of it!