A Week At Milo McIver State Park in Estacada, Oregon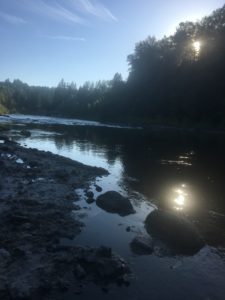 What a fantastic week!  Milo McIver State Park turned out to be the perfect get away for the week!  The weather cooperated the entire time and while the park was usually pretty full, it is big enough, with enough to do, that it never felt busy.  It was a week full of adventures, both on land, and on water.  There was so much to see and explore, that I ended up taking over 500 pictures during the week!  There was no internet connection, and cell service was spotty at best, adding to the peacefulness and relaxation of the week.  Sometimes it is nice to just break away from everything, and enjoy the beauty that nature gives us.  Read on for a glimpse into the week that Milo McIver State Park provided us with…
Campsites In The Park
I should start by saying, we were lucky to secure not only the campsite that we had, but, really, any campsite, for the full week.  The park was full most every day we were there, and we did end up getting the last spot available.  That said, our site was the perfect site.  There are roughly 40+ sites in the park, with 2 hike-in, group sites.  All of the sites are spacious and separated from each other by plenty of woods.  A lot of the sites have little trails out of them that lead into larger hiking trails.  Pets are welcome in the park, and the sites are large enough and secluded enough, that there was no need for leashes in the campsite (it is always a plus when our pups are free to do their own exploring).
During the day, the sun would peek in from the canopy of trees overhead in the campground.  The trees above allowed in enough light to warm the air during the day, but it never got overly hot.  At night, it provided extra cover, blocking out any light, and making it so dark and quiet, except for the crackle of the fire.  Perfect for a good nights sleep.
There are a couple of camp hosts on site in the campground, and they are very attentive to the campers.  They go around all day long and clean campsites, deliver firewood to the sites, and are always excited to just visit and tell you about their time at the park.  The rangers are also very available, and very friendly.  They do have an office near the park entrance, but spend a fair amount of time in and around the campground.  They proved to be a good source of information a few times during our visit.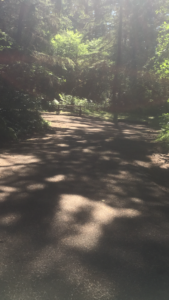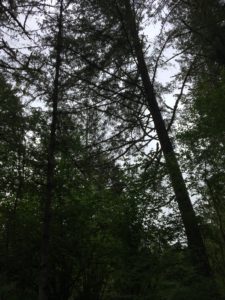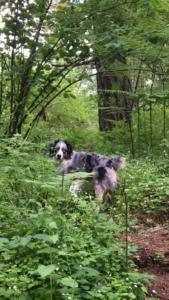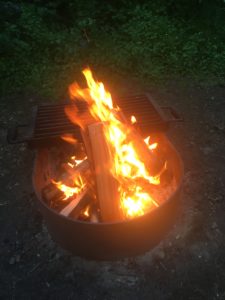 10,000 Steps A Day
One of my favorite things to do during the week, was hike.  There are so many hiking trails in the park, that every morning was a different hike.  Every hike was a different adventure.  Depending on the length of the trail, sometimes I could get a couple of different hikes in one day.  It was easy to average 12 -15,000, or more, steps in a day (I admit, I am sometimes a little obsessed with fitbit).  The intensity level of the trails are all different, ranging from easy to difficult, and everything in between.  I am in love with hiking there.  It is so easy to just lose yourself in everything around you.  There are trails that lead down to the river.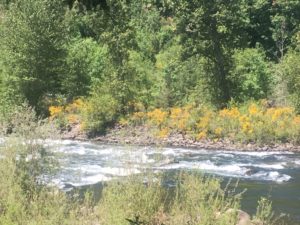 Trails that follow along the lake.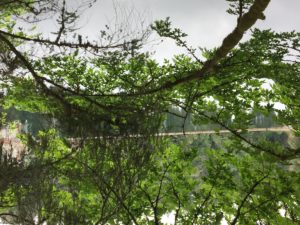 Trails that lead out to meadows.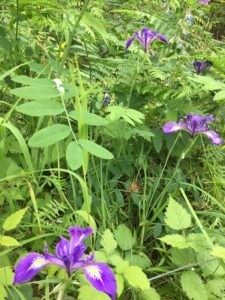 Trails that wrap around and lead into other trails.  There are interpretive trails, and trails with self-guided tours.  Most trails are horse friendly, so it isn't unusual to come across horse and rider while hiking along.
No matter which trail you pick, you are going to be rewarded with the chance to see some of the Pacific Northwests natural beauty.  This time of year, the wildflowers are coming out in bloom.  The park is littered with the different colors of Spring.  Everything from Columbine, to Daisies, Foxglove, Lupine, Wild Bleeding Hearts, and even the awful, invasive (yet pretty to look at) – Scotch Broom.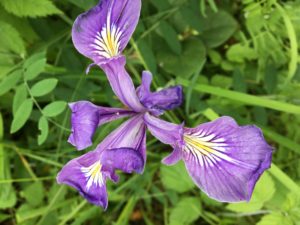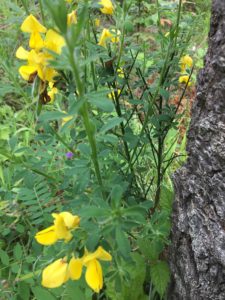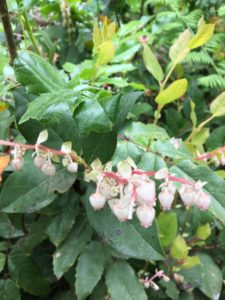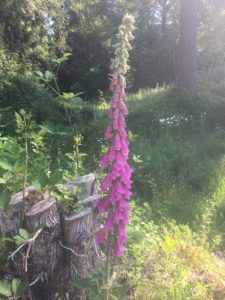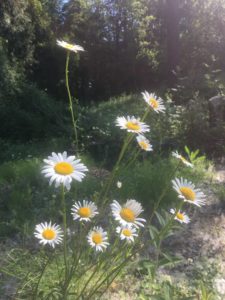 The trees are losing their cotton this time of year, and there are times that it almost looks like snow coming down, lining the paths and roads with soft, fluffy, whiteness.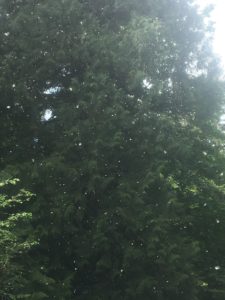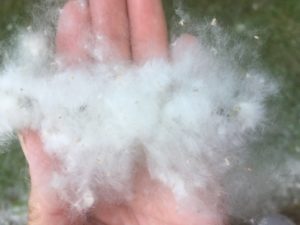 The trees of the Pacific Northwest have always amazed me.  There is just something perfect about the size they grow to, all covered in moss,  that makes them both eerie and beautiful, all at the same time.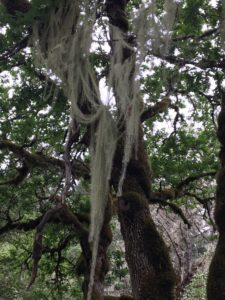 While out hiking, there is no shortage of wildlife either.  The park is littered in Blacktail deer.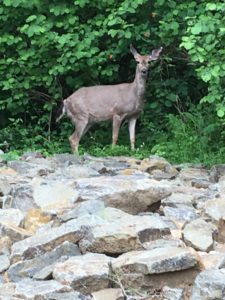 Every hike that I took, I saw deer, several times throughout each hike.  Rabbits were something else I saw everywhere.  Now, I have to admit, I knew rabbits ate their own poop.  I did not, however, know that they ate horse poop!  I guess when you think about it, horse poop is really just digested grass and hay, so, if you are a rabbit, whats not to like, right?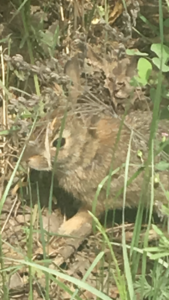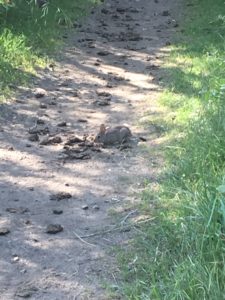 And, now we know.
Wander your way down to the lake, and you will get to see the baby geese out and about, as well as all of the ducks.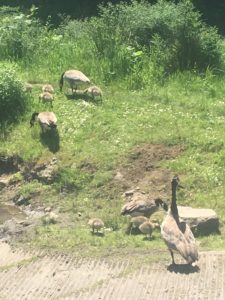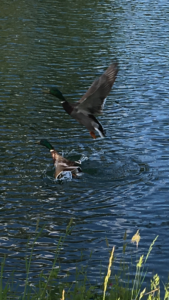 Fun On The Water
The park itself is surrounded by both Lake Estacada (pronounced Esta-Cayda) (I find I pronounce a LOT of places incorrectly), and the Clackamas River.  I had really been looking forward to kayaking the river, but after getting a good look at how fast it was moving, and the amount of rapids that are present right now, I wasn't sure if kayaking it was really a great idea.  One of the rangers happened by one day while I was at the river, and I asked his thoughts on kayaking it.  He told me that one of the best times of the year to kayak it are actually in the winter months.  He said the river is higher and it isn't moving as rapidly.  He suggested not kayaking it this time of year – unless you are an experienced white water kayaker.  Count me out.
Don't count everyone out though!  The next day I talked with a couple as they were getting ready to put in at the very spot I had been watching the day before.  He was experienced on that particular river, and she wasn't.  They were outfitted in wetsuits and helmets though, and didn't appear too awfully nervous.  I watched as they got in and paddled their way to the rapids.  Both of them made it through…the first set anyway.  I was off and hiking after I lost sight of them.  Maybe someday.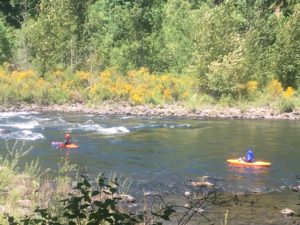 We decided we would stick with the lake this trip, and it was so much fun!  We had seen so many fish jumping in the lake, that we decided to go and purchase fishing licenses.  Let me tell you, an out of state fishing license in Oregon, is not cheap!!  But, Steelhead had just opened and the hatchery for Chinook is right there!  We decided it would be worth it, if we could get our limit.
We went out several times in the kayaks.  The lake is pretty big, and runs down along the park.  We spent several hours, each time, paddling around, dropping our lines in here and there.  Not gonna lie…..once we got our license, I never saw another fish jump.  Never got a bite, and never caught the elusive Steelhead.  I have never caught a fish in my life, and, if nothing else, I am consistent.  It was still so much fun!!!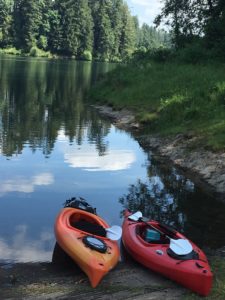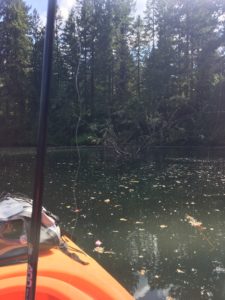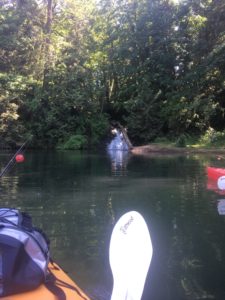 The Hatchery
I mentioned that the hatchery is right there.  If you take one of the hiking trails down toward the river, it will bring you to the Clackamas River Hatchery.  It is a pretty good sized hatchery, and you are free to walk around and wander all through it.  I hiked to it a couple of times by way of different hiking trails.  They have a visitor center that you can go in as well, to learn all about what they are doing.  They raise both winter and summer Steelhead, as well as spring Chinook.  The larger ponds were not filled when I was there, but the smaller holding pond was, as well as the ponds that are currently holding over 250,000 Chinook!  That's a LOT of salmon!!!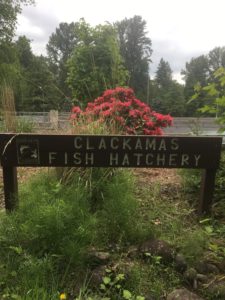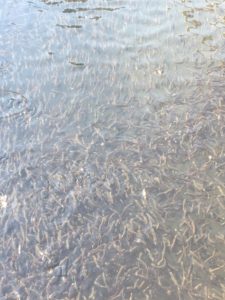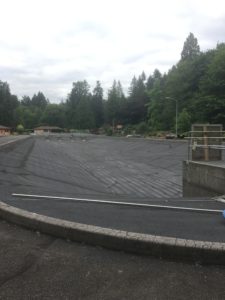 The week at Milo McIver was so much fun!  The whole week went by so fast.  I would love to go back one day and hike the trails that I didn't make it to (there is actually a self-guided bat trail that sounded fun!).  And, maybe, kayak that river!!  I hope you enjoyed the post about the park, and now that school is out (because, yes, it took me another whole week to get this posted), if you are looking for somewhere to camp, put Oregon on your list.  Milo McIver is a beautiful park, and Oregon is full of State Parks!  If you have an opportunity to visit, you really should!
Additional Pics – Because you can never take too many pics!!