Margarita Guacamole and Chips
Happy Cinco De Mayo!  The perfect excuse to make guacamole and chips – not that one needs an excuse!  Even if you just want to celebrate the beautiful spring weather with a bar-b-que and all the fixings, you need to include Margarita Guacamole and Chips!  It is an easy, fresh dip, with an adult twist to it that sets it apart from other guacamole!  Besides, who doesn't love homemade guacamole?  It is so much better than store bought!  And nothing compliments your homemade guacamole like a big bowl of homemade chips!  So take a few minutes to chop and dice, and get ready to celebrate!  ¡Es muy bueno!
What you will need:
5 large avocados (the riper, the better)
3 large Roma tomatoes
!/2 small onion
Cilantro (to taste, I use about 4 Tablespoons)
1 tablespoon garlic powder
2 teaspoons onion powder
sea salt (to taste)
Juice of 1 lime
1 shot Tequila (optional)
1 shot Triple Sec (optional)
Margarita Salt
12 small tortilla shells (flour or corn)
olive oil
Directions:
Heat oven to 350 degrees.
For the Margarita Guacamole:
Scoop 5 large avocados into a medium / large bowl.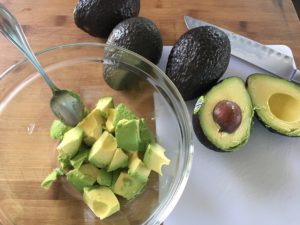 Dice 3 large Roma tomatoes – I like to remove the seeds, but you certainly do not have to.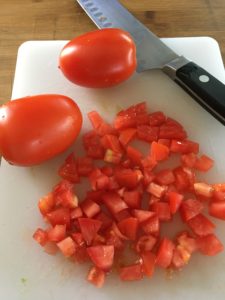 Dice about 1/2 of a small onion.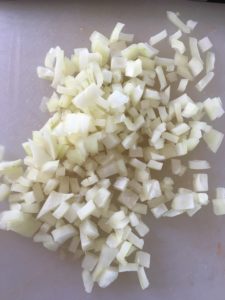 Add the tomato and onion to the avocado.  Using a fork, mix until well combined and avocados are mostly mashed.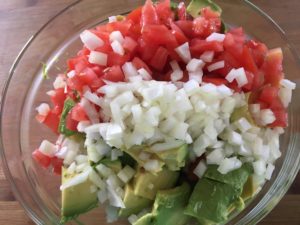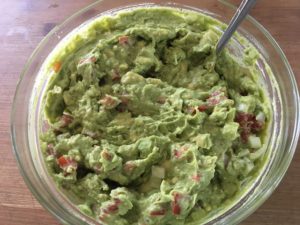 Add Cilantro – I really like Cilantro, so I use about 4 tablespoons.  If you prefer more, add more.  If you prefer less, use less.
Add 1 tablespoon of garlic powder.
Add 1 teaspoon of onion powder.
Add sea salt to taste.
Cut 1 lime in half.  Squeeze the juice of both halves into the bowl.  Save your lime halves. Mix until all ingredients are well combined.
At this point. you can serve it as is if you do not want the alcohol in it, or if you are going to be serving it to the kiddos.  It is still a really tasty guacamole as it sits now.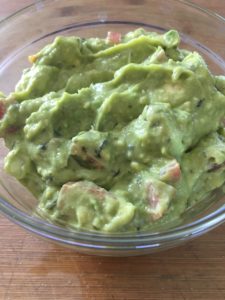 If you prefer to try the Margarita version, continue on…it only gets better!
Pour 1 shot of your favorite Tequila.  Add to the guacamole.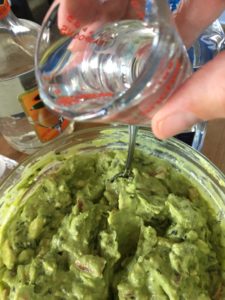 Pour 1 shot of Triple Sec.  Add  to the guacamole.
Mix well.
Using one of your lime halves and a clean bowl, run the lime around the rim of the bowl.  Dip the bowl rim into your margarita salt (I usually pour the salt onto a paper plate and just dip the rim of the bowl into it).
Carefully scoop the guacamole into the salt-rimmed bowl.  Add the other lime half to the side of the bowl for garnish.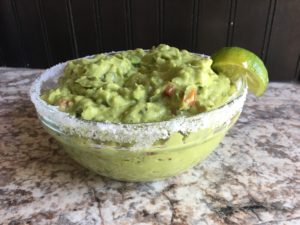 This is so easy and quick to make, you may never buy guacamole again!  Combine it with the homemade chips below, and you have an appetizer that is sure to be a hit!
Homemade Chips:
If you are one of those people who seem to always have too many tortilla shells sitting in your pantry, a good way to put them to use is to make homemade tortilla chips!  This is a quick and easy recipe, and best of all, it requires no frying!!
Lay your tortilla shells out flat.  Using a basting brush, brush one side lightly with olive oil.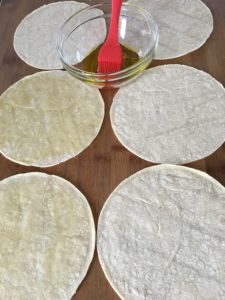 Once they are basted, stack them on top of each other (this helps get the oil onto both sides without using too much).  Slice them into 6 pie shaped wedges (they should be about chip size).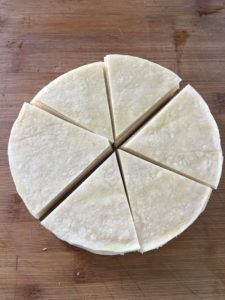 Arrange the wedges on an ungreased baking sheet so that they are in a single layer (if they overlap slightly, that's okay).  Sprinkle with sea salt to taste.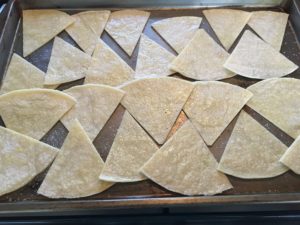 Place in a 350 degree oven for about 10 minutes.  They are done when they start to turn brown and crispy.  Remove from oven.  Let cool.  Place in a bowl and serve with Margarita Guacamole!!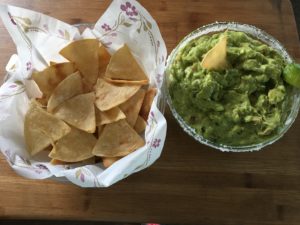 So whether it is Cinco De Mayo, Margarita Monday, Taco Tuesday, or you just need to have guacamole and chips, this is so quick and easy to make, you will want every day to be Margarita Guacamole and Chips Day!!
Eat, drink and have a great weekend!