Sparks Marina and RV Park – Sparks, NV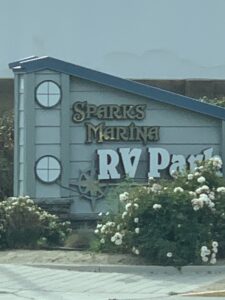 We recently spent 2 nights at Sparks Marina and RV Park.  We had just left Esmeralda RV Park (to see our review on Esmeralda, click here) and were en-route to the coast of California.  The drive was totally doable in one day, but our reservations for California were not until the 2nd, so this looked like a good stopping point!
Let's review Sparks Marina and RV Park…
Location:
Sparks Marina and RV Park is situated just about 5 miles east of Reno, and about 430 miles northwest of Las Vegas.  It is off of I-80, in the town of Sparks.
Getting to it was fairly easy.  The main road, Lincoln Way, is a double lane road and easy to maneuver.  The entrance to the park does sort of jump up suddenly, so be looking for it!
For those who enjoy spending time in Reno, this RV park is maybe as close as you will get without actually being in Reno.
The park itself does not sit on the marina.  The marina is across the road (but is within walking distance if you do not feel like driving to it).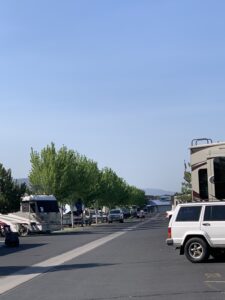 Sites:
This is a large RV park – they have over 200 sites!  I am not sure of exact numbers, but a little more than half of the sites are pull-thru.
When you first pull in, they stop you at the office (due to Covid restrictions, no one gets out of the vehicle), they hand you your site info and rules, and then show you to your site.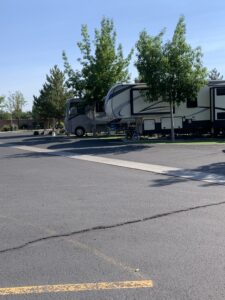 The sites are basically lined up in what seems to be just a very large, black top lot.  There is enough room to maneuver an RV through the park (and they will direct you in a golf cart until you are situated in your site).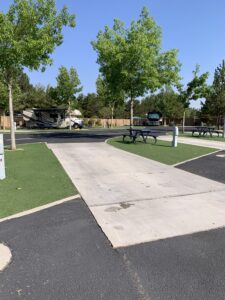 Each site is full hook up (I do not believe they have any sites that are less than full hook-up, but, I could be wrong).  The connections for hook-ups are right alongside the next sites picnic table.  Each site has a picnic table (we moved ours closer to our rig).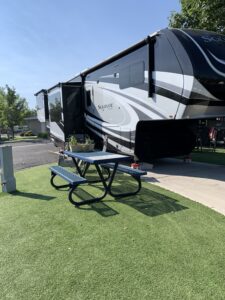 From pictures (and a distance), it looks as though each site also has extremely, nicely manicured grass…it is artificial grass.  This would not be an issue, except we travel with pets.  We will discuss this more when we get to the "pet" section of my review.  For those who do not have pets, but maybe like to put items around the site – like garden flag posts, or solar lights that push into the ground – just know that it isn't soil under the "grass", so those items are not going to push into the ground.
Each site is plenty big enough to accommodate any size rig.  There is an additional parking space alongside the site for parking your vehicle.  If you have more than one vehicle, you are able to park one alongside the road in front of your site.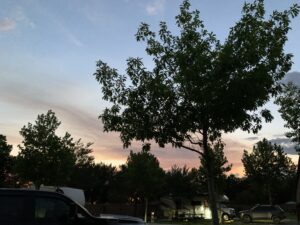 Noise:
There was not much noise at all at this park!  The sites are far enough from the main road, that you do not really hear any traffic noise – maybe the occasional siren or someone revving their car down the road – but for the most part, you don't hear any of it.
The people in the park (while we were there, at least) are also quiet.  We had no trouble sleeping due to noise!
Customer Service:
We called to make our reservations at this park (I think you can also send a request online), and the staff was very helpful.  While it wasn't last minute, it wasn't a lot of time in advance, and they were still happy to find us a site for the two nights that we needed.  They were also very helpful at checking us in – not all parks will direct you to your site, but this one does.
Amenities:
Pets- This park allows pets.  I am wording it this way, because in my opinion, there is a difference between allowing pets and being pet friendly.  This one allows pets.  This has been my biggest issue with this park.  When I sat down to write this review, I wanted to write it from a perspective that would be helpful to everyone who reads it – not just people with pets.  However, we do travel with pets, as do many people we know, so I am not going to just disregard this as something that doesn't affect my review.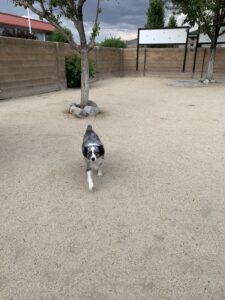 I mentioned earlier that each site has artificial turf.  They hand you a letter when you check in (of course, these letters get read after you are set up and situated) – it states that you are not to allow your pet to potty – in any form – anywhere in your site or throughout the park.  There are two pet runs at either end of the park, as well as one closer to the entrance.  If you are in the middle of the park (as we were), or, really anywhere other than right next to the dog run, this is almost an impossible request.  Not only is a dog going to "go" where and when it has to, but it is a long walk for any dog who has to go potty (especially puppies and older dogs).  The entire way to the dog run is on asphalt.  The temperature of the asphalt in the summer sun is around 145 degrees.  This is incredibly hot on a dogs pads.  If you have a smaller dog, you can probably carry them (and many people were), but it is not possible with a larger dog.  I absolutely understand the frustration of the park management as it pertains to people who are not responsible pet owners, but I really felt like this was an unreasonable request.  We abided by the rule, and so now I must give my thoughts on the dog run that we had to use.  This was an area that was fenced in, in the corner of the park.  It was completely filled with sand – no grass.  It was like standing in a giant litter box.  The smell was awful, and burned the nose when you breathed it in.  Instead of a small can that gets emptied regularly, they use a large garbage can that fills up and smells atrocious.   The smell of the sand stays on your shoes – days later!  It felt very unsanitary.  There is also no limit on the amount of dogs allowed in the run, so others may bring their dogs in while you have yours in there (this is an issue when you have a pupper that likes to do their business without an audience or another dogs nose up their butt).
It would make more sense to me, that if they are having such a problem with irresponsible pet owners, the park should just not allow pets, rather than allow them, only to complain and make it difficult for them.  Travelling can be stressful enough on pets at times, we don't need potty time to be stressful on top of it.  They couldn't even relax outside with us for fear of peeing on the fake grass.
Pool / Hot Tub – They do have a pool and a hot tub.  We did not use either of these, nor did I see anyone else using them.  They may still be closed due to Covid.
Laundry – They have a pretty good sized laundry room on site that is open 24 hours.  We also did not use the laundry facility.  I believe the machines are coin operated though.
Wifi / Internet –  They offer free Wifi / internet.  We signed into the Wifi on our phones, laptops and TV's.  On our last evening here, we were locked out of the Wifi and could not sign back in.  A message appeared saying if it is suspected that you are streaming, you will be locked out and denied future access.  No warning, no confirmation of streaming, nothing.  Just locked out.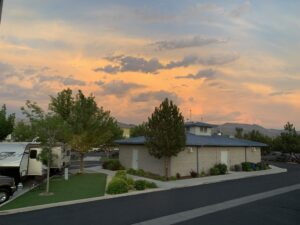 Bathrooms / Showers – There are several bath houses throughout the park.  From the outside, they appear to be pretty sizeable, but, again, I did not go in them.
Playgrounds:  We did see a few kids at this park, but not very many.  I also do not recall seeing a playground, but there may have been one closer to the office that I just did not see.  They do have a pool table and some other indoor activities in their Community Center, but I am not sure how "kid friendly" it is.
Price:
They do offer daily and long term rates at this park.
Daily rates for back in are about $49.00
Daily rates for pull thru are about $ 54.00
Monthly rates for either type of site, are in the $750 range (for 28 days)
**They raise all rates for the month of August.
**If you are Military, you can get a 10% discount.
We only stayed for two nights, and this close to Reno, this price range is probably to be expected.  It is about on-par with what a park this size would charge, in this area.
Things to do and see:
As I mentioned earlier, this park is only about 5 miles to Reno.  In Reno, there are many restaurants, shopping and casinos to visit – if that is your thing.  There is also a small riverwalk that you can walk along.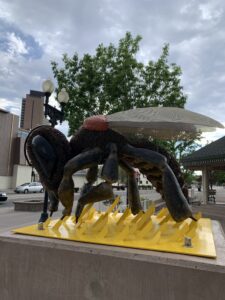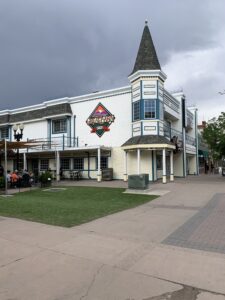 If Reno is too big and crowded, there is the town of Sparks.  We had dinner here the night we got in, and walked around a little bit.  It isn't a big town, but there are some nice places to eat, and a cute little main street to walk down.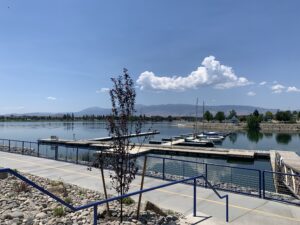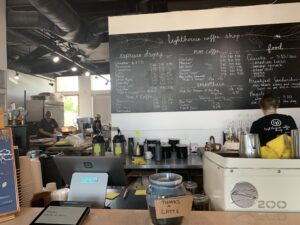 The Marina is right across from the RV park.  This is a nice little marina, with just a few small boats on it, but the park that surrounds it looks like a nice place to walk and relax a little.  We found a cute coffee shop at the Marina.
Cons:
My biggest con to this park was the pet situation.  I felt like it was totally unreasonable, and the way they present it to you, comes across as very rude and unfriendly.  Maybe if they had made the request in a more friendly manner, I still would have found it unreasonable, but would not have been as annoyed with it.  Presentation goes a long way when working with the public, and the way they present this information is NOT okay.
The Wifi is also an issue.  Yes, it is free – but that does not make it okay to just remove access to it because they "assume" you are streaming.  If streaming is an issue for them, they could politely ask that you not stream.  At the very least, make people aware before you just lock them out.
The proximity of the adjoining sites hook-ups to your own site – they are literally right next to the picnic table.  There is the possibility of your own connections being damaged or bumped if your neighbor isn't careful.  I saw one site where the neighbor had parked their truck with the tire just inches from the other sites sewer hose.
Would we come back again?
No, we will not be back to this park.
Do we recommend this park?
That depends.  If you do NOT have a dog, and you have your own Wifi, and you are good with the price, then yes, I think you would probably enjoy your stay here.  It IS quiet and the sites are nice and long (though close to the next site).
If you have a dog(s), absolutely not!  They may allow pets, but they are not pet friendly, and they make that known.
Overall thoughts:
I thought this park had a lot of potential – it was big, it was clean and it seems to be in a good location.  However, after just 2 nights here, it is obvious that they are not as welcoming as they appear to be online or on the phone.  Once they have your money, the welcoming feeling seems to go away.  Rules are in place for a reason, and I absolutely understand that.  However, how you relay those rules, makes all the difference.  They come across as bossy and unfriendly.  When someone pays that much money, be welcoming to them – RVers are the reason they are even able to exist.  Treat them as though you appreciate them (and their pets, if you allow pets).
My review rating for this park, is based on our experience here.  I try very hard to focus on the positive aspects of the places we visit.  I have tried to point out the positive facts here – especially for those who do not have pets.  Our pets are very important to us, and I am concerned with their comfort, as much as I am our own.  That said, the pet situation at this park, is the main reason I am rating it the way I am.
I am giving Sparks Marina and RV Park 1 Scout.  We personally will NOT be back, but, like I said, if you do not have pets, you might give them a try.  (If we did not have pets, I'd give them 2 Scouts).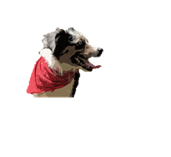 1 Scout = Would not recommend.  Will not be back.
2 Scouts = Will stay elsewhere if we are able, but if not, we would consider it.
3 Scouts = Would stay here again, if it is on our route.
4 Scouts = Will definitely be back, and would recommend.