Esmeralda RV Park in Dyer, Nevada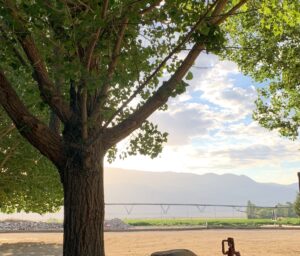 I have decided to add a Review section to my blog, just for RV Parks.  I find it helpful to read reviews from other people that have stayed at parks we may be considering, and hopefully, others will find my reviews helpful as well.  I will base my review from facts about the park (hook up availability, price, etc.), as well as our experience and how that affects my opinion.  Keep in mind, our experience may not be the same as yours or that of someone else, so always take that into consideration when making your decisions.  I will always be fair in my reviews.
That said, let's review Esmeralda RV Park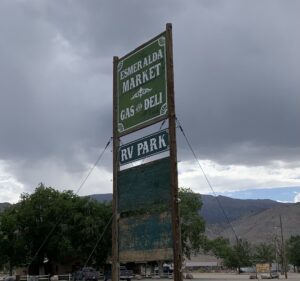 Location:
Esmeralda RV Park is located in Dyer, Nevada on Hwy 264.  It is off of the beaten path as far as places you may think of to stay in Nevada (like Las Vegas, Reno, Lake Tahoe).  If you are looking for a place to stay that is in the hustle and bustle of city life, this may not be the place for you.  If you enjoy the outdoors, don't mind driving a little bit to get to a full size grocery store, or if you are just looking for a place that is out of the way, but has full hook-ups, this may be a place you want to check out!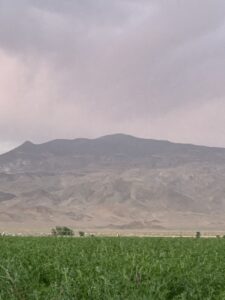 The surrounding area is primarily agricultural, so there are a lot of alfalfa fields (the rv park actually borders an alfalfa field).  It is also nestled in what they call Fish Lake Valley, in between two mountain ranges – the Silver Peaks and the White Mountains.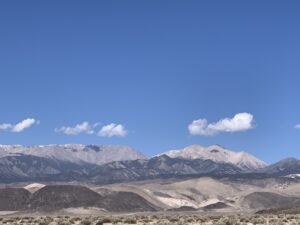 The park is easily accessible from the road.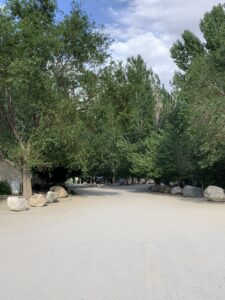 Sites: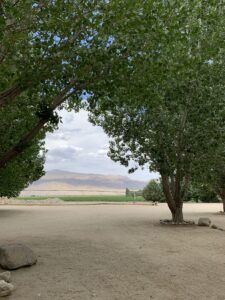 There are about 20 RV sites – so, it is not a huge park.  Most of the sites are pull-through sites.  They offer full hook-up sites, as well as what looked like some dry camp sites.   Most of the sites are well shaded, but situated so that the trees should not interfere with the RV or the slides.  They offer both 30 amp and 50 amp sites.  Each site has water and sewer.  They provide picnic tables at each site.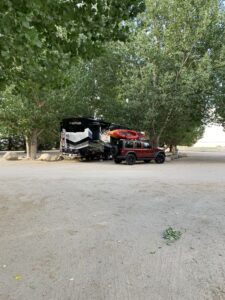 The sites are all gravel (there is no grass in the park itself), and our site was level.  The sites are long enough to pull the rig through, and park 2 vehicles (we parked a dually and a Jeep in our site).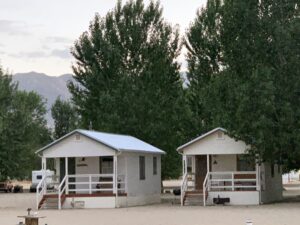 In addition to RV sites, they also offer cabins that you can stay in.  We did not go in the cabins, but we did overhear people say that they were "nice and cozy" inside.
Noise:
This RV Park is absolutely quiet!  The park was not full when we stayed here, but other RV-ers had come and gone while we were there.  We could not hear them pulling in or pulling out.  It appears that some of the sites have full time residents that live here, but they were quiet and kept to themselves  Even though it sits right off of the highway, you do not hear any of the traffic that goes by – and it is not a lot of traffic anyway!  The breeze, cool temps, open windows and absence of noise, made for great sleep at night!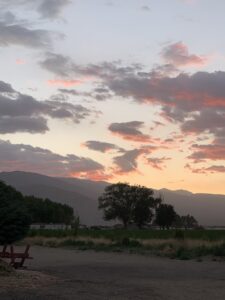 Customer Service:
They could not have been any nicer!  They were prompt at answering the phone (they will be going to online reservations in the near future), and some of the friendliest people!  They made sure our site was acceptable, and they made us feel very welcome!  Linda, the owner, went above and beyond what we would have expected, by spending half a day with us, going through the museum and sharing some very interesting stories of the area!  Honestly, everyone we met while staying here, was extremely friendly!
Amenities: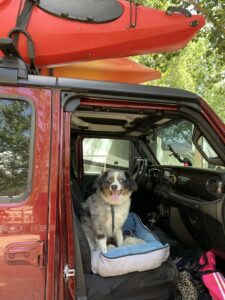 Pets – This park IS pet friendly!  Leash rules apply, and it goes without saying – pick up after your pet!  (Pet friendly is a big one for us, as we travel with dogs).
Laundry – They do have a laundry house.  It has two washers and two dryers and they are all coin operated.  The laundry house is kept very clean.  It is also located right amongst the RV sites, so you do not have to haul your laundry very far at all.
WiFi / Internet – They do have free Wifi, however, it was pretty weak, and I did have a hard time getting (and staying) online here.  They have a little cafe up at the office (Market), and it may be better up there, I'm not sure.
Bathrooms / Showers – They do have a bathhouse, however, I did not go inside to see what it was like.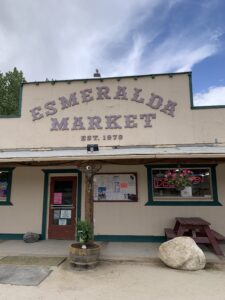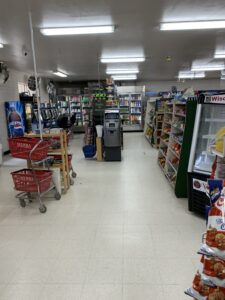 Additional Amenities –   Esmeralda RV offers an on-site Market and fuel station.  This is extremely convenient, and better than I had expected!  The fuel was reasonably priced (in comparison to other fuel stations), they offer both gas and diesel.  The market offers almost everything you would need (on a small scale), including fresh vegetables!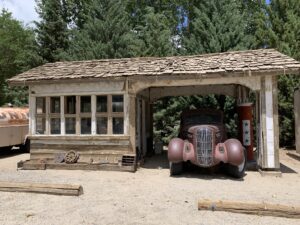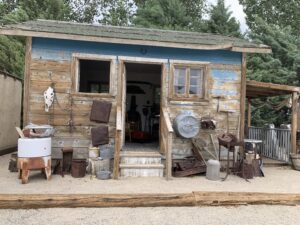 In addition to the Market and Fuel, they also have a Heritage Museum set up alongside the park!  I am going to do a separate post on this museum, as it was so very interesting, there is no way I can squeeze it into this review!  I do want to add though, that the owner of the RV Park (Linda), is the one who has created the Heritage Museum.  She has done a remarkable job with it (and continues to add to it regularly).  She was kind enough to give us our own private tour and spend several hours telling us all about the area!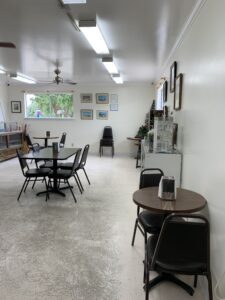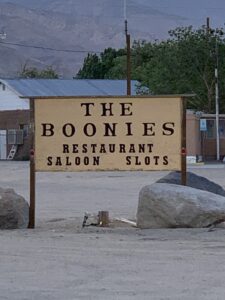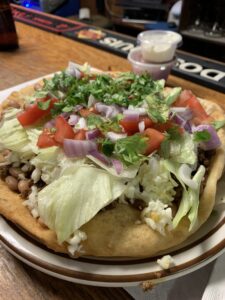 If you are too tired to cook when you pull in and get hooked up, in addition to the Market, which does have a little cafe (I am not sure of the cafe hours), there is also a saloon / restaurant right across the street.  We did go here the day we got in, and the atmosphere is very laid back and quiet – and the food was fantastic! (We had Indian Tacos and a burger).  The staff was very friendly and welcoming.
If you travel with children, this park IS kid friendly, however, there is no playground or pool.
Price:
30 amp sites are about $28 / night
50 amp sites are about $35 /night
We only stayed here a few nights, so the price was okay.  I'm not sure if they adjust the price for a long-term stay or not (by long term, I mean monthly).  We do tend to stay at a lot of locations, a month or more, especially if there are a lot of outdoor activities.  If the price is not adjusted for long term, I do feel it would end up being a little more pricier than I would want (just basing it off of other places we have stayed long term, what was available vs. the cost of those places).
Things to do: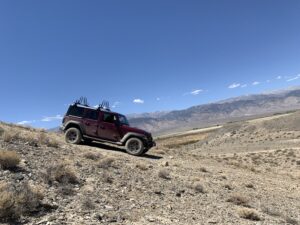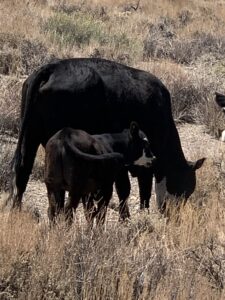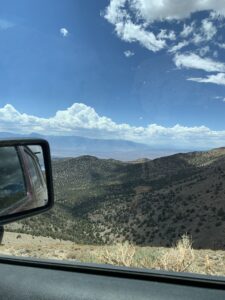 If you enjoy outdoor activities, this is a great location!  With so much BLM land, there are tons of trails and roads that you can take an off road vehicle on (watch out for the free range cattle!).  There are ghost towns to explore, as well as hot springs to soak (or swim) in!  National Forests offer many hiking trails, and if you don't mind the drive, about an hour away, there is a lake that you can kayak on.  We spent 3 full days here, and never once were we without something fun (and interesting) to do!  The adventure is there, sometimes you just have to go find it!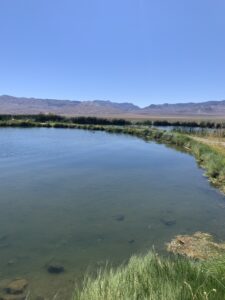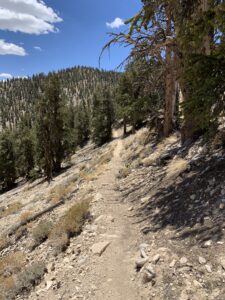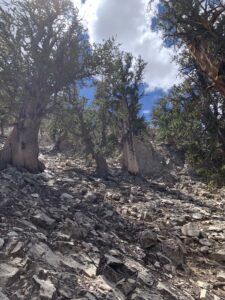 Cons:
I really do not have very many "cons" for this RV park.  I suppose it would have been nice to have some grass for the dogs (but this IS the desert), and I will say that there is a terrible ant population everywhere here!  We never got ants in the RV (thank goodness), but if you stood in one place for too long outside, they were going to crawl on you (and your dog)….and they bite!   Little tip – We carry a small jug (4#) of FEED grade Diatomaceous Earth with us!  It is completely safe for pets and people, yet it kills ants, fleas, ticks, earwigs, and even roaches!  We sprinkle it around our site, and we are annoying insect free!  You can purchase it at a Farm / Feed store!  Make sure it is FEED grade!
Another con would have to be the WiFi / internet availability (or lack of).  It does make it hard to blog when I cannot access my laptop.
The distance to an actual town would be a con, if we were to stay here for a week or more.  You do have to drive over an hour to get to town.
Would we come back again?
Absolutely!
Do we recommend this park?
Absolutely!
Overall thoughts: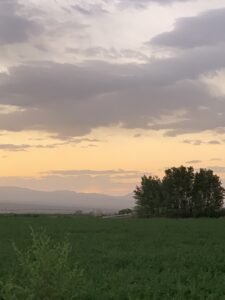 Keep in mind, this is an RV Park, not an RV Resort.  We were looking for a more comfortable climate to enjoy (escaping the heat of Las Vegas), and this was perfect temps!  It was in a quiet location with good access from the road.  We found plenty of activities to keep us busy and entertained, while still being able to enjoy time at our site to relax.  While the park does lack some things that others offer, the customer service was outstanding!
I am giving Esmeralda RV Park 4 out of 4 Scouts! (Scout is our Mini Aussie – and the "star" for all reviews 🙂  )

1 Scout = Would not recommend. Will not be back.
2 Scouts = Will stay elsewhere if we are able, but if not, we would consider it.
3 Scouts = Would stay here again, if it is on our route.
4 Scouts = Will definitely be back, and would recommend.