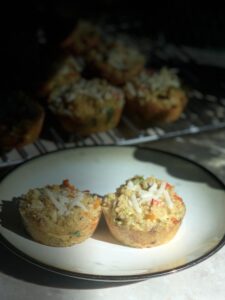 Are you one of those people that make multiple batches of Quinoa at a time, so that you have left over for something else?  I am, and I am always on the look out for different ideas on how to use it!  This time, I had a breakfast idea for it, and it turned out so good, I wanted to share it!
My recipe is completely plant-based, but feel free to not only switch it up using real eggs, but, you can even try different add-ins if you would like!  Quinoa is one of those foods, that can go with virtually anything you want to add!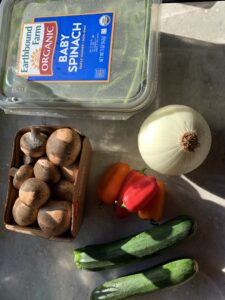 Ingredients for Plant-Based Quinoa Cups
1 Bottle of Just Egg *
2 Cups Cooked Quinoa
1/4 Large Onion (chopped)
4 Mini Peppers (chopped)
6 Baby Bella Mushrooms (chopped)
1 Cup Raw Spinach (chopped)
2 Small Zucchini (shredded)
1 tsp Dried Thyme
1/2 tsp Salt
1/2 tsp Pepper
Shredded Plant Based Mozzarella Cheese
Instructions
Preheat oven to 350 degrees.  Spray a muffin tin with non stick spray, set aside.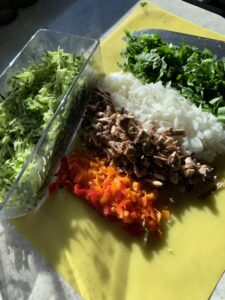 Chop all of your veggies and shred your zucchini.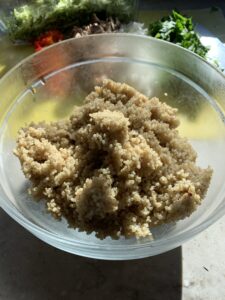 In a medium bowl, add your cooked quinoa.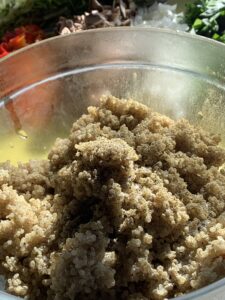 Sprinkle the thyme, salt and pepper on the quinoa.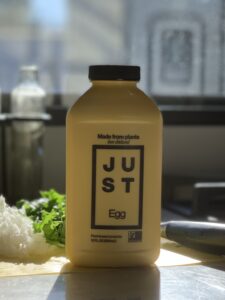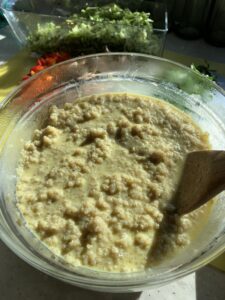 Add 1 full bottle of Just Egg.  (I have only used Just Egg for this recipe, as it is the same consistency and taste as real scrambled eggs.  They are what I use when I make an omelet.  I do use Bob's Red Mill Egg Replacer powder when I am baking and it works great for baked goods where you aren't looking for an egg dish result.).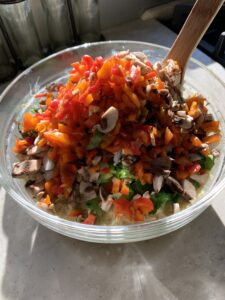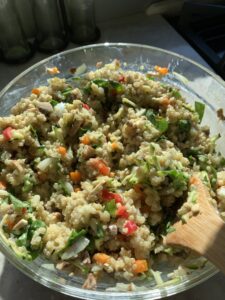 Add all of the chopped vegetables. Stir until well combined.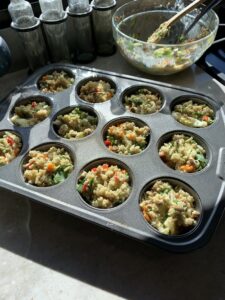 Spoon into prepared muffin cups.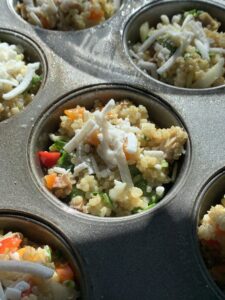 Sprinkle tops with shredded Plant Mozzarella (I used Follow Your Heart Mozzarella)
Bake at 350 for 20 minutes.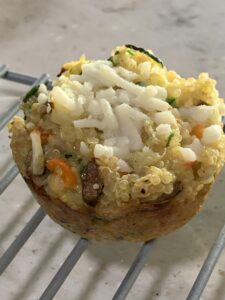 Remove from oven when the edges just start to brown and crisp.
Let cool for about a minute.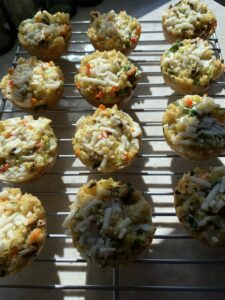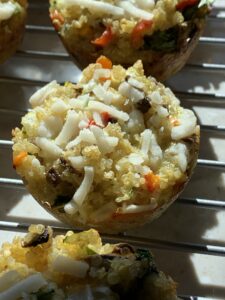 Gently lift from pan and let cool slightly on cooling rack.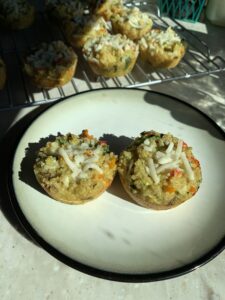 Eat while warm.  You can also store them in an airtight container in the refrigerator, and just heat them in the microwave for 1 minute when ready to eat.  They will last about a week refrigerated, though ours only lasted 3 days! 🙂
My recipe made 16 muffins.  Each muffin is approximately 100 calories, 4 grams of fat, 6 grams of protein, and 9 grams of carbs.  This is just an approximate, and will vary depending on the ingredients you use.
*If you are going to use real eggs, you will need 6 eggs for this recipe.
This is a great breakfast that you can make ahead of time, and use as a grab -n- go meal or snack, whenever you want it!  Let me know what you think, if you decide to try it!