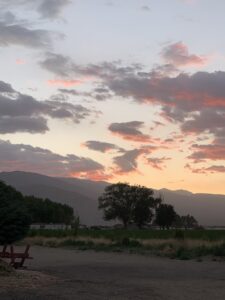 Leaving Las Vegas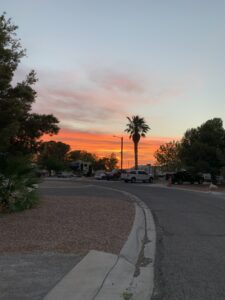 The days in Las Vegas had been long and hot.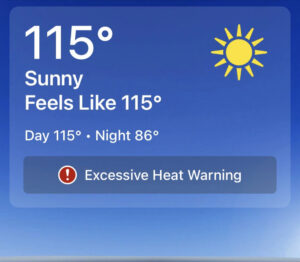 There was no escaping the heat, even with the air conditioners running and the shades pulled, the temperature in the RV hovered at a consistent 85 degrees.  Outside, it was around 115 degrees.  This was our third time staying here at the Famcamp at Nellis Air Force Base.  It was the second time that we had placed ourselves here in the early heat of summer.  Like last year, the time had come to look for a place in cooler temperatures.  The next time we stay here – it will NOT be in the summer months!
Finding Dyer, Nevada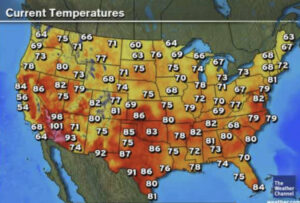 Most people check their RV Campground maps, or Google maps for their next destination.  We checked our weather map.  After a couple of months of no break in the triple digit temperatures, anything in the double digits was sounding pretty good!  We already knew where our destination after Las Vegas would be, we just needed something to hold us over until our arrival date – about a week or so.  We looked at the weather map and surrounding temperatures – both highs and lows.  About 230 miles northwest of Vegas, situated at the base of the White Mountains, in the Great Basin, is the small town of Dyer, Nevada.  The high temperature for the next couple of weeks would only be in the upper 80's – with a few cloudy days!!!  It was here, in this tiny little town, that we decided was our layover destination!  As luck would have it, there was an RV park – and they had a spot for us!
Dyer, Nevada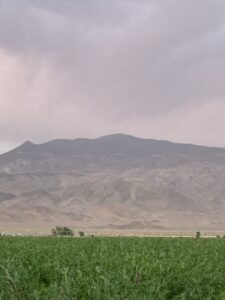 Dyer, Nevada – also known as Fish Lake Valley – is a small, mostly agricultural, town.  It is only about 35 square miles, sits at right around 4800 feet, is off the beaten path- on hwy 264, and is probably one of Nevada's best kept secrets!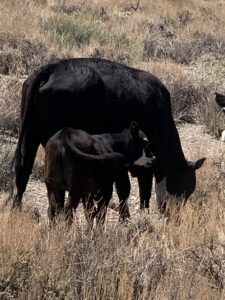 It is a town where the amount of acres of open range land for cattle, far outnumbers the amount of businesses (and possibly population).  There is a market and RV park, a saloon or two, a post office, a school, a bed and breakfast, a hot spring and a cemetery (there may be a few other places that I missed, but these are ones that I know for sure are here).  It is not a place that jumps out at you as you drive through – with the exception of the alfalfa fields, it looks pretty dry and barren.  If you are willing to hang around for a few days though, get to meet some of the local people (everyone we met and spoke with was extremely nice and happy to talk to us!), and do a little exploring, you will find that there is more to Dyer (and the surrounding areas) than you would think!
Palmetto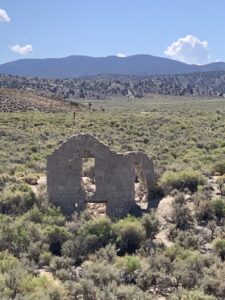 One of the very first things I noticed as we drove into Dyer that first day, was what appeared to be some very old buildings – partially still standing – alongside the edge of the highway.  As we passed by, I noticed the word Palmetto on a sign.  Once we were all set up in our site at the Esmeralda RV Park (I will have a review up shortly for this park – therefore, I will not be elaborating on the park too much in this post), we decided to go back and check out those buildings.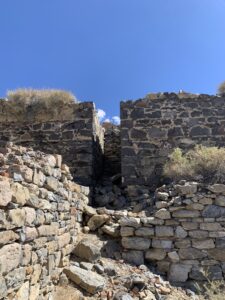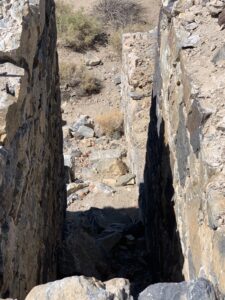 Turns out, Palmetto is considered one of Nevada's ghost towns.  When a town is considered a ghost town, it doesn't necessarily mean that it is haunted.  It simply means that it is a town that has been abandoned for any number of reasons.  Remnants of buildings may still be present in a ghost town.  I have always found that ghost towns, more often than not, have a lot of history to them and that there is always something of interest to learn from visiting them.  Palmetto was no different.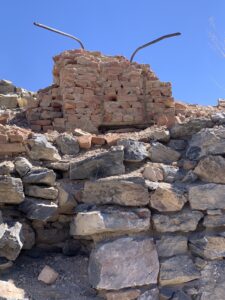 Palmetto was a mining town (I would probably use the term "town" loosely here), that was built in 1866 when silver was discovered.  They named the town Palmetto after the trees that were in the area, thinking that the Joshua Tree was a relative of the Palmetto Tree.  Initially, they built a mill, thinking that they would be able to produce enough silver to keep it running.  That did not turn out to be the case however, and in less than a year, they abandoned the mine and the mill.  Then, in 1906, they tried again.  This time, they built stores, a bakery, a saloon a post office and a bank.  A tent city was erected, and they tried again to mine for silver and make a go of it.  Again, it failed.  Then, for a final attempt, in 1920, a new mill was built in hopes of making a profit off of the mine.  Again, it failed, and the town of Palmetto was abandoned for the final time.  Today, all that stands are remnants of some of those buildings.  None of them are marked as to what they were, but we were able to get out and wander around.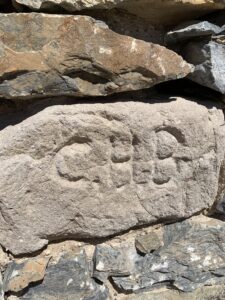 One of the stones in the foundation of one of the buildings had the initials C.H.B. carved into it.  As much as I searched, I wasn't able to track down a name.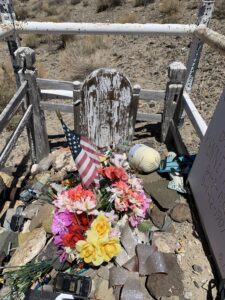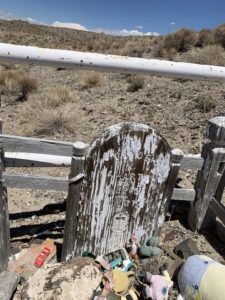 Just up from Palmetto, we came across a lone grave.  There is a wooden grave marker that is hard to read, but someone has placed a more recent marker alongside it.  It lists two names – brothers, Clyde and Kenneth Hart – that died a year apart.  They both died of Diphtheria as very young children.  In 1905, the Hart family had moved to Palmetto from California, hoping to make a better life with the silver mine.  Mrs. Hart had been ill prior to leaving California.  Shortly after making the move, both of their sons grew ill, eventually passing from the disease.  Although the marker lists the names of both boys, only Clyde is actually buried there.  Kenneth passed away in a different town, and is buried in the town he passed in.  The original wooden marker, only lists the name of Clyde.  It seems Clyde and his brother Kenneth have not been forgotten by the people of Dyer.  Toys cover the grave in remembrance.
Fish Lake Valley Cemetery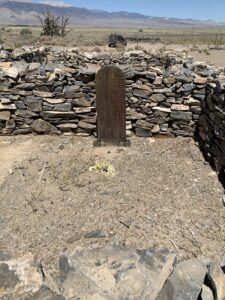 Speaking of graves…..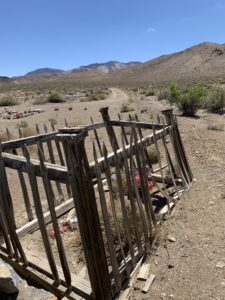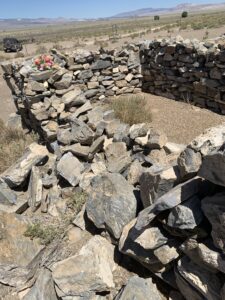 The cemetery was something we just happened upon.  On the main highway is a small sign that just says "cemetery" with an arrow pointing off into what looks like eternity.  Knowing that this area dated back at least into the 1800's, we thought the cemetery might be worth checking out.  I have always found it interesting to walk through old cemeteries and to read some of the stories that go with it.  As we drove down the long, winding dirt road, we finally came across it!  It was much larger than I had anticipated.  Most of the graves were unobstructed, but in a small section toward the far end, there were graves surrounded by falling stone walls and old wooden fences.  We parked the jeep, walked through the turnstile (this cemetery was remarkedly well maintained), and headed over to the stone wall.  The stones were falling away, but you could tell by looking at the area inside of it, that they were very old, individual graves.  Most no longer had a marker, some that did, were impossible to read.  But a few of them had a more recent, metal marker placed on the grave.  The graves in this cemetery date as far back as the 1830's at least (there are several "unknown" graves here), and is still used today.  There were a few graves that peaked my curiosity, yet when I tried to look the names and dates up, oddly enough, I could find no information on any of them.  Looking for information on old graves is a rabbit hole that I can fall into very easily…eventually, I had to just give up.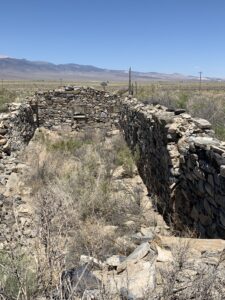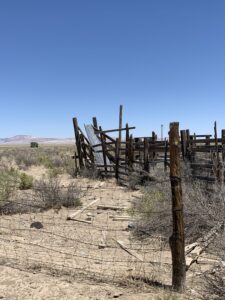 Across the dirt road from the cemetery was what looked to be an old homestead.  After a little research, and talking to people, we found out that this was actually a "crossover" stop for the stage (train?) that ran through there.
Fish Lake Valley Hot Well
If you have been following my blog for a while, you know that I did a post on Twelve Mile Hot Spring in Wells, Nevada (if you missed that post, or would like to read it, you can click here)  It was while writing that post, that I discovered Nevada actually has more hot springs than any other state in our country!  Knowing this, it did not come as a huge shock that we found one right there in Dyer, Nevada!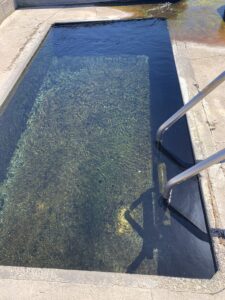 What better way to relax after hiking one of the White Mountains, than to take a nice, long soak in a hot spring!  Nestled at the base of the mountains, is Fish Lake Valley Hot Well (or Hot Springs).  Depending on who you ask, this hot well was drilled for either agricultural purposes, or to look for oil.  At any rate, today it is a hot spring, open to the public.  The main hot spring (which is at about 105-110 degrees Fahrenheit) is a cement pool with steps and hand rails.  There are no actual seats in it, but it is deep enough to stand in.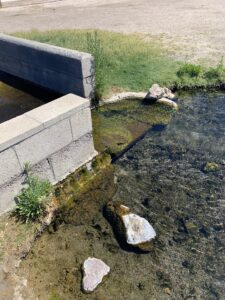 The water from this spring spills out into a small hot lake.  The water in the lake (there are actually two adjoining lakes) is a little cooler than the water in the main spring, but still stays at a comfortably warm temp.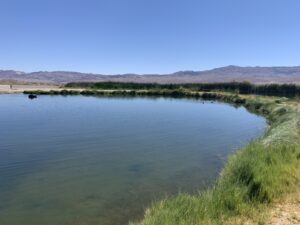 The lake is big enough to bring your pool floats or rafts.  In addition to being a great place for people to swim and relax, there are also some resident fish and ducks that enjoy this warm water as well!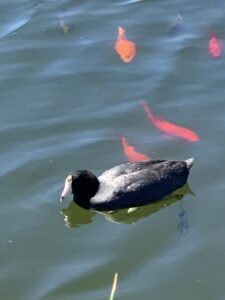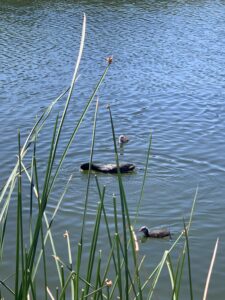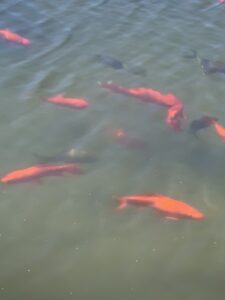 There were a couple of large groups of goldfish and some ducks that stayed mostly in the second lake.  There were some rather noisy bullfrogs as well, but I was unable to catch them on camera.  There were only a few people here the day we came out, but, if you are looking for a place to park your RV and boondock, this would be a great place to do it!  Camping is allowed, and they say the sky and stars at night are absolutely amazing here!
Bishop, California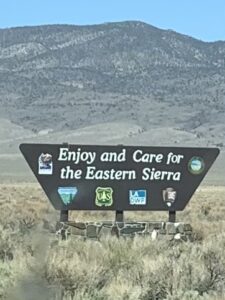 The closest populated town to Dyer, is not even in Nevada!  It is in Bishop, California.  To get here, it is about an hour drive up and around the mountains, on Hwy 6.  We drove to Bishop just to see what it was like, and we were pretty surprised at the size of it!  While it is nowhere near the size of a bustling city, it is a town that has everything you would need.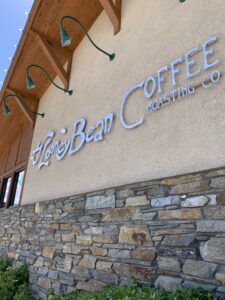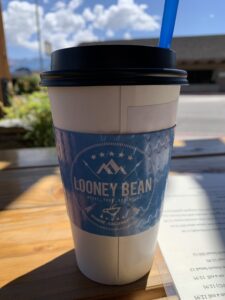 Aside from running in to a feed store for some dog food, the only stop we made was for a cup of coffee at The Looney Bean Coffee Shop.  The town is situated right at the base of the Eastern Sierra Nevada Mountains (it is a stop off for hikers on the PCT), and seems to offer a lot of outdoor activities.
Hiking and Driving the Trails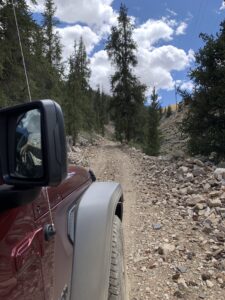 One of my favorite outdoor activities is hiking.  Our stay in Dyer, and visits to the surrounding areas, allowed for a lot of back road jeeping and hiking!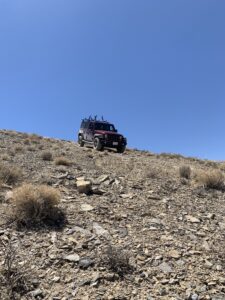 A lot of the land here is BLM land and National Forest,  so it is open to the public for exploring it on foot or in vehicle.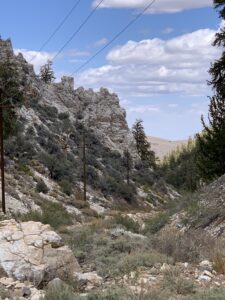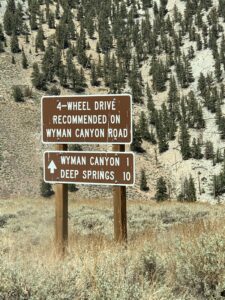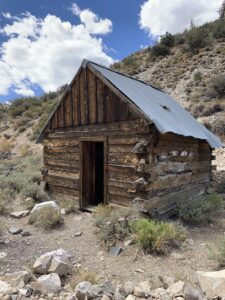 We took to the dirt roads a few times in the jeep just to look around and get some better views of the mountains and canyons in the area, that you won't see from the main roads.  The views are absolutely beautiful!
Inyo National Forest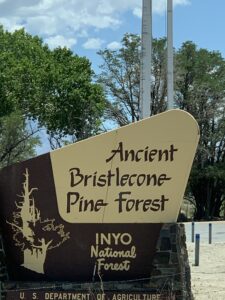 One of the areas we hiked, was up on White Mountain, in the Inyo National Forest.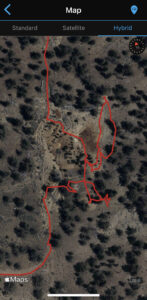 This was an absolutely breathtaking hike (literally, as it is above 11,000 feet).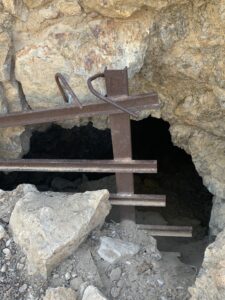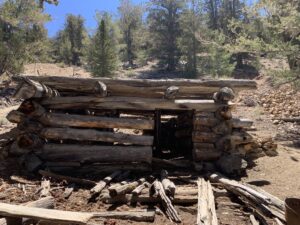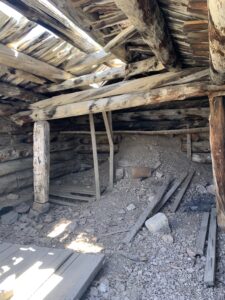 The hike we took led us up the mountain to the sites of mines that have since been closed off, and to the remnants of old miners cabins.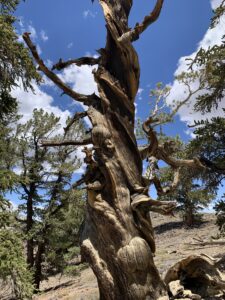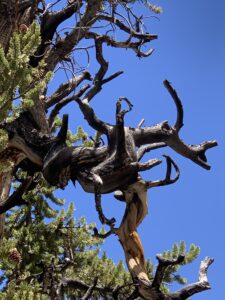 The trails led us through groves of Bristlecone Pines – some that are as old as 4,000 years.  The oldest Bristlecones are the trees that look dark and bare, twisting and turning in all directions.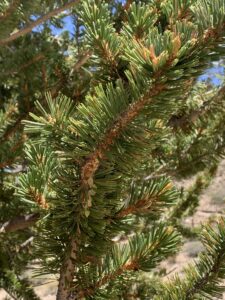 Bristlecone Pines have needles that grow in the shape of a fox tail (or bottle brush), and have very bristly cones.  These trees grow at higher elevations, where most other vegetation cannot grow.  The great thing about hiking this National Forest, is that there are so many trails.  You can make your day as long or as short as you want, and no matter what direction you go in, you will come across amazing areas to see!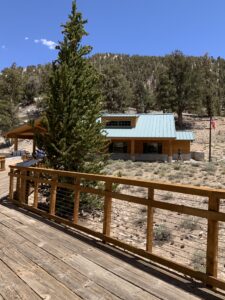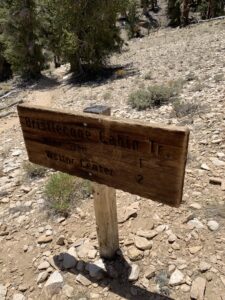 There is even a Visitors Center where you can park, go in and see the exhibits that they have on display, or talk with a Ranger.  If you are ever staying in or around this area (and yes, there is a campground on the mountain  – though I do not think it is meant for anything much more than a small camper or tent), be sure to check out this National Forest!  We almost decided not to do it since it was later in the day when we actually came across it.  We made plans to go back the next day though, and are so very glad we did!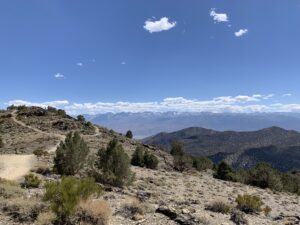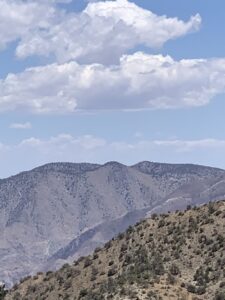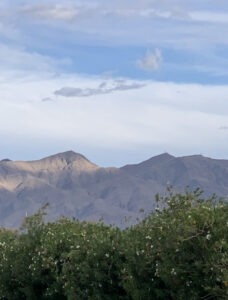 All in all, what appeared at first to be nothing very exciting, our stay in Dyer, Nevada, turned out to be quite the adventure!  We were only here for a few days, but every one of those days, were spent exploring areas we would otherwise never have known about.  They just aren't the attractions that come up when you google "things to do in Nevada".  I do believe that some of the best places to visit and stay, are also some of the places that you come across on accident.  They are very much a best kept secret.
For more pictures and videos, feel free to check us out on Instagram @scoutnabout_travel