This past Christmas we received a mini DASH waffle maker, and I am in love.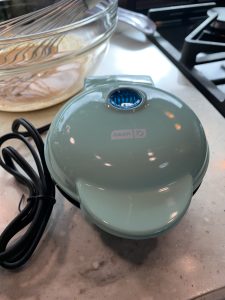 What is a DASH?
What is a DASH you ask?  DASH is a line of mini kitchen appliances designed for small spaces as well as small batch cooking.  There are quite a few appliances available, and they all come in really fun colors!  They are very affordable, easy to use, and equally important – easy to clean!
Since receiving our DASH waffle maker, I am seeing them advertised everywhere.  Some of my go-to sites and magazines for healthy cooking, are even jumping on the DASH waffle trend with lots of interesting, healthy recipes!
While you can certainly use this little gadget to whip up your favorite original waffles, I am finding it to be a great tool in making some healthy, unique recipes that I may not have otherwise even tried with our large waffle iron.
Small batches give you the ability to try new recipes, adjust them as you wish, and not worry if it turns out to be a recipe you probably won't make again….because you probably only made a few small waffles,  You don't have a large bowl of batter or a dozen large waffles that you need to now freeze or feed to the dog.
Some of my favorite recipes so far
While I am always on the lookout for new recipes to use with my DASH waffle maker (and there are plenty of them out there), I have tried a few that I absolutely enjoyed.  I try to find recipes that are healthy (and for me, vegan), can be either a breakfast meal or a supper (even a snack), and use ingredients I most likely already have on hand.  Like always, these recipes can be modified to suit your tastes, your diet and in a lot of cases, the ingredients YOU have on hand.  A lot of times, I find a recipe that sounds good, but by the time I make it, I have made so many adjustments to it to suit my needs, it's almost a new recipe.  Adjust as you see fit!
Easy Oat Breakfast Sandwich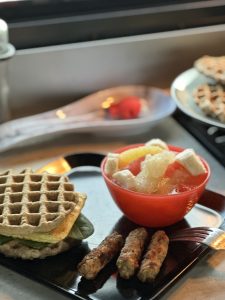 These waffles are made without dairy, eggs or oil.  The waffles turn out dense enough to make a sandwich that won't fall apart when you eat it.  You can also thin the batter some, and make pancake sandwiches (if you  have the DASH mini griddle).
The waffle batter will make 6 mini waffles (3 sandwiches).
Ingredients
2 cups Oat Flour
1/2 scoop Vegan Protein Powder (optional)
1/4 cup ground Flaxseed
1/2 teaspoon cinnamon
1 1/2 cups Oat Milk
1/3 Banana, mashed
1 Just Egg Patty
A handful of raw Spinach, washed and dried
Directions
 Plug in your DASH mini waffle maker and close lid to heat up.
In a small bowl, mash the 1/3 banana with a fork.  Set aside.
In a separate bowl, combine the oat flour, protein powder, flaxseed and cinnamon.  Whisk together.
Add oat milk and banana, mix until well combined. The batter should be thick.
Once your mini waffle maker is hot, spoon the batter (about 1/4 cup size spoonful) onto the waffle iron.  Spread it around with the spoon and close the lid.  Because the batter is so thick, I let the waffle maker cycle through 2 cook times (it is only a few minutes total) until done.  Raise the lid, slide a spatula under the waffle and lift it out.  Make your next waffle.  *If you are making all six waffles to serve now, you can keep them warm in the oven.
While you are making the waffles, cook your Just Egg patty.  I spray a very light coating of non stick on my frying pan, and cook it that way.
When your second waffle is finished, place your Just Egg patty on one waffle.  top with spinach, and place the second waffle on top.
I enjoyed my breakfast sandwich with some uncured chicken breakfast sausage, and a bowl of fruit.
*You can either cook up all of the waffles at once and store them in the refrigerator or freezer, or you can save the batter in an airtight container in the refrigerator and make them as you want them.
**You do not have to make these vegan – you can sub any milk you want.  You can obviously use real egg for your sandwich as well.  If you like cheese, you can add cheese to the sandwich.  You can modify your own sandwich with anything you want to put on it.
Oatmeal Waffles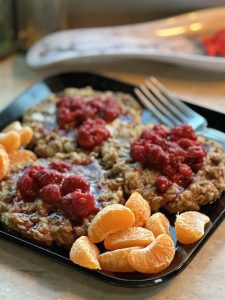 These are not the same as the Oat Waffles listed above.  These are just what they say – oatmeal…in waffle form!
You have had a bowl of hot oatmeal, a jar of overnight oats, and now you can have your oatmeal "waffled".
Ingredients
1 1/4 cup oats (I used Old Fashioned, but you can use quick cooking as well)
2 tablespoons pure maple syrup
1 teaspoon cinnamon
toppings of choice
Directions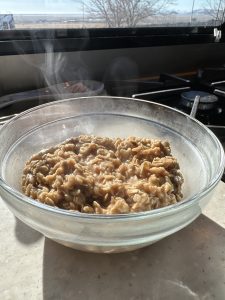 Cook your oats according to your package directions, using 1 cup of the oats.
Once cooked, mix in the maple syrup and cinnamon.  Add the additional 1/4 cup oats. mix well.
Cover and set aside until cooled (I made mine in the morning and placed it in the refrigerator until supper time- I do love breakfast supper! 🙂  )
Plug in your waffle maker when you are ready to make them.
Spoon the oatmeal onto the waffle iron, spreading it all the way around.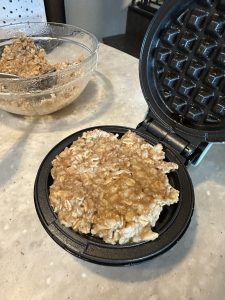 Close the lid.  Do not lift the lid until it has completed cooking – this will make sure the waffle is  light and crispy.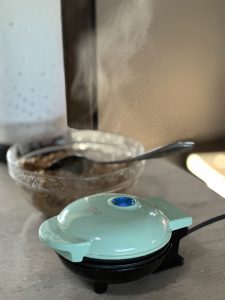 When they are done, lift the lid and carefully remove them with a spatula.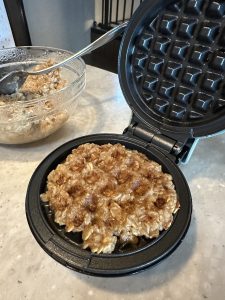 Once you have made your waffles, you can top them any way you like!   Serve and Enjoy!  They are good whether you eat them hot or cold!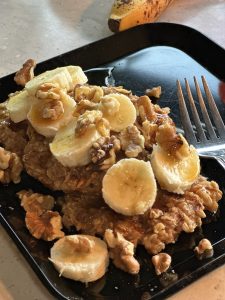 *This recipe makes 4-6 waffles, depending on thickness.
Potato Waffles with Creamed Spinach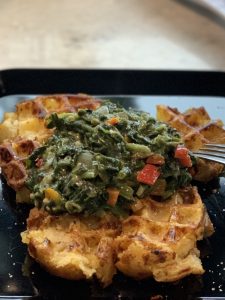 This recipe makes a great meal for supper!  The left over potato waffles also make a great snack!  Dip them in homemade Ranch for an even tastier treat!
Ingredients
Baby potatoes (I used a half of a small bag of baby yellow potatoes.  It is up to you how many you want to make)
1 1/2 cups oat milk
1 tablespoon Tahini
1 teaspoon Dijon mustard
1/2 teaspoon smoked paprika
1/2 cup onion, chopped
1/2 cup mini bell peppers, chopped
2 teaspoons minced garlic
1 package of fresh baby spinach
4 teaspoons of corn or potato starch
1/2 teaspoon dried mustard
pinch of cayenne
salt and pepper to taste
Directions
The first thing you will do is cook your potatoes.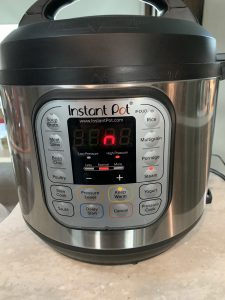 You can cook them in a pot, but I steamed mine in the Instant Pot.  If you boil them, you will want to make sure they have drained very well after cooking before proceeding on.  Once cooked, set aside to cool slightly.
While they are cooling, make your Tahini coating.  This will give your waffles a great taste, as well as a crunchy outside with a soft inside.
Tahini Coating: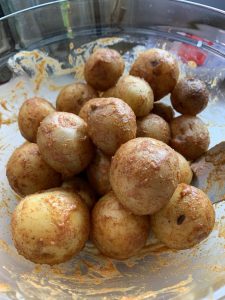 Blend together (I used my immersion blender) 3 tablespoons of the oat milk, Tahini, Dijon mustard and paprika.  Pour into a bowl, add potatoes and toss to coat.
Creamed Spinach:
Meanwhile, make your Creamed Spinach (this is NOT the creamed spinach you hated as a child!  This is quite delicious on its own, but it will take the waffles to a whole other level of yumminess!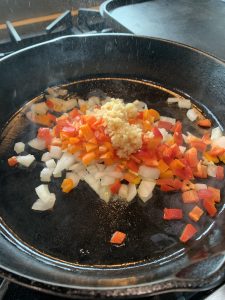 In a large pan. sauté onion, pepper and garlic.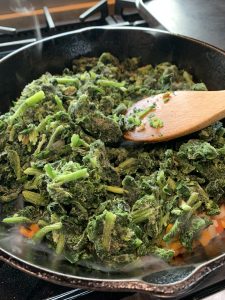 Add the spinach and cook just until wilted.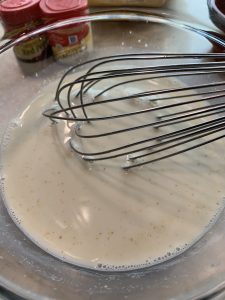 In a separate bowl, add the oat milk, cornstarch, dry mustard and cayenne pepper.  Whisk until well blended.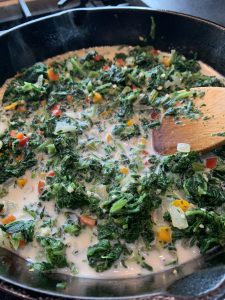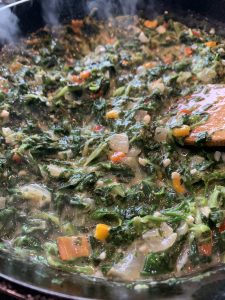 Add to the spinach, cook and stir until thickened.  Add salt and pepper to taste.
Potato Waffles: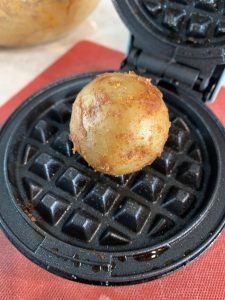 To make the potato waffles, simply place a potato onto the heated waffle maker (if it is a smaller potato, you can add 2 or 3).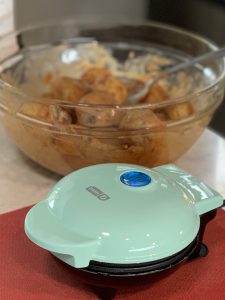 Close the lid on the potato. smashing it.  Let cook until the full time is up without lifting the lid (this will take a few minutes).  When done cooking, lift lid, remove from waffle maker using a spatula.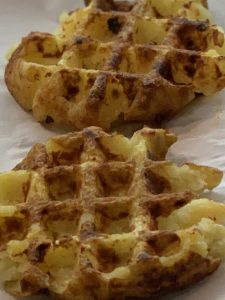 Your waffles should be crispy on the outside, but soft on the inside.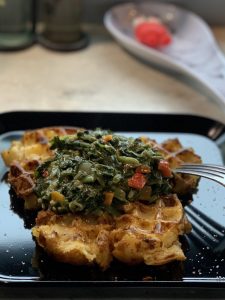 Place waffles on a plate and spoon creamed spinach over the top of them.  Enjoy!
Leftover waffles can be saved in an airtight container in the refrigerator.  They make an excellent snack eaten cold and dipped in homemade vegan Ranch!
Vegan Ranch Recipe:
In a bowl, blend together:
3/4 cup vegan mayo
1/2 cup vegan sour cream
1 tablespoon water
1 teaspoon dried, minced onion
2 teaspoons dill
1/2 teaspoon garlic powder
Store in refrigerator.  If you need to thin it, you can add a little water, a tablespoon at a time.  Makes a great dip and dressing!!