Chocolate Strawberry Chia Pudding
The creamy texture of pudding.  The sweet taste of chocolate and strawberry.  The health benefits of Chia seeds!  All of these come together to make a great breakfast, snack or dessert!
Chia seeds come from a plant in the mint family.  They are tiny little black, or grey, seeds that when placed in liquid, soak up the liquid and form a gel-like coating.  They are not, however, the same seeds that are sold with the Chia Pets that are seen on television and in stores. So if you are thinking of running out and buying a Chia Pet to harvest your own chia seeds, it's probably not a good idea.
Chia seeds may be tiny, but the health benefits they offer up, are not.  They are good for heart health, bone health and can help improve blood sugar levels.  Just 2 tablespoons of chia seeds are packed with fiber, protein and Omega-3's.  They are also packed with antioxidants!
Along with all of the health benefits they offer, chia seeds are really versatile, making them easy to add in to many recipes!  I normally always add them to my protein shakes, but have recently started making chia pudding with them!
This is a simple recipe, with very few ingredients.  It is easy to change it up if you prefer, by using different fruit, vanilla instead of chocolate, even a different type of milk – including dairy if you aren't plant based.
A quick side note regarding the chia seeds – make sure you use fresh seeds for the pudding.  If they are stale, the pudding will not set properly (I myself went through a couple of batches of pudding before I realized the seeds were the the cause of it not setting properly.).
As usual, this is a plant-based version of my recipe, but feel free to change it to suit your own needs or tastes!
Chocolate-Strawberry Chia Pudding
In a large, flat container, add 1/2 cup Chia Seeds.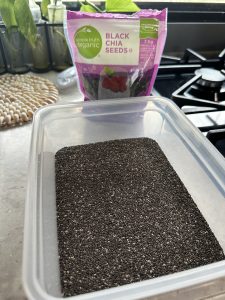 Add in 1/4 cup of Vegan Chocolate Protein Powder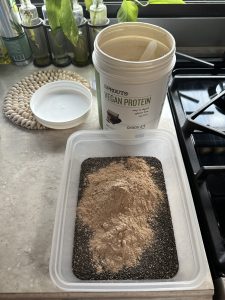 Puree about 6 large fresh strawberries (makes about 2 tablespoons of puree) and add to the seeds and protein powder.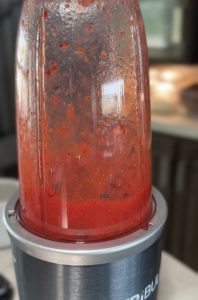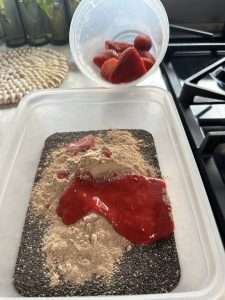 Add 2 1/2 cups of oatmilk (1/2 cup at a time), making sure to mix well after each half cup addition.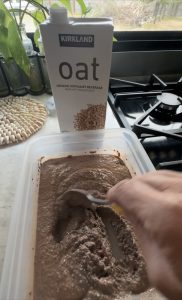 Stir well, making sure there are no clumps of seeds in the bottom of the container.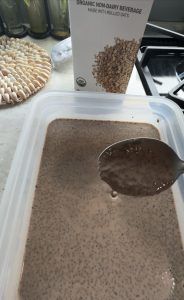 Place a lid on container, and refrigerate for about 2-3 hours.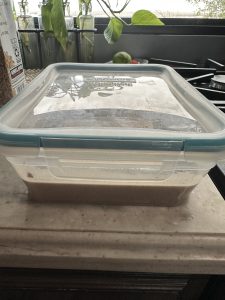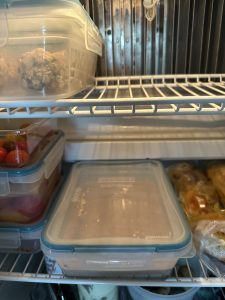 Remove from refrigerator and stir well again.  Return to refrigerator for another 2-3 hours, or overnight.
To serve, I whipped up some plant-based cream.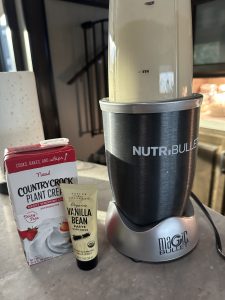 I layered the cream on the bottom of a mason jar, added the chia pudding and topped with fresh strawberry and a dollop of more cream.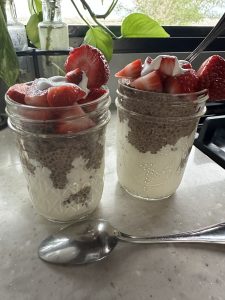 Alternate toppings and add-ins could be:
Raspberries
Blackberries
Blueberries
Cherries
Bananas
Peanut Butter
Almond Butter
Chocolate Chips
Coconut
Anything that sounds good to you!   Enjoy!