A Perfect Stay In Monterey – Monterey, California
"…There between the hills and sea, I looked down and saw a Monterey morning, sprinkled upon the surface of the earth like dim fireflies in a shifting fog."   View From The Hill – A poem About John Steinbeck's Monterey, California
I have always said that if I ever went to California, there was really only one place I would want to see – Monterey.  I guess I first heard about Monterey when I was a teenager growing up on the east coast.  I had a reading assignment in my ninth grade English class to read John Steinbeck's Of Mice And Men.  We were assigned a certain amount of chapters each day so that the book would last us the quarter.  That book captured my interest so much that I started, and finished, the entire book in less than one weekend!  John Steinbeck was probably my saving grace that quarter in English, as the rest of the year felt like actual work.  After that quarter, I was hooked on John Steinbeck!  It was through his books, and his descriptions of where he grew up, that peeked my interest in Monterey.  I decided then, that if I ever went to California, I would want to see the coastal town of Monterey.  Fast forward a few years 🙂 , and I have seen Monterey!  In the four full days that we spent there, I fell in love with Monterey!
Day 1  Cannery Row
"…Because he loved true things…"  John Steinbeck, Cannery Row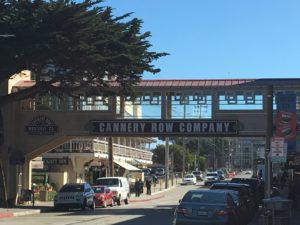 Our first full day in Monterey, we decided to go down to Cannery Row.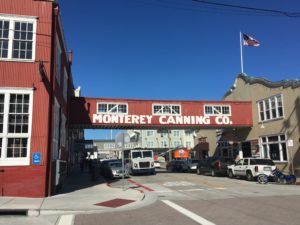 In 1958, Ocean View Avenue, as it was known then, was re-named Cannery Row, in honor of John Steinbeck and his book about life during the cannery times.  Some of the original buildings still exist today, but have been renovated and turned into various different shops, restaurants and hotels.
We actually drove past the Cannery Row area to park, mainly because traffic was pretty congested in the immediate area, but also because it sits right on the water, and I really wanted to walk along the shore!  The Monterey Bay Coastal Trail is an 18 mile stretch of trail that runs along the coast up through Pacific Grove in Monterey, which is where Cannery Row is.  We parked, and walked part of the trail to get to Cannery Row.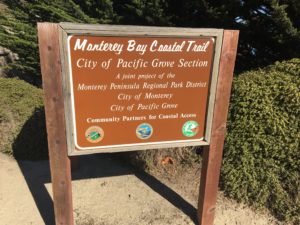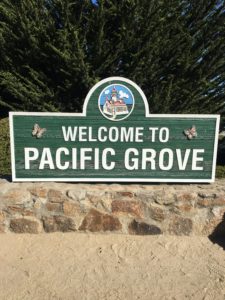 The walk along the trail was so nice!  The smell of the salt in the air brought me back to my childhood when we would spend all day during the summer at the ocean.  We watched the waves as they came in, and listened as they crashed against the rocks.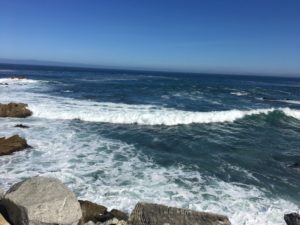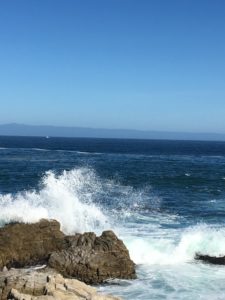 A little further down the trail, we got to see a bunch of harbor seals as they laid on the beach sunning themselves.  We got to watch as a baby seal rode the waves in, flopping and splashing in the water until a final wave gave him a good little shove and he scooted up to be with all of the others.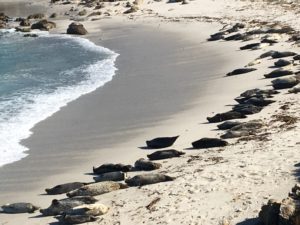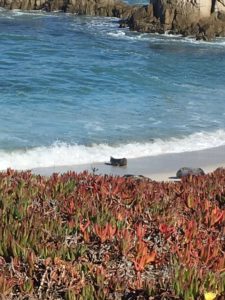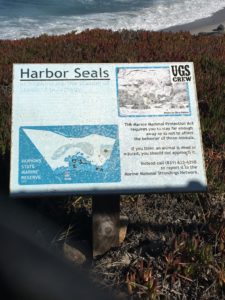 Once we made our way to Cannery Row, the smell of all of the food made us instantly hungry!  We decided to have lunch at The Fish Hopper.  The Fish Hopper is a local seafood restaurant that is walking distance to everything on Cannery Row.  It sits on a pier overlooking the Pacific Ocean.  All of their seafood is locally caught daily, so everything is as fresh as it is good!  And what better way to start out than with a delicious Strawberry Mint Mojito!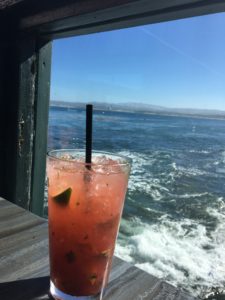 There was nothing better than a relaxing lunch, right on the water, in the beautiful Monterey weather.  We enjoyed lunch while we watched the waves and a few surfers trying to make their way to shore.  Of course, we weren't the only ones enjoying the ocean view while waiting on a tasty bite or two….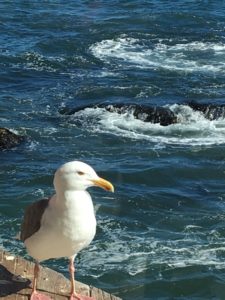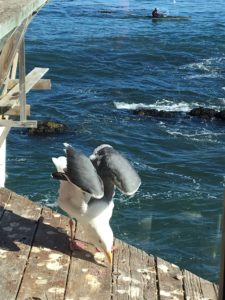 Sorry pal, no crumbs for you….lunch was so good, we ate every last crumb!!
After lunch, we walked along the streets of Cannery Row, ducking in and out of all of the little shops along the way.  Most of the stores were your typical "souvenir" type shops, selling shirts and the like.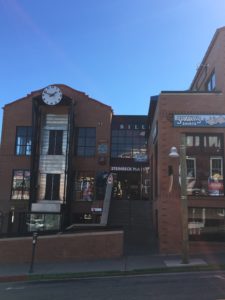 Among all of the shops and restaurants sits a monument that pays tribute to those who were an important part of Cannery Row, back in the day.  At the top of the rock, is John Steinbeck.  At the bottom, is Steinbeck's friend, Ed Ricketts, a marine biologist.  The other men, represent those who brought Cannery Row back to life, after its decline, from being the once busy sardine canning district.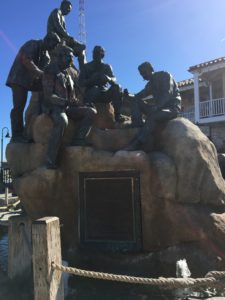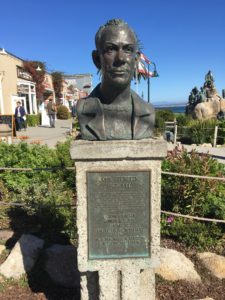 We spent the afternoon walking the entire Cannery Row district, before finally heading back down the coastal trail.  The tide was coming in, and we took the opportunity to sit out on the rocks and watch as the waves rolled in.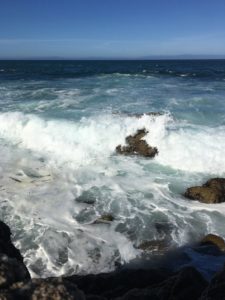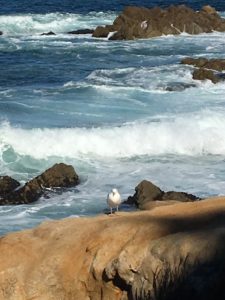 Watching the waves, and all of the people as they walk or jog or ride their bikes up and down the trail, it is easy to picture how nice it would be to wake up to the Pacific Ocean as your front yard.  I would never become tired of it.  Those who do live here, live in a beautiful area.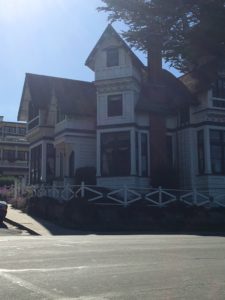 I completely enjoyed my first full day in Monterey!
Day 2  Monterey Bay Aquarium and Fisherman's Wharf
"Time is more complex near the sea, than in any other place…"  – Tortilla Flats, John Steinbeck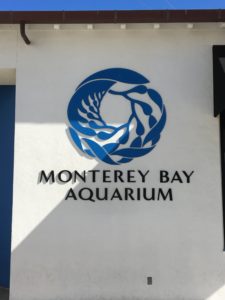 Day two brought us to the Monterey Bay Aquarium, located on part of Cannery Row.  The aquarium opened in 1984 and is actually in the location and building that was once a sardine cannery.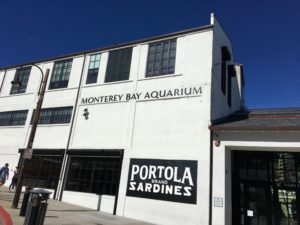 It is the first of its kind to have an actual living kelp forest.  The water they use for the plant and marine animal species, is actually the water from the bay that they circulate and pump into the tanks straight from the bay.  Visitors to the aquarium are able to view marine life, above the waterline, as well as below.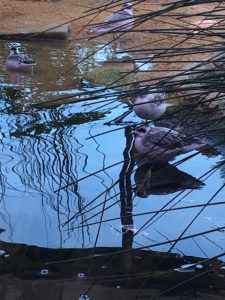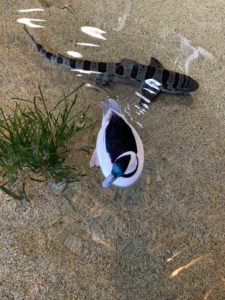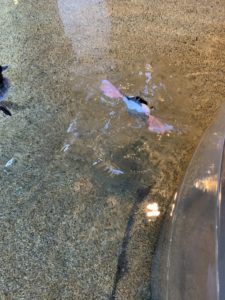 We were lucky enough to be near one of the exhibits when it was feeding time for the sharks!  Divers enter the shark tank to feed the different species of sharks every day.  Along with the certified aquarium divers that enter the tank, they also take an additional volunteer to go down and feed with them.  There is a two year wait list to be a volunteer shark feeder!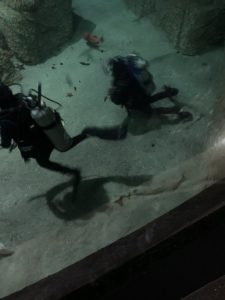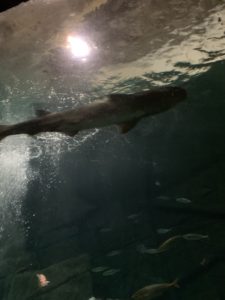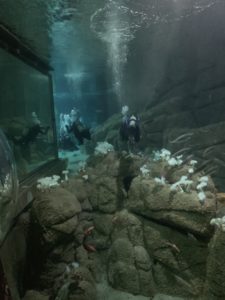 The entire aquarium was interesting, and one of the best aquariums I have visited.  I always have my favorite exhibits though, and this one was no different.
Every aquarium usually has one, and they are usually always among my favorite exhibits…the giant octopus!  This guy was trying to hide or something, because he is actually hard to see when looking directly at his tank.  He had rocks that brought him from one tank to another, and it was among those rocks that he was hiding.  If we could have seen him in his entirety, he would have been huge.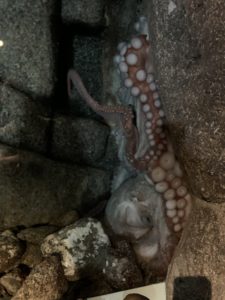 And is there anything more relaxing at an aquarium, than watching the turtles as they dive and swim among the big goofy sunfish? 🙂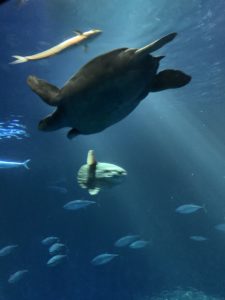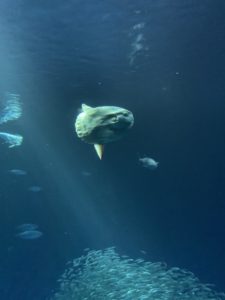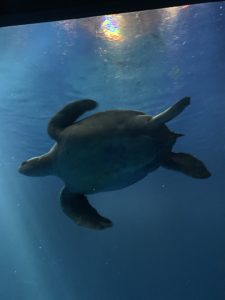 And then, there are the exhibits that keep you so entertained that you totally forget to take pictures!!!  This is where I would have inserted my pictures of the otters…if I had taken any!  They were swimming and playing ball, and I was so entertained, I never even took pictures!!  I did however, get pictures of the penguins!  They were just as adorable!  Their exhibit was being cleaned while we were there watching them, and they were all standing around (some a little more patient than others), waiting for the cleaning to finish.  Each one of them seemed to have a personality all their own.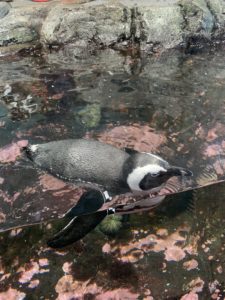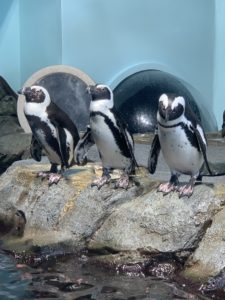 It took us a few hours to make our way through the entire aquarium, and it was totally worth the visit!
After we left the aquarium, we wandered down to Fisherman's Wharf.  Unfortunately, the Fisherman's Wharf at Monterey had big shoes to fill after visiting the Fisherman's Wharf of San Francisco.  There really is no comparison between the two.
The Fisherman's Wharf of Monterey, is a historic wharf.  It was originally built in 1870 by the Pacific Coast Steamship Company.  It was primarily used for the loading and unloading of passengers and commercial goods.  In 1923, the wharf collapsed while a ship was unloading a large shipment of sardines.  The second wharf was built, but by the end of World War Two, the sardine business had collapsed.  Today, it is actually separated into two different parts – the "old" wharf, and the "new" wharf.  It is the new wharf that serves as the tourist attraction.
We wandered down the pier, stopping into a couple of the shops, and stopping to try some of the samples that the restaurants were handing out.  Other than that, the wharf did not offer up a whole lot.  It was fun to walk down it and back, but nothing you could really spend a lot of time at, unless you go there for a night out for dinner.  Located right along the marina, it is fun to look at all of the boats as well.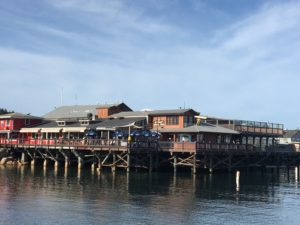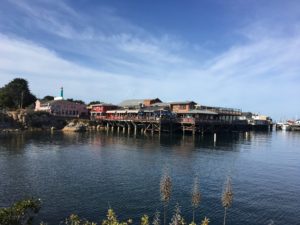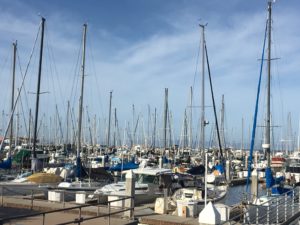 This wrapped up our second day in Monterey.  It was another day that was so much fun!  There is just something about the ocean, and I cannot get enough of it!
Day 3  Point Pinos Lighthouse and Asilomar Beach
"It is advisable to look from the tide pool to the stars and then back to the tide pool again."  The Log From The Sea Of Cortez,  John Steinbeck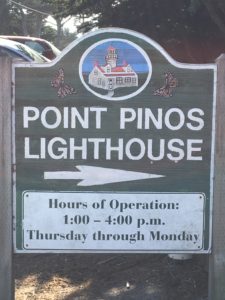 Monterey, so far, has been very enjoyable.  I do believe, today, has been my favorite day.
It began with a trip to the Point Pinos Lighthouse.  For as long as I can remember, I have loved lighthouses.  There is something hauntingly beautiful about lighthouses to me, and each one seems to have its own interesting story behind it.  Honestly, I would love to live in a lighthouse.  For now, I will have to be content to just visit them.  That said, we started our tour in the gift shop, since that is where the entry was.  While in the little shop, I saw a Lighthouse Passport.  I had to have it!  Basically, it is a booklet that you take with you when you visit the different lighhouses all around the United States.  As you visit, they stamp your passport.  When you have completed your passport book, you can send a copy of it in to the Lighthouse Society, and they will send you a patch.  For every book, you get a different patch.  Welcome to my newest addition on my Bucket List – visiting ALL of the U.S. lighthouses!  🙂  First up, Point Pinos!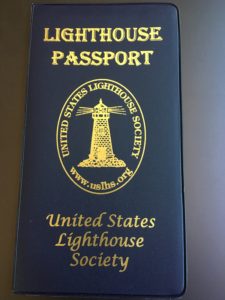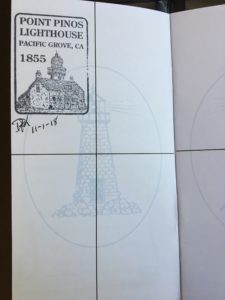 Point Pinos Lighthouse is the oldest existing (and working) lighthouse on the entire west coast (I believe there are older ones on the east coast.).  In 1852 when Congress allowed for the building of eight lighthouses, seven of them were in California, and Point Pinos was one of those seven.  It was built in 1853, with its lens being installed in 1855, making it an official lighthouse.  For almost 50 years, it operated as just a bright light.  Then, in 1912, a rotating shutter was installed, making the light "blink".  It would blink for 10 seconds, and then be off for 20 seconds.  Today it is all done electronically, and it is on for 3 out of every 4 seconds.  It is the "blinking" of the lights that lets the ships know where they are at, as every lighthouse has a different "blink".  I learned all of this from the very nice man who greeted us in the lighthouse.  He was extremely well informed about Point Pinos, and excited to share everything he knew!  🙂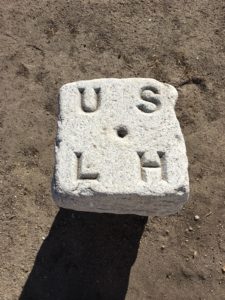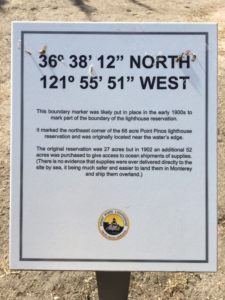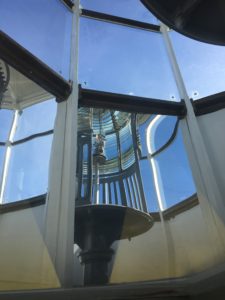 Over the years, the lighthouse has had many "keepers".  Some of the more prominent ones that you will hear about if you visit, are Charles and Charlotte Layton – the first of many.  They were the keepers from 1854-1860.  Charles was also a member of a posse, and just a year into his position as lighthouse keeper, he was shot and killed .  Charlotte had been his assistant during that first year though, and the people of Monterey suggested that she should take over the duties of the actual keeper.  She had become the first woman to become appointed lighthouse keeper on the west coast.
Emily Fish was another prominent keeper of Point Pinos.  She took over in 1893, at the age of 50.  She was the keeper at the time the 1906 earthquake hit.  This earthquake damaged the lens and tower.  She sent the lens out for repair, and had the tower reinforced.  She is credited with giving the lighthouse more of a "homey, welcoming" type of a feeling, by adding stylish (for the times) furniture and drapes.  When they opened the lighthouse for tours, they decorated it the way it looked when Emily Fish lived there.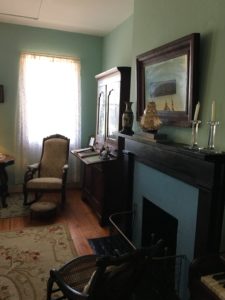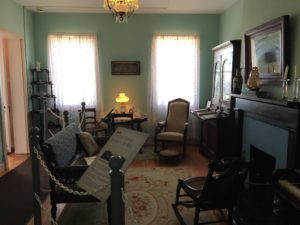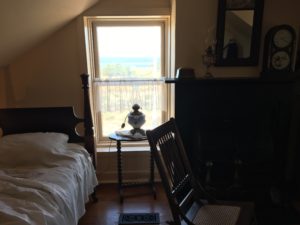 In 1939, control of all United States Lighthouses was handed over to the Coast Guard.  When we entered into World War 2 with the bombing of Pearl Harbor, for fear of attack, a blackout was mandated.  This is the only time that Point Pinos has ever gone "dark".
By the early 1960's, no families were living in the lighthouse anymore.  They were living in houses that were built on the property during the war.  By 1975, the lighthouse was totally automated.  Today, the navigational side of the lighthouse is maintained by the Coast Guard, while the city maintains the restoration of it.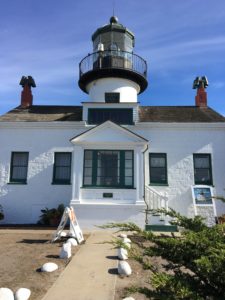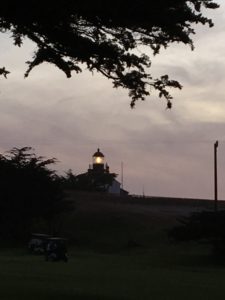 They offer self directed tours throughout the entire lighthouse.  It is not only very educational and interesting, it is fun to be able to walk through and imagine what life may have been like to live in that lighthouse so many years ago.  They have even posted recipes that were taken from local recipes over a century ago that would have been used by the lighthouse keepers.  They have done a wonderful job restoring it to its original state, and the volunteers who work there are so knowledgeable.  It was definitely worth visiting, and a great place to start my lighthouse addition to my bucket list! 🙂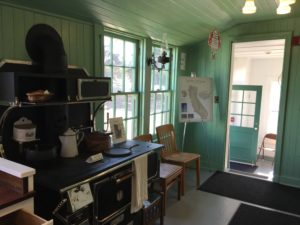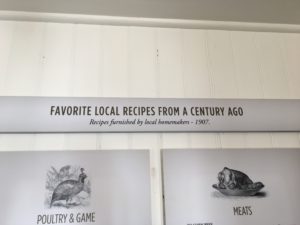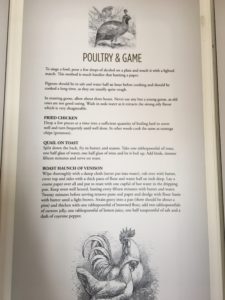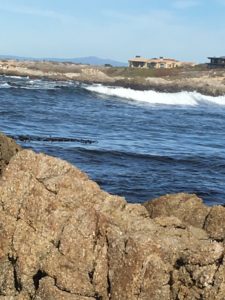 When we left the lighthouse, we wandered down to Asilomar Beach (the lighthouse actually looks out over Asilomar Beach).  We got there while the tide was out, so we were able to walk quite a way out on the beach.  There were a lot of tide pools, and I could have spent all day long just exploring those!  We did our best to not disturb anything within the pools, as there were a lot of living organisms in them!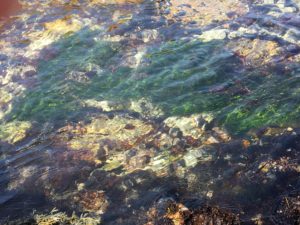 We found several different anemones, including the giant green anemone.  This guy sits with his tentacles folded in, and collects shells on its body.  When something disturbs it, its tentacles come out.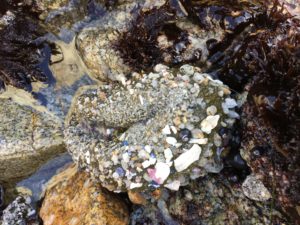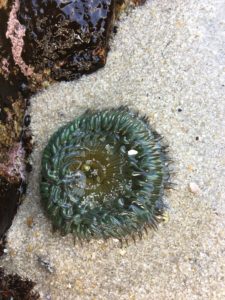 There is no shortage of hermit crabs!!  They are so entertaining to me!  I swear, at times, it was like they were having their own little hermit crab races!
There were also larger crabs, known as shore crabs, that were hiding under the rocks on the beach.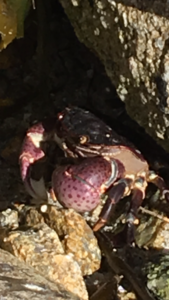 We spent the rest of the afternoon just combing the beach for shells.  There are so many beautiful shells, and I am so content to just walk the beach looking for whatever treasures wash up, dodging the incoming tide.  At the end of the day, I had a pretty good collection of shells, all different shapes and colors.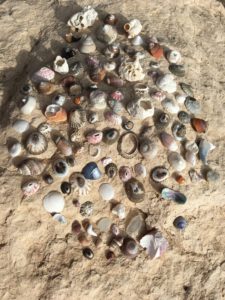 Sometimes it is the simple things in life that are most enjoyable.  For me, that includes the ocean, the beach and the salty sea air as it whips all around you.  I can always lose, and at the same time, find myself, at the beach.
This was an amazing day.
Day 4  Watching the sun set in Monterey
"In early June the world of leaf and blade and flowers explodes, and every sunset is different."   -The Winter of Our Discontent, John Steinbeck
Our last day in Monterey, and my first item has been checked off of my bucket list – To watch the sun set in Monterey.  My bucket list, to date, only has six things on it, and this was #3.  The one thing I always said I wanted to do if I ever came to California, was to watch the sun set in Monterey, and now I have 🙂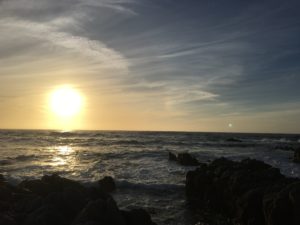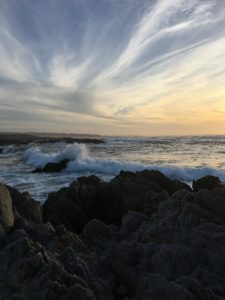 I have always loved watching (and taking pictures) of sunrises and sunsets, no matter the location.  I have stopped dead in my tracks in a busy parking lot in the middle of town before, just to take a picture of a sunset.  I have gotten up at 4 a.m. to go for a run, just to be in the right spot, at the right time, just to get a sunrise picture.  For me, it is one of the most peaceful, and beautiful things to watch.  I was so excited to have the chance to watch the sun set in Monterey.  It was so many things that I love, all wrapped up into a few moments – the ocean, the waves, the beach, the rocks jetting out into the water, the salty sea air, a bottle of wine and the star of the show….the sun disappearing quietly into the ocean.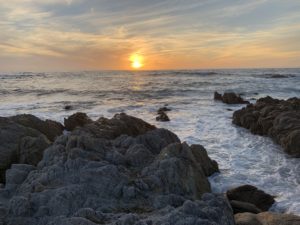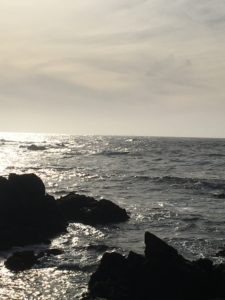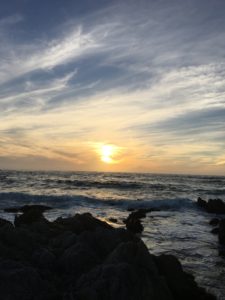 We got to the beach a couple of hours before sunset.  We decided to go back to Asilomar Beach, just a little further up than we had been the day before.  It is a huge beach, and there are trails that lead you from the road down to the rocks and the sandy shore.  We wanted to get there early, so that we could do a little more shell searching on the beach, and to make sure we had a good spot to watch the sunset from (not that there is a bad spot – anywhere at that beach would have been ideal).
We walked the beach a little, looking for shells.  As we walked, the tide was coming in, catching us off guard a few times, and sending us running further up the beach.  Before we knew it, the rocks that we had started searching around when we first got there, were completely underwater.  We decided to go ahead and find a good spot that we could just sit at, and wait for the sun to set.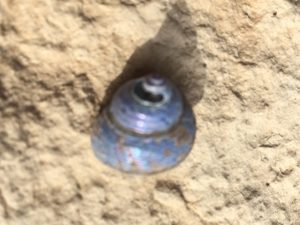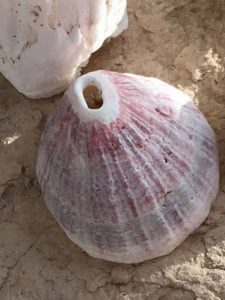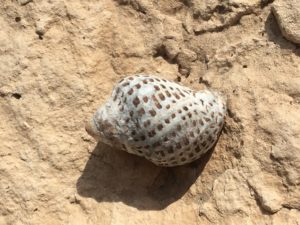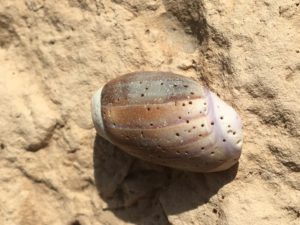 We found some large rocks, not far from where we were, that jetted out into the water.  The formation of the rocks had created a large pool area right in the middle of them.  There was a nice large flat rock just above the area that had formed a pool, and it made the perfect spot to sit.  The tide was coming in all around us.  It was fun to watch the waves as they were forming further out, and figuring out how close to where we were sitting, that they would crash.  A few of them came pretty close, and we got a little spray from them, but most of them crashed before they made it too close to us, and we would just get the rushing water as it forced its way over and through the rocks we were sitting on.  We were just high enough up, that we were able to keep from getting wet.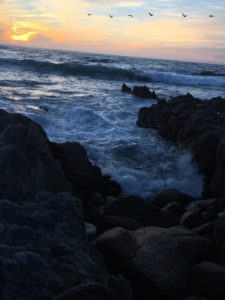 By the time the sun finally started going down, it cooled off really quick!  By now, we were surrounded on three sides by water.  The sky was taking on a "sherbert" sort of look to it.  Sunsets happen so quick!  One moment the sun is huge, and the sky is just a prism of bright pinks and oranges, and that quick, it is gone.  But in those few minutes, it is so peaceful and beautiful.  And, like John Steinbeck said, every sunset is different.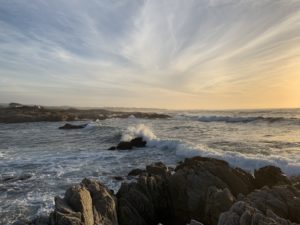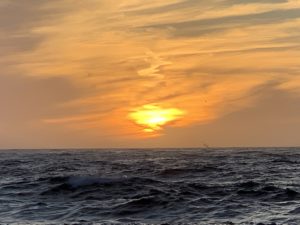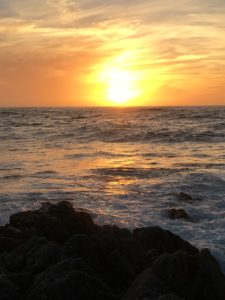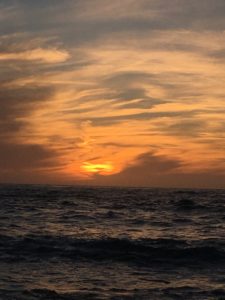 California was never high on my list of "must see" places.  I had always said though, that if I ever did go to California, I wanted to make it to Monterey.  I have seen Monterey now, and I have fallen in love with it.  I hope that someday I make it back, if for no other reason, than to walk on its beaches and watch its sun as it sets again.
Next stop – San Louis Obispo