Uncork And Unwine At Hall Winery In Napa Valley, California

This has been a busy week! With, unfortunately, a LOT of hit or miss wifi and internet!  You know the saying – "when life gives you lemons…" in this case, it would have been grapes – so we decided to start the week off with a visit to a winery and do a little wine tasting!  Both of these were a first for me, and Napa just happened to be the perfect place  – since Italy wasn't available ?
My grandfather is from Italy, and, even though I have never been there myself, I feel like I come by my love for  wine, naturally.  I am not a wine expert by any means, in fact, I know very little about wine, but I have my favorites that I can usually pick up at most stores where wine is sold.  That said, I had no idea what to expect at an actual wine tasting, but just the fact that we were going to be visiting "wine country" had me really excited!
We only had a few hours to spend visiting and touring through Napa, so, first things first…
We looked up a few of the wineries to see what they offered, and we settled on Hall Winery.  Their wine tasting was pretty straight forward, and we were able to walk around and tour the grounds on our own, in our own time.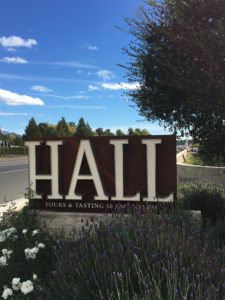 Once we had figured out where we were going, all that was left was figuring out what to wear (because nobody wants to look like they do not know how to taste wine 🙂  ), and how to get there.  Luckily, both of those were pretty easy!  Before we knew it, we were driving into the heart of wine country!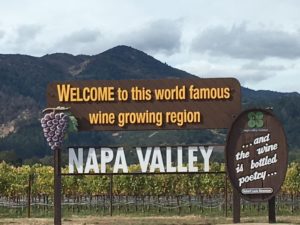 Close your eyes (unless you are the driver!).  Breathe in.  You can smell the vineyards before you even see them!  The whole region smells like grapes!!  I had expected Napa to look amazing, I had never thought about how it would smell amazing!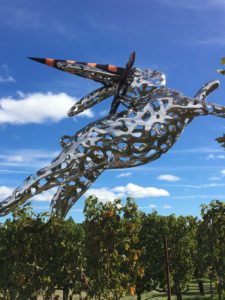 Hall Vineyards consists of eight estate vineyards, which sit on approximately 150 acres of some of Napa's best land.  They are a vineyard which primarily produces red wines, but they do produce a few white varieties as well.  They also outsource to about 70 different vineyards throughout the pacific coast from Northern California up through Oregon and Washington.  A lot of the vineyards apparently do this in order to have greater variety and top quality grapes.  However, not all of their wines are made with outsourced grapes. Many are made strictly from what their own vineyard produces.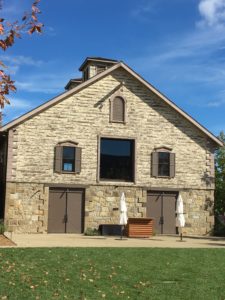 The estate that we visited was Bergfeld Vineyard.  It was originally planted in 1859, and was one of the first vineyards in Napa Valley.  The original land was purchased by an English sea captain named William Peterson.  In 1885 he constructed a 5000 ft. stone winery which, by design, would allow for "gravity fed" winemaking.  Grapes would be lifted up to the second floor in the back of the building, by way of block and tackle, where they would then be crushed.  The juice from the crush would then travel down to the first floor to ferment.  This process worked well for him, until disease destroyed many of his vines.  It was at that point, that William Peterson sold his property to a contractor out of San Francisco in 1894.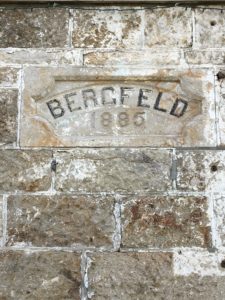 The current estate is named after Robert Bergfeld, who owned the property from 1894-1910.  Bergfeld restored the vineyard, and replaced the name of Peterson, which was chiseled into the stone winery, with his own name.  It has since been known as the Bergfeld building.  Bergfeld produced wine there for 12 years.
Eventually, the entire operation was shut down due to Prohibition.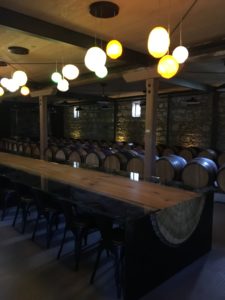 Today, it is owned by Kathryn Walt Hall and Craig Hall.  They have since built a new, state of the art winery, adjacent to the Bergfeld Building.  Upstairs on the second floor, where grapes were once unloaded and crushed, it is now an events venue.  Downstairs on the first floor, where grapes once fermented, barrels line the walls, and a large table sits in the center to accommodate visiting groups.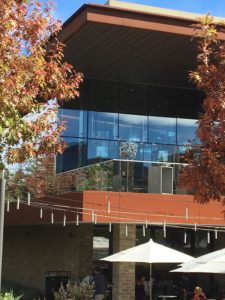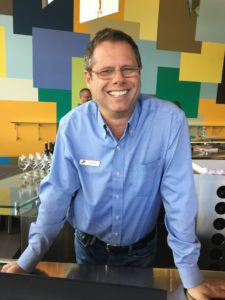 We spent about an hour in the "new" winery for our tasting.  Mark, our hospitality guide, poured five bottles of wine for us to try.  Two of the wines were from the outsourced wineries, the other three were strictly from the Hall Vineyard.  When they outsource from another vineyard, the entire batch comes from just one vineyard…it is never a mix of grapes from various vineyards.  All of the wines that we tasted were really good.  I was a little afraid that I may not care for them, because I am not a fan of really dry wine.  None of the wine we tasted though was, what I would consider, very dry.  They all had a very distinct, rich flavor.  As Mark poured our wine, he talked with us, and shared a bit of the history behind the winery itself, as well as the wine he was pouring.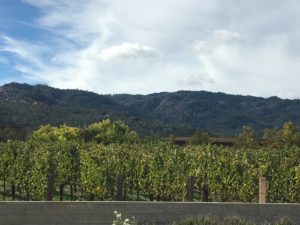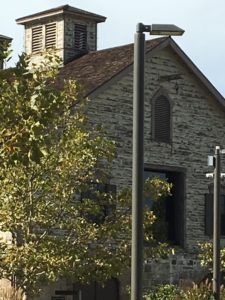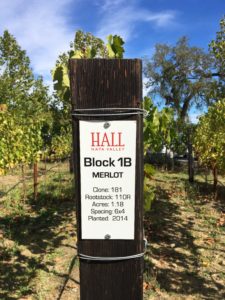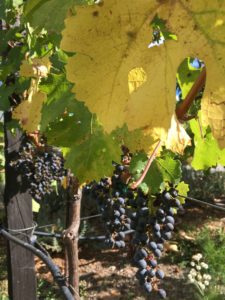 When we were finished tasting, we headed out on to the grounds to walk around.  The vineyard was absolutely beautiful.   The estate stretches out almost as far as you can see into the hills.  We were able to catch a glimpse inside the Bergfeld Building, and taste some of the grapes straight off of the vines!  🙂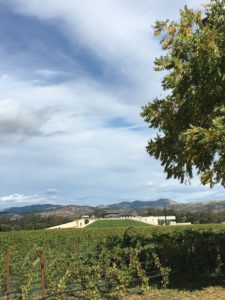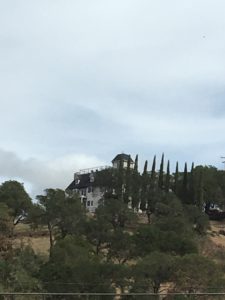 We finished our visit at Hall Winery and started making our way back.  Just driving through Napa is an experience.  There are so many vineyards, each one with its own elaborate entrance.  The houses (or, more like mansions) are as large as they are gorgeous, nestled back among the vines, or up on the hilltops.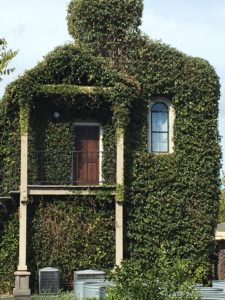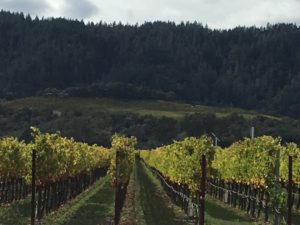 It was like I would imagine Italy to look like.  If time had allowed, I could have spent several days there, just visiting different vineyards and learning some of their history.  As short as our visit was, I feel like we saw a lot, did a lot, and really enjoyed our day in Napa.  It was definitely a trip worth taking!
I think my pop-pop would have enjoyed it here 🙂
Next stop…Monterey!