A Taste Of Fall At Boa Vista Orchards In Apple Hill, Placer County, CA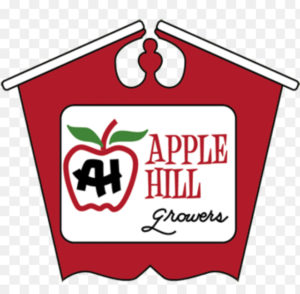 Looking back, I have many fond memories of my childhood.  It seems like it snowed every Christmas, and school was closed a lot due to snow days.  Spring brought flowers and the start of garden season – not to mention Easter candy and my birthday, which was a really big deal to me back then 🙂  From there, it was long, lazy summer days spent at the lake or the shore, with cousins or friends.  Summers seemed longer back then, probably because we squeezed every moment we could into being outside – usually long past when the street lights came on.  You knew summer was coming to an end though, when the giant Sears catalog would arrive in the mail, and mom sat us down to "pick out our school clothes".  When that happened, it also meant that Fall was right around the corner!  To this day, I think one of the reasons I love Fall so much, is because I loved it growing up!  I loved how the trees changed color, the leaves would pile up along the yard and street, covering the ground in a blanket of browns, yellows, oranges and reds.  I also knew that it meant trips to the apple orchard!  Every year, my mom would take us to the apple orchard – Delicious Orchard.  We picked apples and pumpkins, drank cider and ate donuts and pie.  I loved it!
Many years have passed since I have been to an actual apple orchard, so I was pretty excited to have the opportunity to take in the beauty, and the tastes of the Fall season, in one of the most famous apple regions of California.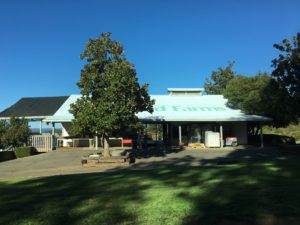 Apple Hill, which is located in Placer County, East of Sacramento, is home to over thirty different apple orchards and farms.  As you wind your way through the countryside, you pass plenty of roadside stands, u-pick farms and several vineyards.  The Jack Russell Farm Brewery is on the way, and even though I didn't stop there, they say it is a great place to stop and have a glass of Farmhouse Ale.  I may have to make a second trip, just to give that a try!  If wine is more your taste, there are a couple of wineries along the way as well.
Because the Apple Hill region is so large, and I only had a few hours to spend there, I had to decide on which orchard I wanted to visit.  The area is open year round, as many of the orchards have grown to include wineries, bed and breakfasts, and Christmas Tree farms.  During this time of year, however, nearly every orchard and farm is open, and it is by far, the busiest time of year to visit!  I am sure that going on a Saturday did not help…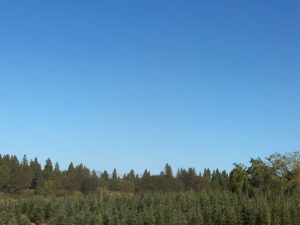 I did a little research before going though, and decided that Boa Vista Orchards offered up the most of what I was looking for.  I am glad I figured that out before going, because trying to figure it out once I was there, would have been an awful mistake.  It was an easy drive the whole way, until reaching the actual orchard areas.  Traffic was backed up for almost 3 miles just to get into the orchard that I chose.  (Note to self – next time, go during the week).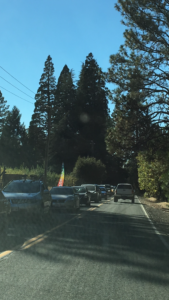 Along the way, there are signs pointing the way to the different orchards, farms, wineries, vineyards and stands.  There are also "Apple Hill Growers" signs outside of the orchards and farms, indicating that they are a part of the Apple Hill Growers Association.  This association started as a group of just 5 ranches.  Today, it has grown to over 50 ranches that include, fruit growers, bakeries, wineries, breweries, Christmas tree farms and even an olive farm.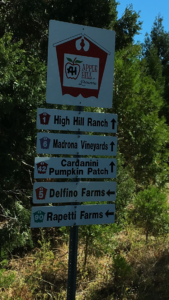 I decided that I wanted to visit Boa Vista Orchards.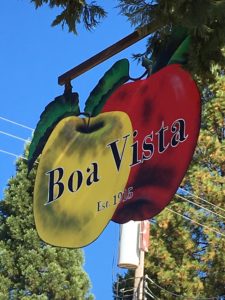 Boa Vista Orchards dates all the way back to the early 1900's when it was known as the Boa Vista Ranch.  In 1915 it officially became a working ranch, and its main crop was potatoes.  In 1939, the family who owned (and farmed) the Boa Vista Ranch, entered their potatoes in the World's Fair in San Francisco.  They won first place for producing almost 500 sacks of commercial quality potatoes harvested from just one acre!  During this time, they also began planting different varieties of pears, plums and grapes.  By 1960, the orchard was planted almost entirely with pear trees.  Unfortunately, disease struck almost all of the pear orchards in Apple Hill, and wiped them out.  In their place, apple trees were planted.  Boa Vista Orchards had enough foresight back then to plant both early and late season varieties of apples.  This foresight and hard work, proved successful through what is now a third generation farm.  Today, they offer a wide variety of fruits and vegetables.  They bake pies, pastries and, yes, apple cider donuts!!  They sell jellies, jams and a whole lot more!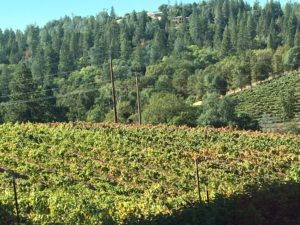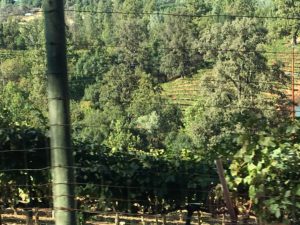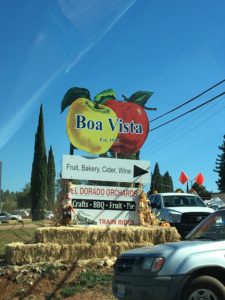 I am sure that during the week, and especially during the non-peak seasons, traffic in and out of Boa Vista Orchards is probably not a problem.  On a Saturday during peak Fall season, expect a wait in traffic to get to a designated parking area.  They did have people directing traffic, which helped move it along pretty well.  Once parked, you can cross the street and the orchard awaits!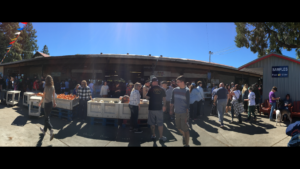 Deciding where to start was not easy.  There was a line for everything, so I just had to pick a starting point, and go from there.  I decided I would look at some of the craft and display tables to see what they offered.  Tables and tents were lined up outside of the farm stand, looking much like a craft fair or farmers market.   There were a few tables that had some really fun things, for instance, one lady was selling handmade "grinder plates".  These were pretty interesting, because not only were they decorative, they would grind almost anything!  She had everything from nutmeg to jalapeno peppers to cheese, and everything in between….and it really did work on all of it!  I moved on from the craft tables though, and wandered down to where the cider mill was.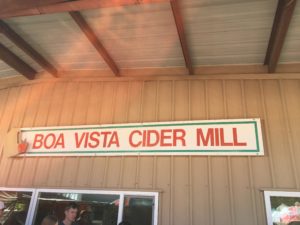 It is a working mill, and even though you cannot go inside the actual mill (I am sure due to health reasons), there is one wall that is one big window, allowing visitors to watch as they press the cider.  A line seemed to be forming outside of this window, and as I followed it around, I saw that it was actually a line for food 🙂  There were definitely some good food smells everywhere you went!
As I made my way back up toward the fruits and veggies, I grabbed an empty cart.  They do have many carts placed randomly all throughout the area, so that as you shop, you can just place everything on your cart, and then wheel it out to your vehicle.  Pretty convenient!
So, I grabbed my cart, and got in the sample line for cider and apples!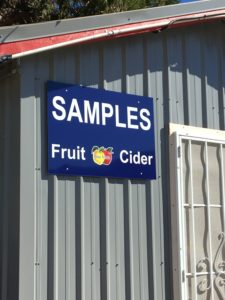 The line moved fairly quick, and I am glad I got in it.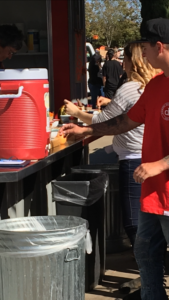 Not only was the cider so yummy (they should really consider replacing the little thimble sized sample cup, with a nice big, apple red solo cup), but some of the apples that they had out, I had never heard of, let alone tasted.  One of the varieties, was a Mutsu apple.  I tried it before I looked to see what it was.  I am glad I did, because otherwise, I probably would not have tried it – and I totally would have missed out!!  The Mutsu apple is actually a cross between an Indo apple and a Golden Delicious apple.  On their own, I do NOT like Golden Delicious or Red Delicious apples!  If I had known it was crossed with one of those, I would not have tried it.  I would have assumed I would not like it, and passed it over.  But, I did try it!  And I really liked it!  In fact, it is probably one of the best tasting apples I have had in a long time.  It is crisp and firm, extremely juicy, and its taste will go from more of a tart flavor (if left room temperature), to more of a sweet flavor the colder it is kept.  They keep really well when kept cool.  The uses for a Mutsu apple are almost endless!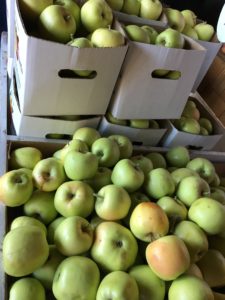 Needless to say, I left the sample line, and went straight to the Mutsu apples, and bought a full box of them!!  I have already made a nice batch of apple butter with some of them, which I will be sharing in the recipe section shortly 🙂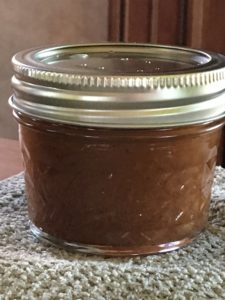 Once I had my box of apples, I grabbed a few more "must haves" from the produce tables –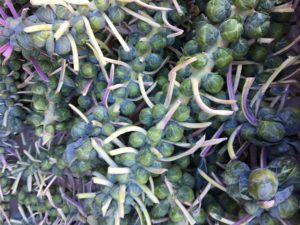 A stalk of brussels sprouts, a couple of really large heirloom tomatoes and a large sweet onion!  I know, these items can be bought at your friendly neighborhood grocery store, but I am a firm believer that produce tastes better when it is bought at a farmers market or produce stand!  Even better, if you pick it straight from the garden!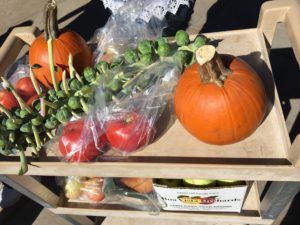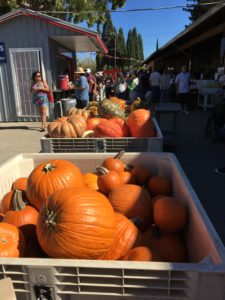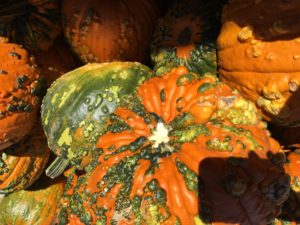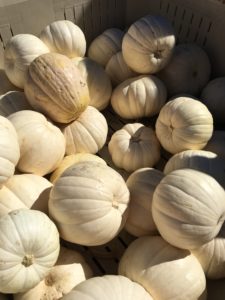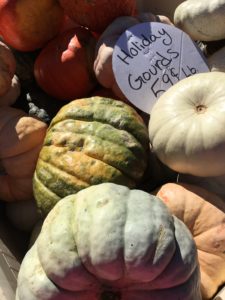 And let's not forget the pumpkins!  There are bins of pumpkins everywhere.  Wee Be Little pumpkins, Large carving pumpkins, white pumpkins, and even really cool looking gourds!  I grabbed the pie sized pumpkins.  For now, it can sit and look festive.  Closer to Thanksgiving, it will get roasted and turned into pie.  Or scones.  Or pumpkin roll.  Or something equally delicious!  I haven't quite decided.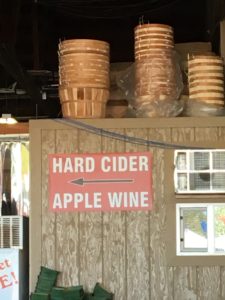 The line for hard cider and wine sampling was incredibly long, and very slow moving.  People sat at the bar to sample, and you had to wait for someone to leave, in order to get a sample yourself.  I opted instead, for grabbing a bottle of their Apple wine and a bottle of their Apple Blackberry wine out of the wine cooler, and I am sure it will be good!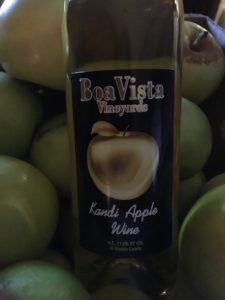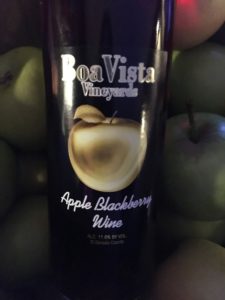 The next sample line I jumped in, was for jams and jellies and salsa.  I tried an apple salsa, which was actually really good, but at the moment I had no idea what I would use it on.  Of course, hours later, when I was no longer there, I thought about how good that would be on some shredded pork tacos….  The apple horseradish jam was amazing though, and I did buy a couple of jars of that!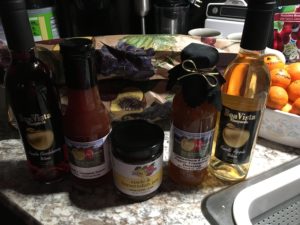 Making my way through the crowd of people, I found a few more "apple" items that I had no idea I couldn't live without, and so I grabbed them as well.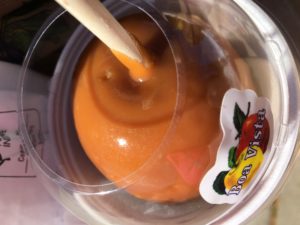 Somehow, apple turnovers and a caramel apple appeared on my cart as I was at the checkout counter, and I bought those as well 🙂
This whole ordeal of sampling and shopping actually took several hours to complete, and was a lot of fun.  Aside from the weather (it was about 85 degrees and sunny), it was just like the apple orchards I remember in my childhood!  There is no mistaking Fall, with all of its color – the oranges and reds and browns, all of its smells – the smell of cinnamon and pastries baking, and the taste of cider and everything apple!  I still love Fall every bit as much as I did when I was younger.  The only difference now, is that I can appreciate all that it has to offer.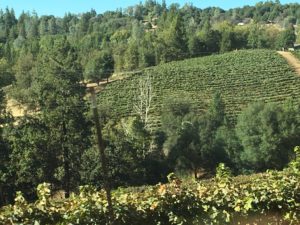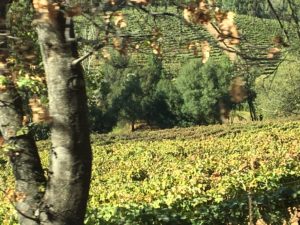 I would love to go back to Apple Hill and get the chance to visit some of the other orchards and vineyards.  The whole area is just beautiful and well worth the trip!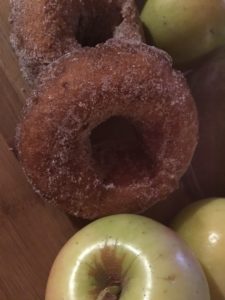 And lets not forget….no trip to an orchard would be complete without getting an apple cider donut!!!  Pretty safe to say, I am also going to have make some of those!!!  Y.U.M.!!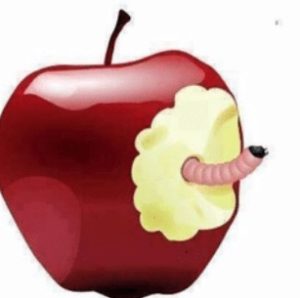 And remember….the only thing worse than finding a worm in your apple, is finding half a worm in your apple!  🙂
Happy Fall!