Adventuring At Angel Lake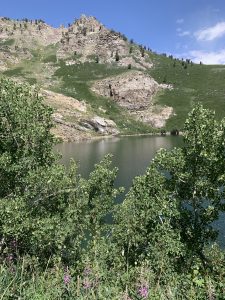 The Nevada desert offers little relief during the hot summer months.  Travel just 15 miles outside of the town of Wells though, and you will find that much needed relief in the form of a nice cool mountain lake surrounded by beautiful scenery!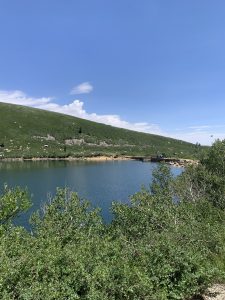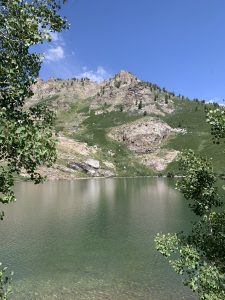 Angel Lake, nestled in the East Humbolt Mountain Range, sits at an elevation of over 8300 feet.  Surrounded by mountains and peaks, it sits in a valley carved out by glacial erosion.  Three sides of this lake are nature made – while one side is man made to dam the glacier water that forms the lake.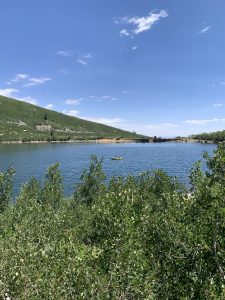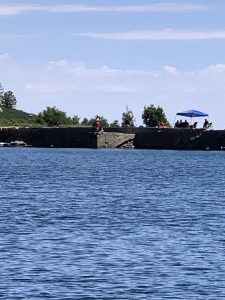 Angel lake covers an area of approximately 13 acres, and at its deepest, is about 30 feet.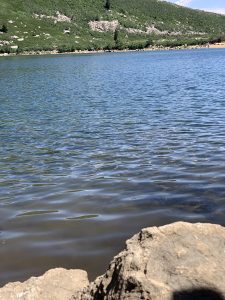 While it is obviously not a huge lake that can accommodate motor boats, it offers a great place to put in a kayak, canoe or paddleboard.  If paddling isn't your thing, that's okay – there are plenty of other activities to enjoy at Angel Lake including fishing, swimming, hiking – even camping!  We chose to hike the day we went.  Having never been before, we weren't sure if it was going to be worth loading up the kayaks.  We decided to hike first and return next time with the kayaks if we decided it was worth it.
Getting There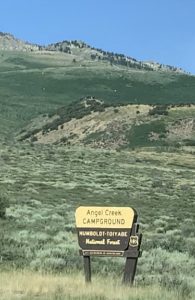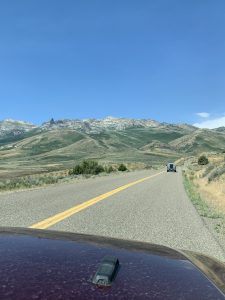 Getting to Angel Lake is half the fun!
Though it is barely 15 miles outside of the town of Wells, by the time you get there, it feels as though you are worlds away.
From I-80, take exit 351 onto Humbolt Ave.  Take Humbolt Ave. to Hwy 231/Angel Lake Rd./Angel Lake Scenic Byway.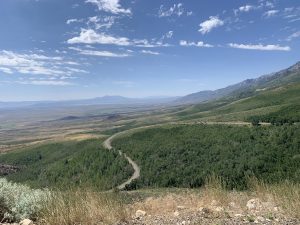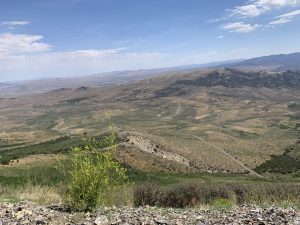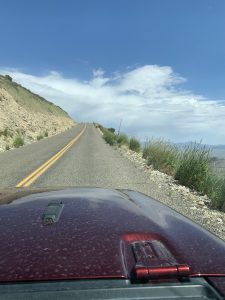 The road that takes you there, Angel Lake Scenic Byway, is twelve miles of paved road, that twists and turns its way up the side of the mountain.  Along the way you will pass wide open fields, beautiful creeks, and heavily treed woods.  Pullouts along the way provide ample opportunities to get out, enjoy the scenery and views, as well as take a few pictures.  Though we didn't see any the day we went, they say there are also big horn sheep and mountain goats in the area.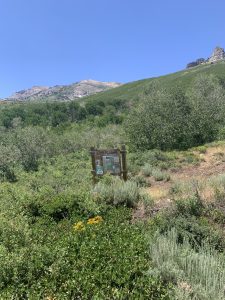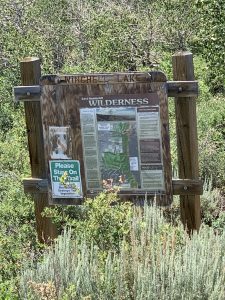 About halfway up the byway, there is a trailhead for Winchell Lake – another hike about 3-4 miles one way that they say is absolutely worth taking – one we will hopefully be going back for!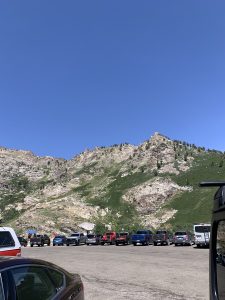 Parking for the rec area is tight if you go on the weekend.  We went on a Saturday, and just happened to get lucky finding a spot to park in – during the week it is much less crowded I would imagine.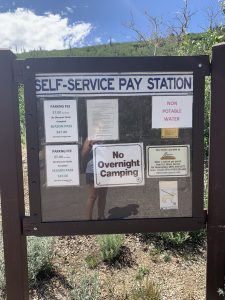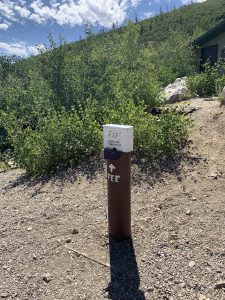 Parking is pretty much on the honor system because I'm not sure how frequently they check to see who has paid.  There is a payment box on the edge of the parking lot where you can place your money in an envelope, write your information on it, drop your payment in the box and place your tab on your dash.  Just $7.00 gets you a full day of parking and adventure!
Adventure Awaits!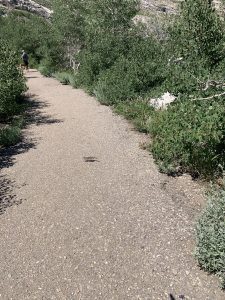 Hiking
With this being our first time up at Angel Lake, we decided we would just spend the day hiking around the lake.  There is a well travelled path that takes you all the way around to the back side of the lake – this is where we were headed.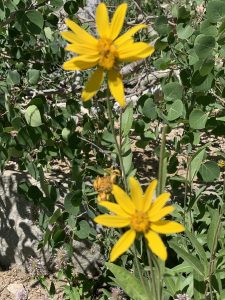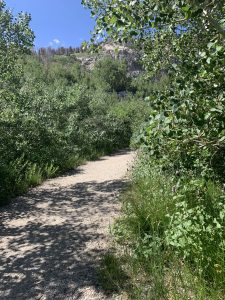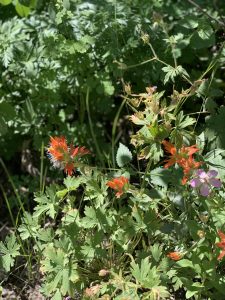 Along the way we passed so many wildflowers, butterflies and chipmunks!  We also passed a lot of other hikers, some with dogs, some without.  The hiking here is "dog friendly", so long as your dog is on a leash and you pick up after it – sadly, we noticed a lot of people not picking up after their pets!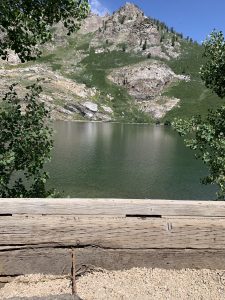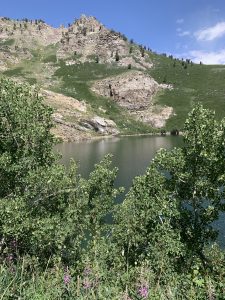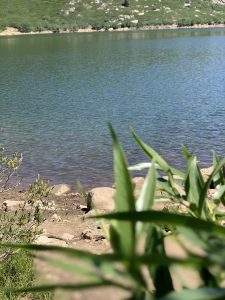 There are many cutouts on this trail that will bring you down to the waters edge.  These are great little areas to just sit and relax, have a picnic, or throw a line in the water.  If you bring your kayak or paddleboard, most of these cutouts are areas you can easily launch from.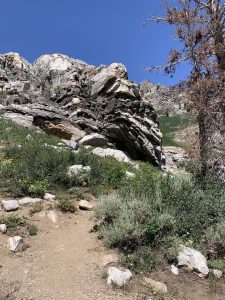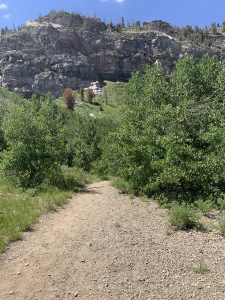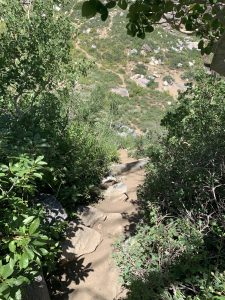 There are also quite a few trails that shoot off of the main trail.  Some of these offshoots will bring you up to the ridges that surround the lake.  Our main interest this day was to check out the lake for future visits, so we stayed down low.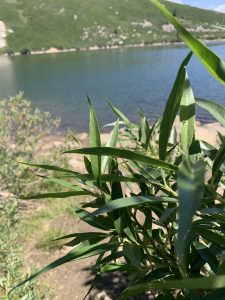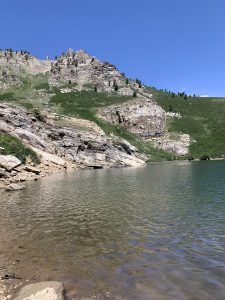 We followed the trail all the way around to the back of the lake.  Here, we found a small sandy beach, way less people, and a lot of peace and quiet!  A great spot to take in the lake, wade in the icy cold water, and be in awe of the beautiful scenery that surrounded us.
While this beach area would make for easy launching of a kayak, it is probably not where you want to put in at – the hike getting back here, with a kayak in tow, would be difficult.  I recommend launching from one of the cutouts along the trail.
Fishing
If fishing is your go-to activity, there is plenty of good fishing at Angel Lake!  Your options for fishing include throwing a line in off of the bank of the lake, or from a kayak or canoe.  Either way, you are likely to catch something, whether it be a nice sized Rainbow, Brook or Tiger Trout!  The good news is – it is open year round for fishing!
Swimming
There was plenty of swimming going on the day we visited Angel Lake!  There are beaches at the front and back of the lake if you prefer to ease yourself into the (very) cool water.  Otherwise, you can jump in from any spot around the lake.  Though shallow on the edges, the lake drops off quickly, so use caution while swimming around.
Camping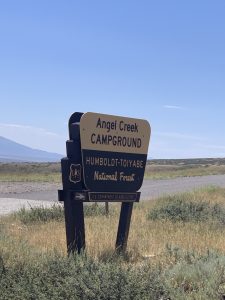 If you are wanting to take a few days to really explore this area, and see what it has to offer, you are in luck!  Angel Lake has its own campground!  Situated right at the base of the lake, the campground has 26 sites, by reservation only.  Each site has a picnic table and grill.  Potable water, trash collection and toilets are also provided.  There is a campground host on site, and firewood can be purchased from the host.  Camping at Angel Lake makes it possible to spend multiple days exploring and adventuring the area.  The campground sits at approximately 10,000 feet, and the views are amazing!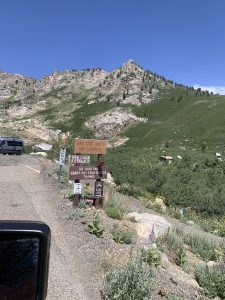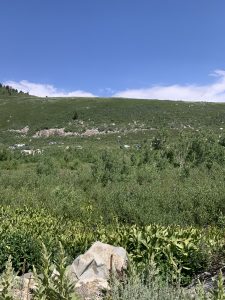 It seems Nevada has quite a few hidden gems within its boundaries, and Angel Lake is one of them!  It is definitely worth checking out if you are ever in the area!
Until next time, Happy Adventuring!