Christmas Baskets – The Recipes For 2022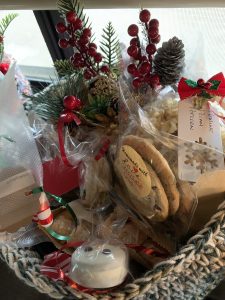 This years Christmas baskets have been made, assembled and sent out!
The Baskets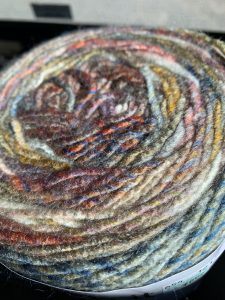 Every year we change up the type of "basket" the goodies will go in, and this year was a homemade basket.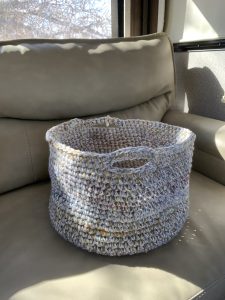 Crocheted slouch baskets served as the main basket for the baked goodies, while the heavier canned goods were placed in gift bags.  The baskets themselves can be used for any number of things, long after the goodies are gone – a place to store throw blankets, dog toys, stuffed animals, magazines – really anything you want to use it for.
The Goodies
Each year we get requests for repeats of items- whether baked goods or canned goods – that were in previous baskets.  This year, there were quite a few requests for repeat items.  For the repeat goodies, I will link the post that includes the recipes.  New recipes for this year will be in this post.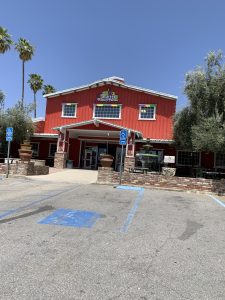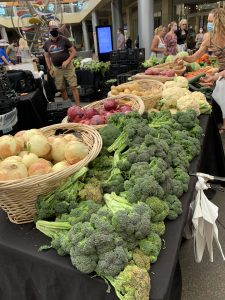 Most of our canned goods this year were made with local produce that we bought at the various Farmer Markets we visited throughout our travels.  Not only were we able to use the freshest ingredients in our canned goods, but we feel good about the fact that we supported many local farm markets as well!  This includes markets in California, Nevada, Utah and Idaho!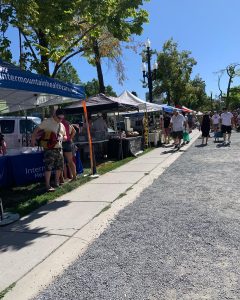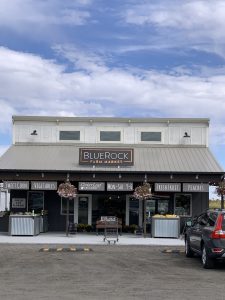 Bringing It All Together
It seems every year we add a few more recipients to our list, and this year was no different.  All total this year, we gave out 20 baskets!  On paper it doesn't seem like a lot, but once we get going on putting everything together, we tend to lose any and all living space for a few days until the baskets are all assembled.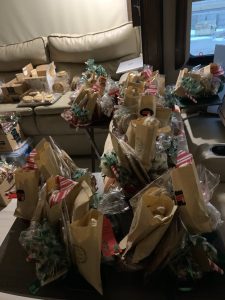 We work on different aspects of these baskets all year long, but the chaos that seems to ensue during the final week, is always totally worth it!  The RV quickly turned into a big assembly line as we worked on getting baskets, platters and boxes filled, wrapped and shipped (or handed) out!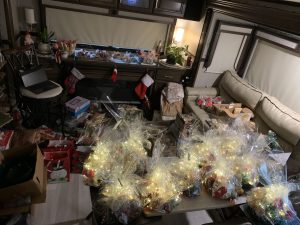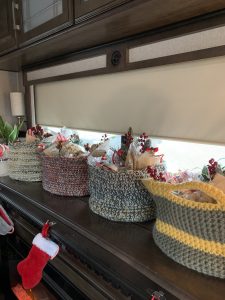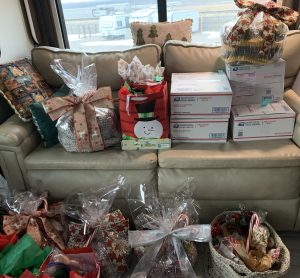 The totals for this years baskets included the following:
124 Canned Goods
480 Cookies
125 Biscotti
555 Rocas / Caramels / Dipped Pretzels
40 cups of Roasted Spiced Nuts / Praline Pecan Popcorn
New Canned Goods This Year
*Recipes are single batch amounts
Tri-Berry Jam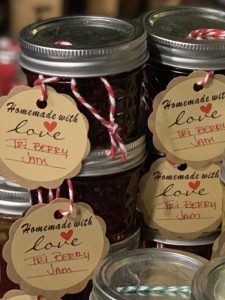 This year we included a Tri-Berry Jam which featured Blueberries from the Summerlin Farmers Market in Nevada, Strawberries from Blue Rock Farmers Markets in Idaho, and Raspberries from The Murray Family Farm in California!
One batch will make about 7-8 half pints of jam.
1 cup Blueberries
2 cups Raspberries
3 cups Strawberries
1/8 c Lemon juice
6 cups sugar
1 box pectin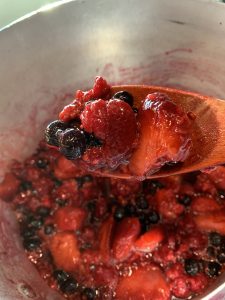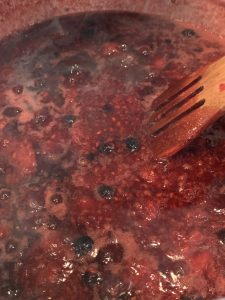 Combine the berries and the lemon juice in a large pot over medium heat.  Stir until the berries start to break down.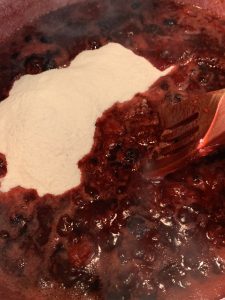 Add Pectin and bring to a rolling boil, stirring constantly.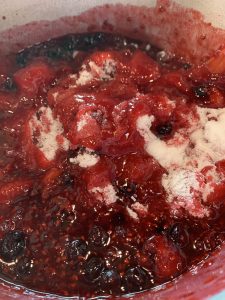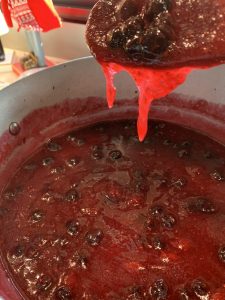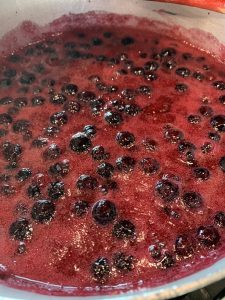 Add sugar all at once and continue to stir.  Bring back to a rolling boil and cook for 1 minute.  Carefully ladle jam into prepared jars and place in a boiling water bath canner.  Process for 10 minutes for half pint jars.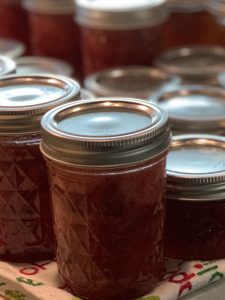 Cran-Apple Relish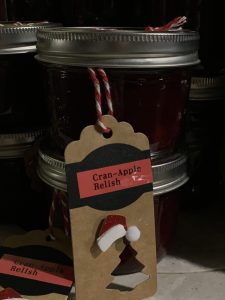 Made with Honey Crisp apples from Blue Rock Farmers Market in Idaho.
1 large bag of fresh Cranberries
2 large Honey Crisp Apples – peeled, cored and chopped
1 cup sugar
1 cup apple cider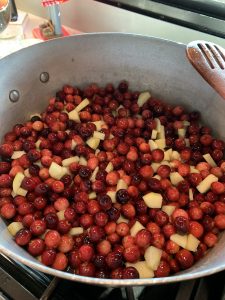 Place all ingredients in a large pot.  Stir to combine.  Simmer over medium heat until the berries have popped,  the apples have cooked down and the relish has thickened.  Carefully ladle relish into prepared jars.  Place in a water bath canner and process for 15 minutes.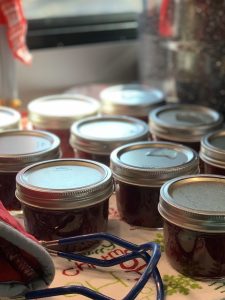 New Baked Goods This Year
Chai Tea Shortbread Cookies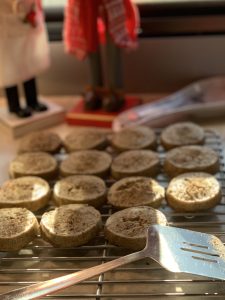 A homemade Chai Tea blend brings the spicy taste of a Chai Tea Latte to these melt in your mouth shortbread cookies!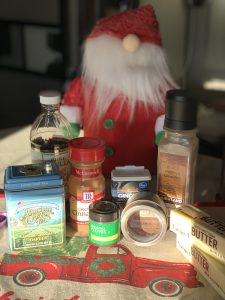 Chai Spice Blend:
2 teaspoons black tea leaves
1 teaspoon Allspice
3/4 teaspoon Cinnamon
1/2 teaspoon Cloves
1/2 teaspoon ground ginger
1/4 teaspoon black pepper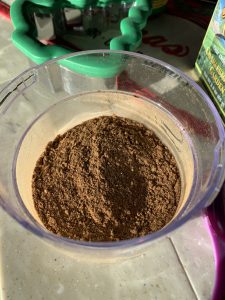 Add all ingredients to a coffee grinder and pulse until well combined.  Set aside.
Cookie Dough:
3/4 cup butter
1/2 teaspoon vanilla
1/2 cup + 1 tablespoon powdered sugar
1 1/2 cups flour
coarse sugar for sprinkling on sliced cookies.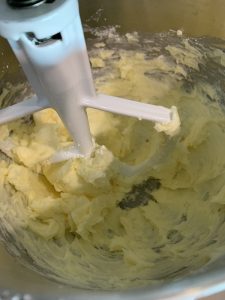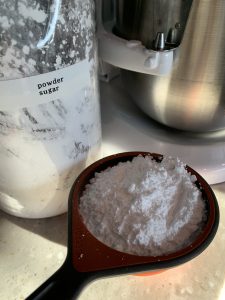 In a mixing bowl, combine butter and powdered sugar.  Beat until smooth and creamy.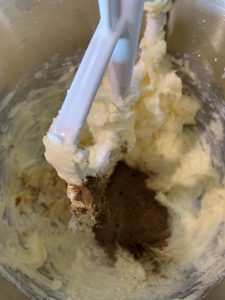 Add in vanilla and chai spice mix.  Mix until well combined.  Slowly add the flour.  The dough should come together, pulling away from the sides of the bowl as it combines.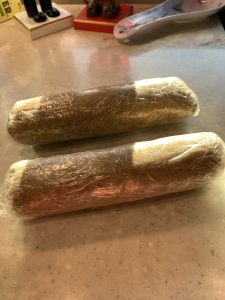 Divide the dough into 2 equal parts.  Roll each part out into a log about 10 inches long.  Wrap each log in plastic wrap.  Place in the refrigerator overnight.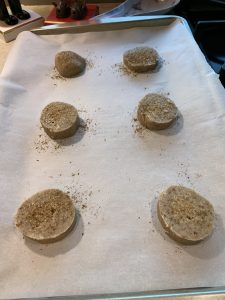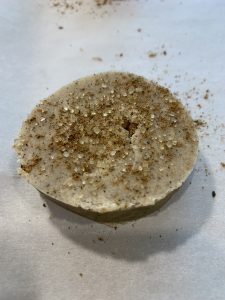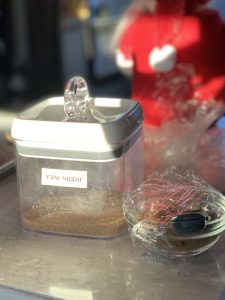 When ready, slice each log into cookie slices about a half inch thick.  Sprinkle with sugar and a little extra spice mix.  Place on a baking sheet lined with parchment paper.  Bake for about 15 minutes in a 350 oven.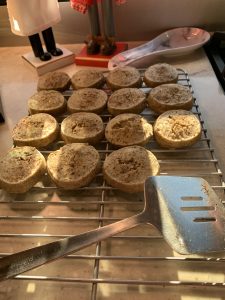 Transfer to a cooling rack and let cool completely.
Snow Cookies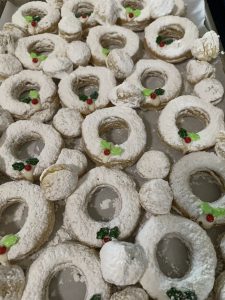 Made from Puff Pastry, these were probably the easiest cookies to make!
Ingredients:
1 box Puff Pastry
Powdered sugar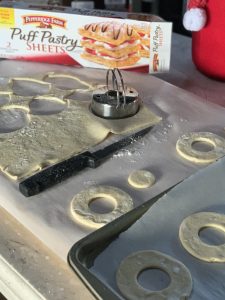 Using a cookie cutter (I used a snowflake, snowman and a round cutter), cut shapes out of the puff pastry.  Lay shapes on a baking sheet lined with parchment paper.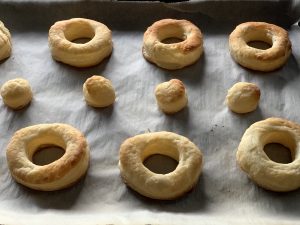 Bake for 10 minutes at 400 degrees.  Cookies will puff up as they bake.  Remove from oven and cool on a rack.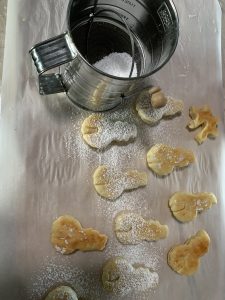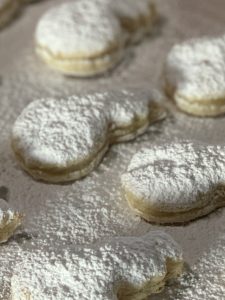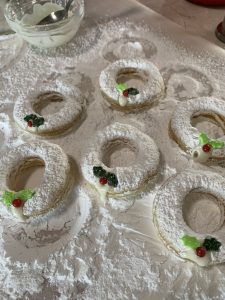 When completely cool, sprinkle with powdered sugar.  That's it!  It is that simple!
Oreo Snowman Pops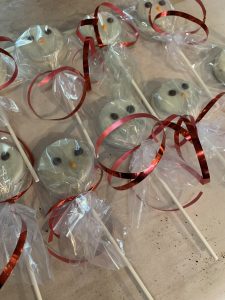 These were so easy and fun to make – and a really big hit with everyone!
1 package of Double Stuff Oreo Cookies
1 package of cake pop sticks
1 package of Vanilla Almond Bark
Mini chocolate chips
sprinkles or colored chips for the nose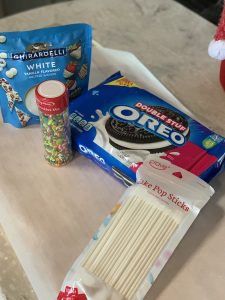 Remove Oreos from the package and gently remove the top wafer.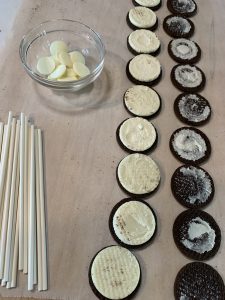 Line the cookies up on a sheet of parchment as you get the top wafers removed.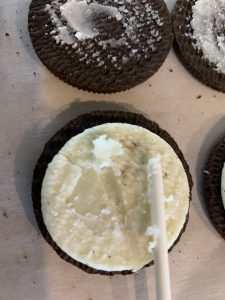 Using a cake pop stick, scrape out a little space in the frosting for the stick to lay even (you want to place it about half way up the cookie).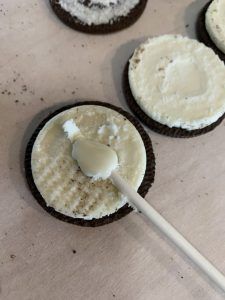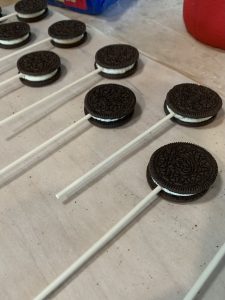 Melt a few bricks of almond bark (I melted it in a pint mason jar with a wide mouth – in the microwave).  Dip each cake pop stick into the melted chocolate and place in the little space in the frosting.  Immediately replace the wafer that was removed.  The melted chocolate will act as a "glue" to hold the stick and wafer top in place.  Once the cookies have all been "glued", let dry and harden for about 15 minutes.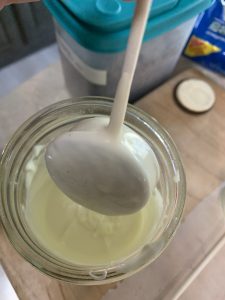 Dip each cookie into the melted chocolate until it is completely coated.  Let extra chocolate drip off into jar.  Place on parchment paper.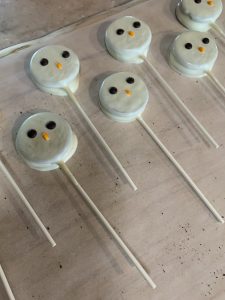 Use mini chocolate chips for eyes, and the orange sprinkle or colored chip for the nose.  Let dry completely.
Peppermint White Chocolate Biscotti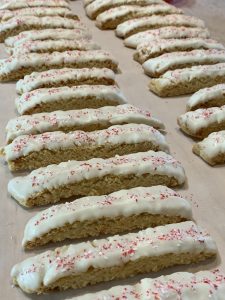 Ingredients:
1/2 Cup Butter – slightly melted
1 Cup Sugar
1 Teaspoon Peppermint extract
2 Eggs – room temperature
2 1/2 Cups Flour
1 1/2 Teaspoons Baking Powder
3/4 Teaspoon Salt
1 cup white chocolate chips for add in + 1 additional bag for melting
Peppermint dust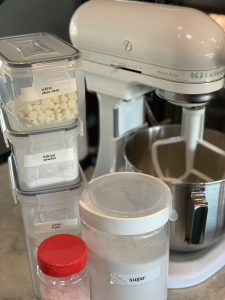 In a mixer, add all dry ingredients (except for white chocolate chips).  Mix until combined.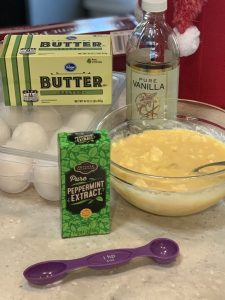 In a separate bowl, melt butter (slightly), add egg and peppermint extract.  Whisk until well combined.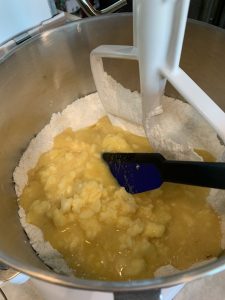 Add butter mixture to dry ingredients, all at once.  Mix until combined.  Add white chocolate chips and mix well by hand.  Dough will be slightly dry – it should not be sticky but it should hold together when pressed.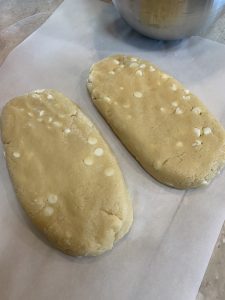 Place dough on parchment paper and separate in half.  Form each half into an oval about 10 inches long and 4 inches wide.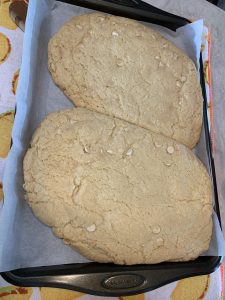 Place ovals on a cookie sheet and place in oven set at 350 degrees.  Bake for 30 minutes.  Remove from oven and let cool for about 15 minutes.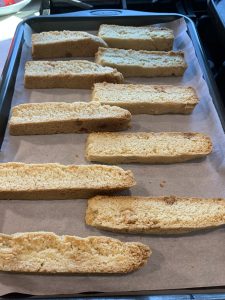 Slice each oval into 1 inch thick slices.  Place slices on cookie sheet lined with parchment paper.  Return to oven and bake slices for 15 minutes.  Remove from oven and turn slices over.  Return to oven and bake for another 15 minutes.  Remove from oven and cool completely on a rack.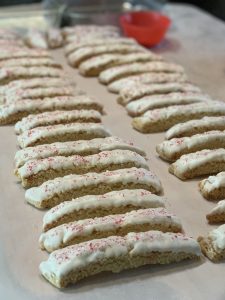 When ready to ice them, melt 1 bag of white chocolate chips in a bowl big enough to dip the slices in.  After you dip each slice, sprinkle with peppermint dust.  Set aside and let dry until hardened.
Praline Pecan Popcorn
This was my first time making a caramel-type popcorn.  I decided to use my Roca recipe instead of my actual caramel recipe simply because I was looking for more of a crunchy coating than a gooey coating to cover the popcorn.  I thought the praline pecans would add a nice touch -reminiscent of Cracker Jacks, only better!
Ingredients:
1 cup butter
1 c sugar
3 tablespoons water
1 teaspoon light corn syrup
1 can Praline Pecans – coarsely chopped
1 bag microwave popcorn (I used Orville R's Sea Salt Naturals)
*This is a fast moving recipe, so it is best to have everything ready to go!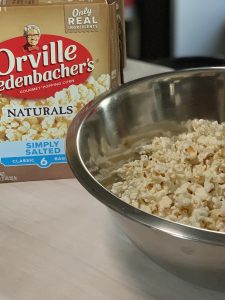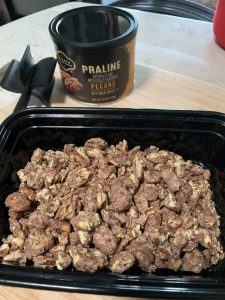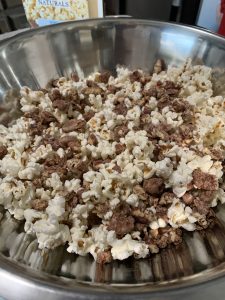 Lay a long piece of parchment paper out on the counter.  Pop the popcorn per directions on bag and empty bag into a large bowl when popped.  Add the chopped pecans to the popcorn (I "layered" the popcorn and pecans into the bowl).
In a medium pot on the stove, add the butter, sugar, water and corn syrup.  On medium heat, stir until well combined and butter is melted.  Attach a candy thermometer to the side of the pot after the butter has melted.  Once the mixture begins to boil around the edges, turn the heat up.  Stir constantly as it boils rapidly, making sure to scrape bottom of bowl so the mixture doesn't burn.  Continue boiling until the thermometer reaches the soft crack stage.  Once it reaches the soft crack stage, remove from heat and quickly pour over the popcorn and nuts.  Stir with a large wooden spoon (the mixture will be very hot).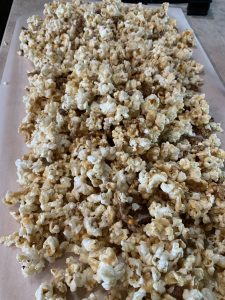 When you have it well combined and most of the popcorn coated, pour onto the parchment paper.  Let cool completely.
Repeat Goodies From Past Years
Our list of repeat goodies seems to grow each year.  Instead of typing out the recipes multiple times, I will link the posts where the recipes can be found (you may have to scroll through the post to find a particular recipe).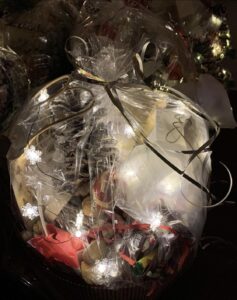 Repeat goodies that were originally included in the baskets from 2020.
All of these goodies that were included in this years baskets, were originally in baskets that we gave out in 2020.  To get the recipes for the following goodies, click here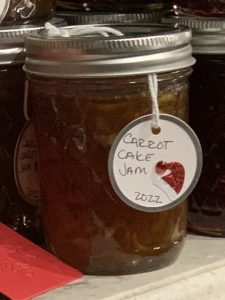 Carrot Cake Jam
This jam is requested each year by several people.  While it does involve a little bit of prep work, it is well worth it.  If you like carrot cake, you will love this jam!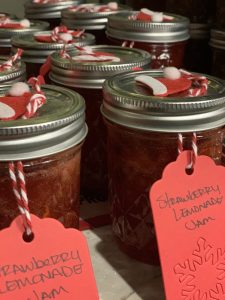 Strawberry Lemonade Jam
This jam is like summer in a jar!  This year, the strawberries for this jam came from the Murray Family Farm in California, at the peak of strawberry season!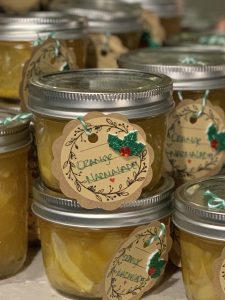 Orange Marmalade
This is the third year I have made orange marmalade, and I have decided that I have a very strong love-hate relationship with it!  I have yet to make a batch that I am completely pleased with, but I will keep on trying!  There is always next year, right?
*I followed the same recipe as I have in the past but this year I added TWO boxes of pectin hoping that the marmalade would get a good set.  The taste of the marmalade is always delicious, but, it is always so syrupy.  I think I am going to work on a new recipe this coming year.  Consider this recipe a "work in progress".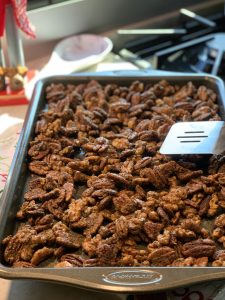 Spiced Nuts
These are one of my favorite snacks to keep on hand throughout the year!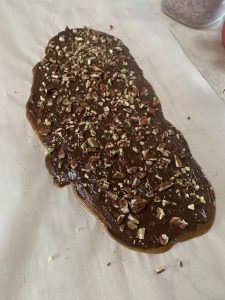 Almond and Pecan Rocas
This recipe always gets repeat requests (sometimes for a batch throughout the year).  Easy to make, it is always one of my favorites!  I plan on trying a vegan version of roca this coming year!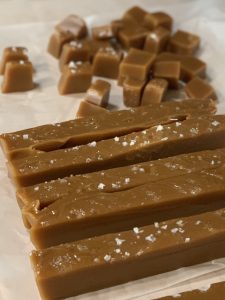 Caramels
You cannot beat the taste of homemade caramel!  This year, the consistency turned out perfect as well!  We cooked it just 3 degrees past what the recipe calls for originally.
Flavors for homemade caramels this year included :  Sea Salt, Espresso and new to the list, Chocolate. For the chocolate caramels, make the basic recipe, but add in 3 Tablespoons of chocolate chips in the beginning.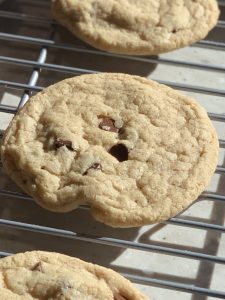 Chocolate Chip Cookies
This cookie always seems to make it in the baskets because, well, who doesn't love a chocolate chip cookie?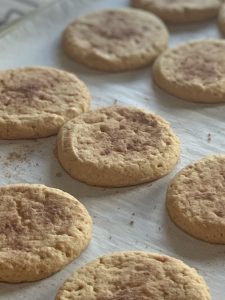 Peanut Butter Cookies
The recipe for this cookie stayed the same, even though the name changed slightly.  This year they were labeled as Peanut Butter Twix cookies – they had an addition of Twix flavoring sprinkled on top.
Molasses Cookies (I did not get a photo of the cookies apparently!)
Repeat goodies that were originally included in the baskets of 2021.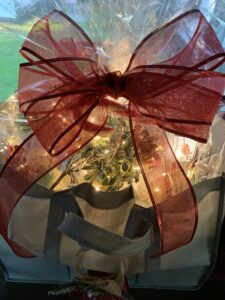 To get the recipes for the goodies that we originally included in last years baskets, click here.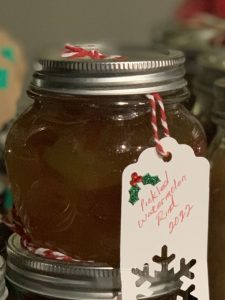 Pickled Watermelon Rind
This was a huge hit with a lot of people last year!  I was really excited that people requested it again for this year.  It is one of my grandmothers recipes from when I was a child, so it makes me happy to share it!!  The watermelons came from the Downtown Farmers Market in Salt Lake City.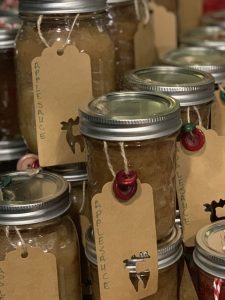 Applesauce
We have really gotten lucky on our batches of applesauce these past two years!  Like last year, we used Honey Crisp apples.  This year, we got our apples from Blue Rock Farm in Idaho!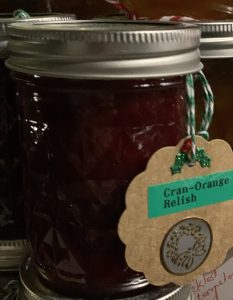 Cranberry Orange Relish
Nothing tastes better with a holiday turkey, than homemade cranberry relish!  This year we made extra to have throughout the year, because it goes pretty darn good with chicken as well!!!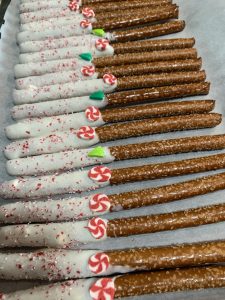 Dipped Pretzels
Dipped pretzels are one of my favorite goodies to make for the baskets.  I was glad that these got requests to be repeated!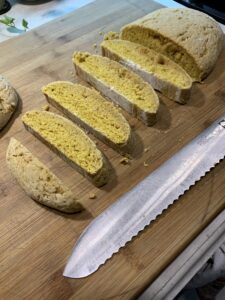 Biscotti
Last years biscotti recipes turned out so good, I was glad that people wanted them again this year!  It took years of trial and error trying to come up with a recipe that I liked!  Now that I think I have it the way I want it, I'm going to try a vegan version of this as well, because I love biscotti!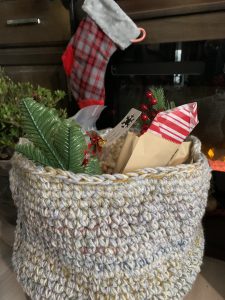 We hope everyone who tries our recipes, enjoys making (and eating) them as much as we do!  If you have tried any of the recipes, drop us a comment and let us know what you think.  As 2022 comes to a close, we are already thinking ahead to next years baskets – what they will be, what will be in them and how many we will make!