An Invisible Thread – A Book Review
Book 1 of 12 (starting over for 2020) An Invisible Thread by Laura Schroff and Alex Tresniowski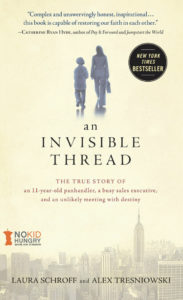 "An invisible thread connects those who are destined to meet,
regardless of time, place and circumstance.
The thread may stretch or tangle,
but it will never break."
                   -Chinese Proverb
This book made me happy and sad, all at the same time.  It is the true story of a woman and an eleven year old boy, who meet by chance, and whose lives are forever changed as a result of one random act of kindness.
Laura is a well established Sales Executive living in New York City in the 1980's.  She has a good job, good friends, nice apartment and is close to her family (sisters, brothers, nieces and nephews- her parents have since passed on).
Maurice is eleven years old, and spends his days (and sometimes his nights) on the streets of New York City begging people for money.  He rarely goes to school, has no friends, and lives in a one room apartment in the projects with about twelve different people at any given time.  His mother is a drug addict and dealer, as are all of his uncles that live with him.  His grandmother lives a life of drugs and violence as well.  His father has not been in his life for over five years.
One day when Laura was just out walking, she crossed paths with Maurice.  He asked her for spare change.  She said "no" and kept walking.  As she crossed the busy New York street, she stopped and turned around.  She did not know why she was drawn back to Maurice, but she went back to where he stood, begging for money.  She offered to take him to McDonald's and buy him a hamburger.  With that one small gesture, she changed the life of Maurice forever.
This book tells their story.  It tells about how, on that one sunny afternoon, a lunch at McDonald's turned into a lifetime of Monday meet-ups, a lifetime of "firsts" for a young boy, and a lot of life lessons for both Laura and Maurice.
It talks about the friendship that was formed, despite racial, financial, age and survival differences between them.  It talks about the struggles that Maurice faced during the most important years of his life, and how he was able to overcome those struggles.  Laura grew up with her own struggles, and was able to see something in Maurice beyond his dirty clothes and broken family.
Twenty some years later, Laura and Maurice remain the closest of friends.  He calls her "mom" now, and credits her with the success of his own life.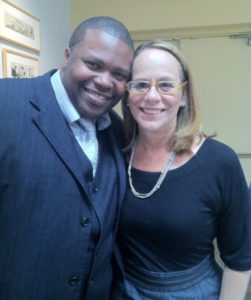 This book will open your eyes to the impact just one simple act of kindness can have on someone – including the person extending that act of kindness.
I give this book 4 Scouts!!