"Char's Corned Beef And Cabbage" – A St. Paddy's Day Tradition Part 2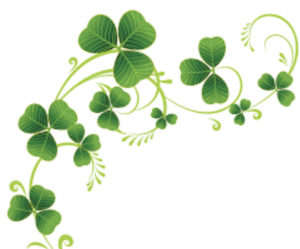 "A good friend is like a four-leaf clover,
hard to find and lucky to have." – Irish Proverb
Happy St. Paddy's Day!!  I think the same can be said about a really good recipe sometimes, and Char's Corned Beef and Cabbage recipe is definitely one of them!
Today is the day!  The brisket has been sitting in the fridge all week, brining nicely.  Hopefully you have remembered to flip it every day so that it saturated nice and even.  Today we are cooking up what, hopefully, will also become your favorite version of corned beef, just as it has mine!
Like I said in Part 1 of this post, Char normally puts hers in the slow cooker, and that is how her recipe is actually written out.  If you prefer to use a slow cooker, or if it is just more convenient, by all means, use it.  You will not be disappointed.
I decided to give the Instant Pot a try for the cooking method this year.
Hopefully, the luck of the Irish is with us on this, and it turns out perfect!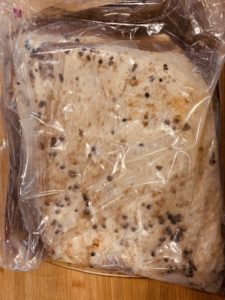 First, remove the brisket from the refrigerator.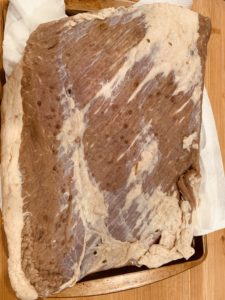 Rinse the brisket in cold water, and pat dry.
(The following instructions are for Instant Pot cooking only.  If you are going to use the slow cooker, see the instructions at the end of the Part 1 post).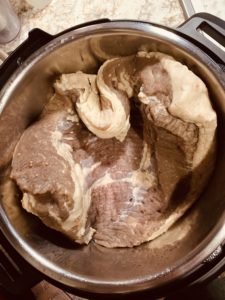 Once you have the brisket rinsed and patted dry, place it in your Instant Pot (depending on the size of your brisket and/or your Instant Pot, you may have to kind of fold it into the pot, or maybe even cut it in half.  I just kind of folded up the sides a little).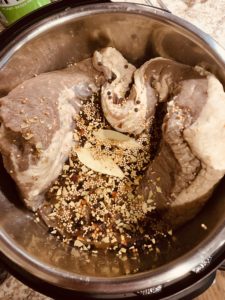 Next, add your liquid and seasonings:
1/4 cup of apple cider vinegar
3 3/4 cups of water  (for the Instant Pot you want 4 cups of liquid – more than the "minimum liquid" the pot calls for, but less than you would need in a slow cooker.  The brisket will not be completely covered with liquid in this method of cooking).
2 tablespoons whole peppercorns
2 teaspoons pickling spice
2 teaspoons mustard seeds
1 teaspoon minced garlic
2 bay leaves
Once you have all of your liquid and seasonings in, place your lid on the pot and lock it.  Make sure that your valve is in the "seal" position.  Set your cooking method to "Pressure Cook".  For a 4 pound brisket, set your timer to 90 minutes.  An hour and a half should make it very tender and easy to slice.  If your brisket is smaller, decrease your time by about 10 minutes for every pound smaller than 4 pounds.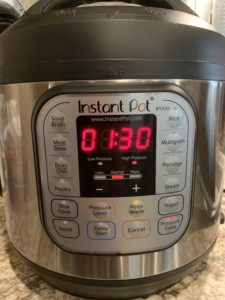 Once the time is up, let the steam release naturally (it will probably take about 20 minutes).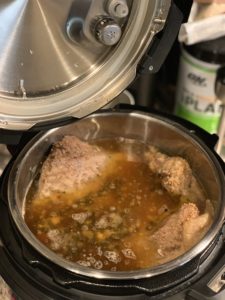 Carefully remove the lid, and place the brisket on a platter.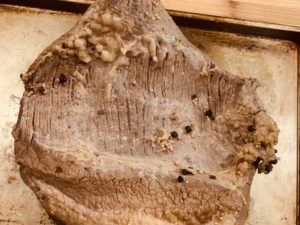 Set aside and let sit for a few minutes while your veggies cook.
Veggies:
1 head of green cabbage (cut into quarters)
Yukon Gold potatoes (cut in half)
Carrots (either baby carrots or regular carrots cut into 2 inch chunks)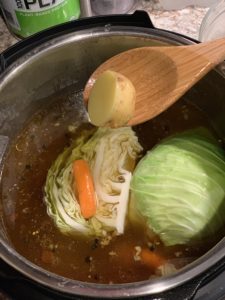 Once you have removed your brisket and set it aside, keep the remaining liquid in the pot.  Place all of the veggies into the pot.  Replace the lid and ensure that it is locked in place.  Make sure that your valve is again in the "seal" position.  Set the cooking method once again for "Pressure Cook".  Set your time for about 6 minutes.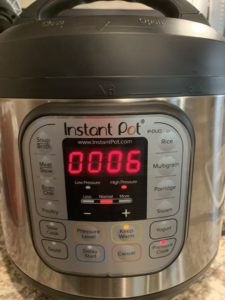 Six minutes also happens to be the perfect amount of time to enjoy an Irish Car Bomb!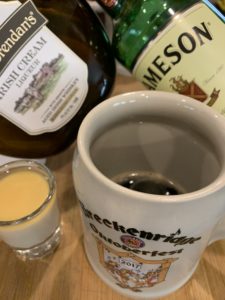 Once your time is up, you can manual release the pressure for the veggies.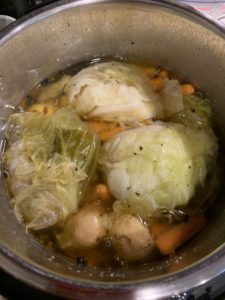 Carefully remove the lid.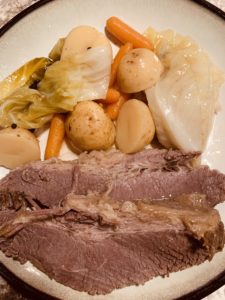 Slice the brisket and put on a plate.  Add some cabbage, potatoes and carrots.  Serve with a little bit of stone ground mustard.  With any luck (of the Irish) this will be the best corned beef you have ever had!  🙂
Enjoy!!