Cycling The Scenic Loop – Red Rock Canyon, NV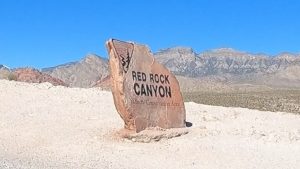 Red Rock Canyon is one of my favorite spots in the Las Vegas area!  If you love the outdoors, and you are ever in or near Las Vegas, I highly recommend you visit.  Whether you hike, bike or just want to drive, this area will not disappoint you!
We decided to cycle the Scenic Loop Drive.  Here is our story, review and suggestions.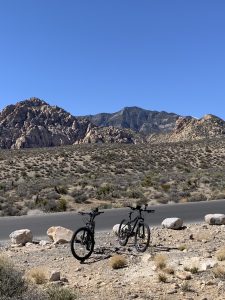 There are a few things you will want to know about this cycling adventure, if you decide you want to do it.
The Distance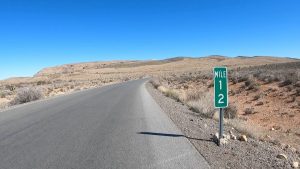 The first thing you will want to know, is that it is a little over 12 miles long.  For some people who are used to cycling 30, 40 or even 50 miles a few times a week, this is nothing.  For those of us who are just getting into cycling (like ourselves), this may be a longer ride than you are anticipating.  When I say we are just getting into cycling, we have ridden bikes all our lives.  As kids, we lived on our bikes.  As teenagers, our bikes served as our transportation prior to getting our drivers license.  As adults, the bikes started to sit idle a little more often, coming out for those nice days that just seemed like a good day for a bike ride.  Nothing drastic, nothing crazy, just regular bike rides.  We decided that biking would be a good way to see some of the areas that we visit.  We do a lot of hiking, kayaking and scenic driving, so why not add biking to the list.
Sitting outside in a camp chair, with a cup of coffee and the All Trails app, the Scenic Loop through Red Rock Canyon seemed like a perfect, easy ride.  Everything seems easy when you are sitting in a camp chair with a cup of coffee though.  Even a 12 mile bike ride.
Level of Experience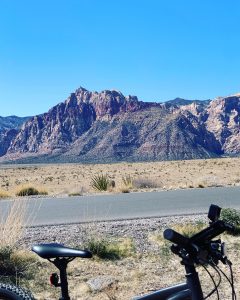 If you check different trail apps, the Scenic Loop is rated "Easy".  The problem with this, is that it really depends not only on the experience of the individual doing it, but the activity that is getting them around this loop – are they driving?  Are they hiking? Are they biking?  If you are driving, it is definitely easy!  Traffic only flows one way, and there are plenty of pullouts to sightsee from, so no one backs traffic up.  If you are hiking, you can either go off on any of the many dirt trails, or you can simply walk the paved loop.  I would probably agree that hiking would be easy.  Long, but easy.  Biking though, it really depends on the biking experience the individual has.  Someone very experienced, that bikes all the time, this probably is easy.  For everyone else, I would go into this ride with the mindset that it is a moderate (to possibly hard if someone has never really ridden much) bike ride.  I say this, because the first 4 miles are all uphill.  It may not sound like much, until you are actually pedaling uphill for 4 consecutive miles.  The next 2-3 miles are also uphill, though you do occasionally get a small break between hills to level out a little and give your legs a rest.  It isn't until about mile 7 that the ride switches to downhill.  While downhill sounds easy and pretty amazing by the time you get to it, now you need to concern yourself with speed and curves.  As I said earlier, this is a one way road, and it does have vehicle traffic.  There are some very tight curves on this loop, and you pick up a lot of speed quickly, so you need to be able to adjust for all of that.  All totaled, there is an elevation gain of over 1500 feet on this ride.  There are long, gradual hills as well as shorter, steeper hills.  They all have the potential to be brutal if you are not an experienced cyclist.  I personally would rate this ride "moderate" with the potential to be difficult in the first 4-6 miles.  I would like to go back and do it again someday after we have more experience cycling, and see if my opinion changes.
The "Loop"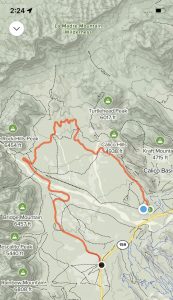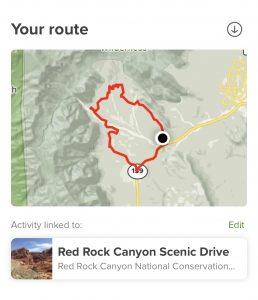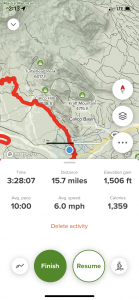 The Scenic Loop is technically a "U".  It only becomes a "loop" when you leave the one-way drive and complete the last couple of miles on the main highway.  This is important to know if you are uncomfortable, for any reason, travelling alongside two lane traffic that moves at a fairly good rate of speed.  The shoulders of the road are wide enough that you should not have vehicles right on top of you as they pass.  There is also a parking lot at the end of the actual scenic ride, before entering the highway, where you can have someone meet you with the car to pick you up, if you need to.  The 12 miles is only taking into account the actual scenic drive.  By the time we closed the loop on the highway, and rode back up to where we started, our total distance was actually 15.7 miles.  Yes, I did say "back up to where we started", because there is one last uphill to end on, going into the parking lot.
If You Go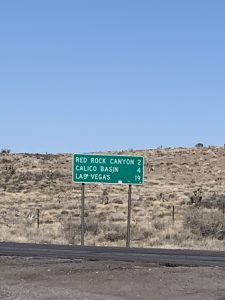 Whether you drive, hike or bike the Scenic Loop in Red Rock Canyon, you will be rewarded with some of the most beautiful views in or around Las Vegas!  It is amazing to think that something this vast and incredible exists just 15 miles or so from the hustle and bustle of the Las Vegas Strip.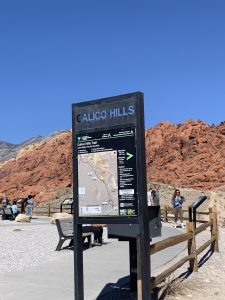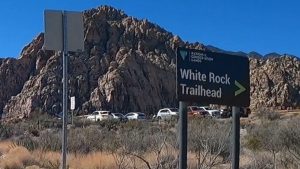 Along the Loop, there is access to many trailheads leading up into the rocks and mountains.  Parking lots are available if you need to park your car or bike.  There are plenty of benches and rocks to sit on as well, if you just need to stop and take a rest.  There are viewing scopes to allow for a close up look at the wildlife and scenery.  Bathrooms are also available at most of the pullouts.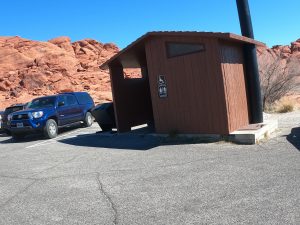 What is not available is shade and water!  Bring plenty of sunscreen and water with you!  If possible, avoid hiking or biking here in the middle of summer.  If summer is the only chance you have to visit, I suggest doing the Scenic Loop in your air conditioned vehicle.  There is no shade in this area, and temperatures can get pretty high.  We timed our bike ride for late morning (around 10:30), and finished up early in the afternoon (around 2:00).  We took time at most of the pullouts to get off of our bikes and hike around a little.   The weather right now is perfect for hiking and biking, but even so, we ended up reapplying sunscreen a few times, and I drank most of my water that I had in my camelback.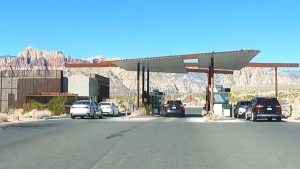 Depending on what time of year it is when you visit, you may need reservations to enter the Scenic Loop.  There is only one highway into Red Rock Canyon, and during peak season the road was getting backed up with traffic waiting to get into the Loop.  A couple of years ago, they implemented a reservation system that you can do online.   We purchased our reservation the day before, and had no problem getting in.  We have a National Parks Pass, which they honor, so we only had to pay for parking (Parking is a $2.00 fee, and the entrance fee if you do not have a pass, is $15 I believe).  If you are walking in, or biking in, I think it is a $2.00 per person fee (and I believe if you are walking or biking in, you only need to pay the entrance fee – I do not believe you need a reservation).  There are pullout areas along the highway before you get to the entrance booth, if you choose to walk or bike in.  It is also worth noting that the reservation is only required if you plan on doing the Scenic Loop or visiting the Red Rock Visitors Center.  There are many other places to go within Red Rock Canyon, to hike and bike, that you do not need to reserve or pay a fee for.  If you are doing the Scenic Loop, reservations are required October- May.
Regardless of how you choose to see Red Rock Canyon, if you are in the Las Vegas area, it is a place I highly recommend visiting!  You can stay in your car and drive the highway all the way through if you choose, but if you really want to experience it, I suggest hiking or biking.  Start with the Scenic Loop and choose the areas that you want to explore more.  Remember, if you bike the Scenic Route, those first 6 or 7 miles are going to give your whole body a workout getting up those hills, so be prepared for that!  In the end, it will be worth the effort and you won't regret doing it at all!  You will be glad you did!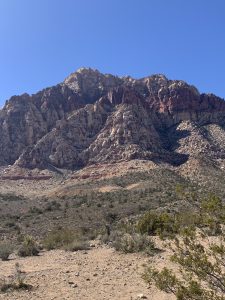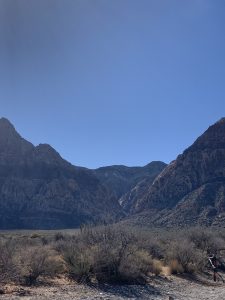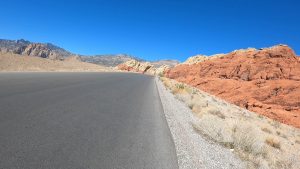 ** If you'd like to read more about our adventures in Red Rock Canyon, you can click here to read about our hike a couple of years ago.
My Review Rating of The Scenic Loop

I give the Scenic Loop my highest rating of "Scouts"…I give it 4 Scouts!  It had everything we wanted for a great day of cycling.  Smooth road to ride on, lots of pullout areas, great full body workout, and amazing views the whole way!  I personally would not call it an "easy" bike ride, but it was certainly an amazing bike ride!