The Big Climb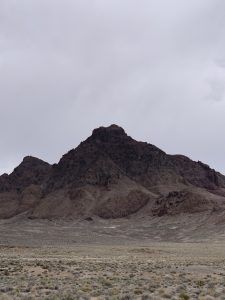 Date of climb- May 14, 2022
Location of climb – Volcano Peak  in the Silver Island Mountains of Utah
??????????
About the climb
On May 14, 2022 I participated in The Big Climb – a fundraiser event for the Leukemia Lymphoma Society.  The LLS is a voice for all blood cancer patients.  They are constantly seeking a cure, researching treatments, and providing information and support to all blood cancer patients who suffer from Leukemia, Lymphoma, Hodgkin's disease and Myeloma.  Through events like The Big Climb, I am not only able to raise funds for LLS, but it holds me accountable to staying active.
This was my first event, and I chose it for a couple of reasons.
First, it was a virtual event.  While large groups were gathering at gyms and iconic landmarks throughout the country to get their steps in, I chose to take mine outdoors.  Being virtual, it didn't matter where, or how, you got your steps in, just that you did.  The challenge was to climb up 1500 steps – what it would take to conquer the Bank of America Tower.
Second, I knew that this event would be physically challenging for me, and force me to push myself.
Lastly, there was no minimum donation amount to reach in order to participate.  Some of the bigger events, have minimum donation amounts in order to participate.  While I plan to participate in a couple of the bigger events in the future, this was a good event to start with.
For everyone who supported me, whether it was financially through a donation, or by providing me with moral support and words of encouragement, I want to extend a huge THANK YOU!!  It was with your help that I was able to make it to the summit of Volcano Peak!  As of the writing of this post, I am actually in the top 25 of the Top Fundraisers for The Big Climb!!  As of today, I have raised $1100.00 in the fight against blood cancer!!
??????????
About Volcano Peak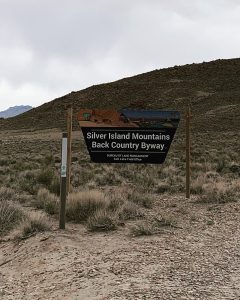 Volcano Peak is located in the Silver Island Mountain Range near the Bonneville Salt Flats in Utah.  Named appropriately since it was formed by lava flows which poured onto the limestone beds, which themselves were formed as a result of limestone sediment being deposited on the floor of what was Lake Bonneville at one time.
The drive to it is fairly easy in a four wheel drive vehicle, and because it is a popular mountain to climb, there is a visible trail that extends a little less than halfway up.  Once the trail ends, there is a section that is a lot of scree, a saddle to cross, and the last 200 feet or more is a scramble through a lot of loose rock and boulders to the top.  Volcano Peak has a summit elevation of 6011 feet.  The hike to the top is fairly short compared to other peaks in the area, but what it lacks in length, it makes up for in steepness!  It is a pretty steep climb to the summit, especially the last several hundred feet.
While it is considered a moderate climb, it is well worth the effort.  The entire hike offers sweeping views of the surrounding area.  You can get a great view of other surrounding peaks, as well as a few valleys and canyons leading up to Volcano Peak.  Both wildlife and plant life live on the mountain.  It is home to lizards, jack rabbits, birds and even bighorn sheep!
The peak itself is more narrow than I expected, and the view is breathtaking.  There are rock formations you can explore with colorful mineral deposits and other signs of volcanic activity.
All total, this hike took us just under 5 hours (4 hours, 59 minutes, and 42 seconds to be exact!).  It was worth every step!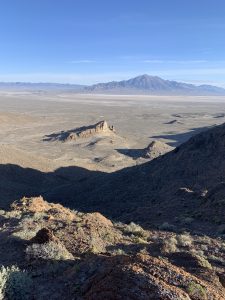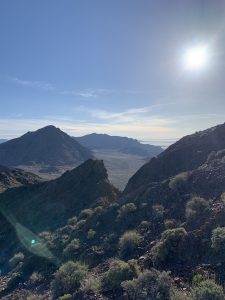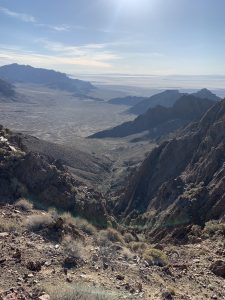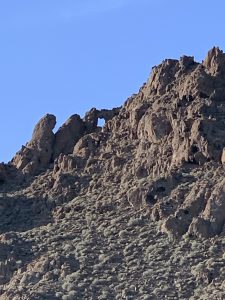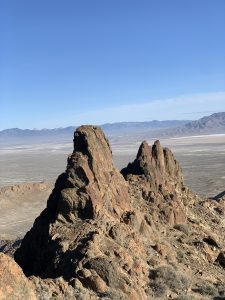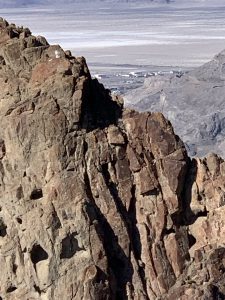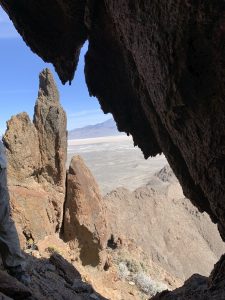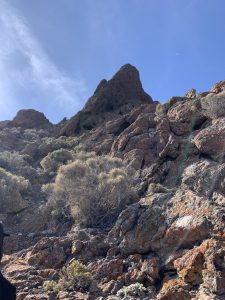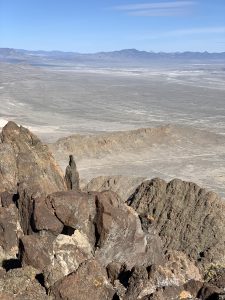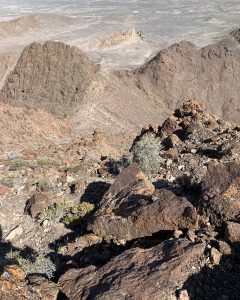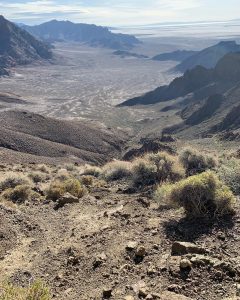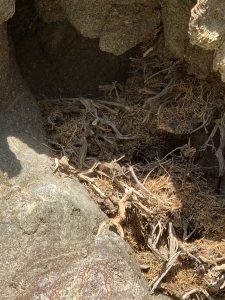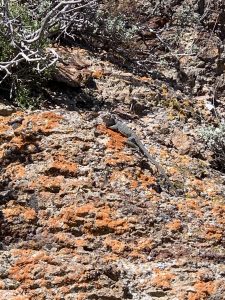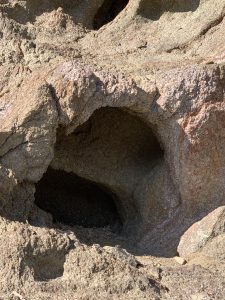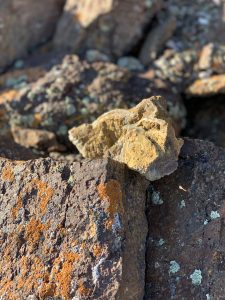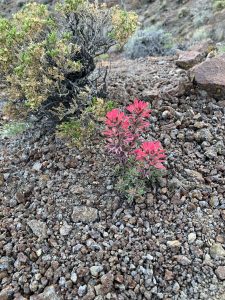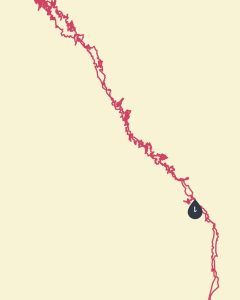 ???????????
Blood Cancer Facts
The whole reason for this hike, was to raise money for blood cancer awareness – to "step up to help take blood cancer down".  For many, myself included, blood cancer is one of those things that, until you are diagnosed with it, you don't know much about it.  Here are a few things I have learned about blood cancer since starting this journey:
?A Hematologist Oncologist is one in the same.  I never knew this until I had to visit one.  A Medical Oncologist sees tumor cancer patients.  A Hematologist Oncologist sees blood cancer patients.  I always thought an Oncologist was an Oncologist…
?Most blood cancers are found through just routine blood draws at a health check up.  Unlike tumor cancers that you can feel or see, prompting a doctor visit, blood cancer flows quietly and undetected through your body, until a blood draw.  They say that every three minutes, one person in the US is diagnosed with a Leukemia, a Lymphoma or a Myeloma.  That is the average time it takes someone to climb five flights of stairs!
?The five year survival rate for someone diagnosed with Leukemia in the 1960's was less than 15%.  As recent as a few years ago, that percentage has jumped to over 65%!!
?Leukemia begins in the bone marrow.  Cells undergo a change and become leukemia cells.  These cells grow and survive better than the normal cells.  Over time, the leukemia cells will crowd out and take over the normal cells, replacing the blood and marrow with leukemic cells.
?Staying healthy is more important than ever.  Blood cancer targets areas like the lymph nodes and spleen- essentially, our immune system.  This makes it more difficult to fight infection.  What may be treatable for a healthy person at home, could put a blood cancer patient in the hospital.  Eating the proper foods, eliminating other foods, staying active and taking precautions when out in public, are all ways to help stay as healthy as possible.
?At this time, there is no cure for CLL (Chronic Lymphocytic Leukemia).  There are treatments, and there is remission with those treatments, but most people will come out of remission.  Every day they are working towards a cure.  My climb up Volcano Peak helped raise money for the research going into finding a cure.  Thank you again to everyone who supported me on my climb!  This was the first of what I hope will be many more events that I plan to participate in.