Recipes For Power- 3 Easy Bowls
Power bowls have become a trendy menu item that are not only easy to make, but are as delicious as they are packed full of nutrients!  The best thing about them, is that you can design them any way you want!  Not a meat eater?  Leave the meat out and sub in another form of protein like beans or tofu.   Not a fan of kale?  Leave out the kale, and sub in a different leafy green, like baby spinach.  The idea, is to build your bowl full of foods that you enjoy, that will provide you with the nourishment you need to fuel your body!
To get the most out of your bowl, you should focus on using whole foods.  Processed foods contain a lot of ingredients we don't need.  This goes for sauces and dressings as well.  If you are able to make your own from scratch, you know exactly what is going into it.
There are Power Bowls for every meal!  In this post I am including the recipes for three bowls, perfect for lunch or dinner.  Each recipe makes enough for two bowls.  Refrigerate any leftovers in an airtight container and reheat for the next day.
Power Bowl #1    Teriyaki Beef Bowl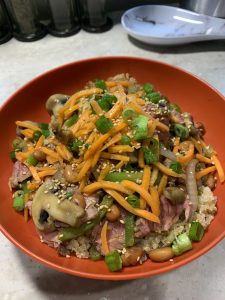 Ingredients:
1 Steak – grilled to the temperature of your choosing and sliced thin after grilling.
2 cups of cooked quinoa
1 carrot – shredded
1 green pepper – sliced into strips
1 cup sliced mushrooms
1/2 onion – sliced
1 can Pinto Beans – drained and rinsed
1 Tablespoon minced garlic
1 teaspoon ginger
1 Tablespoon sesame seeds
1 Tablespoon Olive Oil
Teriyaki Sauce:
3 teaspoons minced garlic
2 Tablespoons Soy Sauce (or Coconut Amino)
1 Tablespoon Brown Sugar
1 Tablespoon Sesame Oil
Directions:
Cook your quinoa ahead of time and set aside.  Grill your steak ahead of time and set aside.
In a large skillet, heat olive oil.  Add your mushrooms, peppers and onions, saute just until tender.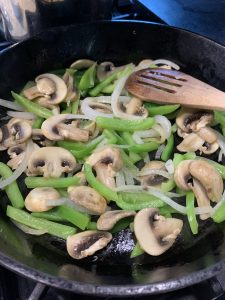 While the veggies are sauteeing, combine ingredients for the Teriyaki Sauce in a small bowl and set aside.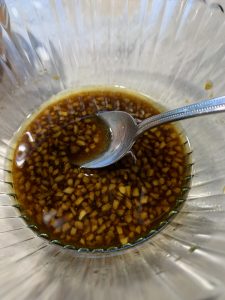 Once the veggies are tender, add the garlic, ginger, pinto beans and the thinly sliced steak.  Saute until heated through.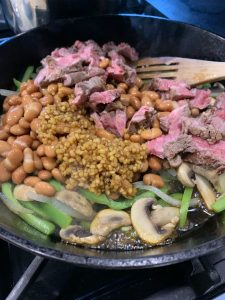 Place 1 cup of the cooked quinoa into a bowl.  Scoop half of the veggie mixture on top of the quinoa.  Drizzle with half of the teriyaki sauce.  Garnish with shredded carrot, green onion and sesame seeds.
Power Bowl #2   Sweet Potato and Chickpea with Garlic Tahini Sauce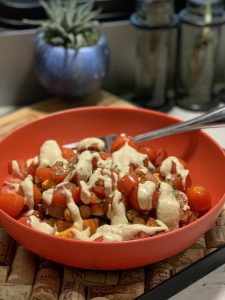 These next two bowls both use sweet potatoes and chickpeas, making food shopping a little easier (and a great way to use any leftover sweet potato).  Both of these bowls get all of their protein and nourishment from plant based ingredients.  If you prefer to add meat or poultry to either, that would be easy to do!
Ingredients:
1 Can of chickpeas
1 Cup grape tomatoes
1 large sweet potato
1 lemon
2 teaspoons minced garlic
2 Tablespoons dried parsley
2 teaspoons olive oil
salt
black pepper
1/4 teaspoon cumin
1/4 teaspoon coriander
1/4 teaspoon paprika
1/4 teaspoon cinnamon
1/2 teaspoon dill
1/4  cup Tahini
1/4 cup water
Directions:
Heat oven to 400.  Wash and cube the sweet potato.  Drizzle with olive oil and sprinkle with salt and pepper.  Roast for 10 minutes.
While the potatoes are roasting, rinse the chickpeas and place in bowl.  Add the juice from the lemon.  Add the cumin, coriander, paprika, cinnamon and salt (to taste).  Stir till combined.
After 10 minutes, remove the potatoes, and pour the chickpeas onto the baking sheet with the potatoes.  Return to oven for 20 more minutes, until potatoes are soft and chickpeas are crunchy.
While they are roasting, in a small bowl, add the tahini, dill, salt, pepper, garlic and enough of the water to make it the consistency that you prefer.   Half the grape tomatoes.
When the potatoes and chickpeas are done, place half of them in a bowl.  Top with the tomatoes, and spoon the garlic tahini sauce on top and garnish with parsley.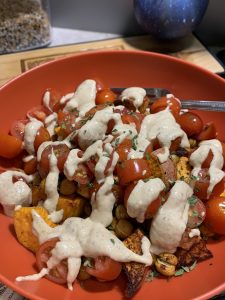 Power Bowl #3    Sweet Potato and Chickpea with a Maple Tahini Sauce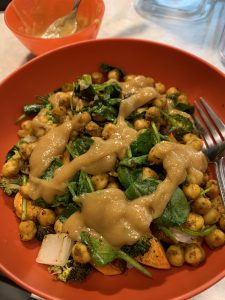 Sweeter than bowl #2, this bowl still has the sweet potato and chickpeas, but adds in some green veggies and the sweetness of maple!
Ingredients:
1 large sweet potato
1 crown of fresh broccoli
3 cups raw spinach
1 can chickpeas
1/2 onion
1 teaspoon olive oil
salt
pepper
1 teaspoon cumin
1 teaspoon chili powder
1/2 teaspoon garlic powder
1/2 teaspoon oregano
1/2 teaspoon turmeric
1/4 cup tahini
2 teaspoons pure maple syrup
2 tablespoons water
Directions:
Heat oven to 400.  Wash and cube sweet potatoes.  Wash and separate broccoli florets.  Chop onion into small chunks.  Place all 3 veggies in bowl and toss with olive oil, salt and pepper.  Place on cookie sheet and roast for 20 minutes.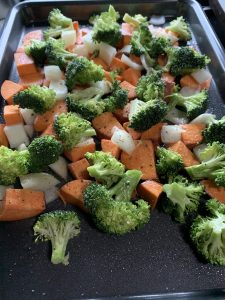 Meanwhile, rinse chickpeas.  In a skillet over medium heat, add chickpeas, cumin, chili powder, oregano, turmeric, salt and pepper.  Toss to coat, and cook until chickpeas are slightly crispy.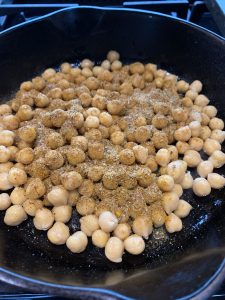 Fold in spinach leaves, and continue to cook just until spinach starts to wilt.  Turn off heat.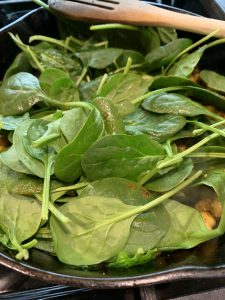 In a separate bowl, add tahini, maple syrup and water.  Stir until well combined and the consistency that you like.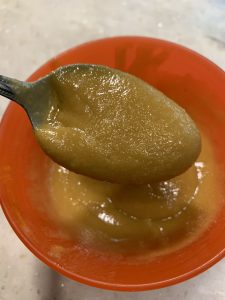 Remove veggies from oven.  Place half of the sweet potato mixture in a bowl.  Spoon half of the chickpea mixture on top of sweet potatoes.  Drizzle with half of the sauce.  Enjoy!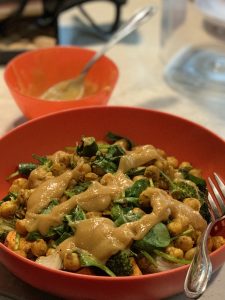 Three easy bowls that come together quickly, and pack as much protein and nourishment as they do great flavor!!