Dragon Wings Are Coming – Game Of Thrones Inspired Chicken Wings And More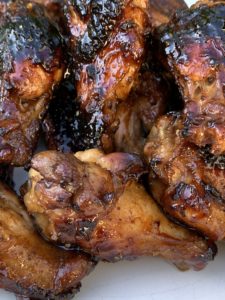 How incredibly excited (and sad) are we that the FINAL season of Game of Thrones has started?!  It is going to be a quick season, but hopefully, also one of the best!
Every good show needs good food to go with it.  When that food is inspired by a favorite character (Daenerys and her Dragons), even better!
I made this recipe during Season 7, and decided I would only make it during the actual GoT season, but with the show wrapping up, I decided I will have to make it whenever I feel like it…I guess I will just have to re-watch all eight seasons 🙂
Anyway, last season, I stuck with just making wings.  This season, I have made wings (drummettes) and chicken tenders so far.  I decided, it is so good, why not put it on all sorts of things?  🙂
Essentially, they are supposed to be Dragon Wings, because of how spicy hot they can be.  I do not really do super spicy though, so my recipe is a more tame version.  You can, however, make them as spicy as you like.  It is easy to throw together and the ingredients are all common ingredients, for the most part.
So, even if you are not (gasp) a Game of Thrones fan, you should still give the recipe a try!
*Makes enough for 1 package of chicken drummettes, 1 package regular chicken wings or 1 package of chicken tenderloins.  Recipe can be doubled if you use 2 packages of any of the above.
Marinade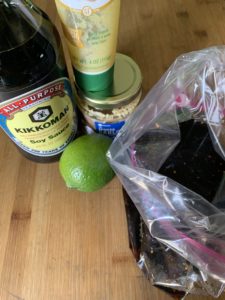 In a large ziploc bag (gallon size) combine:
1/2 cup soy sauce
1 teaspoon garlic (minced)
1 tablespoon ginger (pureed)  (I buy the squeeze tube, its perfect for this)
lime juice (1 lime, fresh)
If you want dragon wings, you can add a tablespoon of sriracha to the marinade.  I have not added this to mine, so I am not exactly sure just how hot they will be with it added in.  I do like sriracha, but chose to leave it out of this recipe.
Once all ingredients are in the bag, mix it together until the ingredients are all combined well.  Add your chicken to the bag.  Squeeze the air out, seal bag, and let marinate in the refrigerator.  It should marinate for a minimum of 4 hours, or a maximum of the night before.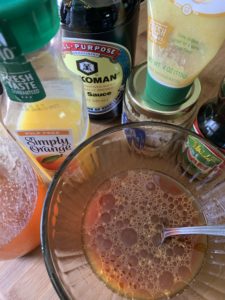 Basting Sauce
In a small – medium bowl combine:
1 teaspoon garlic (minced)
1 tablespoon ginger (pureed)
1/4 cup honey
1/4 cup orange juice
4 tablespoons soy sauce
1 tablespoon sesame oil
Again, for the dragon wings, you can add 1/4 teaspoon red pepper flakes and a 1/2 tablespoon of jalapeno or habanero peppers (finely chopped) to the sauce.  You can also add a 1/4 teaspoon of white pepper.
Once all of your ingredients are in the bowl, mix until well combined.  The honey is going to sink to the bottom of the bowl, so be sure to scrape the bowl while mixing.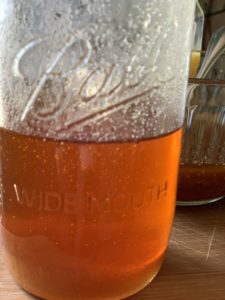 Place a lid on the bowl (or, if you happen to be a user of the awesome product beeswax wraps,  cover the bowl).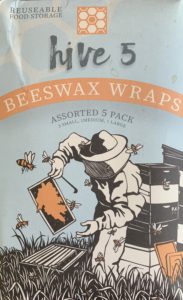 Refrigerate.  I make this right after I make the marinade, so that the flavors all have time to combine nicely.
Cooking
Every time I have made these, I have grilled them.  I just think that grilling them brings out the best flavor.  It also caramelizes the sauce nicely.  You can, however, cook them in the oven the same as you would regular hot wings.  I am not sure if the sauce will caramelize the same in the oven, or if it will stay more liquid-like.  Either way, it should still taste good 🙂
Remove chicken from marinade and place on a hot grill.  Grills all cook differently, so turn and grill as needed until chicken is cooked through.  Once chicken is cooked, baste with the basting sauce, and turn so that the basted side is grilling.  Baste the other side, and turn again.  Do this until all of the basting sauce is gone (it takes me about 6-8 times on each side).  Constantly turn after you basted all of them, so that they do not burn.  Remove from grill.  Let sit 5 minutes – this allows them to cool, and also allows the sauce to set nicely.
Serve however you like!!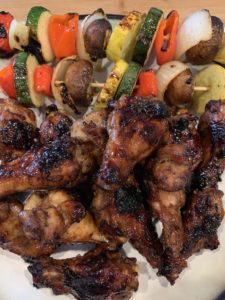 I usually serve the wings with veggies (either raw, or cooked).  Here, I chose to make some veggie skewers.  I chose to grill the skewers and even basted them once or twice with the sauce – it added a nice touch to the veggies 🙂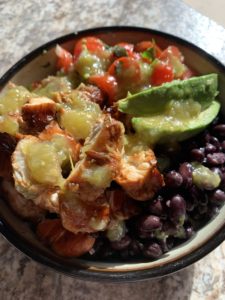 With the chicken tenders, I decided to make a quinoa bowl.  I simply cooked up some quinoa ahead of time.  I chopped some cherry tomatoes, onion and cilantro, to make a "chunky" pico de gallo.  I sliced an avocado and added some black beans.  Then I chopped up some of the chicken, added it to the bowl, and drizzled some green salsa over the top.  It was AMAAAZING!!
The marinade and sauce is pretty versatile, and can be used on a lot of things.  I am thinking about making some jumbo shrimp skewers next, because I think it will go really good with them!  I already know it goes good on grilled veggies, but if you have ever grilled fruit, I bet it would go good on that as well 🙂  Part of the fun is experimenting with different foods!
So, even if you are not planning on tuning in to Game of Thrones, you've still got to eat, and, well …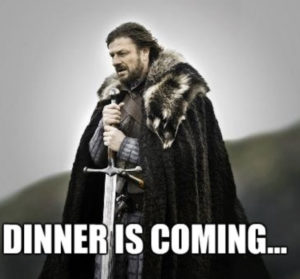 🙂  Enjoy!