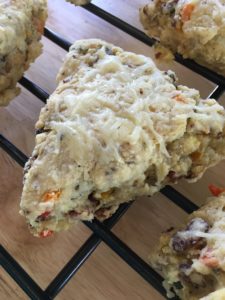 Whether you are looking for something different for breakfast, or looking for a fulfilling bite on the go, look no further than this hearty breakfast scone!  Packed full of fresh eggs, veggies, cheese, and delicious bacon and sausage, it's like a farmers omelet all wrapped into a buttery, biscuit-y scone.
I love scones.  I love eating scones, almost as much as I love making them.  My problem was finding a recipe that I truly liked.  After trying quite a few recipes that I found online, only to be disappointed with the end result, I decided to make my own recipe.  What I came up with is a "basic" scone recipe that I can add any number of different ingredients to, making it the perfect recipe for both savory and sweet scones.
Today, I made Hearty Breakfast Scones…I hope it is a recipe that you will want to try for yourself!  If so, Enjoy!
Hearty Breakfast Scones
Preheat oven to 375
Spray a cookie sheet with non-stick spray (I line mine with tin foil first- it just makes clean up a little easier).  Set aside.
For the Basic Scone Recipe:
1 1/2 cups flour (I always use Gold Medal Better for Bread Flour)
1 1/2 teaspoons baking powder
1/4 teaspoon baking soda
1/2 teaspoon sea salt
1/2 cup butter (cold)
1 egg
These are just the basic ingredients that I use in all of my scone recipes.  My additional ingredients will vary depending on the type of scone, as well as the amount of scones I am making.  The basic recipe, as it is above, will make ONE batch of scones.  My recipe can be doubled, simply by doubling the above ingredients, and they will turn out just fine.  If you want to make more than a double batch, I recommend using a new bowl for the next additional batch (or two).  No more than two batches to a bowl (more than two seems to make it harder to get the ingredients evenly distributed. This results in having some scones that won't rise as well as others.  I know.  I tried a triple batch in one bowl once.  Okay, twice).
Additional ingredients for Hearty Breakfast Scones:
1/4 cup peppers (I use red, yellow and orange mini peppers)
1/4 cup onion
2 tablespoons green chilis
1/2 teaspoon fresh rosemary
1/2 teaspoon fresh basil
1/4 teaspoon chives (dried)
1/4 cup fresh grated cheese (I use Tillamook white cheddar)
2 strips bacon
1/4 cup pork sausage
2 eggs
Milk (enough to make a 1/2 cup when added to the egg in basic recipe)
Again, the above amounts are for a single batch of scones.  For a double batch, simply double your ingredient amounts.
Today, I have made a double batch, therefore, I am going to be doubling all of my ingredients.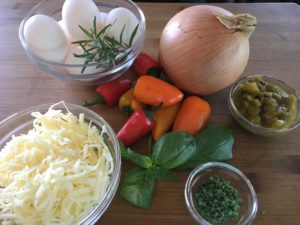 Step 1
In a large mixing bowl, combine 3 cups of flour, 3 teaspoons baking powder, 1/2 teaspoon baking soda and 1 teaspoon of salt.  Using a whisk, whisk all ingredients together until well mixed.  Set aside.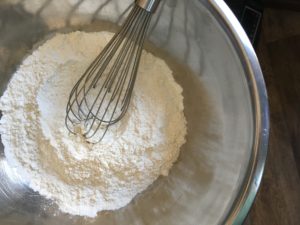 Step 2
Using a cheese grater, grate about 1 cup of cheese.  Divide into 2 half cup portions, setting one portion aside.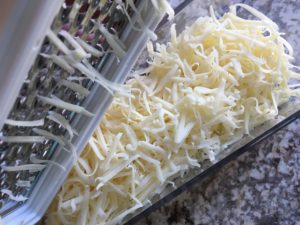 Step 3
Crack 4 eggs into a bowl.  Lightly scramble.  Pour into a greased, hot frying pan,  Scramble over low heat just until eggs are just cooked.  Be careful not to overcook until they are dried out, as they will continue to cook in the oven later.  Remove from pan and place in a bowl to cool slightly.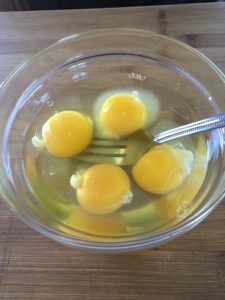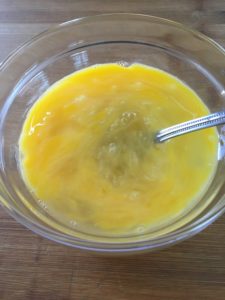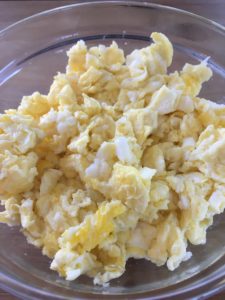 Step 4
While your eggs are cooling, Finely chop 1/2 cup of peppers, 1/2 cup of onion.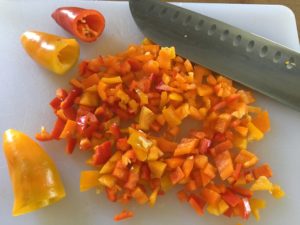 Finely chop 1 teaspoon each fresh Rosemary and fresh Basil.
Measure out 1/2 teaspoon chives and 4 tablespoons of diced green chilis.  Set veggies and herbs aside.
Step 5
Cut 4 strips of bacon into small chunks.   Measure out 1/2 cup uncooked sausage.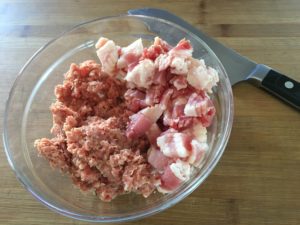 Add  bacon to frying pan and cook until it just starts to crisp lightly.  Add 1/2 cup of sausage to the bacon,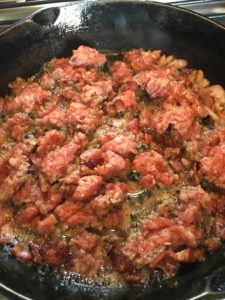 Continue to cook until sausage is thoroughly cooked through and bacon is crispy.  Drain on a paper plate, lined with a paper towel.
All of your ingredients are now prepped and ready to be added to the basic scone mix!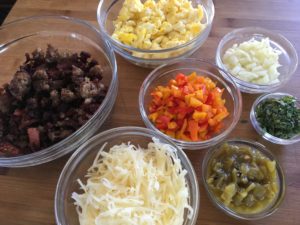 Step 6
Add scrambled eggs, chopped peppers, chopped onion, diced green chilis, chopped herbs, grated cheese, bacon and sausage, to the flour mixture.  Using a wooden spoon, fold all ingredients into flour, just until evenly folded in.  Do not over-mix.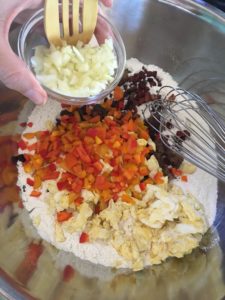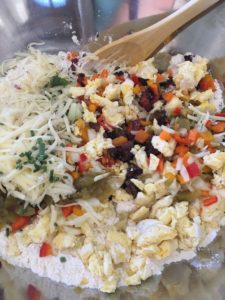 Step 7
Cut 1 cup (2 sticks) of butter into squares.  Add to flour mixture and, using a pastry blender, cut butter into mix until the flour mix resembles coarse crumbs.  This will also help cut up any larger chunks of egg or sausage you may have.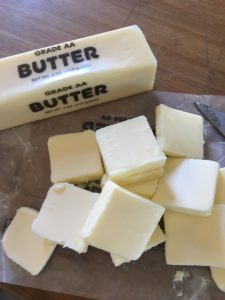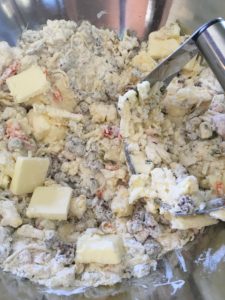 Step 8
Crack 2 eggs into a measuring cup.  Add enough milk to the eggs to make 1 cup.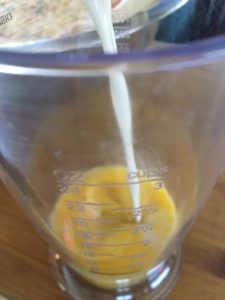 Add milk and egg mixture to the flour mixture.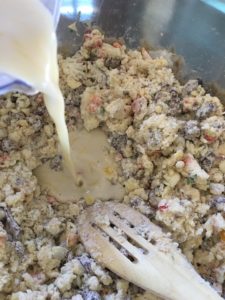 Using your wooden spoon, mix just until combined.
Step 9
Lightly flour a surface (I lay parchment paper down first…again, for easier cleanup).  In bowl, divide dough into 2 halves, getting them as even as you can – they don't have to be exact.  Turn both halves out onto floured surface.  Lightly sprinkle tops of mounds with flour.  Using your hand, pat each mound into a flat round.  Approximate size, when flat, should be about 8 inches round and 1 1/2 inches high.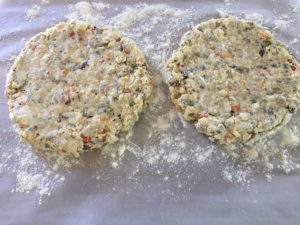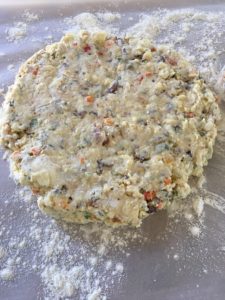 Cut each round into 6 pie shaped wedges.  Place wedges on the greased cookie sheet, so that the direction of the wedges alternate.  Sprinkle the top of each scone with a little bit of the cheese that was set aside.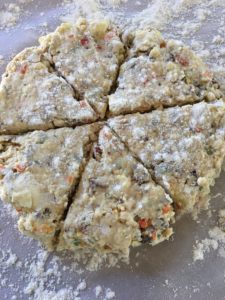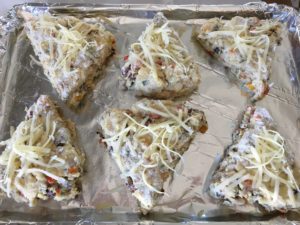 Step 10
Place in oven.  Bake for 20 minutes, or until bottoms are lightly browned and cheese on top is fully melted.  If bottoms are not browned, leave in for 3 more minutes, and re-check.
Remove from oven and place on cooling rack.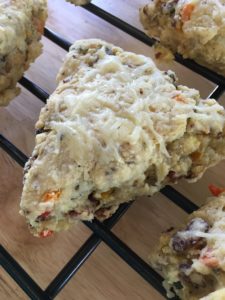 Step 11
ENJOY!!
Eat these delicious scones while they are still warm from the oven!
Or, wrap them individually to save for later.  They will keep fresh in the fridge for up to 5 days.  Put them in your freezer to store them for up to 1 month.  Defrost in the fridge.  Reheat scones in the oven at 150 degrees for about 15 minutes, or pop in the microwave for a quick, hearty breakfast on the go!!