Recreation Outlet in Salt Lake City, UT – Bargain shopping at its best!
Once in awhile you stumble upon a really great deal, in a really unsuspecting place.  Such was the case a couple of weeks ago while spending the day in Salt Lake City.
I had been wanting to buy a kayak for about the past two years.  I had only been once, but ever since that one time, I was hooked!  We had spent an evening kayaking down the Missouri River in Montana.  I went with a friend and her sister, who had both been kayaking many times before.  I borrowed one of their kayaks, and got the quick rundown on how to get in it, and more importantly, stay in it.  The brand of kayak i borrowed escapes me now, but after pushing off from shore and realizing it wasn't as scary as I had pictured it in my mind, I knew immediately that I wanted my own Kayak.  I wanted to be able to head to the rivers and lakes whenever I wanted, just for the pure enjoyment and relaxation of it.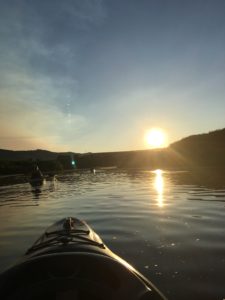 For the past two years, I have web searched and store searched various types and brands of kayaks.  Whenever I found myself in a sporting goods store, I would head straight for the kayaks, often times forgetting what it was that even brought me into the store to begin with.  I would check online garage sales and craigslist for different areas, always hoping to find that really great deal.  What I found, is that there are as many different price ranges as there are styles and brands of kayaks.  Essentially, you can spend as little or as much as you want on one.  I was really looking for just a basic kayak that I could take on a lake or a fairly calm river.  I wasn't looking to take it into rapids or use it for any type of serious fishing (I would have to learn to serious fish first).  There were a couple of times that I came close to buying one, but in the end, talked myself out of it, either because it was just so expensive, or because it was used and I wasn't sure of the condition of it.
Then, two weeks ago, we were in Salt Lake City for the day (it was actually a grooming day for Scout).  While Scout was in getting her well overdue grooming done, we headed downtown to do some walking around and shopping.  We found ourselves in stores like Costco (the worlds largest!), and Sportsman's Warehouse.  We tried to get into REI, but there was absolutely no parking anywhere within a couple of blocks, so that one was scratched off the list.  Costco had a couple of kayaks, but I wanted to check out Sportsman's.  They had a fairly large selection at Sportsman's, and we did find two that we liked.  However, when we asked about a truck rack to transport them with, we were told they do not stock them.  The kayaks were pretty pricey there, and without the ability to purchase the rack with them, we opted not to get them.  I figured I just wasn't meant to buy a kayak that day.
As we headed back to the groomer, I noticed a sign advertising low prices on top brands at an outlet store.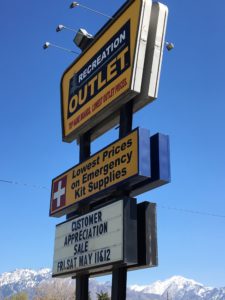 The store sat right on the corner of the street we were turning down for the groomer.  It was situated just a little bit back from the road, and somehow I never even noticed it on our way past it earlier.  A large sign in the window advertised kayaks!  With a little over an hour before the groomer closed, we decided to take a quick look around at what they had to offer.
Once inside, I was completely amazed at how much inventory that store actually held!  It didn't look that big from the outside!  There were racks and racks of sporting clothes, all brands and styles.  They had supplies and equipment for skiing, camping, kayaking, fishing, backpacking, nearly any outdoor activity.  I immediately headed over to the kayaks.  There was a nice selection to choose from.  Several different brands and styles.  The manager came over and asked if we needed any assistance.  I asked to look at a couple of the kayaks, and he was more than happy to climb up and get them off of the rack for me.  He told me to go ahead and sit in them, to see if they were comfortable.  He told us a little about the two we were interested in.  All of their products are brand new, they aren't second hand, but one of the kayaks we were looking at, apparently had been scuffed a little on the bottom during shipment.  He offered to take an additional amount of money off, in addition to the already incredibly low prices on the tags.  Again, we asked about truck racks, and like the other store, he did not keep them in stock.  He offered to order us one, and he would have it at his store within a few days.  I explained that it was going to be a couple of weeks before we could be back.  He offered to hold the kayaks (no money down!), and said we could just pick everything up all at once when we were back in town.  He put a "sold" tag on the kayaks and a note in the computer.
We looked around at the rest of the store before leaving, and decided that in addition to the kayaks, there were a few more items that we would pick up when we came back.  He had a good selection of dry bags, for really great prices, as well as paddles and life vests.  I could have spent just as much time in that store as I do in one of the larger outdoor stores.  There was just too much to look at, and not enough time left.
In the two weeks that followed, I only contacted the store one time.  I had called to let them know that we had actually gone ahead and ordered a truck rack ourselves.  Although it was a different employee on the phone when I called, he knew my name before I had even given it to him.  He told me it was fine that we had ordered our own rack, and that they would have the kayaks waiting, whenever we made it back to town.
When we showed up after two weeks to pick them up, it was another employee altogether that waited on us.  We picked out paddles and life vests.  We grabbed a few different sizes of dry bags as well.  The man helping us, knew exactly which kayaks we were there for, and he was also aware of the discount that the manager had given due to the scuff marks.  There was absolutely no confusion and no waiting for someone else to figure things out.  At the checkout, when it came time to pay, he gave us an additional discount of 10 percent (on the already discounted prices!).  Aside from our own shopping around and looking at things, we were in and out.  He carried both of the kayaks out to the truck for us as well.
The prices at Recreation Outlet are lower than probably any other outdoor store that I have shopped at.  They have top brands, a large inventory, and a lot of "sales on their sales".  The staff there is very helpful and very friendly!  I would totally shop here again if I find myself in the area.  For anyone who would like to check them out, but are not near Salt Lake, you can go online and visit their store, just click here.
My personal rating for this store, is a 4 out of 4!

4 Scouts – Loved it,    3 Scouts – Liked it,    2 Scouts – Disliked it,   1 Scout – Hated it