Hiking Table Rock in Boise, Idaho
Welcome to the inaugural post for Scout N' About!  Today's adventure finds us in the beautiful Northwest state of Idaho.  Idaho may be famous for its potatoes (and, to be honest, they may actually taste a little bit better here), but there are a lot of other reasons to visit besides their spuds.  Although, if you have a sweet tooth, or a fondness for nostalgic candy, the Idaho Candy Company is located in downtown Boise and they make those famous little Idaho Spud candies right there.
Along with the typical hustle and bustle of a city, Boise offers something that not too many other cities have to offer – hiking.  Actual hiking.  Just about three miles from downtown Boise is the peak of Table Rock.  I love to hike, and springtime in Boise is a good time to go.  The mornings are still cool and crisp, giving way to sunshine and mild temps in the afternoon.  Like a lot of places, Spring weather can be unpredictable, but the hike up to the peak of Table Rock isn't an all day hike, so even if the weather changes (as it did for us today), it is still a fun hike.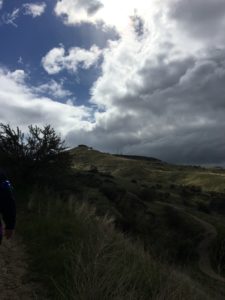 In order to get to the trailhead, we first had to drive down Warm Springs Ave in Boise.  Part of me wanted to just park the truck and get out and walk the entire way.  This particular section of Boise is considered the Warm Springs Historic District.  It is a residential district consisting of less than one hundred homes that date back to the late 1800's through the early 1900's.  The homes on this street are absolutely beautiful, incredibly well maintained, and still function as privately owned residences.  I am sure that each of the homes have a story as unique as the home itself.  I may have to go back there one day just to see what I can find out.  That could be a whole other blog post.
The trailhead itself is located in the parking area for the Old Idaho State Penitentiary.  This is another place I plan on coming back to explore.  The penitentiary dates back to the 1870's and was in use for about 100 years.  The month of October sounds like it would be a really fun time to check this out – they do nighttime tours and some of the buildings and cell blocks are said to be haunted.  I do love a good haunted house – or prison!
As we pulled into the parking area, the weather was perfect for a hike.  The sun was out, a slight breeze was blowing, and even though the surrounding mountains still had snow capped peaks on them, at only a little over 3600 feet, the peak of Table Rock looked clear, and to me, appeared as if it would be a pretty easy trek to the top.  I should know by now that sometimes those appearances can be slightly deceiving.  With water bottles in hand and a small snack for the top, we set off through the gate at the start of the trailhead.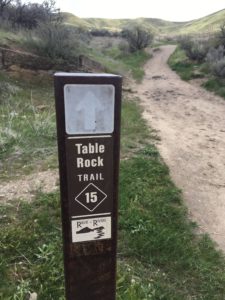 Table Rock is a pretty popular destination for both the local folks of Boise and those who visit.  In fact, the locals claim that if you live in Boise or the surrounding areas, you HAVE to climb Table Rock at least once!  There are several trails that will get you to the top, so it is pretty accommodating to all skill levels of hikers.  It is also dog friendly!
I always tend to think that I am in pretty good shape, for the most part.  I walk. I run. I like to think I eat pretty healthy, most of the time anyway, but hiking always brings me back to reality.  My reality being that there is always going to be room for improvement.  Also, that just because a hike looks like it is going to be easy, doesn't always mean that it is.  Not that today's hike was hard.  It wasn't.  But there was no way I was going to be able to put my running shoes on and literally run to the top like a few people did.  Maybe someday.  Not today.  Instead, we hiked at a pace that was comfortable and allowed for me to look around and take in all of the scenery that Table Rock has to offer.
Just a short way into the hike there is a little area where the trail forms a little pullout spot.  From this spot you can get a nice view of the  penitentiary grounds.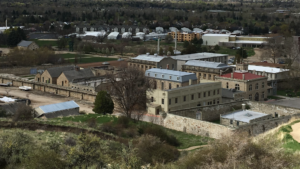 This part of the trail is also a slight, steady incline that winds its way through large rocks that border the trail on one side and form a ledge on the other.  Once the trail leveled out, it opened into a field that looked out over the foothills.  I noticed several large homes at the base of these foothills, and although they looked like they could have been fairly new, they appeared to be abandoned.  Looking a little closer at the foothills themselves, you can see where the ground is giving way and forming a landslide.  Apparently, these homes were built on what they believe is a fault line between the landslide and the stable ground next to it.  The homeowners have all moved out.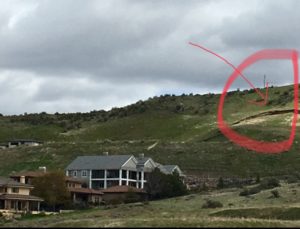 It is still early in the season, but all along the trail, signs of Spring are starting to show.  As we continue up towards the top, purple sage and what looks a lot like mules ear, are now in bloom.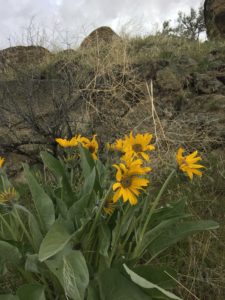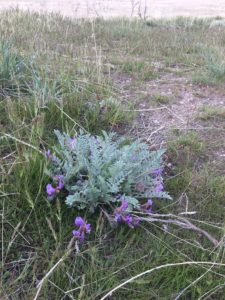 I can imagine how beautiful this area will be once all of the wildflowers are in bloom.
Its hard not to notice all of the many seedlings that are wrapped in a sort of plastic mesh and scattered all throughout the face of Table Rock.  During the Summer of 2016, a fire broke out burning nearly 2500 acres .  They have since replanted a lot of native plant species to the area, and the trail is well posted urging hikers to not stray from the trails.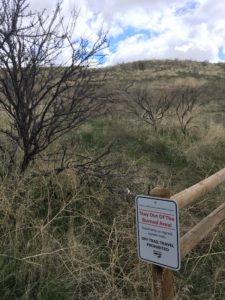 Just below the peak, we came to an area that was well marked with maps and signs, explaining what you were looking at as you look out onto the horizon.  I took this opportunity to read the signs, not only because I was truly interested in what I was looking at, but I was also starting to feel like the closer we got to the peak, the further away it moved.  The last leg up to the peak looked steep and long, and I decided I would enjoy the rest for a moment and learn something while I was at it.
I learned that the actual, flat top on the peak of Table Rock was, at one time, millions of years ago, actually the bottom of Old Lake Idaho!  The entire area where Table Rock and Boise exist today, were, at one time the location of Old Lake Idaho.  From where I was standing looking up at the peak, it was just amazing to me that what was once the BOTTOM of the lake at one time, was still so high above me.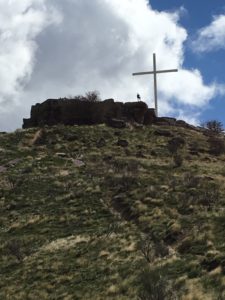 We are now on our last leg of the hike up to the peak. I glance up to the sky, and what was sunny at the start of the hike, is now graying over and looks a lot like rain coming towards us.  Undeterred, we continue on to the top.  Its a pretty steep hike at this point, and the rocks that jut out forming the edge are very impressive.  I'm dying just a little bit, but at this point I know we've got this!  A few rock steps formed into the trail bring us up to the sandstone top of Table Rock!  We have made it!  We have totally forgotten to look at our "start" time, so we have no idea how long it took us.
The view from the top is amazing!  You can see all of Boise and well beyond.  A large cross is anchored to the top, donated back in 1956, as an inspiration for "happier living".  At night, the cross is illuminated.  I am sure that the view from here at night must be absolutely beautiful with Boise lit up below.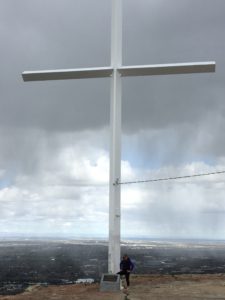 The weather is moving in fast now, and where we are at, it is not rain…it's snow.  Time for a quick snack and some water (there are benches at the top as well, so we can rest for a moment also).  One final look around at the view from the top, and we head back down.
The hike down always seems so much quicker, but in some areas, its a little tricky.  Keeping your footing on the steep declines isn't always as easy as it looks.  I'm still impressed with the few people who not only run up to a summit, but run down it as well.
It has been a great hike.  Like I said, we never looked at our actual "start" time, so I am not sure how long the round trip hike took us…I'm guessing somewhere around the 2 hour mark.  That included stopping for pictures and reading along the way though.  The hike is easily doable in a few hours, and the view and information learned were definitely worth it.  If you enjoy hiking, and you find yourself in Boise with a few hours to spare, check it out!