Kerry Apple Cake – A "Pinch Proof" Dessert
"All living things, must be fed"  
                                                             -Irish Proverb
…And this Kerry Apple Cake is the perfect dessert to feed someone this St. Patrick's Day!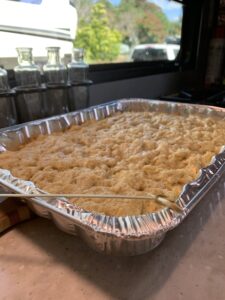 It is hard to find any real background on the origin of this cake, but, from what I have found, it seems to have originated in County Kerry Ireland.
It was originally prepared and baked in a cast iron pot called a Bastible.  In the nineteenth and early twentieth centuries, bastibles were the primary cooking tool.  Most homes in Ireland were not only heated by open fires, but that is also where the meals were cooked.  Any meal that was not cooked directly on the open fire, was probably cooked in the bastible.  This Apple Cake was one of those meals.  While it is a traditional Irish Recipe, that is really about all of the historic information I could find on it.  If anyone else can add to this, I would love to share your information!  I love cooking stories that have been passed down through generations 🙂
The Kerry Apple Cake is pretty easy to make.  It differs from the cakes we are used to, in that, it is not really a batter that you pour into a pan.  The batter ends up being more spreadable, than pourable, and the end result reminds me of a cross between a cake and a scone (and let's face it, either way you can't go wrong).
What you will need: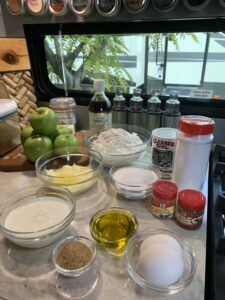 Cake pan (I used a 9×13 pan, but any size pan or pans will work, including a springform)
3 cups flour
3/4 cup sugar
2 teaspoons baking powder
1/2 teaspoon salt
1/4 teaspoon nutmeg
1/8 teaspoon cloves
1/2 cup butter – melted
1/4 cup oil (I used olive)
2 eggs – room temperature
3/4 cup milk
1 teaspoon vanilla
4-6 apples, peeled and chopped (I used 6 medium Granny Smith)
2 tablespoons of coarse sugar
Directions: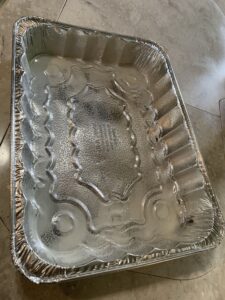 Heat your oven to 375 degrees.  Use a non stick spray to coat baking pans and set aside.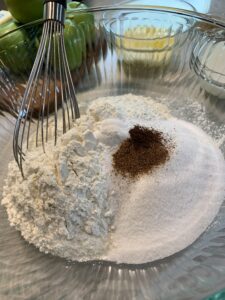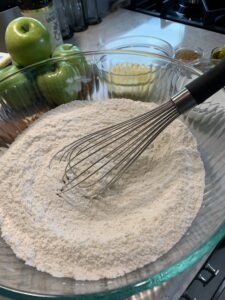 In a large bowl, whisk together the flour, sugar, baking powder, salt, nutmeg and cloves.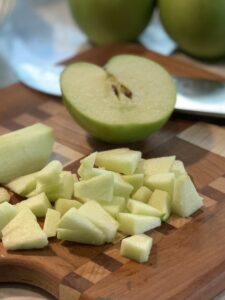 Peel, core and chop your apples.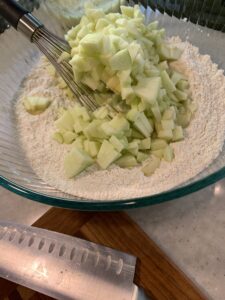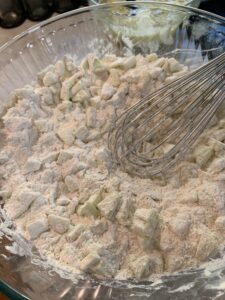 Add the apples to the dry flour mixture.  Toss to coat apples with flour mix.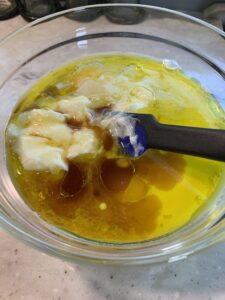 In a separate bowl, melt butter (I just barely melted mine – it was a combo of melted and very soft butter).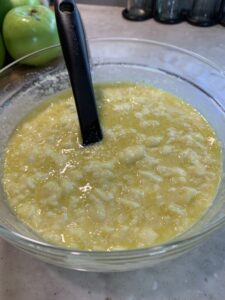 To the butter, add the oil, eggs, milk and vanilla.  Mix well.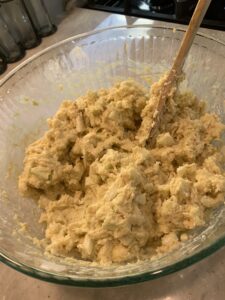 Add the butter mixture to the flour mixture.  Mix until just combined (I folded mine rather than actually mix it).  You do not want to overmix the batter, it will turn out to heavy and dense if you do.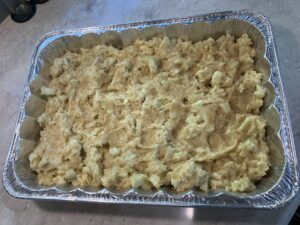 Once you have the ingredients combined, pour batter into the prepared pan.  Like I said, this is not a pourable batter – it should be thick and somewhat stiff.  Spread the batter evenly around the pan, making sure to push it to the edges.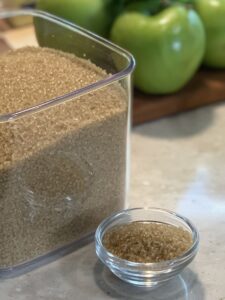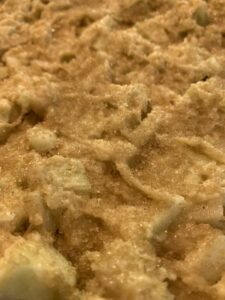 Sprinkle the granulated sugar on top of the batter.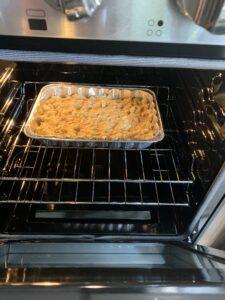 Bake for 45-55 minutes (depending on the pan size you chose) – I baked mine for 45 minutes.  The edges should be light brown, and the top should spring back when touched.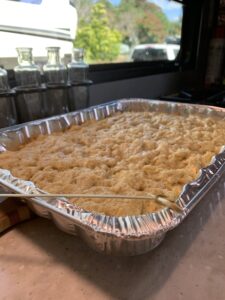 This is  probably totally delicious as is, but the original recipe calls for serving it with cream or custard.
For the custard topping: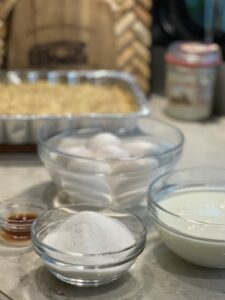 In a medium-heavy saucepan, add 1 1/2 cups milk.  Cook over low-medium heat, just until bubbles start to form around the edge of the pot (I did not stir the milk during this time).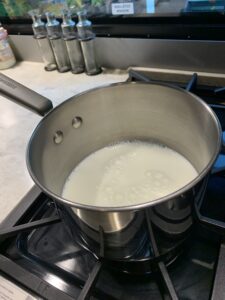 While the milk is heating, in a medium bowl, add 1/2 cup sugar and 6 egg yolks.  Whisk the sugar and egg together until it is pale yellow and airy.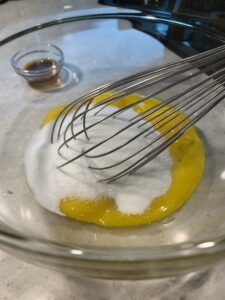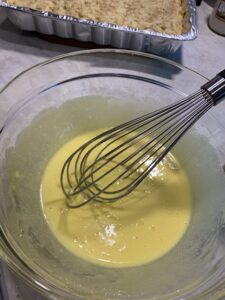 Once the milk is heated, very slowly pour about half of the milk into the egg mixture, beating constantly.  You want to do this very slowly, because too quickly, and you are going to end up with scrambled eggs.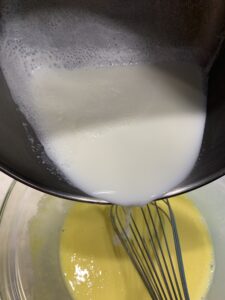 Once you have poured about half of the milk into the eggs, pour the eggs into the remainder of the milk that is left in the pot (this does not have to be done slowly- just dump it in).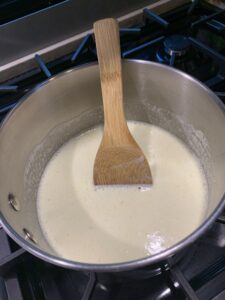 Return the pot to the stove, and continue to stir and cook until the mixture coats the spoon.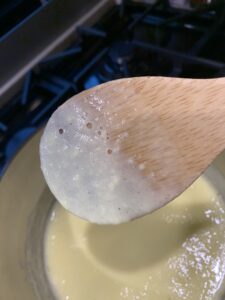 Once the custard has thickened, remove from heat, and add  2 teaspoons of vanilla.  Mix well.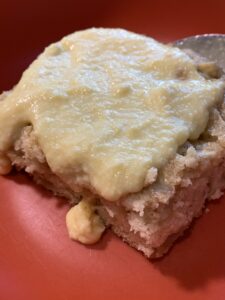 You can now slice your cake, pour some custard on it, and enjoy!
If you would rather wait until you have finished your corned beef and cabbage though, this dessert is also pretty tasty served chilled!