Old Town Mesilla – Las Cruces, New Mexico
"…It's downtown Old Mesilla,
Friday night La Posta,
with friends and margaritas…"    
                                                                             -Bri Bagwell "Las Cruces"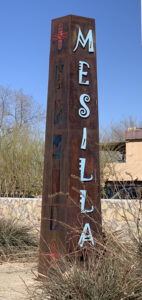 It had been a long day of driving through the big state of Texas, so when we pulled into the rv park in Las Cruces, it was nice to know we could relax for a day.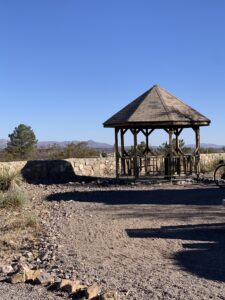 We got set up, and since it was supper time, decided to google a place to eat.  We found, of all places, a dog house :)!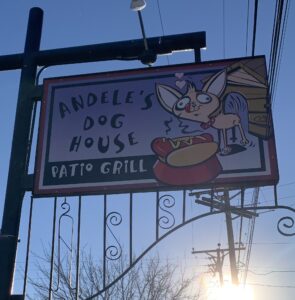 Andele's Dog House to be exact – located in Old Town Mesilla.  This place had gourmet hot dogs AND allowed dogs!  It was meant to be.  So, off we went to Mesilla!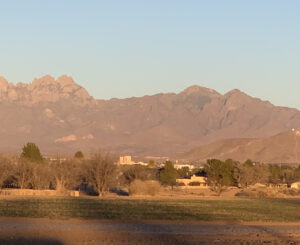 As soon as we drove into Mesilla, I knew right away this was going to be what I wanted to do on our day "off" from driving.  Over dinner (I HAD to get the Chili Con Queso Dog by the way), we looked up Old Town Mesilla, and saw that there was both a lot of history here, as well as some really neat shops.  We grabbed a map, and sat down that night and wrote out the places we wanted to see.  It can be difficult to cram everything in when you only have a day, so we stayed within what would be walking distance for everything we wanted to see – this was after all, a day off from driving, right?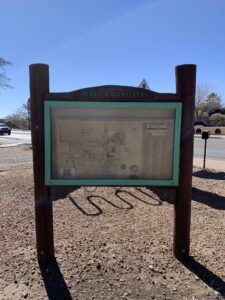 First up, was the local coffee shop just as you enter Old Town Mesilla.  We found parking in the visitors parking lot for the day, and walked over to the coffee shop.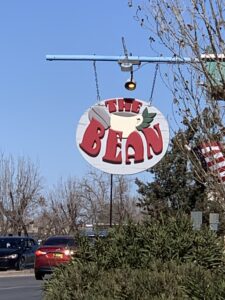 Simply called "The Bean", it was a cute little coffee shop that offered breakfast foods and coffees.  I ordered a Pecan Scone, because, Las Cruces has Pecan groves for miles!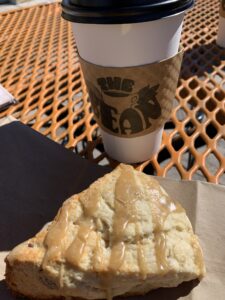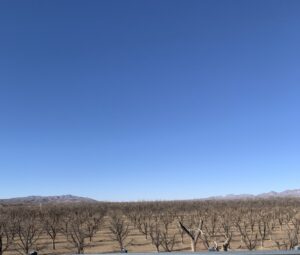 I had no idea that there were so many Pecan groves in New Mexico!  It seemed only fitting, that I should eat something with pecans!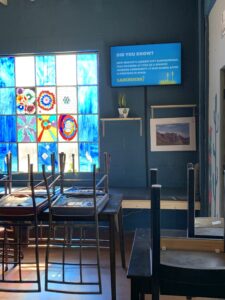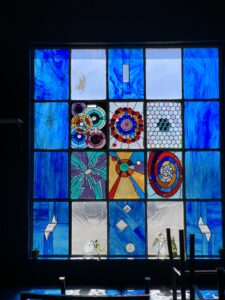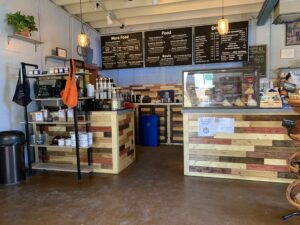 Inside, you will see paintings of the surrounding Organ Mountains, as well as beautiful stained glass windows.  It was a great way to kickstart our walking tour!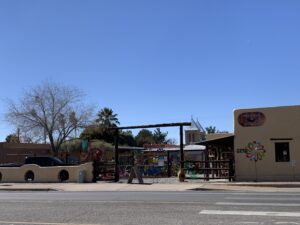 We headed down the street from there, passing by a lot of cute shops along the way.  Occasionally, we stepped in to some of the shops, if something caught our eye.  The shops here are owned locally (mostly), and a lot of them have local goods for sale (jewelry, paintings, beadwork, etc).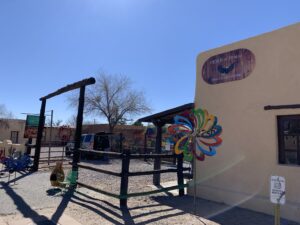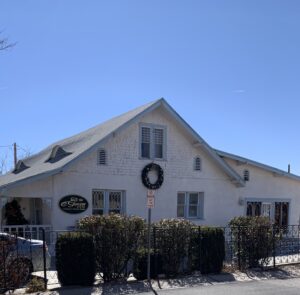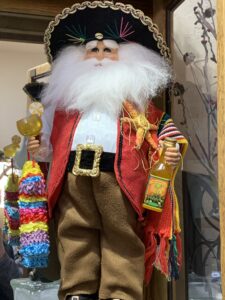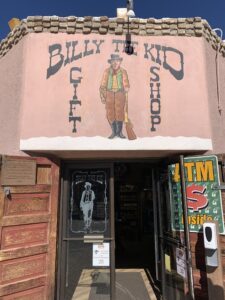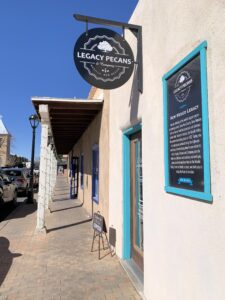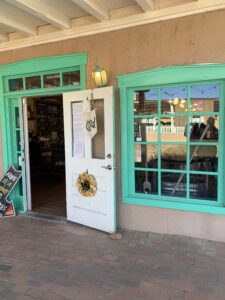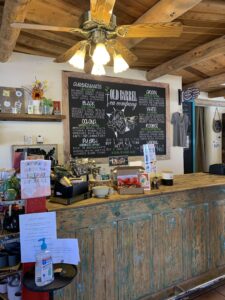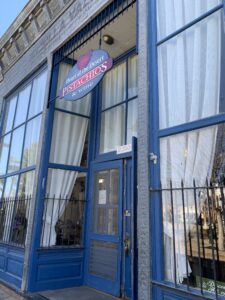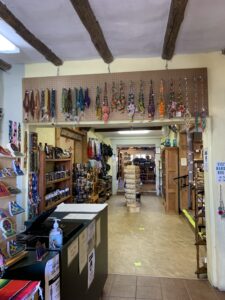 One of the historical landmarks that I wanted to see, was the Old Mesilla Jail.  Among the prisoners housed in this jail was, William Henry McCarty, alias William Bonney, better known as Billy the Kid.  In 1878, Billy was living in Lincoln County, when the war in Lincoln County erupted.  The sheriff was shot and killed, and Billy was accused of the murder.  He was accused of murder again, when he escaped from the Lincoln County Jail.  Billy later surrendered to Pat Garrett just outside of Fort Sumner.  Garrett brought Billy to Mesilla to stand trial (the building where the trial was held, is today, a gift shop for all things Billy the Kid).  It was here at this trial, that Billy the Kid was found guilty of murder and sentenced to hang back in Lincoln County.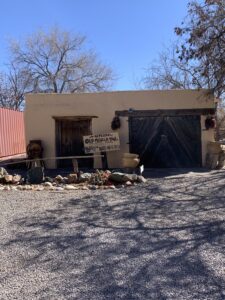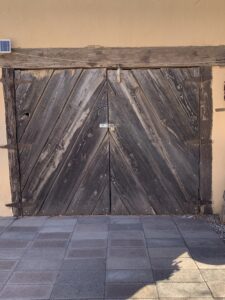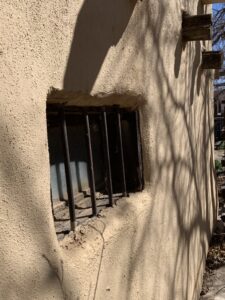 While waiting to be brought back to Lincoln County, he was housed in the jail.   He managed to slip his handcuffs off, get ahold of a gun, and shoot one of the men guarding him.  From there he escaped, yet again.  He managed to elude capture for quite some time following his escape from the Mesilla jail.  Eventually, Pat Garret caught up to him and shot and killed him.  Billy was 22 years old at the time of his death.  The building that stands today, is actually a replica of the original jail.  It does however, have the original doors.  The jail and the museum were both closed unfortunately, due to the pandemic.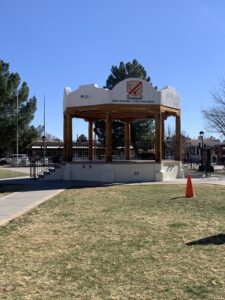 In the 1800's the Mesilla plaza was formed by a perimeter of buildings as a means of defending the community.  The town of Mesilla was prone to attacks by the Apache Indian tribes.  In 1854, the Gadsden Purchase officially made Mesilla part of the US Territory.  The US Flag was raised over the Plaza, and the town was able to grow and prosper.  The plaza became (and still is) the point from which the town revolved.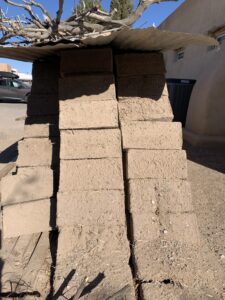 The buildings that surround the plaza, and throughout town, were made of adobe bricks and sticks.  Any reconstruction, is still done the same way today.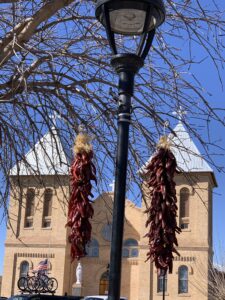 Sitting on the edge of the plaza, is the Basilica of San Albino.  This church was built in 1906 and is one of the oldest churches in the region.  It is still in use today.
Every block in Mesilla is filled with history.  While the buildings today house a number of gift shops, candy shops, souvenirs, or restaurants, the original buildings and the history that surrounds them, still remain.  Many of the shop owners, are happy to take a few moments and talk about what their building once was.  Not all buildings were open unfortunately, but we still enjoyed the relaxed atmosphere of the town, the interesting architecture of the buildings, and the history that makes up Old Mesilla.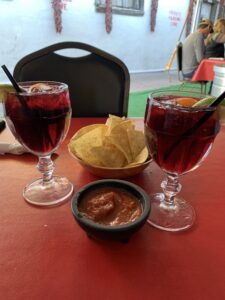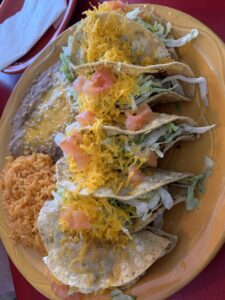 We could not leave Mesilla without enjoying one last meal here.  La Posta is the place (well, one of them, lets not forget how good the Dog House was), to enjoy a great meal!    The building that today houses a restaurant, was once a freight and passenger service.  It was built in the 1840's, is the original building, and is the only station that remains standing on the Butterfield Trail.  In its day, it offered shelter to people such as Billy the Kid, Pancho Villa, Kit Carson and General (later, President) Ulysses S. Grant.  Today, it offers amazing food, great service and if you are lucky to time your visit right, a Mariachi Band!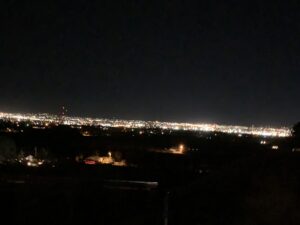 Our day in Mesilla was just what we needed as we made our way West to the coast of California!  Next stop – Yuma!