I can't believe we are already a couple of weeks into the New Year!  Hopefully, everyone is off to a great start!  This year, I decided to set several "goals" for myself, instead of the dreaded resolutions, which I only end up breaking anyway.  One of my goals, is to get back on track with all of my healthy eating.  Normally, I eat pretty healthy, but it seems like at Christmastime, healthy eating takes a backseat to Christmas cookies and Lattes!  With all of that behind us now, it is time to get back on track!
I thought it would be fun to cook my way through a cookbook.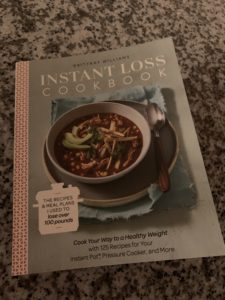 Last year, for Christmas, I received a cookbook that is ALL healthy recipes!  My goal, is to cook my way through it, and I will blog about my favorite recipes!
Today, I made my first recipe!  Waffles!  I love waffles, and I was really excited about healthy waffles!  I couldn't wait!  My plan: make a whole batch of waffles and I would have a healthy breakfast (just needs reheating) for the next few days!
Well, my plan worked, just not like I thought it would!
For starters, the name of the recipe is "Grain- Free Waffles", and mine are not grain free.  But, that's okay, right?
I knew something was wrong when the recipe explicitly said "spoon the batter into the waffle iron", and mine was more of a pour than a spoon…..
Well, you'll see.  I will write the recipe as it is in the book.  The way that I made it – sort of…
Grain – Free Waffles
Ingredients
1 3/4 cups Buckwheat flour
1 1/2 teaspoons baking powder
3/4 teaspoon baking soda
1/2 teaspoon sea salt
4 eggs
2 tablespoons coconut oil
2 tablespoons raw honey
1 teaspoon vanilla
2 cups almond milk
1 teaspoon lemon juice
Okay, those are the ingredients (and amounts) as shown in the book.  I made a few immediate changes, partly due to what I had on hand ingredient wise and part due to food allergies.  The changes I made were: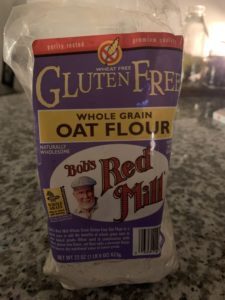 *I substituted Oat flour for the Buckwheat flour (thus, my waffles are not grain-free).  This is what I had on hand already.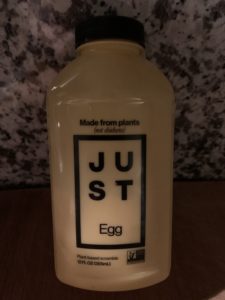 *I substituted plant based "eggs" for the regular eggs.  This is due to an egg allergy.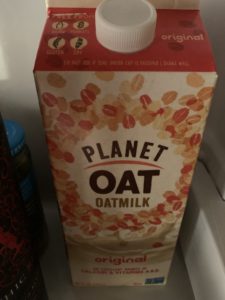 *I substituted Oat milk for the Almond milk.  This is due to the fact that I just do not like Almond milk.  Also, I had Oat milk on hand.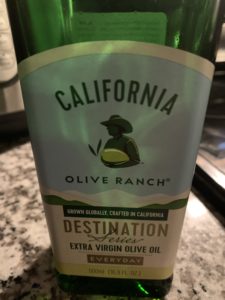 *I substituted olive oil for the coconut oil.  My only reason for this, was because I did not have to "melt" the olive oil first.  I would have had to melt my coconut oil.
Those were my only adjustments.  I did not adjust the amounts.
Should have been okay, right?  Right???
I will continue with the directions, again, as written in the book….
Directions
Preheat waffle iron.
Combine the flour, baking powder, baking soda, and sea salt in a large bowl.
Whisk in the eggs, coconut oil, honey, vanilla, almond milk, and lemon juice.
SPOON about 1/4 cup of batter onto the waffle iron.  Close and cook until waffle is crisp and brown.
Remove waffle and keep warm while you make the remaining waffles.
So, there I was, combining my dry ingredients…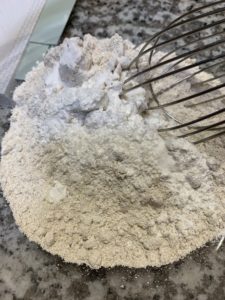 Whisking in my wet…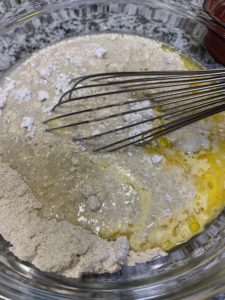 My results were not spoonable though.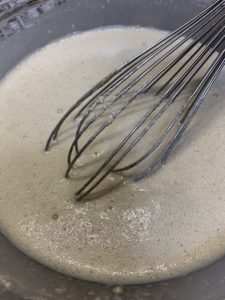 But, at this point, I am thinking "I'm sure that spooning actually means pouring".  So, I poured a 1/4 cup of batter onto the waffle iron.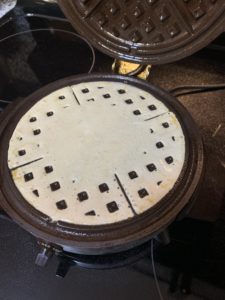 Not enough batter. I added another 1/4 cup.  It looks thin, but, that's okay, right?  Right??
No.  It was not okay.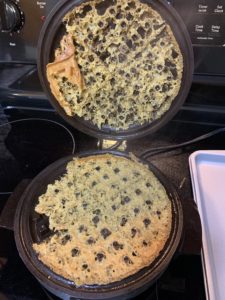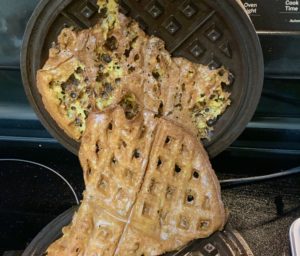 It was definitely not okay.   This is not a waffle.  This is not the "crispy brown waffle" that I was promised.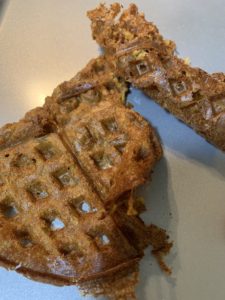 I mean, it is crispy and brown alright, but it is NOT a waffle….
For a moment I felt defeated.  I was sad that my first recipe did not turn out.  I wasted the ingredients I had used, as well as my time.  Not to mention, I was not going to be enjoying healthy waffles anytime soon.
Before I tossed my waffle debacle into the trash, I tasted a piece of it.
As awful as it looked, it tasted amazing!
I decided I was going to try and remedy this recipe.  So, I went back to my ingredients…
To the remainder of the batter, I added:
2 more cups of Oat flour
1/2 teaspoon of vanilla
1/4 teaspoon of baking soda
This time, I whisked it up, and I had spoonable batter!!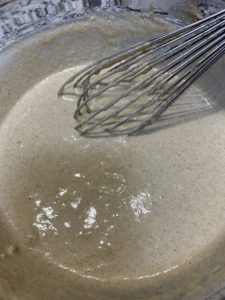 I spooned a half cup of batter onto the waffle iron.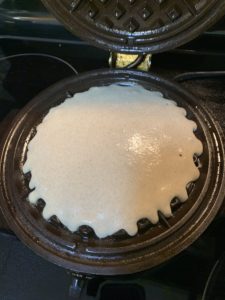 I closed the lid, and held my breath.
When the light went out, I opened the lid.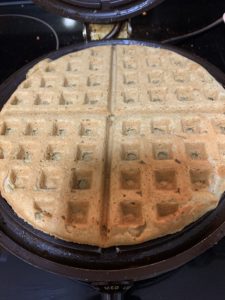 WAFFLES!!!!!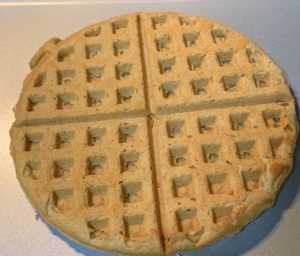 Crispy and brown on the outside, soft and fluffy on the inside!!  Just like I was promised!!!!
I finished making all of the waffles.
It made 6 waffles, so I put one on a plate, and wrapped the remaining 5 in a big ziploc and placed them in the refrigerator.  They will be breakfast this coming week!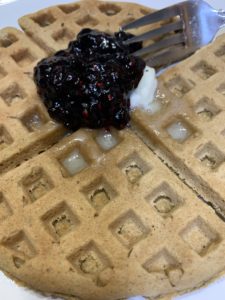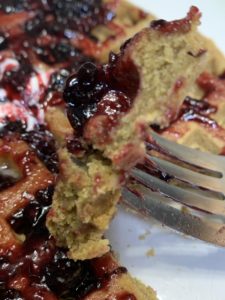 I topped my waffle with a little bit of butter (it is plant butter, but you can't even tell the difference), and a spoonful of some Blackberry Basil jam that I made.
This is probably one of the best tasting waffles that I have ever made!
I went back to my cookbook, and wrote myself some notes on what I did.  I really do not think that my substitutions caused the waffles to fail.  I really think it was a mistake in the measurements of the flour and baking soda.  There was just too much liquid for the amount of dry ingredients.  Maybe it is a typo in the book.  I am not really sure.  I do know, that I was able to correct this recipe, and I really enjoy it.
If you decide to make these waffles, let me know how yours turn out.  Let me know what YOU do differently.  If you make them EXACTLY as the recipe calls, let me know if they turn out correctly.
For now, I will keep my adjustments, and I will be picking out my next recipe!  Stay tuned!