My Favorite Michigan Eats
As our time here in Michigan comes to an end (for now), I wanted to get at least one more post in.  It seems like the time here has gone so quickly!  The holiday season took up a little bit of that time – preparing for Thanksgiving, and then Christmas, as well as heading back West for the month of December (and part of January).  Since returning from the holiday visits, our time here has been spent getting ready to get back on the road for the next adventure!  This has left little, to no more, time for sightseeing in this beautiful state.  There is so much I still want to see here – another trip will just have to be in order sometime down the road.
One thing that is always fun to do, no matter where the destination ends up being, is to try out different places to eat!  Sometimes, this ends up being a chain restaurant, depending on the location we are in, but we always try to find local places – the atmosphere and food is almost always so unique!
Typically, I try to review (on Google) some of the places that we eat at.  This year, I think I am going to start adding reviews on here as well.  I realize that most of the places I will review, are not places that are local to most of you reading this.  However, occasionally some of them will be "chain" businesses, which means that the one I am actually reviewing may not be local to you, but maybe its sister store is.  As for the local places I review, maybe one day you, or someone you know, will be in the area, and you will decide to give it a try (or, not – depending on the review)!  Even better yet, maybe it will inspire you to take a drive in search of it, or in search of your own place!  No matter what it may or may not inspire you to do, I hope you enjoy my take on some of the places we find and share with you!
My "Scout" review scale is as follows:
1 Scout = Hated it    2 Scouts = Disliked it      3 Scouts = Liked it       4 Scouts = Loved it
Here are just a few of the places we tried, and my review of them, while here in The Thumb!
Bentley's Roadhouse– Harrison Charter Township, MI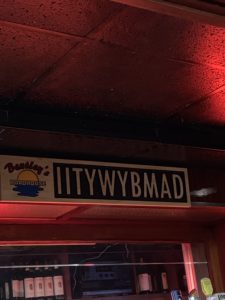 This was actually the first place we ate at when we got here!  We found it sort of on accident.  It turned out to be one of our favorite places to grab lunch! (Can you guess what the letters in the picture stand for)?
From the outside, it isn't anything fancy.  Inside though, it is very warm and welcoming.  It has a large dining room / restaurant area, and if you pass through, it brings you into a large bar area.  Here, you can choose to sit at the bar, or at the high top tables.  Both offer comfortable seating and a friendly atmosphere!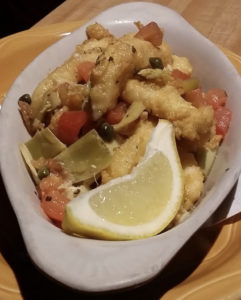 There are two things at Bentley's that I highly recommend – the Vanilla Java Porter on tap and the calamari!!  I cannot even begin to tell you how delicious both of those are!  The calamari is probably the best I have ever had, hands down!  It is a wet calamari – which I had never heard of prior to eating here.  It comes soaked in a buttery, garlicky, lemony sauce with capers, artichokes and tomato!  It is amazing!  In addition to the beer and calamari, the menu offers a good variety of items.  The portions are large, and the burgers and fish and chips are really good!
Bentley's offers a frequent customer card which gets you a free meal with so many points, as well as a free meal during your birthday month.  If you are ever passing through on the interstate, it is definitely worth a stop in for a really good lunch!

I give Bentley's Roadhouse 4 Scouts!
Bad Dog – Sarnia, CA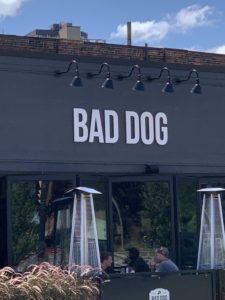 So, okay, this one isn't exactly in Michigan – it is in Canada.  But, visiting Canada was one of our day trips while here in Michigan, so I thought I would include it.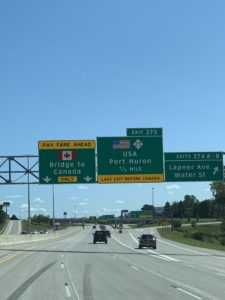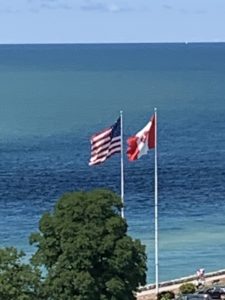 Just over the Blue Water Bridge in port Huron, is Sarnia, Canada.  I have to admit, there was not a whole lot to do in Sarnia the day we went.  There were a few streets that we walked up and down as we strolled through some shops, but, without an actual "agenda" there was not a whole lot to do within walking distance.  We did, however, come across the Bad Dog brewhouse.  It was a very upbeat brew pub, with seating that was open to the street.  It was a little hot in the sun the day we went, so we opted to sit inside at the bar.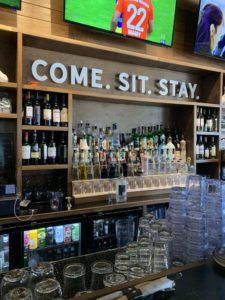 The staff was very friendly.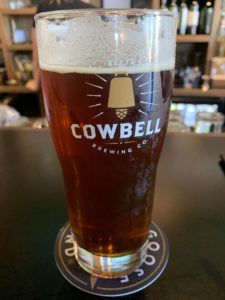 The beer was good, as was the food – I just got chicken strips.  I was hoping I would at least be able to purchase a "Bad Dog" t shirt as my Canadian souvenir, but they did not sell any merchandise.  I was a little bummed about that – and quite honestly, I think it would sell good if they sold it!  But it was a nice place to grab a quick bite!  I enjoyed it, but would probably not go through the trouble of customs just for the sake of eating here again.  However, if you are already in Sarnia, it is a good spot to grab a beer and a quick bite.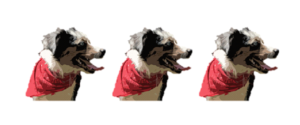 I give Bad Dog 3 Scouts    (and truly, no dog is bad…)
Pepper Joe's– St. Clair, MI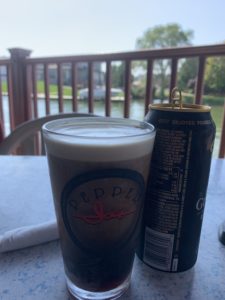 If you enjoy good food, good drinks and a very relaxing afternoon out on a deck overlooking the river, this is a great place for all of that!  Bring your appetite, and at least an hour or two to just sit back, relax and visit.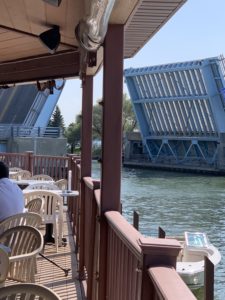 Pepper Joe's is located right downtown in St. Clair, on the river.  You can eat in, or, if the weather is nice, outside on the nice big deck overlooking the bridge and the water.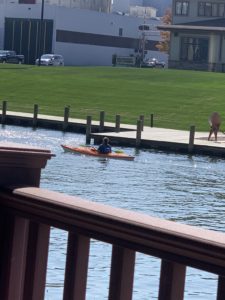 Service is friendly and quick, and the menu covers a wide variety of dishes and sandwiches.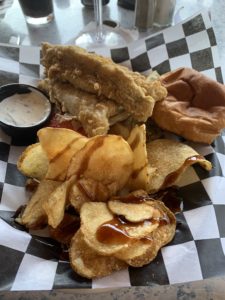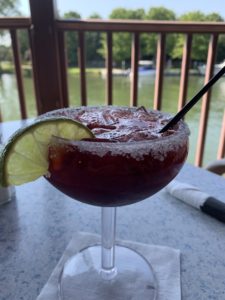 I got the local perch sandwich the day we went, and it was one of the best fish sandwiches I think I have had.  I enjoyed my sandwich with a Michigan Cherry Margarita, and it was perfect!

I give Pepper Joe's 4 Scouts!
Lake FX Grill– Port Huron, MI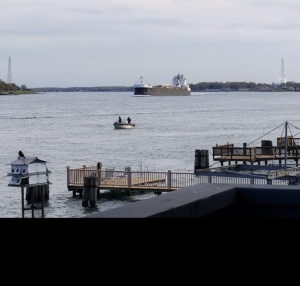 If sitting on a deck overlooking the water is your thing, this is another great restaurant for you to try!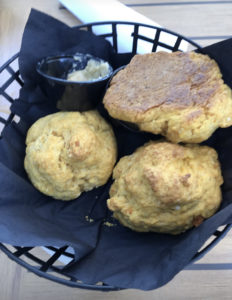 Aside from the great atmosphere  (the deck extends out over the water) the sweet potato rolls with cinnamon honey butter are to die for!  They come complimentary like most places serve a bread basket.  The service was friendly and prompt!  The weather was really nice on the day we went, but it looks as though, during inclement weather, they have sides and heaters that they put up, so people can still enjoy the deck.  There is always indoor seating as well.
I ordered the Poke' bowl with Smoked Whitefish, and a glass of Seven Deadly Zins wine.  It was incredible!  The portion size was perfect.  It was a great place to go and relax and enjoy a healthy bite of food, while sipping on a glass of wine!

I give Lake FX Grill 4 Scouts!
The Windjammer– Lexington, MI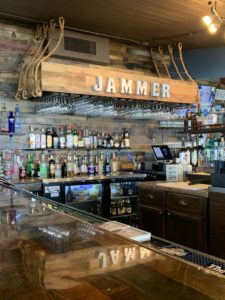 This is a fun place to eat!  The restaurant is in Lexington, Michigan, which is an awesome town to visit!  Enjoy a day out on the water walking the jetties, piers and shoreline, or spend an afternoon walking through town checking out the local shops.  However you spend your day in Lexington, stop in to the Windjammer for some delicious lunch!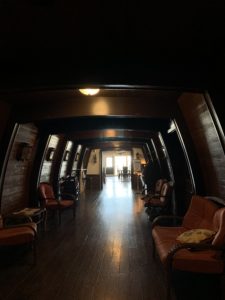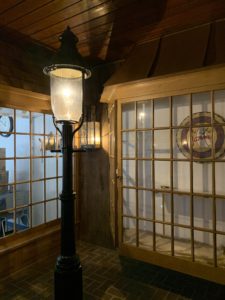 The inside is set up to resemble walking onto a ship.  Once inside, the atmosphere is very relaxed and easygoing.  They were pretty busy the day we went, but service was friendly.  Any wait we had for food, was well worth the wait.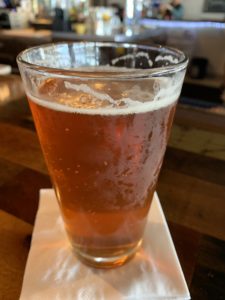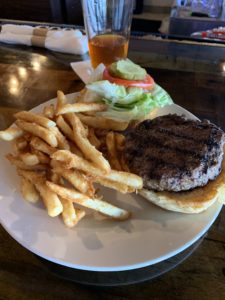 I had an Oktoberfest beer which I enjoyed with  my (very tasty) Angus burger.  The burger was cooked to perfection just the way I asked for it!
This is definitely a place I would recommend stopping at!

I give Windjammer 4 Scouts!
Papa's of Armada – Armada, MI
Papa's is more of a "diner" type restaurant, located in the town of Armada.  It is kind of out of the way, but we happened upon it one day when we were out going to the apple orchards in the area.  It is not very big, parking is tight, but they are friendly and service was fairly quick.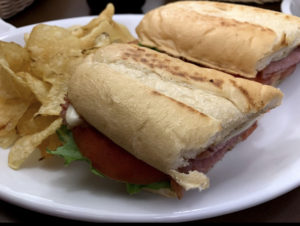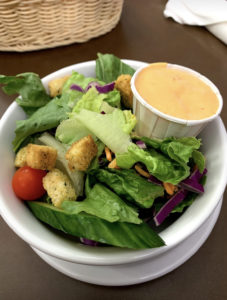 The menu is on the small side, and they are limited to mostly breakfast and lunch items.  I ordered the Papa Slim which is really just a ham sandwich with lettuce and tomato.  It came with chips and a side salad.  The food was good and the veggies on both the sandwich and in the salad were fresh.
Since we were already in the area, it was worth the stop.  It is a family owned business, so that made it worth the stop as well!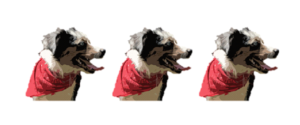 I give Papa's of Armada 3 Scouts!
The River Crab – St. Clair, MI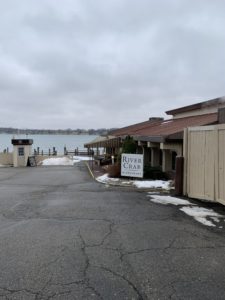 Oh. My. Gosh!  I wish we had found this place sooner!  This is the perfect place if you enjoy Sunday Brunch!  As with my other faves, the deck is overlooking the river.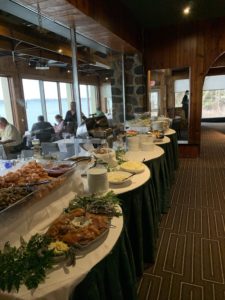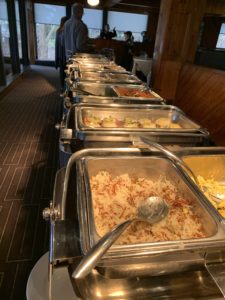 They have an amazing buffet style brunch!  With 2 sides to the buffet line, there is everything from egg dishes, waffles, soups, seafood dishes, carved beef and ham, muffins, bagels, fresh fruit, salad and pasta dishes!  There is even a dessert buffet with several different pastries and puddings.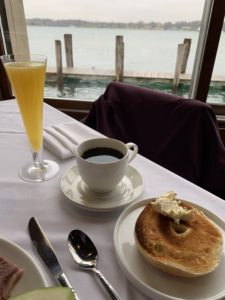 Start your brunch off with a Mimosa (like I did!!), or a Bloody Mary.  Service is very friendly here, and the atmosphere is relaxing and very enjoyable!  My only regret is that we did not find this local gem until just recently!

I give The River Crab 4 Scouts!
War Water – St. Clair, MI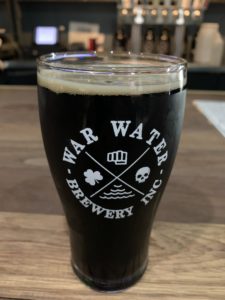 One of my favorite places to go and grab a beer at the end of the week and enjoy a really good burger!  War Water is a no frills local brew pub.  Located right in the center of downtown St. Clair, it is right across from the riverwalk.  During nice weather, you can sit outside and enjoy a beer while you watch the river, or sit inside at the bar or one of their high top tables.  The atmosphere is very laid back and fun.
They do not offer a beer menu.  All of the taps are on the wall behind the bar, with the names written on chalkboards above the taps.  They rotate every now and then, so there are always new beers to try.  Service is always friendly and quick, despite usually being fairly busy every time we have gone.  One of the best burgers in town!  Great place to go, hang out, enjoy a good beer and just unwind from the week!

I give War Water 4 Scouts!
Darrel's Steak And Seafood – Kimball, MI
Darrel's was a very nice restaurant that offered a menu that you would find in a fancy restaurant, without all of the overhead of a fancy restaurant.  The seating is booth and table seating, with a large sheet of paper on top of the tables (the waitress writes her name on the "tablecloth").  It is a very comfortable and relaxing atmosphere.
The food is delicious and absolutely worth the drive!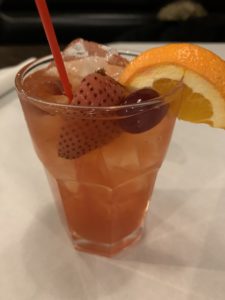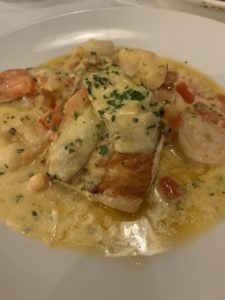 I ordered a glass of Sangria to go with my Salmon Norfolk- a piece of salmon with shrimp and lobster, and topped with an artichoke cream sauce.  The portion sizes are very filling.
This was a restaurant we would have definitely gone back to if time allowed.

I give Darrel's Steak and Seafood 4 Scouts!
St. Clair Coney Island – St. Clair, MI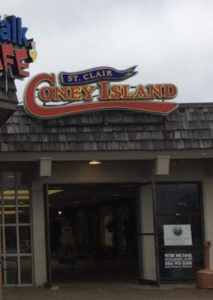 I am not sure I understand the connection between Michigan and Coney Island dogs…I always thought the Coney Island dog was a New York thing.  However, there are Coney Islands ALL over this place!  We decided it must be something good for it to be so popular here (it is a chain, but they are individually owned I believe), so we stopped in!
Now, anyone who knows me, knows I LOVE hotdogs!!  So, I was a little bit excited to try this place out!
The excitement, unfortunately, did not last long.  I was disappointed.  I do not mind that the restaurant was small, but our table (and a couple of others), faced DIRECTLY into the bathroom…we were about 3 feet from the inside of it, when the door was open….which it was open the whole time.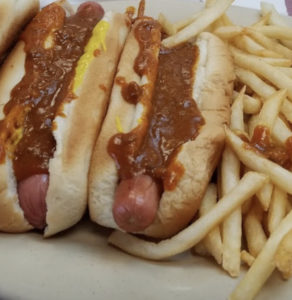 When our food came, it was messy.  The hotdogs were the small, skinny hotdogs that are not very satisfying.  Did I say the whole presentation was messy and not very appetizing?
The service was not as friendly as I had hoped it would be, but the place was busy and ours was the only waitress (that I saw).  That said, I am sure she was tired….
Like I said, there are Coney Island's all over.  This is the only one we ate at, so I cannot speak for the others…they may be better.  However, I have no desire to try another.  I am including it in my review though, because they didn't get popular for no reason, and if you like hotdogs, you should give one a try, and see for yourself how you like it!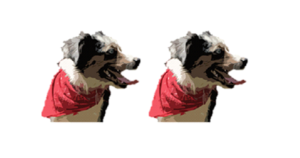 I give St. Clair Coney Island 2 Scouts!
Tokyo Japanese Steakhouse and Sushi – Port Huron, MI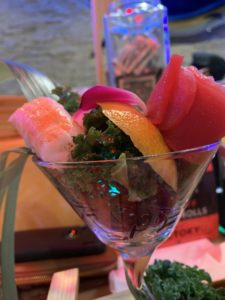 Sushi Anyone?  This place is amazing!  We ate here once before, prior to the holidays, and we really enjoyed it.  We sat at the hibachi grill on that visit, and the food was delicious.  The chef was entertaining and interacted with everyone around the table.   On this visit, we decided to sit at the sushi bar.
The restaurant is tucked into a little strip mall, and is easily missed if you are not looking for it.  Once inside though, it is much larger than it appears outside, and the atmosphere is both welcoming and a lot of fun!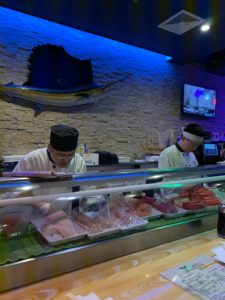 The staff is very friendly and attentive.  We sat at the sushi bar, and not only did our waitress make sure we had everything we needed, but the sushi chefs also made sure we were enjoying everything, from our drinks and appetizers, to our main meal.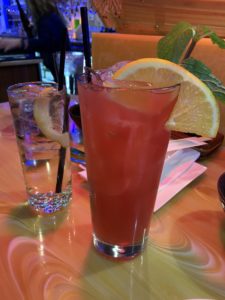 They have a fairly large menu as well as a full bar.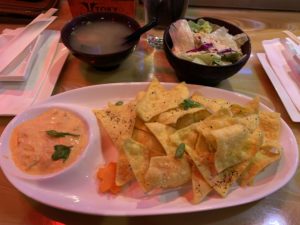 They have appetizer specials, which have been a great choice each time.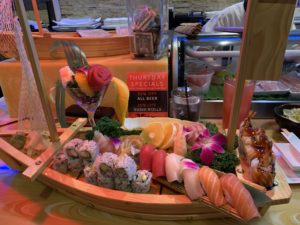 The main course meals are large enough, that you will NOT leave there hungry!  If you do, it is your own fault!

I give Tokyo Japanese Steakhouse and Sushi 4 Scouts!
The Exquisite Corpse – Port Huron, MI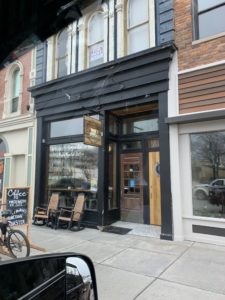 Nothing grabs my attention going down the road like a coffee shop!  This one got my attention, first, with how cute it looked all lit up at night, and second, because of the name!  You know I had to stop in!
This really cute coffee shop is owned by a local couple.  They came up with the name from a French game that was played long ago, called The Exquisite Corpse.  According to game rules, everyone sits in a circle with a sheet of blank paper.  No one else is allowed to see your paper.  The first person draws a head on their paper, making sure no one else sees it.  The next person draws a torso, making sure no one else sees it, and without having seen the head.  The next person draws an arm…it goes around until everyone in the circle has drawn a different body part, not having any idea what everyone else has drawn for their own part.  At the end, all of the body parts are put together to reveal the "exquisite corpse".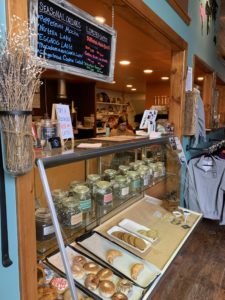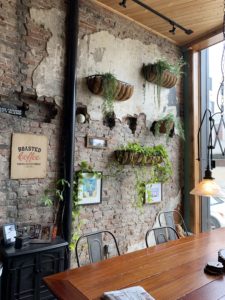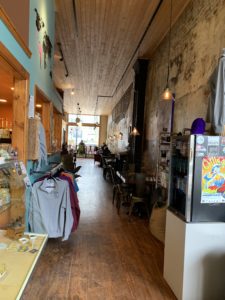 The ingredients for the coffee in this shop are done on sight – the coffee is roasted, the syrups are made, etc.  Like the game, each cup of coffee is exquisite.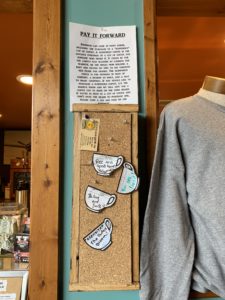 They even have a "pay it forward" program, where you can purchase a cup of coffee for someone who could really use a cup, but maybe cannot afford it.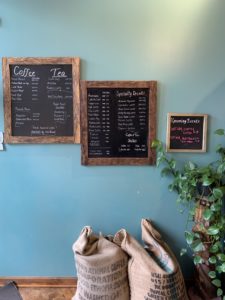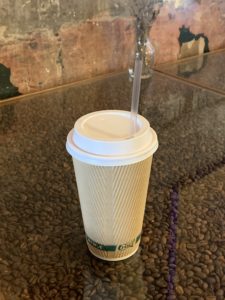 I got a Lavender Latte on my visit, and it was most definitely "exquisite"!!!

I give the Exquisite Corpse 4 Scouts!
This is my take on just some of the places that we ate at while here in Michigan!  Michigan really surprised me – in a good way!  This has turned out to be an absolutely beautiful state!  There is so much more I want to do here and so many more places I want to see.  It is on my list of places to come back to!  The food here has just been an added bonus to all of the great things that Michigan has to offer!
I have definitely been smitten with the mitten!