When I think of warm weather, I think of the things I love that go with it!  I love being able to go for a nice long run in the morning sun, sitting by the pool (or better yet, in it) with a nice cool drink.  I love all the plants, flowers and gardens that are in bloom.  The days get longer and meals feel simpler and fresher than the yummy comfort foods of Fall and Winter.  Salads make the perfect warm weather meal.  They go together quickly, there is no standing over a hot oven or stove, and the variety of salad is as endless as your imagination!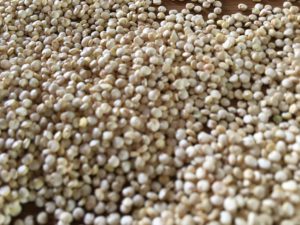 The salad I made today is a Quinoa salad.  Quinoa is considered a grain, but it is actually a seed produced by a vegetable related to swiss chard and spinach.  Since it is not related to wheat and grain, it is naturally gluten free.  It is high in protein, and more than 200,000 pounds of this superfood is actually grown here in the U.S. in the Rocky Mountains (the "sweetest" tasting Quinoa is grown above 12,500 feet – making the Rockies a great place to grow it!).
You can do most of the prep work for this salad ahead of time, so that all that is left to do at suppertime, is put it in a bowl and enjoy it!
Let's get started!
What you will need:
2 cups cooked Quinoa
3 roma tomatoes
1/2 cup diced onion
1/2 cup chopped cilantro (fresh)
Juice of 1 lime
1 cup black beans (rinsed and drained)
2 green onions
2 cups of cooked chicken breast (chopped)
1/2 large avocado
2 tablespoons olive oil
1 teaspoon garlic powder
1/2 teaspoon cumin
1/2 teaspoon salt
Directions:
Step 1
Cook Quinoa according to package instructions to make 2 cups of cooked Quinoa (I like to cook a full package at once, measuring out 2 cups cooked, and save the rest for other salads later in the week.  It keeps well in the refrigerator and allows you to skip the cooking process in future meals!).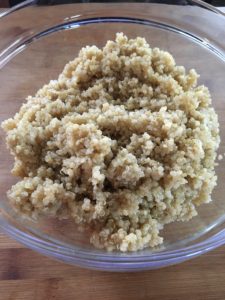 Set cooked Quinoa in refrigerator to cool completely.
Step 2
Prepare a bowl of Pico De Gallo –
In a medium bowl, dice 3 Roma tomatoes, add 1/2 cup diced onion, chop 1/2 cup fresh cilantro.  Squeeze in the juice of 1 lime.  Mix well.  Add a pinch of salt if preferred.  Refrigerate.   (To make this step even easier, you can always buy a container of Pico De Gallo – most grocers carry some in the produce section.  I just enjoy homemade!).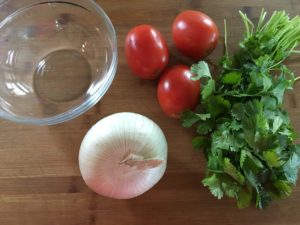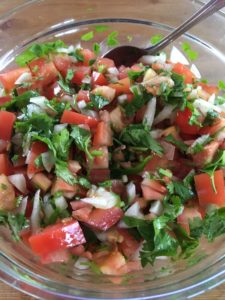 Step 3
Make the dressing –
In a small bowl, add the 2 tablespoons of olive oil, 1 teaspoon garlic powder, 1/2 teaspoon cumin and 1/2 teaspoon salt.  Mix well. Cover and set in refrigerator.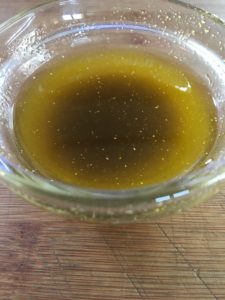 Step 4
Rinse and drain 1 cup black beans.  Place beans in a small / medium bowl.  Chop 2 green onions and add to black beans.  Mix, cover and place in refrigerator.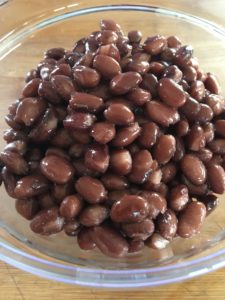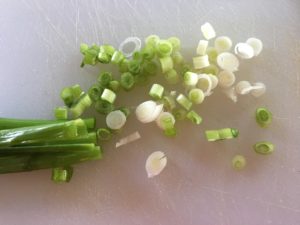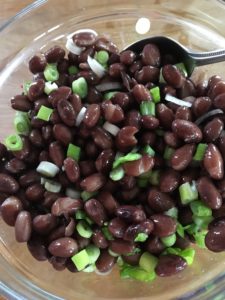 Step 5
In a medium bowl, add 2 cups of cooked, chopped chicken breast (I like to use either left over grilled chicken or rotisserie chicken for this – both add a really good taste.  Any form of cooked chicken will work though).  Cover and refrigerate.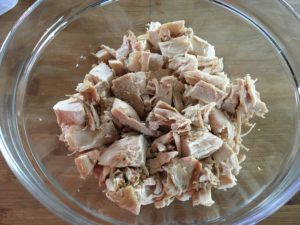 Step 6
Putting it all together –
When you are ready to eat, simply remove your prepared ingredients from the refrigerator.  In a medium bowl, add 1 cup Quinoa to 1/4 of the bowl.  Next add 1/2 cup black beans alongside the Quinoa.  Across from the Quinoa, add 1/2 cup Pico De Gallo.  Add 1 cup of chicken to the last 1/4 of the bowl.  Split half  of a large avocado into four slices.  Place 2 slices on the top of the salad.  Drizzle half of the olive oil dressing all over the top of the salad.  Using a second bowl, repeat the process with the remaining ingredients.  Makes 2 medium size bowls (it is a LOT of food, even if it does not seem like it will be!).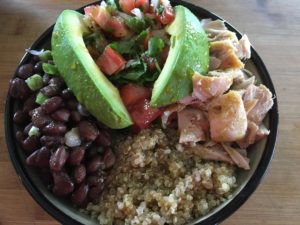 Grab your favorite drink, sit back and enjoy!