Schweitzer Mountain – Sandpoint, Idaho
2019 – HAPPY NEW YEAR!!!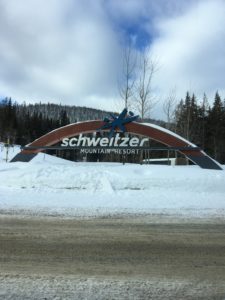 2018 went out with a bang (and a bump, and a faceplant) on the ski slopes of Schweitzer Mountain in Sandpoint, Idaho!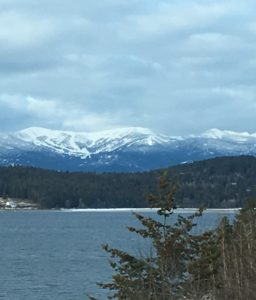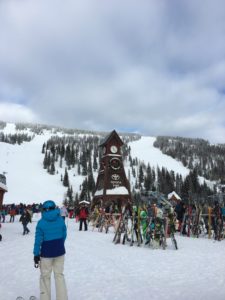 Learning to ski happens to be #2 on my Bucket List.  After a day of "skiing", it is still #2 on my Bucket List.  I have not been on skis since I was a Freshman in high school – and even then, I spent more time laying in the snow than I did upright on skis.  Yesterday was a vivid reminder of my one time on skis in high school.  Obviously, the ability to ski does not just happen with age.  It was still a really fun way to end 2018 none the less!
Long story short, I started on the Bunny Hill, alongside "Musical Chairs".  When I first pushed off, I thought I might have had it!  I started out okay, and quickly went downhill (literally) from there.  I picked up speed (all of the signs and cones read "slow"), and could not make myself stop properly.  So I threw myself in the snow.  After several "falls", I demoted myself to the "Magic Carpet".  The Magic Carpet is basically a flat area with a treadmill type return (instead of chairs).  This is also where I was a little jealous of all of the four year old kids zipping past me as they slid to a stop.  They really need to make those little harnesses for adults!
I spent the remainder of my time on Magic Carpet, and just could not get the hang of turning or stopping.  On the rare occasion that I did cover any distance upright, it was so much fun!
I do not feel like I actually accomplished crossing "Learn to ski" off of my Bucket List, so for now, it is still #2.  I obviously am going to need to take actual lessons.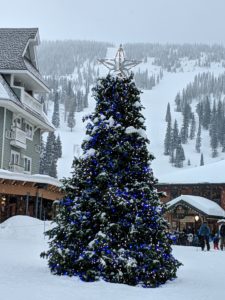 But, the day was incredibly fun, the mountain was beautiful (as well as one of their busiest days), and I am so glad I went.  It was well worth the immense soreness my whole body is feeling today!  With practice, maybe I can send 2019 out as a Master of the Bunny Slope!  For today though, I think I will bring the year in on snow shoes – something a little more stable 🙂
From myself and Scout, we wish you all a very Happy New Year.  May your year be filled with fun and adventure!!