Shrimp And Grits With Cafe' Brulot – Mardi Gras 2019!
Welcome to post Mardi Gras 2019!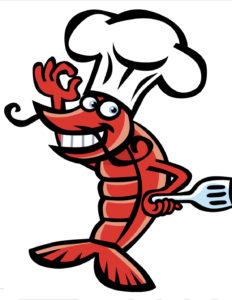 In all honesty, I had no idea yesterday was Mardi Gras!  The fact that they had a Mardi Gras Celebration in Defuniak Springs, Florida last month, totally threw me off I guess!  I found out early enough in the day at least, that I was still able to put together a meal for the occasion.  Just as in NOLA, Shrimp and Grits seem to be a staple here in South Carolina.  I first had the dish last summer when I was passing through Charleston, S.C.  It was so good, that I had it again a few weeks ago at a local restaurant here in Beaufort, S.C.
While I am not sure where this dish actually originated from – online searches show that both New Orleans and Charleston both claim to be where it originated (I even found one search that claims Georgia was) – I am just glad someone came up with the idea of Shrimp and Grits!
It is actually an easy recipe to make, but, because of the chopping, peeling and cooking, it can be just a little time consuming.  Thankfully, if you are into meal prepping like I am, a lot of this can be prepped ahead of time, so that when it is time to cook and eat, it goes much quicker!  I do hope you will try this recipe out, it is soooo good!!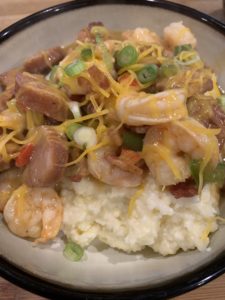 Shrimp And Grits
Note:  This recipe actually makes a lot!  Do not double it, unless you are cooking for at least 6 people, or want leftovers for a week!
Ingredients
1 cup grits (not instant)
3 cups water
pinch of salt
2 cups of half and half
1 cup shredded cheddar cheese
Step 1 –
Before you begin cooking the rest of the dish, cook your grits first.  They will stay warm in the pot while you cook the remainder of the recipe.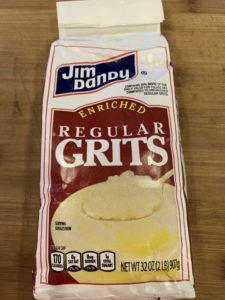 In a medium size pot with a lid, combine the grits, water and salt.  Cook on medium heat until it just begins to boil.  Add the half and half.  Cook on low, and covered, for 20-25 minutes.  Stir occasionally.  After cooking, remove from heat (you can leave it on the stove top).  Add the cheese and replace lid.  Leave covered until ready to serve.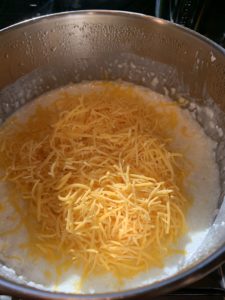 Remaining Ingredients:
You can prep ahead by peeling the shrimp, chopping the vegetables and slicing the sausage and bacon.  Store everything separately.
2 pounds of peeled uncooked shrimp (I used large shrimp)
Pinch of salt
Pinch of cayenne pepper
Juice of 1 lemon
1 pound of sausage (I used Andouille sausage), cut into slices
5-6 slices thick cut bacon, cut into pieces
1 green pepper, diced
1 red pepper, diced
1 yellow pepper, diced
1/4 cup green onion, chopped
2 cloves fresh garlic, finely chopped
1/4 cup butter
1/4 cup flour
1 cup chicken broth
1 Tablespoon Worcestershire sauce
Cheddar Cheese, shredded
Step 2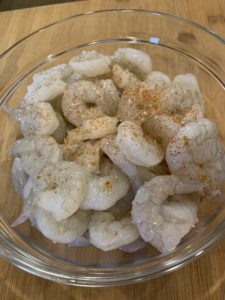 In a bowl, sprinkle shrimp with salt, cayenne pepper and lemon juice.  Set aside.
Step 3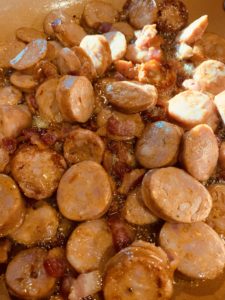 In a large, deep frying pan, cook bacon until crisp and crumbly.  Just before the bacon reaches the desired crispness, add the sausage to the pan.  Cook until the sausage is browned.  Remove from pan, and set aside, reserving the grease in the pan.
Step 4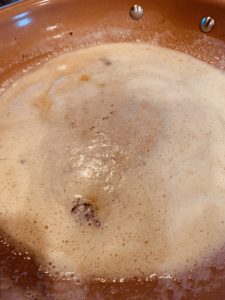 Add butter to the bacon drippings in pan.  Melt until just turning brown.  Add flour and stir well (you should end up with a pasty type roux).  Brown the roux, but do not burn it.
Step 5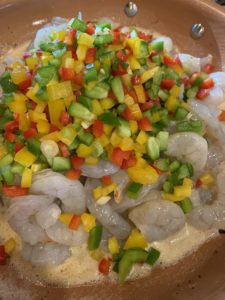 Add the chopped vegetables, garlic and shrimp to the roux.  Mix until well combined.  Cook until the shrimp just start to turn pink.
Step 6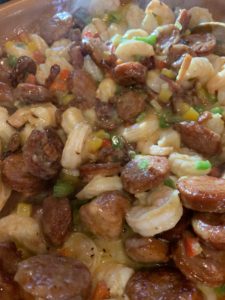 Add the bacon and sausage to the shrimp and vegetables. Stir well.
Step 7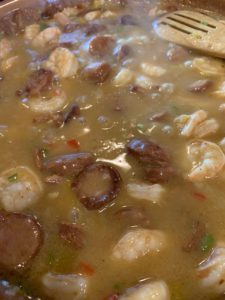 Add the Worcestershire sauce to the chicken broth.  Add to the pan.  Cook and stir until the broth forms a thick sauce.  Remove from heat.
Step 8
Stir the grits so that the cheese is well mixed into them.
In a bowl, or a plate with high sides, scoop a generous amount of grits.  Add a good portion of the shrimp mix on top of the grits, making sure to get a lot of gravy on it as well.  Sprinkle with shredded cheese.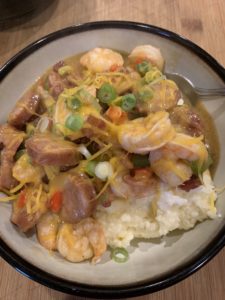 At this point in the recipe, it does not even matter anymore where this dish originated!  All that matters is that it found its way into your kitchen, and all that is left, is for you to enjoy it!!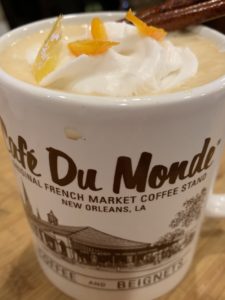 Next up, is dessert!  Initially, it was going to be King Cake or Beignets.  I did not have all of the ingredients on hand for either though.  I also did not have all of the ingredients to make a Hurricane, which was going to be the cocktail.  So I got creative, and decided to combine the two.  A cocktail dessert.  I decided on Cafe' Brulot!  This, they say, did originate in NOLA!
I was a little skeptical at first, but, it turns out, it is quite delicious!
This recipe will make 2 cups of Cafe' Brulot.
Step 1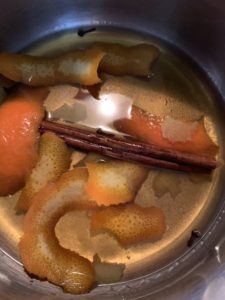 In a saucepan, combine:
1 cinnamon stick
6 whole cloves
Peel of 1 small orange (thin strips of peel)
Peel from half a lemon (thin strips of peel)
6 teaspoons sugar
1/2 cup Brandy
1/2 cup Grand Marnier
Cook over low heat until sugar is dissolved.  Remove from heat.
Step 2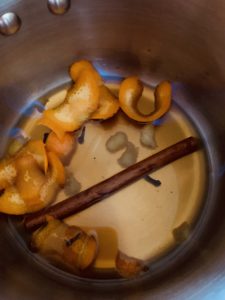 (Optional)
Using a long lighter or long match, set the liquid on fire in the pot (the alcohol will flame up).  This step is more fun and entertaining than it is anything else 🙂
Step 3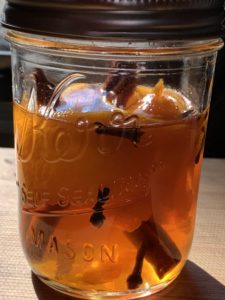 (Optional)  After you are done with the pyrotechnic show, pour all ingredients into a small canning jar and put the lid on.  Let sit until you are ready to have coffee.
You can skip this part, and pour it right into your coffee cup, if you prefer not to wait.  Waiting will help all of the flavors to blend though.
Step 4
Pour half of the liquid into each coffee cup.  Reserve the cinnamon stick, rinds and cloves.
Step 5
I use a Keurig, so place the cup under the Keurig and make the coffee directly into the Brandy mixture.  Regardless of how you make your coffee, just pour the coffee into the cup on top of the Brandy mix.
You can serve as is, or…
Step 6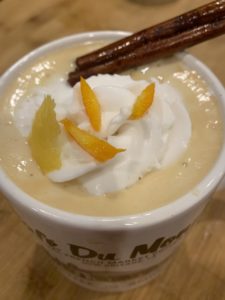 (Optional)  Top off with a generous amount of whipped cream.  Add half a cinnamon stick to each cup, along with some pieces of rind, for garnish.
Enjoy hot!!
Like I said, I was a little skeptical on this one, but it is really quite good.  The flavors all come together very nicely to create a nice sipping coffee.  Enjoy!