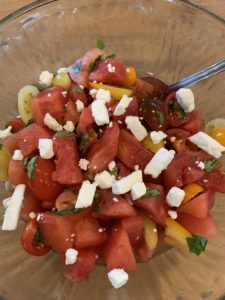 Sadly, I think summer is on its way out ?.  But that doesn't mean it is gone – yet!  There are still some pretty good looking "summer" fruits available in the grocery stores!
A large part of my grocery shopping is spent in the produce section of a store.  Today, as I looked around trying to figure out what I was wanting to make with supper tonight, I saw a nice little stack of watermelon that looked pretty good.  At first I thought watermelon sounded pretty good for a dessert, but, then I thought, it might also make a pretty good side dish as well 🙂  Rather than just cut it up and serve it plain, I thought I would get a little creative, and do something different with it.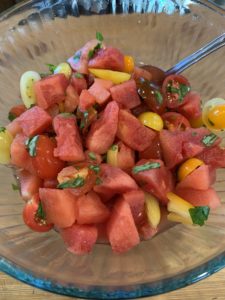 The result – a refreshing little side salad that is both sweet and zingy, not mention, pretty to look at 🙂
All you need is about 20 minutes to throw all of this together, and another hour or so to let it chill in the refrigerator before eating it.  Hope you enjoy!!
Watermelon Salad
What you will need:
1 small, seedless watermelon
About 2 cups of cherry (or grape) tomatoes –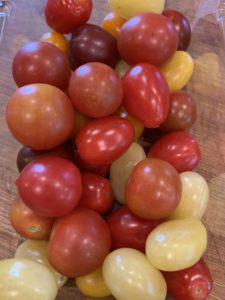 I used the multi colored ones, just to add a little contrast
Fresh Basil
1/4 cup White Balsamic Vinegar
1 tsp Olive Oil
Salt and pepper to taste
Feta Cheese
Directions: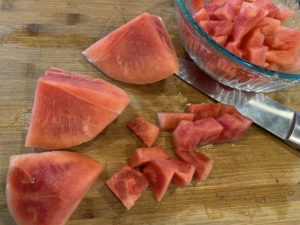 Cut the watermelon up into (about) 1 inch chunks.  Place in a large bowl.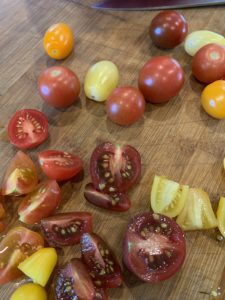 Next, cut the cherry tomatoes in half.  If they are larger (because some are larger than others), you can quarter them.  Also, I just left the seeds in them.  I know some people feel the need to remove tomato seeds, but I seldom do (unless I am making guacamole or something like that).  Add the tomatoes to the bowl.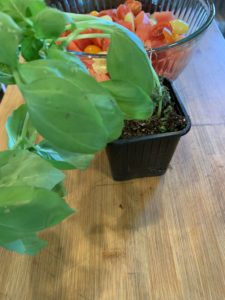 Fresh basil is the BEST!  If you do not grow your own, usually you can find fresh herbs in little packages in the produce area.  Or, you can do what I did today, and buy the sad, little "live" basil plant.  I question how long the word "live" would have applied to him, had I not bought it today.  My plan was to use the entire plant though, so, he really did not need to survive any longer regardless.
Normally, we have a large herb pot that grows Basil, Oregano and Rosemary.  Unfortunately, Basil, Reggie and Rosie did not survive the trip from down south to up north ?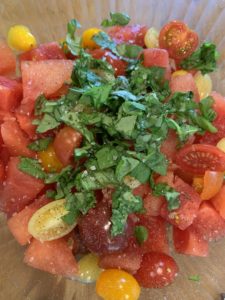 Chop the basil – it does not have to be finely chopped.  Add to the bowl.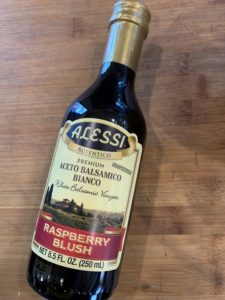 I already had Balsamic Vinegar, but it was dark balsamic.  I did not really want to use it, because I did not want it to turn the watermelon brown.  Instead, I went looking for a white balsamic.  What I found was this White Balsamic Raspberry Blush!  I thought that sounded really good!!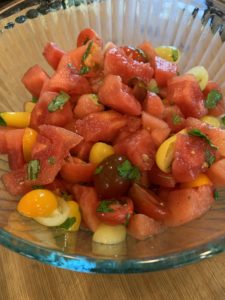 Add the balsamic, olive oil, salt and pepper to the bowl.  Mix well.  Cover and refrigerate for about an hour.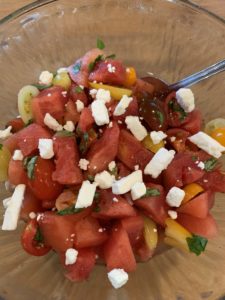 When you are ready to serve, sprinkle a little feta cheese on top.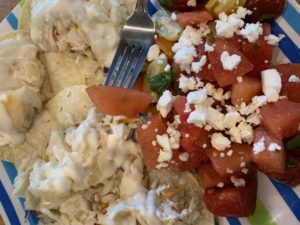 Serving mine with some yummy fish tacos!  🙂
Enjoy the salad, and this last little bit of summer while you can!!