2022 – Our Year In Review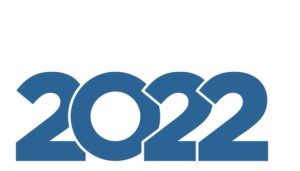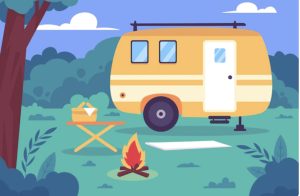 I cannot believe how fast it seems this year has gone!  Time just moves faster and faster, and before I know it, the year is coming to an end.  Sometimes it feels like the year flew by so fast, that we didn't get a chance to do everything we had planned.  The truth is, we probably didn't, but as I scroll through my photos, I realize we still did quite a bit.
Join us as we revisit some of the highlights of our travels and adventures of 2022…
January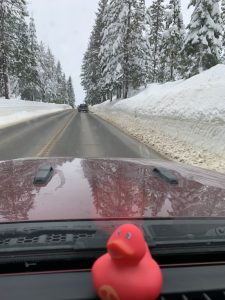 We started the year off on the road.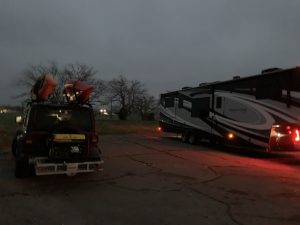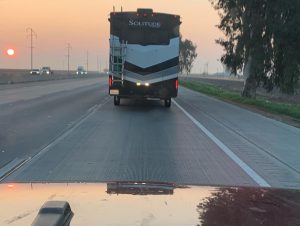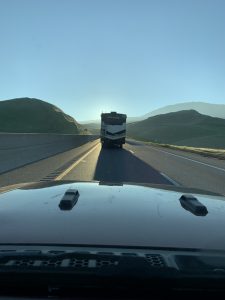 After making our way back to California (this is where we left our rig over the holidays), we packed up and started making the drive south from Beale AFB in California, to Nellis AFB in Nevada.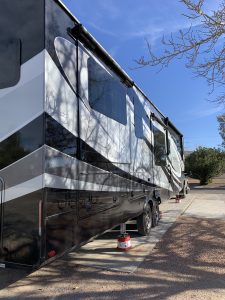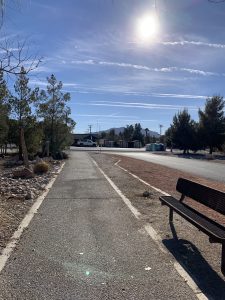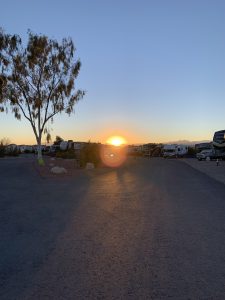 Nellis is one of our favorite go-to spots for after the holidays – the famcamp is one of the best we have stayed at, and it is always nice to escape to nicer weather in January!
February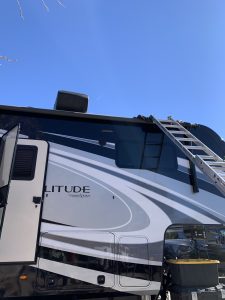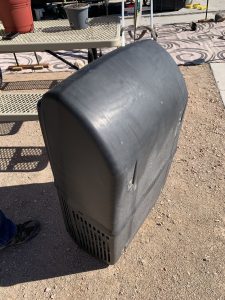 In February, even though we were in relax mode, we knocked out a few things we were hoping to do while we were there – like get our front A/C unit replaced!  Our rig was a year old by this point, and the front A/C unit had never worked!  We needed to get it replaced before we went through another summer!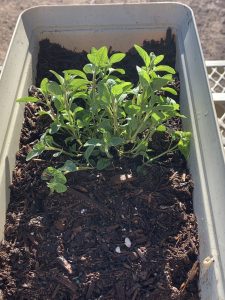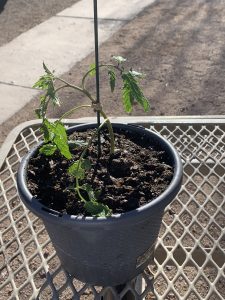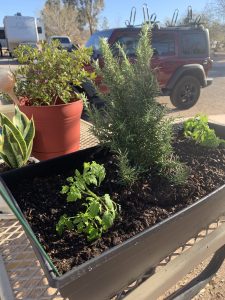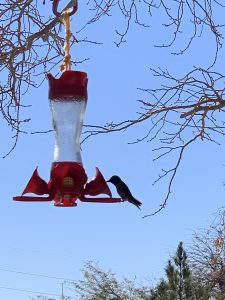 We got our little travelling garden planted – this year consisted mostly of herbs and tomatoes.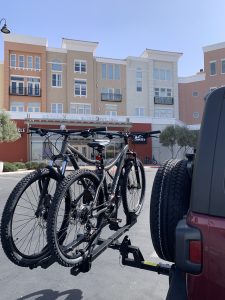 We also decided to give biking a try – so we purchased a couple of inexpensive (I use that term lightly) bikes and started looking up some good biking routes.
March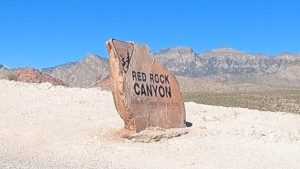 In March, we did our first real bike ride – thirteen miles around the Scenic Loop in Red Rock Canyon!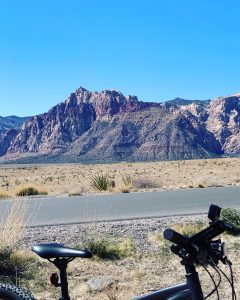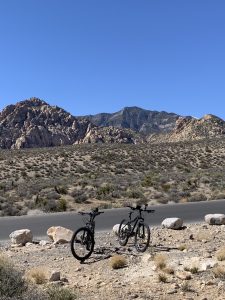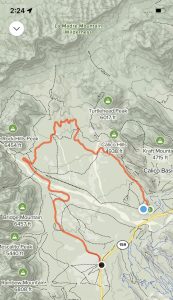 The first seven miles were ALL uphill- slow and painful!  The next five were ALL downhill – fast and curvy.  The last mile was pretty flat and was spent questioning my decision to do this particular route for our initial bike ride.  By the time we got the bikes remounted and were in the jeep headed home, I'd decided it was totally worth it!  To read our post about the Scenic Loop in Red Rock Canyon, click here.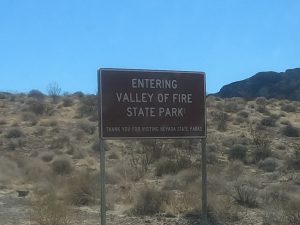 We visited Valley of Fire State Park for the first time.  This is an amazing park.  There is so much to see and explore here, that you really need a couple of days if you to explore the whole park!  We only spent about eight hours and really only saw a portion of it.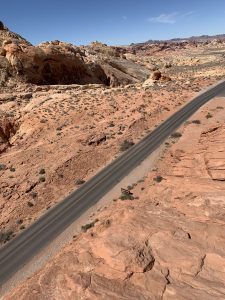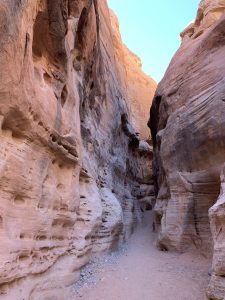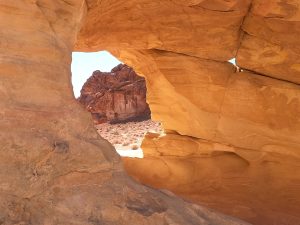 We were able to do several hikes while we were there, but there is so much more to see.  This will be a spot we visit again.  To see the blog post on Valley of Fire, click here.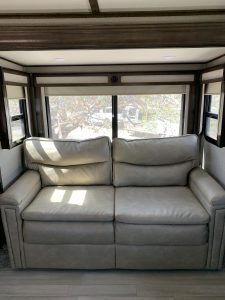 We decided to do a little renovation inside our RV in March.  We had been thinking about it for awhile, and finally decided to do it.  The RV came with two couches and two recliners in the living room.  We did not see the need for the second couch, so we decided to replace it with something that would actually be useful to us – a desk/craft table.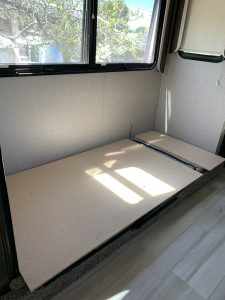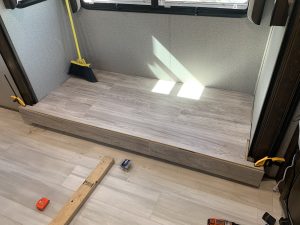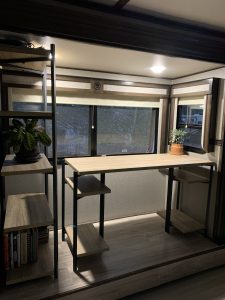 We removed the couch (saving the seat part of it), laid flooring and added a desk and shelves.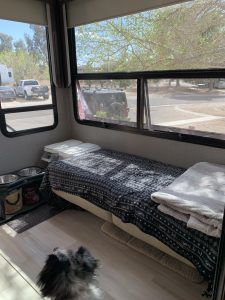 We also removed the kitchen table and replaced it with the seat portion of the couch, creating a "window seat" dog bed for the dogs.  This little renovation, only took a couple of days and has made a huge (useful) difference!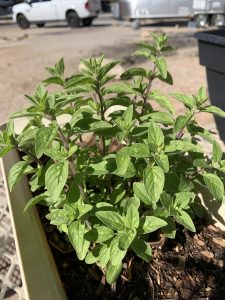 April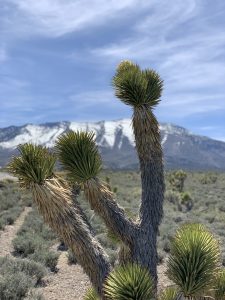 By April in Nevada, the weather is perfect for hiking.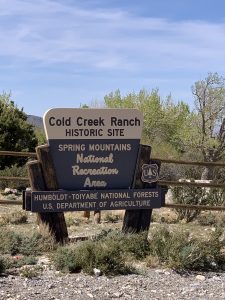 We hiked up into the Mount Charleston Wilderness, which is located up in the Spring Mountains, west of Las Vegas.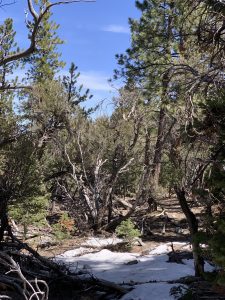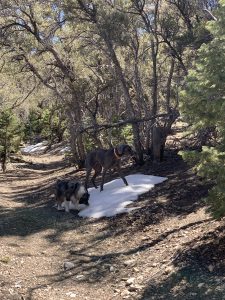 There are over 40 miles of trails here that offer great views and everything from easy to challenging hikes.  It also gave the dogs a chance to play in the snow!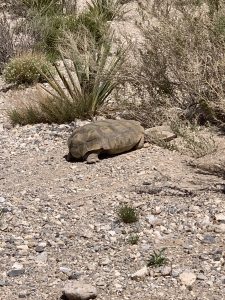 We returned to Red Rock Canyon, this time to hike.  Red Rock is one of my favorite places to hike locally to Nellis.  Every trail offers breathtaking views.  This time, we also took the time to stop in and visit the Visitors Center.  The visitor center offers an outdoor Desert Tortoise Habitat, that is very interesting and educational.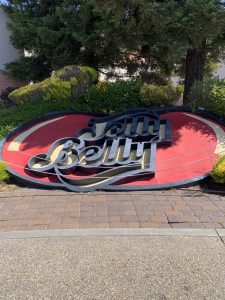 The end of April saw us back in California for a doctor appointment.  While there, we visited the Jelly Belly Factory in Fairfield, CA.  This was an unexpected great experience!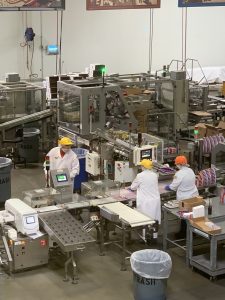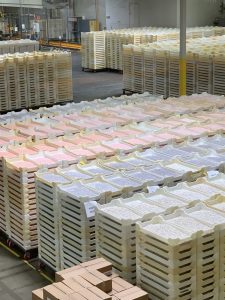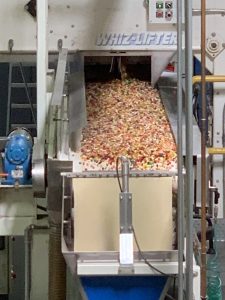 They offer a self guided tour of the factory.  The tour allows you to watch the making of a jelly belly bean in progress.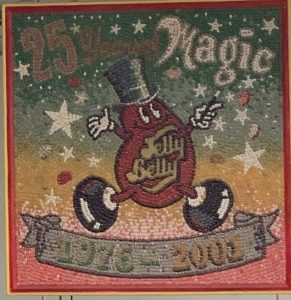 To read our post on this great little experience, click here.
May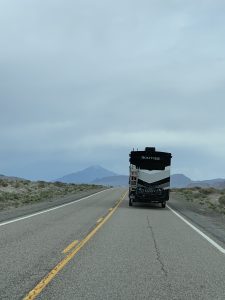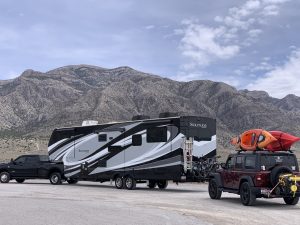 By May, we were on the road again.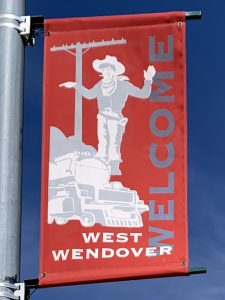 This time our destination was West Wendover, Nevada.  West Wendover, Nevada borders Wendover, Utah and the state line runs right through the main road going through town.  It also doesn't offer a whole lot beyond casinos (which we are not into), unless you enjoy the outdoors – which we do!  The opportunities to hike here are limitless!
I signed up for The Big Climb challenge to raise money for the Leukemia Lymphoma Society.  It was a virtual challenge, so you could pick your climb.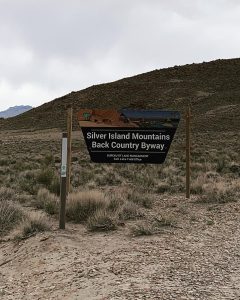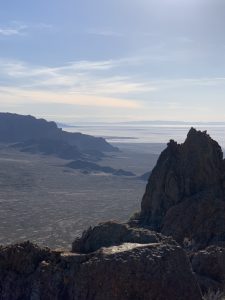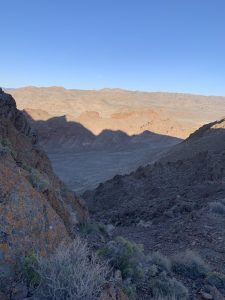 I chose a climb called Volcano Peak, located in the Silver Island Mountains of Utah.  Volcano Peak has a summit elevation of 6011′.
We made it to the summit, and in doing so, raised $1100.00 for LLS.  To read our post about the Big Climb challenge, click here.
June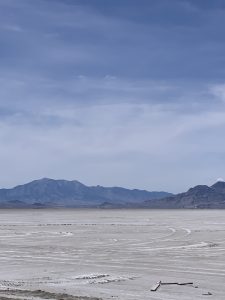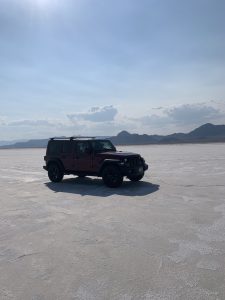 The weather in June was still pretty decent for doing some shorter hikes.  We mostly took the dogs out to the salt flats (this is where Bonneville Salt Flats is located) and let them run.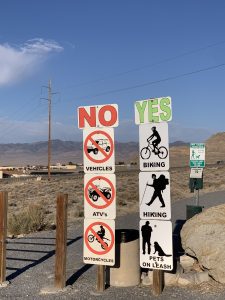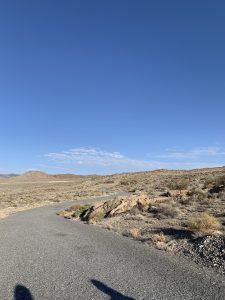 We walked some of the trails that were local to us, and even drove the Jeep up to one of the viewing spots to see the "curvature of the earth".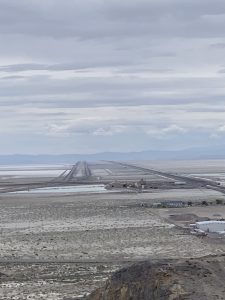 Because of the unique topography of Wendover, it is possible to view the curvature of the earth from The Toana Mountain Range and Leppy Hills.
July
By July, the weather was getting pretty warm.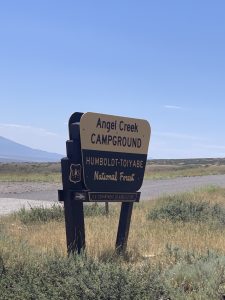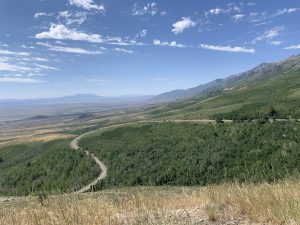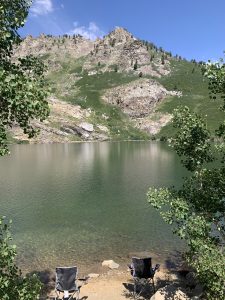 We visited Angel Lake which is located outside of Wells, NV, at an elevation of 8300′ in the East Humbolt Mountains.  This offered relief from the heat, and a lot of breathtaking views!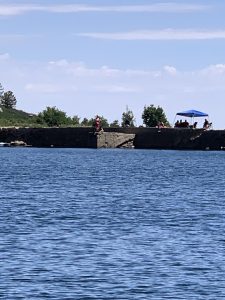 Angel Lake is a glacial lake that is both natural and man-made.  Big enough to kayak or paddleboard, but no boats allowed.  From the lake, there are many trails leading up and over the ridges that surround the lake.  For those willing to brave bringing an RV up the winding, steep mountain road, there is also an RV park.  To see our post on our adventures at Angel Lake, click here.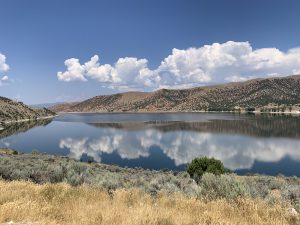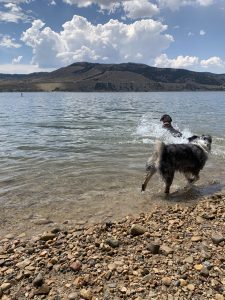 We took a drive out to Echo Reservoir which is north east of Salt Lake City.  Echo Reservoir is a dog friendly recreation area that allows swimming, kayaking, paddle boarding, boating and fishing.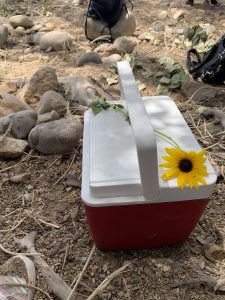 We packed a picnic lunch, and the day was spent letting the dogs swim all day long!
August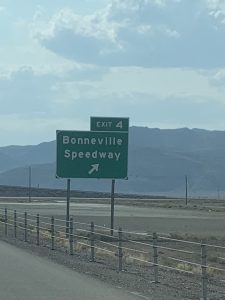 August in Wendover is one of the busiest times of year.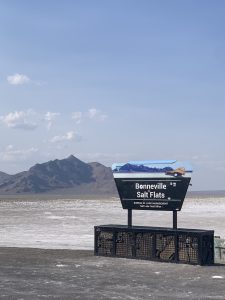 This is when the Bonneville Salt Flat Races – Speed Week – takes place.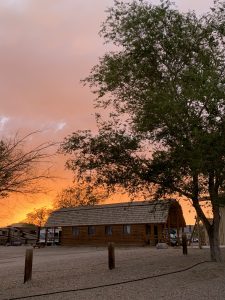 I helped out at the RV park due to how busy it was, and unfortunately, mother nature didn't cooperate.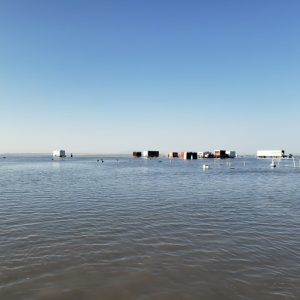 It rained so hard and so much the weekend the races were scheduled to start, that the entire Speed Week was cancelled.  For well over a week, vehicles – cars, trucks, campers, even semi trucks, were stranded out on the salt flats, which by this time looked more like a lake than a salt flat.
September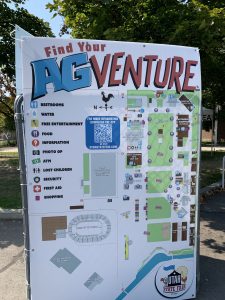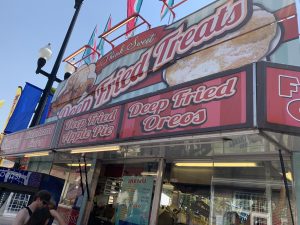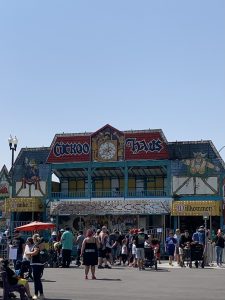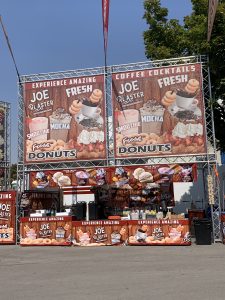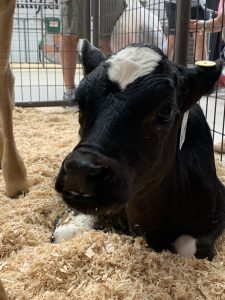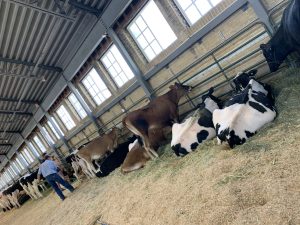 September was the Utah State Fair, and who doesn't enjoy a good fair?  The fair was located right there in downtown Salt Lake City, which seemed really odd to me at first, but once inside the fairgrounds, you would never know it was in the middle of a city.  We ate our way through the midway, shopped the vendor tents and spent a lot of time in my favorite part – the animals!  The Utah State fair was a lot of fun and did not disappoint.
October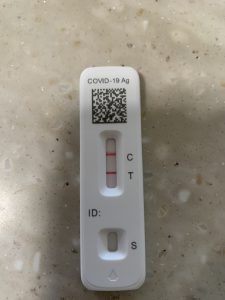 October started out a little rough, as we both got Covid for the first time!  It unfortunately put an end to several plans we had for this month.
By the end of October, I was finally testing negative for Covid.
I travelled up to Idaho for doctor appointments, and while I was there, we visited the Lowe Family Farmstead.  This family goes all out on their pumpkin patch experience!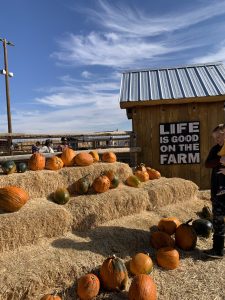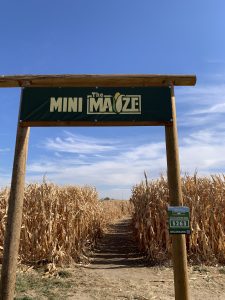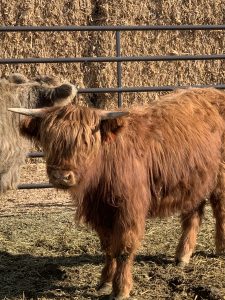 They offer games, farm animals, food tents, souvenir tents. entertainment, corn maze and a u-pick pumpkin patch!  We spent an entire day here, it was so much fun!
November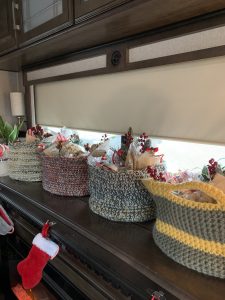 The month of November was spent playing catch up with all of the baking and cooking for the Christmas baskets since I was unable to start it in October.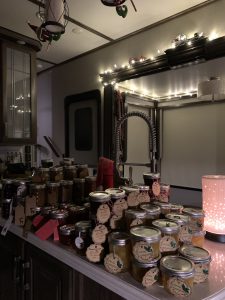 We baked, cooked, canned and assembled, and by Thanksgiving we had all of it done and it was just a matter of distributing them and getting them shipped out.
December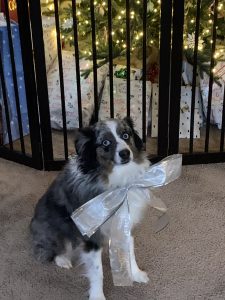 This brings us to December.  I still can't believe how quick this year has gone.  I'm not completely sure I'm ready to start 2023, but it will be here in just a matter of hours now.
I wasn't quite as good at keeping up my blog this past year, but I do have posts waiting to go up from past adventures (as well as recipes I really want to share – we did a LOT of cooking this past year!), and plan to keep up this year (better than I did at least).
As we close out 2022, my hope for all of you, no matter where the year finds you, is that it is happy, healthy and full of your own adventures!
HAPPY NEW YEAR