A Weekend At Fisherman's Wharf In San Francisco, CA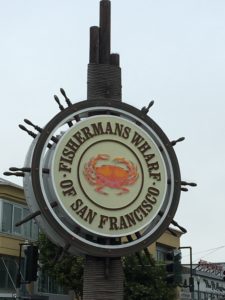 "I've been high, and I've been low.  I've been yes, and I've been oh, hell no!  I've been rock 'n roll and disco.  Won't you save me San Francisco?" – Train
I love San Francisco!  I was super excited to spend the weekend at Fisherman's Wharf, and it did not disappoint!!  Let me just start at the beginning…
Getting there…
From where we are right now, San Francisco is about a 3 hour drive, give or take a little, depending on traffic.  We were on the road by about 3 p.m. Friday afternoon.  Traffic wasn't to awful, and the drive was actually pretty.  I love bridges, and we had to cross over a few along the way.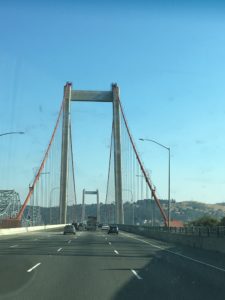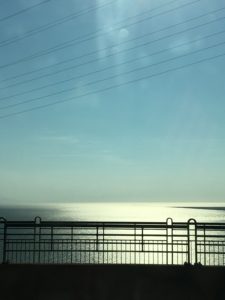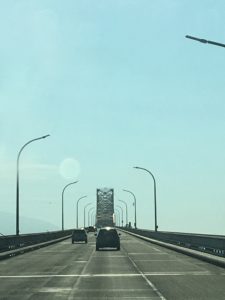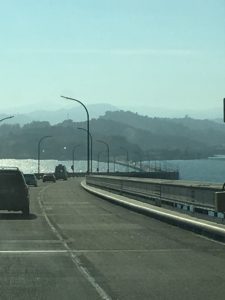 But of all of the bridges that we drove over, there was only one that I have wanted to see ever since I was a little girl!  I was excited to know that I was finally going to get to see it, but I cannot even tell you how excited I became when we realized the route we were taking, was taking us OVER the Golden Gate Bridge!!!  It was so awesome!!
Before you even see the bridge, you see the fog bank that surrounds it.  We could see the fog rolling as we got closer!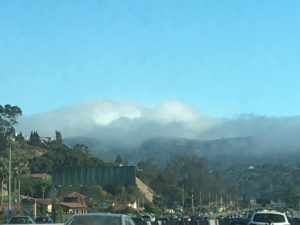 And then, there it was!!  The Golden Gate Bridge!!
It was so much bigger than I was thinking it would be!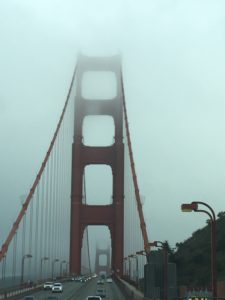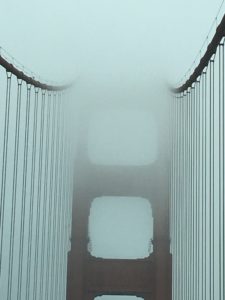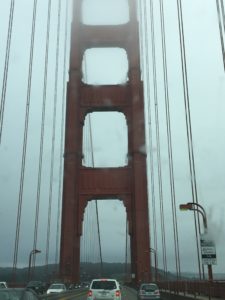 My first "to do" in San Francisco could be checked off of my  list!  Off to a great start!!
Coming off of the bridge, I got my first glimpse of Alcatraz Island.  But there would be more opportunity to view it a little bit better.  Sadly, we would not have the chance to tour the island this trip, but I knew that going in.  The tours are completely booked out for at least a month!   If touring Alcatraz is something you think you may want to do sometime, book well in advance!
Another "to do" on my list, was going down (or up?) Lombard St.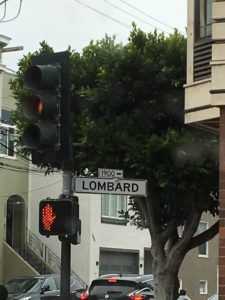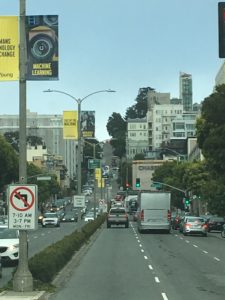 We did get to drive on Lombard St., we just had to turn off of it before we got to the exciting part of it.  I'm not sure if it counts as a check on my list, but I think I will count it as a partial check.
Lombard St, is known for a one block section that has 8 "hairpin" curves on it.  It is also extremely steep on that same block.  It has been known as the "crookedest street in the world" for as long as I can remember (I'm sure since long before I was even born).
Where we stayed…
When we turned off of Lombard St., it brought us down and around to the Wharf.  The hotel we stayed at, The Argonaut, is right on the wharf itself.  When you walk out of the front door of the hotel, you are right at the start of all of the activity.  It is conveniently located at one end, so you can walk all the way up one side, and back down the other.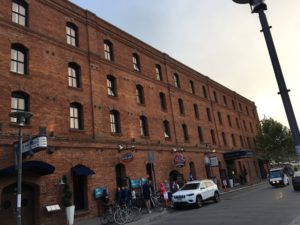 The historic brick building, which is now home to the Argonaut Hotel, was once a 198,00 sf warehouse in 1907, known as the Haslet Warehouse.  It was part of Cannery Row (which is located on the adjacent block), and was the largest fruit and vegetable cannery in the world.
Today it is part of San Francisco's Maritime National Historical Park.  The hotel has kept the original red brick and Douglas fir wood beams, in order to preserve the nautical history.  The rooms are comfortable and nautical themed. And bonus – they are four legged friend friendly!  They even have a little treat bar in the lobby for them!  They also have the Blue Mermaid Bar in the lobby for us two legged friends (and they give you a $10 voucher for it at check in for each day that you are there).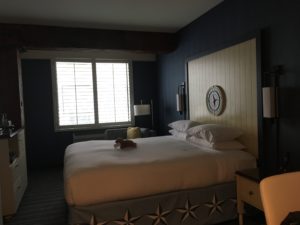 Where we ate…
I seriously feel like I ate my way through the wharf!  If you love seafood (and I do!), this is the place to visit!  There are so many restaurants and seafood stands, it is hard to decide where to eat!  As soon as you pick a place, and eat, you walk past another and say "we should've eaten there!!  Let's eat there next!"  Before you know it, you have eaten everywhere.  A few of the places we ate at…
Joes – The Sourdough Bread bowl Crab Chowder and Crab cakes were delicious!  Upstairs was open  bar seating and live music.  A great way to unwind after the ride there, and get started on our weekend!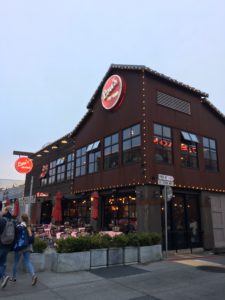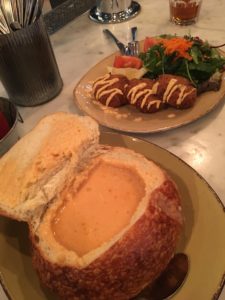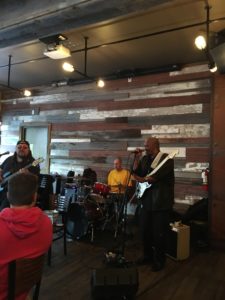 Fisherman's Grotto – Another place for Sourdough Bread bowls and this time, Clam Chowder, as well as a Crab sandwich which was so good!  Outside seating made for great people watching while we ate!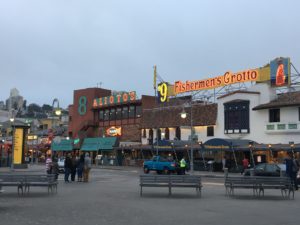 The wharf is littered with little crab and seafood stands along the way, where you can grab a seafood sandwich, a whole dungeness, or even lobster…and they smell amazing!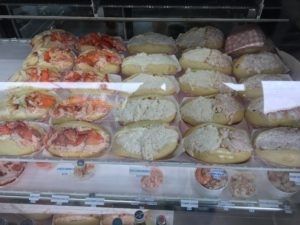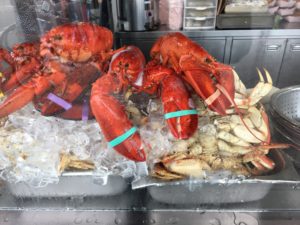 Fog Harbor Fish House – Located on Pier 39, the food is fantastic and totally worth the wait to get in!  We put our names on the list, they take your phone number, and they text you when your table is ready.  It is usually about an hour wait, so you can walk around and shop, or in our case, go to the wine shop and have a couple glasses of Sangria while you wait for your table.  The restaurant sits out over the water and has a great view of both the Golden Gate Bridge and Alcatraz Island.
We had baked oysters and a Seafood Platter that consisted of Lobster, Crab, Clams, Mussels, Shrimp and some fingerling potatoes.  It was incredible!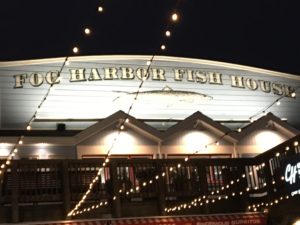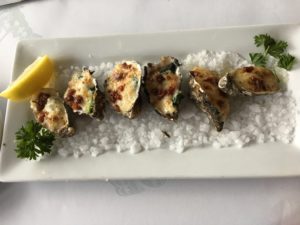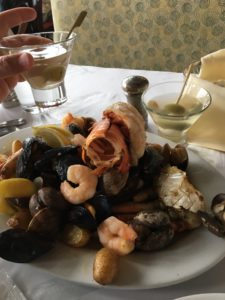 Walking the Wharf…
When we weren't eating, we were sight seeing.  There is so much to see and take in on the wharf, that you really need almost a week to do everything (not to mention a balance free credit card).  I seriously just heard on the radio that San Francisco is the second most expensive city in the U.S., second only to New York!  Crazy, but I believe it.
Boudin Bakery
There are shops and souvenir stores EVERYWHERE on the wharf, and I think we probably went in every single one.  One of my favorite gift shops though, was the gift shop in the Boudin Bakery (I am pronouncing this Boo-deen.  I am probably incorrect, but since I never asked for the correct pronunciation, I will just go with it).  Boudin is the famous and historical bakery where San Francisco's sourdough bread got its start.  The sourdough that they are making today, all day, is made from the same sourdough starter that they used back in 1849 when Isadore Boudin developed it.  It is said that the dough that Isadore Boudin developed, thrives in the fog cooled air of San Fran, better than anywhere else in the world, making the bread that they make daily, better than bread made anywhere else.  I have to admit, the sourdough bread bowls that we had, were probably the best bread bowls I have had….and I definitely ate my share!
In addition to the bakery, Boudin has a cafe where you can order breakfast, lunch or dinner.  They have an extensive gift shop and coffee shop.  They also give tours of the bakery, and will ship their breads and their clam chowder to your destination of choice!  You cannot go wrong with a visit to Boudin!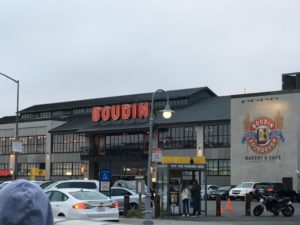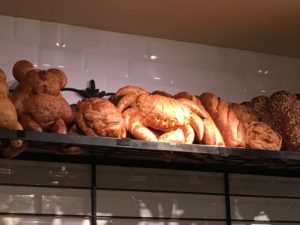 Alcatraz Island
I already mentioned that we were unable to book a tour to Alcatraz.  During the summer months, you have to book early.  I would love to go back and do a tour of the Island and prison.  This trip however, we were only able to see it from the wharf.  It looks a lot closer than I am sure it is – especially if you are trying to swim away from it, in the darkness of night…  It was still fun to be able to see it.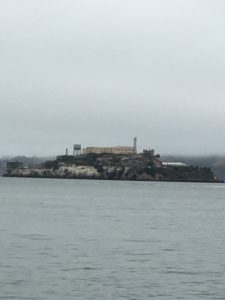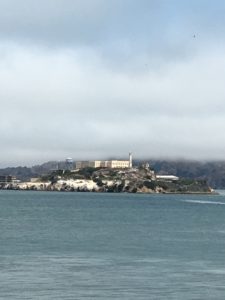 Historic Pier 45 – The USS Pampanito and The SS Jeremiah O'Brien
These are both World War 2 Vessels that we were allowed to go aboard and tour at our own pace.  They handed us audio headsets as we boarded the USS Pampanito, and as we toured the submarine, we had audio explaining to us what we were seeing and walking through.  During its day, The USS Pampanito patrolled the Pacific during WW2.  It sank 6 ships and damaged 4 others from 1944-1945.  It is now decommissioned and serves as a memorial and museum.  The audio that you listen to, is told by the actual crew members who served aboard the sub.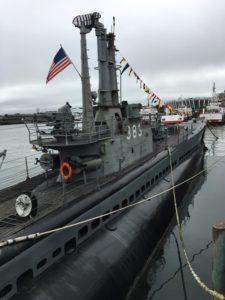 There is no audio for boarding the SS Jeremiah O'Brien, but we were able to walk through the ship at our own pace, and the entire ship is available to walk through (as long as the door is not closed – which not many were closed).  Of the 2,710 Liberty Ships that were built during WW2, the SS Jeremiah O'Brien is one of only 2 that remain today, and are still functional.  Of the two remaining, it is the only one that remains historically accurate and is unaltered.  It is a very impressive ship, and walking through it, especially the engine room, it is hard to imagine that a ship that size was built in just 56 days.  In fact, all of the Liberty Ships were built in less than 60 days!  It is now docked at Pier 45 in San Francisco, and is part of the Maritime Museum, but several times a year, they still take her out and do cruises with her.  At any given time, there are usually several men who live and work aboard the ship.  A very interesting part of history!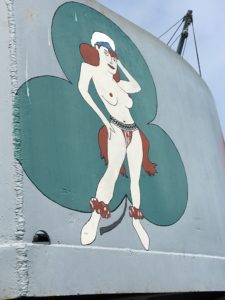 Hyde St. Pier
The Hyde St. Pier was another pier that is part of the Maritime National Park.  It is home to several historic boats that we were allowed to go aboard and walk around.  The Hercules is a steam powered tugboat, built in 1907.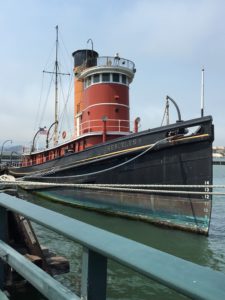 The Eureka, a car ferry, built in 1890 and named the Ukiah, was refitted and renamed in 1922.  It carried passengers and their cars back and forth from Hyde St Pier to Sausalito.  Hyde St. Pier, was also originally part of Hwy 101.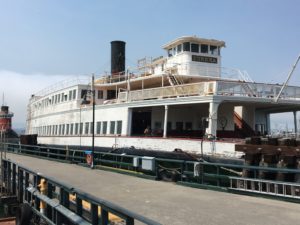 The third boat we went on looks like something out of Pirates of the Caribbean.  It is actually a schooner, named the C.A. Thayer.  It has a wooden hull and three masts, and was built in 1895.  Its main purpose was for carrying lumber
.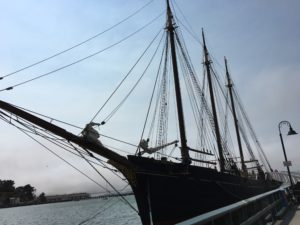 Pier 39
Pier 39 is easily the busiest pier on the wharf…at least the weekend we were there.  It is two levels of shops and restaurants.  In the middle of the pier is a two level carousel.  It is the same pier that the Fog Harbor Fish House is on, as well as the aquarium.  It is also the spot where all of the sea lions gather at the end of the pier!  We walked Pier 39 not less than 4 times, and every time, we found something that we hadn't seen before!  You cannot visit Fisherman's Wharf without spending a lot of time on Pier 39!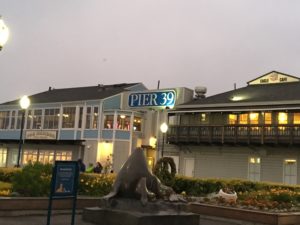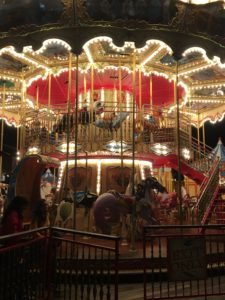 The Aquarium
I love a good aquarium, and the Aquarium of the Bay did not disappoint.  It took us about an hour to go through it, but it was so much fun!  They have a whole room dedicated to jelly fish (which I love).  A moving tunnel takes you though all of the fish and sharks of the bay and Alcatraz Island.  The tunnel takes you right through the middle of the water, so the fish and sharks are all around you and above you.  You can jump off and jump back on as often as you like.  At the end, they have tanks where you can reach in and touch the marine life.  It seemed to be pretty popular with the kids, but that did not stop me from throwing my arm all the way into the freezing cold water to touch a slimy sting ray!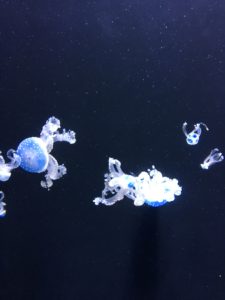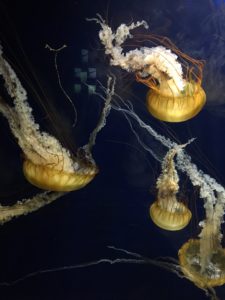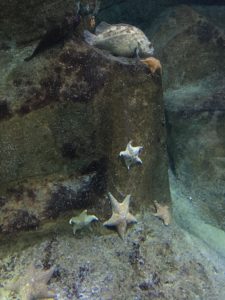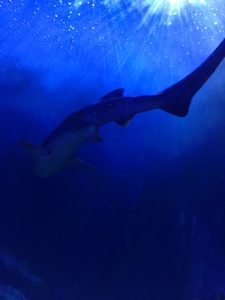 Cable Cars
Nothing screams San Francisco like a cable car!  It is definitely an icon of San Francisco, and is also the world's last manually operated system!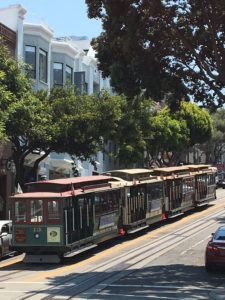 Ghirardelli Square
Mmmmm, chocolate!!!  I know, the exact same chocolate can be bought at Safeway or Walmart, probably for half the price, but….it was Ghirardelli Square…the historical chocolate factory.  We had to go see it. And smell it.  They were making ice cream, and chocolate, and it was amazing.  Yum!  And, unlike the lady ahead of us in line, I did not spend over $300 on chocolate alone….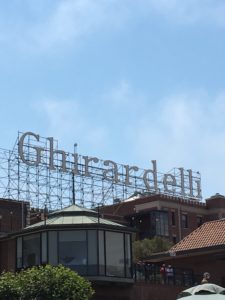 That about sums up our weekend at Fisherman's Wharf!  When we weren't actually touring our way through a specific place, we were eating and walking through shops.  We made note of the things we want to do on a return trip – like I said, you almost need a week there to see everything.  It was so much fun though!  I felt like a little kid again at the boardwalk, all the smells and crowds and noises.  I never thought I would be someone who would say they loved anything about California….but I loved Fisherman's Wharf in San Francisco!  I expect there will be other places here that I will also love 🙂