Paella – The One Pan Party!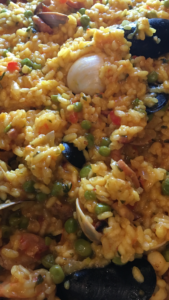 Going to a pot luck, and wondering what you could bring that will be enough for everyone?  Maybe, you are hosting a dinner for a lot of people and just want one simple dish to feed everyone. Or, maybe, you are just looking for something you can make that you can have a little fun with! Paella could be the answer for you.  It is a dish that can be as cheap or expensive as you want to make it.  It can be simple, with minimal ingredients; or you can run with it, and put a little bit of everything and anything in it.  One thing is for sure though, you will have plenty to go around.  It is a fun dish to make, and if you are cooking with someone, even better!  Pour yourself a cocktail, and get to chopping, sauteing, and cooking up a little fun!
Paella was originally a food that was cooked up by farm workers in Valencia, Spain.  The main ingredient was rice, and they would add whatever they had on hand around the land that they were farming.  Usually, this consisted of tomatoes, onions, snails and rabbit.  It was cooked over an open fire, in a large pan.  When it was ready, it was passed around, and workers would all eat out of the same pan with their own wooden spoons.  I don't recommend serving it this way at your next dinner party, but exactly what you put in it, is up to you.  Paella, by the way, got its name from the pan that it was served in – known as "la paella".
The Paella that we made this weekend, consisted of vegetables, chicken, sausage and a variety of shellfish.  It was very flavorful, colorful, and quite healthy.  Feel free to use the recipe here, or adjust to your own taste.  There are so many different ways to make this dish, and none of them are wrong.  It is all about what you like!!
Paella
This recipe will make enough for about 8-10 people.
Ingredients:
2 Chicken Thighs – skinned, de-boned and cut into pieces
2 Sausage Links (we used Sweet Italian sausage) – cut into pieces
1 cup Ham -diced or chopped into small pieces
10 Large Raw Shrimp – peeled, de-veined, leave tails on
2 Small Onions – finely chopped
1 Pepper – finely chopped
1 cup Canned Tomatoes – diced, with juice
1 Teaspoon Paprika
5 Garlic Cloves – minced and separated, 2 cloves/3 cloves
3 cups Uncooked Rice (we used Arborio Rice)
1 cup Peas (fresh or frozen, not canned)
1 cup Fresh Bay Scallops
1 lb Fresh Mussels
12 Fresh Clams
Juice from 1-2 Lemons
1 cup Fresh Parsley – chopped
1 Tablespoon Olive Oil
1 cup Water
48 ounces Chicken Broth
1 Teaspoon Saffron Threads
A very large pan.  Paella pans are expensive, so, unless you plan on making Paella often, a regular, very large pan will work.
Step 1
Prepare your oil / herb blend.  In a small bowl, add the 1 cup of chopped parsley, 2 minced garlic cloves, lemon juice and 1 tablespoon of olive oil.  Mix and set aside.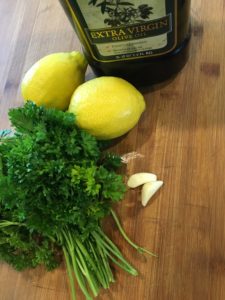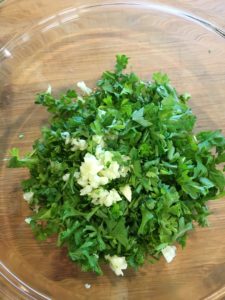 Step 2
Prepare broth.  In a large saucepan, combine 1 cup of water, the chicken broth and the saffron threads.  Bring to a simmer, but do not boil.  Let simmer 10 minutes and remove from heat. Cover. Set aside.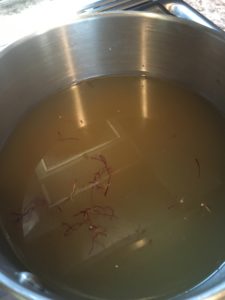 Step 3
Add a small amount of olive oil to pan.  Remove skin and bones from chicken thighs, and cut into pieces.  Place in bowl.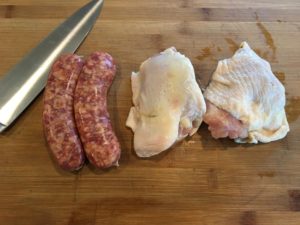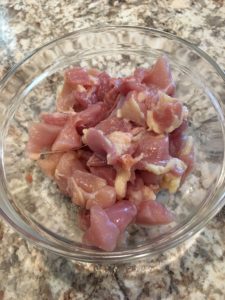 Slice sausage links into pieces.  Place in bowl.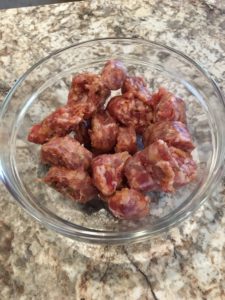 Dice ham and place into bowl.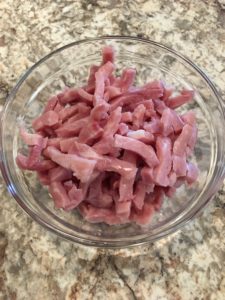 Peel and de-vein shrimp, leaving the tails on.  Place in bowl.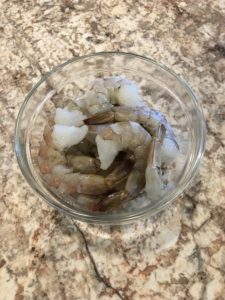 Heat oil in pan and add chicken and sausage to pan,  Saute until almost cooked through.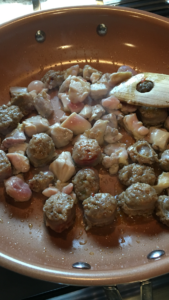 Add ham and saute 2 minutes.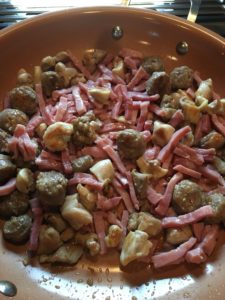 Add shrimp, saute 2 more minutes.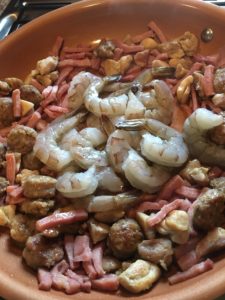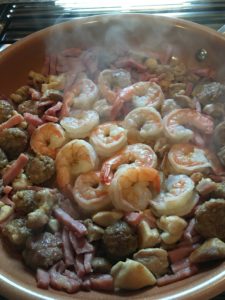 Add scallops, saute until shrimp and scallops are cooked through.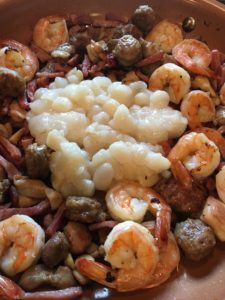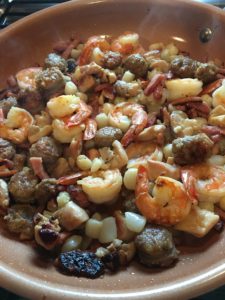 Remove from heat and place in bowl.  Set aside.  Return pan to stove.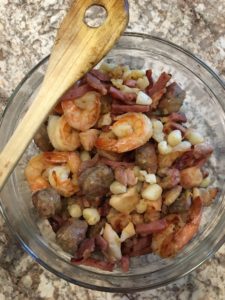 Step 4
On a clean cutting surface, chop 1 pepper and 2 small onions.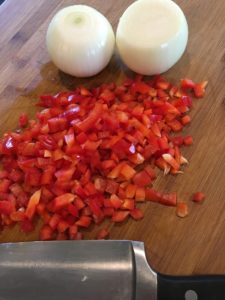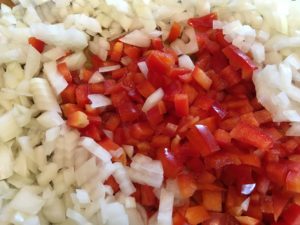 Mince 3 cloves of garlic.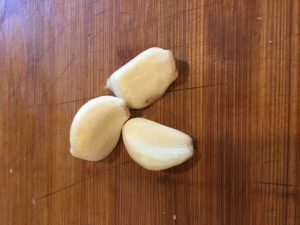 Add peppers, onion and garlic to drippings in pan.  Saute just until tender.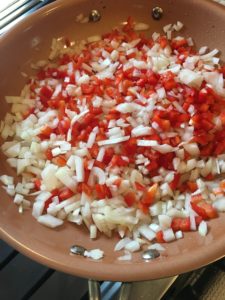 Add paprika.
Add tomatoes (I was able to use a jar of fresh canned tomatoes from my mothers garden this year, YUM! 🙂 ).  Cook for 5 minutes.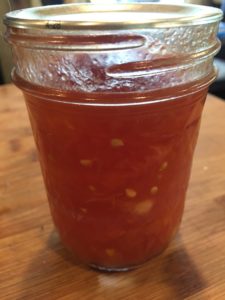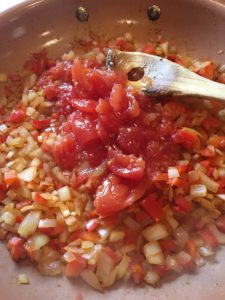 Step 5 – Bringing it all together
Add 3 cups of uncooked rice to tomato mixture.  Cook 1 minute.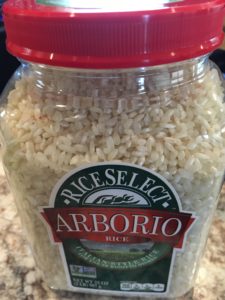 Add herb mix. Stir in.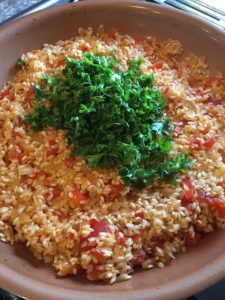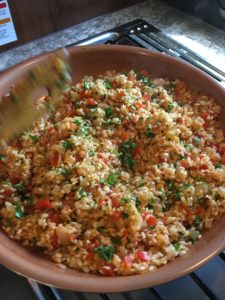 Add broth mixture.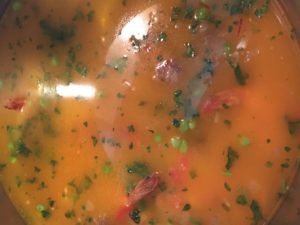 Add Peas.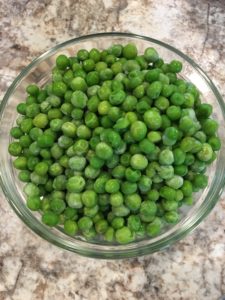 Add meat and shrimp mixture.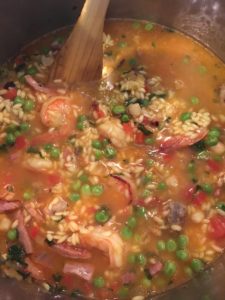 Stir well and bring to a low boil.  Cook 10 minutes.  Add mussels and clams.  Cook until shells open (discard any whose shells do not open).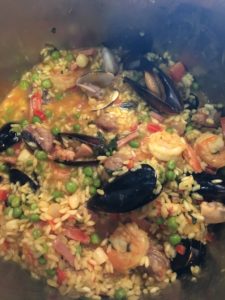 Remove from heat, let sit 5 or 10 minutes.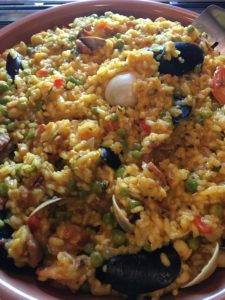 Serve and enjoy!!  This goes really nice with a bottle of red wine 🙂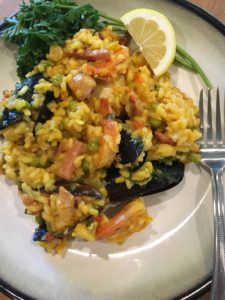 This is a very versatile dish, so have fun with it!  Add whatever you like to it.  The whole idea is to make a dish that you are going to enjoy…and half of the fun is making it – so, pop the cork on a bottle of wine and have fun folks!!