On A Roll At Sushi In The Raw In Nevada City, California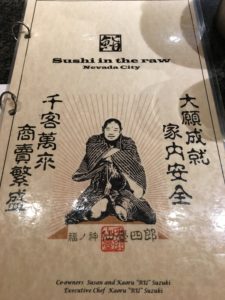 I have to start this post by saying that Nevada City is a great little town.  Located about 60 miles Northeast of Sacramento, it was, at one time, the most important mining town in the state of California.  Today, many of the buildings are on the Register of Historic Places.  They are considered historical landmarks, and have been preserved.  And just FYI, for those of you who like to watch sappy Hallmark Christmas movies (you know who you are…), the 2006 Hallmark Movie, The Christmas Carol, was filmed here.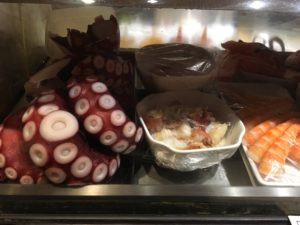 On Saturday night, we had reservations (made a MONTH in advance), to have dinner at Sushi In The Raw.  I have to tell you, this is not just your typical sushi, where you go in, order a few rolls, cover them in wasabi and soy sauce, and feel full one roll in, because of all the rice.  No, this is a sushi place, that if you want to eat here (just in the open seating areas), you need to be here about an hour before they open, so that you can put your name on the list for dinner that evening.  The main seating area fits about 8 at the bar, and maybe 16 or so in the table area.  I do not think your chances of just walking in to eat, even exist.  They are that popular, and good!!  For a really awesome experience and amazing dinner, you can call well in advance and book a reservation with Ru, the Sushi Chef.  This gets you back room seating, right at the bar where he prepares the sushi.  There is only seating for 4, and they only seat twice in one evening.  You may have to wait a month to get in, but let me tell you, it is worth it!!  We were lucky enough to get reservations for dinner with Kaoru Suzuki, known as Ru, and it was by far, the best sushi experience I have ever had.  Since there were four of us that went together, it was like our own private sushi dinner, with our own sushi chef!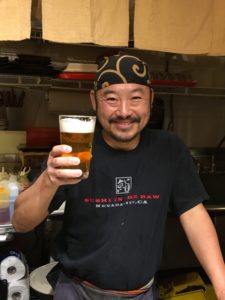 Instead of ordering off of the menu, we decided to order omakase style.  Omakase means you are leaving the selection up to the sushi chef, instead of choosing what to order yourself.  Ru served up a large variety of different sushi for us to try.  He included some varieties that were familiar to me, and were probably something that I would have no problem picking on my own.  He took us out of our comfort zone though with a few dishes, and no matter how reluctant we were, we tried everything that he put in front of us.  It was exciting not knowing what he was going to serve up next, and all of it was just incredible.  Although Ru told us everything that he was placing in front of us, I did not write it down, and I do not remember what most of it was – other than delicious!!!  But, for two and a half hours, we were handed one plate after another, each one just as good, or better, than the last.  A nice bottle of white wine, and a bowl of sea salted Edamame started the evening.  This was followed by an amazing Shrimp Diablo – served in a Martini glass!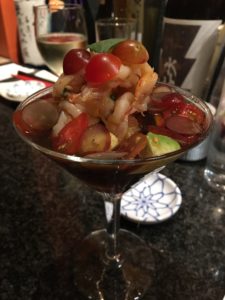 Next up, was a plate of Salmon Sashimi – with Toro (fatty upgrade).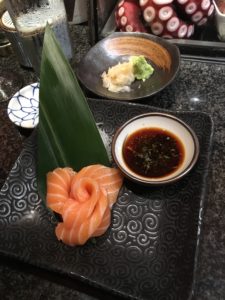 Shooters anyone?  How about a Drunken Quail Egg Shooter?  I have to admit, I was a bit nervous and squeamish with this one.  I do not do raw egg – in fact, I don't do any form of egg anymore.  Hindsight being 20/20, I should have passed on this one, for allergy reasons.  Not to stray from the subject, but apparently people who have a high sensitivity to chicken eggs, are likely to be anaphylactic to quail eggs.  I did not know this, but now I do.  And now I know what I will be missing out on in the future – it was so good.  Don't let the raw egg scare you.  If you see it on the menu at your favorite sushi place, try it (barring any allergies) – you'll be glad you did!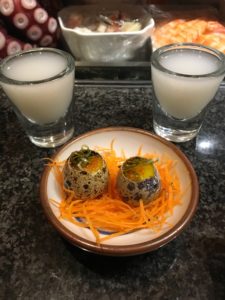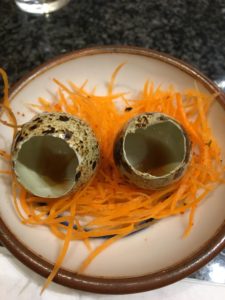 One great shooter deserves another!  This time, a Sober Mango Shooter.  Not as intimidating, but just as delicious!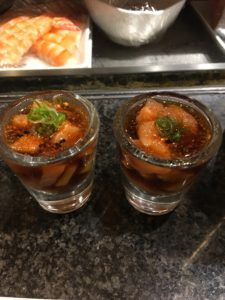 As for the rest of the plates that Ru made for us, I know they included Salmon Toro, Sea Bass, Octopus, Fresh Water Eel, Ocean Trout and Dungeness Crab.  I'm just not sure which is which in my pictures.  Every single one was just incredible, extremely fresh and full of flavor.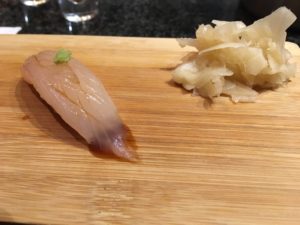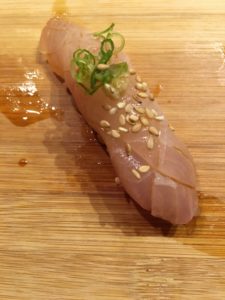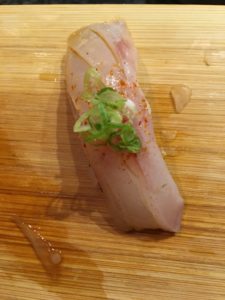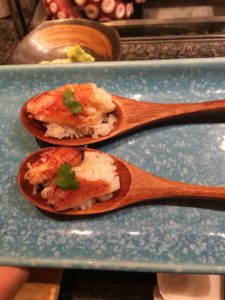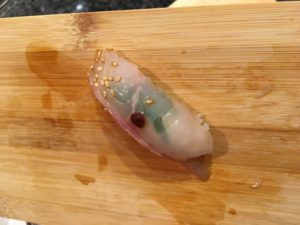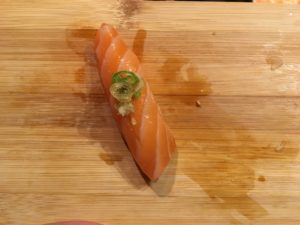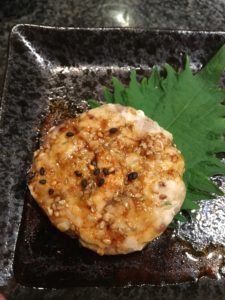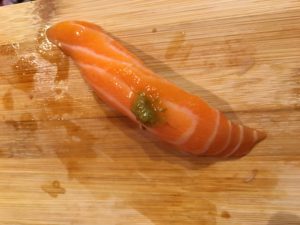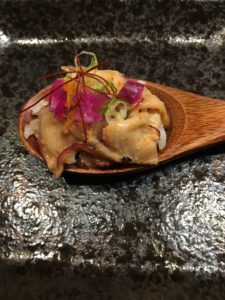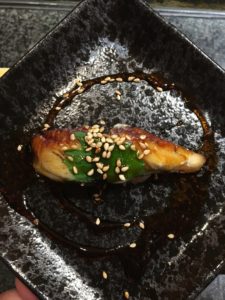 We did order one roll.  We chose the California Roll with Dungeness…I could have eaten so many of these!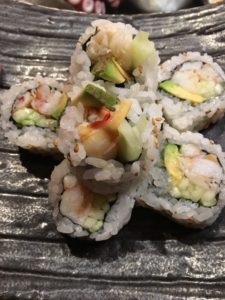 And finally, no meal is complete without a dessert to go along with it.  Ru served up Mochi Ice Cream – ice cream wrapped in a thin rice pastry.  We told him to pick his favorite flavors and surprise us.  He chose Red Bean, Mango, Green Tea and Coffee.  Excellent choices!!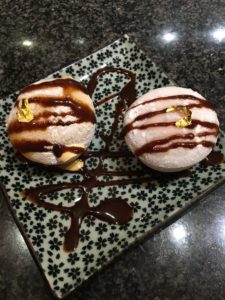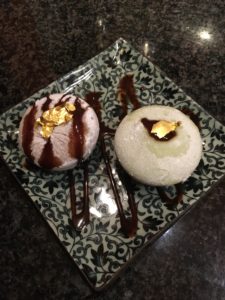 Two and a half hours later, we left Sushi In The Raw.  It was an evening well spent.  New friends, new places, our very own sushi chef and some of the very best sushi I have ever had! In Ru's own words (yes, he taught us a Japanese phrase or two) –
"Domo arigato" (Thank you) to Celeste and Rudy for introducing us to Sushi In The Raw, and to Ru, for such an amazing sushi experience!