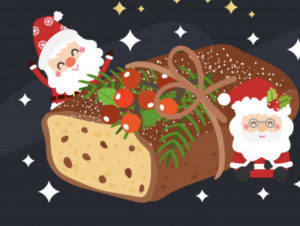 It is that time of year!  The weeks and days leading up to Christmas are one of my favorite times of the year.  For as long as I can remember, I have always baked goodies to share with family and friends.  As a little girl, I would spend hours in the kitchen with my mother and grandmother, and they would always let me bake my own batch of cookies – all by myself!  I would then wrap the cookies up, and give them to my mom and grandma, like they had no idea what they were getting! 🙂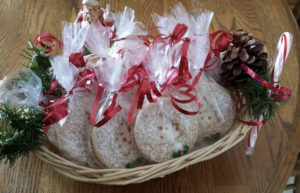 As years went by, and I grew older, I continued to bake at Christmas.  My baking got better (at least I like to think it did 🙂 ), my packaging got better, and my recipe list continued to grow.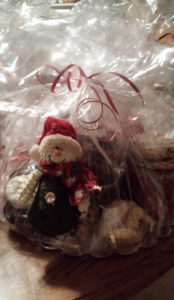 Christmas soon became one of my favorite times of year for baking and sharing.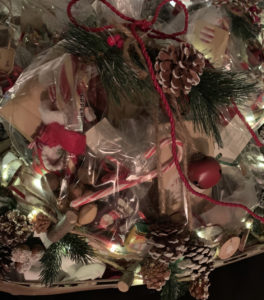 This year, I decided again to make "Homemade Christmas" for everyone in the family , as well as a few for friends and neighbors.  The result was a LOT of baking, a lot of packaging, and what I hope, was a lot of delicious goodies enjoyed by everyone who received them. 🙂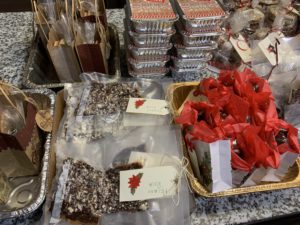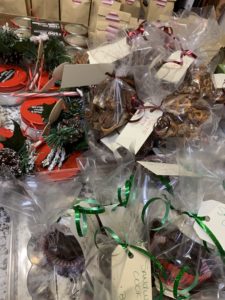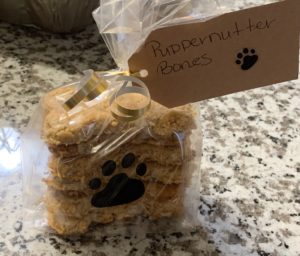 Including the fur-friends!
I also decided, that each year I will pick one of my recipes from Homemade Christmas, and feature it on my blog.  Last year, I posted my recipe for Macarons, which tasted amazing, but unfortunately, did not look as great as they tasted.  In my defense, I had never attempted to make Macarons before.  ?‍♀️
This year, I am going to post my recipe for one of my favorite, traditional recipes that has been passed down through my family for several generations – The Fruitcake!
I had hoped to come up with a name for my recipe that I thought would be a little more exciting than just plain old "fruitcake".  However, after asking for, and receiving, a few suggestions ?: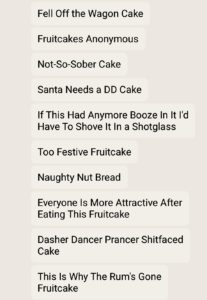 I decided to just go with Festive Fruitcake ?  (As the saying goes, "Be careful what you ask for".  As the other saying goes, "Some people are  probably getting coal with their fruitcake".  Okay, maybe that isn't the saying, but, it could be true.).
I wholeheartedly believe, fruitcake gets a bad rap.  It is one of those things that, even if you have never had it, you automatically assume it isn't good, because that is what everyone says.  The iconic doorstop or paperweight.  It is probably the most joked about dessert of all time.  If you are talking about those store bought ones, wrapped in plastic, I would have to agree.
I am here to tell you – that is NOT the case with my fruitcake!  Mine is a recipe that my grandfather made, my mother made, and now, I make.  To be honest, I am not sure if my grandfather made it up, or if his mother made it up, but regardless, it is a recipe that has been passed down through the years, and it remains one of my favorite holiday baking traditions.  Over the years, small changes have been made, but this is still, hands down, the best fruitcake I have ever had!
I actually started this fruitcake in late October.  I will typically start it anywhere from mid October through early November – the longer it sits, the better it becomes.  I have found that anywhere from about 8 – 10 weeks is perfect!
As with most of my recipes, you can change up the add-ins any way you like (this is where those small changes over the years mostly comes in to play).
Baker be warned – this is not an inexpensive dessert to make – with all of the fruit, nuts and booze, it can get a bit pricey….but, it is so worth it!  It may even make a fruitcake lover out of the scroogiest of non fruitcake lovers.
Directions
The first thing you want to do, is look over the ingredient list, and make sure you have everything.  Make adjustments and substitutions where you want them, and then hit the grocery store.    It is ingredient heavy, so you do not want to get in the middle of it, and realize you forgot something. ?
Begin the fruitcake process around a month or two before you want to serve it. (I realize this post will be too late for Christmas giving this year, but it is a great dessert for New Years as well – or tuck it away for next Christmas!  If you really want to try it in time for Christmas, give it a try without letting it sit for weeks, the flavor and texture should still be delicious!  The flavors will just not be as strong.).
Ingredient List
FRUIT:
1 cup dark raisins
1 cup golden raisins
1 1/2 cups chopped dates
1/2 cup candied orange peel
1/2 cup candied lemon peel
1/2 cup candied citron
1 cup candied red cherries
1 cup candied green cherries
1 cup diced dried pineapple
NUTS:
1/2 cup chopped walnuts or pecans (I use walnuts)
OTHER INGREDIENTS:
1 cup brown sugar
3/4 cup butter
1/2 cup molasses
5 eggs (room temp)
zest from 1 lemon
1/2 cup apple juice
3 tablespoons ginger
1 tablespoon nutmeg
1 tablespoon cinnamon
1/2 teaspoon baking powder
1 teaspoon salt
1 1/2 cups flour
Brandy, Rum or Sherry (this year, I used Vanilla Brandy…YUM!) This is for soaking the fruit/nut mixture, as well as basting the finished fruitcakes.
Cheesecloth
DIRECTIONS
The day before baking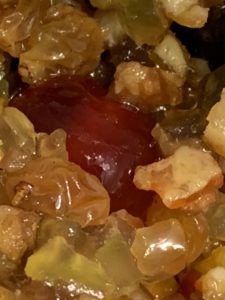 In a 1 gallon ziploc bag, combine all fruit, and the apple juice.  Add 1 cup of Brandy.  Mix well, zip closed and set aside overnight.  Turn occasionally to help ensure all fruit is equally submerged in liquid.
(If you are skipping the alcohol in this recipe, just simply leave it out and increase the apple juice to 1 cup).
The day of baking
Preheat your oven to 300.  Fruitcake is best when it is baked longer at lower temperatures.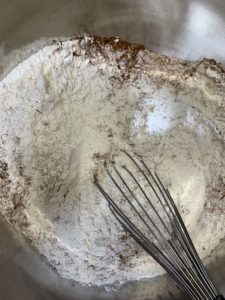 In a large bowl, whisk together the flour, salt, baking powder, cinnamon, nutmeg and ginger.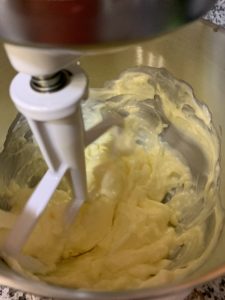 In a separate bowl, beat the butter until smooth.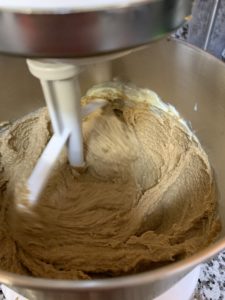 Add in the brown sugar, mixing until smooth.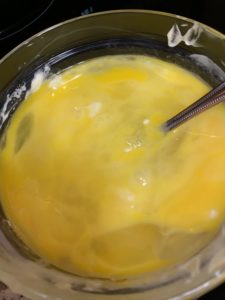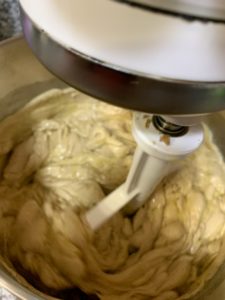 Crack your eggs in a separate bowl and add all at once to the butter mixture, along with the lemon zest.  Mix until well combined.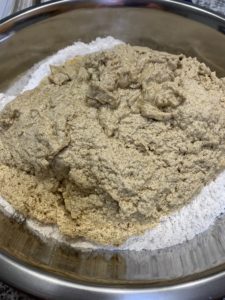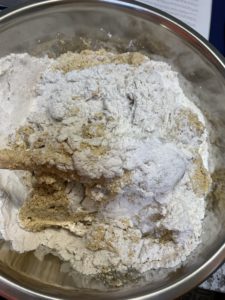 Add the butter mixture to the flour mix, and gently fold in.  Mix until well combined.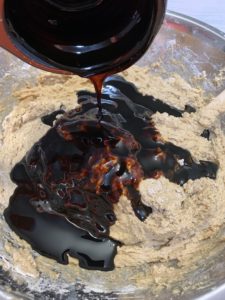 Add the molasses. Mix well.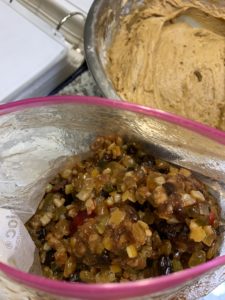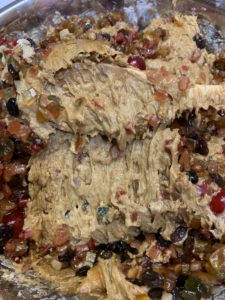 Add the fruit mixture (including any liquid that is in the bag), and the nuts.  Mix well.  The batter will be very thick, which is why I mix the batter by hand once it is all combined together.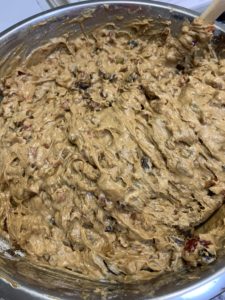 The batter is now ready to pour into pans.  You can use any type of baking pan that you choose – loaf pans and bundt pans probably work the best – but feel free to experiment with any type you like!  I used the small foil loaf pans, as well as 1 regular loaf pan.  If you are using pans that are not foil, line them with parchment paper.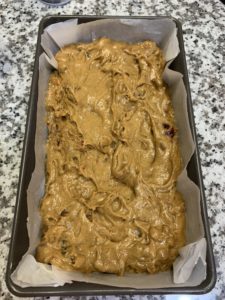 Pour your batter into the pans (about 2/3 full).  Set the pans on a cookie sheet for easy removal from the oven, and to catch any batter spill over if you accidentally fill the pans too much (it's been known to happen…)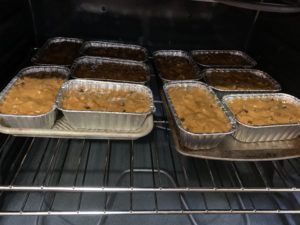 Place in the oven and bake for 1- 1 /12 hours.  They are done when the tops start to get a crack down the center, and a toothpick (or wooden skewer) inserted, comes out clean.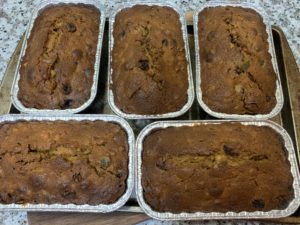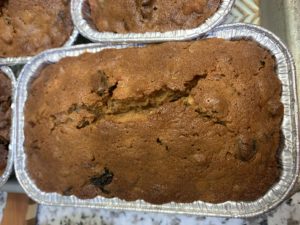 Cool on wire racks.  Once they are cooled, you can store them in airtight containers in the fridge.
If you are making these in advance, and have decided to use alcohol with them (which, honestly, is the BEST way to make these 🙂 ), remove the fruitcake from their pans.
Place a strip of cheesecloth (about 2 feet in length for the mini loaves, and about 3 feet for the larger loaf) in a bowl.  Add brandy until all of the cheesecloth is soaked.  Wrap each individual loaf in a strip of cheesecloth.  Place in a large ziploc bag, squeeze the air out, zip and place in refrigerator.  Once a week, remove from the ziploc, and, keeping the loaves wrapped in the cheesecloth, add about 1 oz of brandy to the cloth on each loaf.  Return to ziploc, and replace into the refrigerator.  Do this each week, until you are ready to serve or give them away.  They are best when you are able to do this for about 8-10 weeks!
When giving them as a gift, I simply remove them from the ziploc.  Wrap them twice in plastic wrap (leave the cheesecloth on them), then wrap them in whatever you choose for gifting.  I like to use flour sack towels with decorative ribbon and an ornament.  It is simple, but pretty, and afterward, they have a nice dish towel to use 🙂
This is a somewhat time consuming recipe, I know.  But it really is quite delicious, even if you aren't normally a fruitcake fan.
Note**  If making it as directed, using Brandy (or Rum or Sherry), and soaking it for 8 weeks, it does turn out quite boozy – but not so much so that you cannot enjoy it.  You can also opt NOT to baste them for the full 8 weeks or so.  Totally up to you!
Lastly, wrap and gift!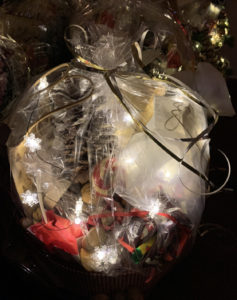 Whatever you decide to bake this year, I hope you make one of your recipes a baking tradition that you can pass down through future generations.  Maybe you already have one!  Maybe, just maybe, Fruitcake will join that list of Christmas recipes 🙂
Happy baking everyone!!