Kayaking On Lake Mead- Nevada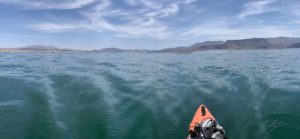 A lot of people come to Las Vegas thinking the only place to dip their toes in the water, is poolside at their hotel.  Just roughly 30 minutes from the Las Vegas Strip though, is Lake Mead.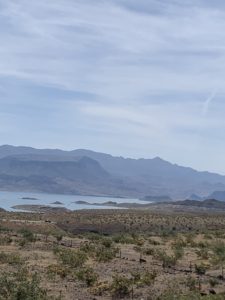 Named after Dr. Elwood Mead – builder of the Hoover Dam, Lake Mead is America's largest man-made reservoir.  You can access it both from the Arizona side and the Nevada side.  It has over 550 miles of shoreline, and a depth of over 500 feet at its deepest.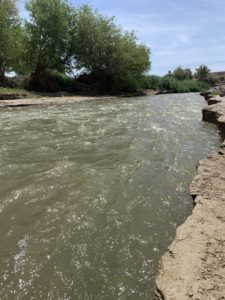 The Lake Mead National Recreation Area is comprised of Lake Mead, Lake Mojave and the Colorado River.  Lake Mead is divided into several bodies of water, all connected by way of the Colorado River.  The largest body is known as Boulder Basin and it is the body of water closest to the Hoover Dam.  It is this body of water, that we kayaked the other day.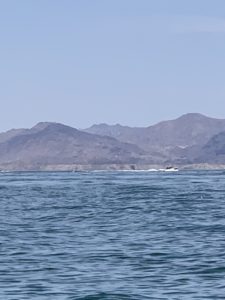 Like most things, Lake Mead Rec Area had been closed due to the shutdowns for Covid-19.  It was just about a week or so ago that they finally opened their gates to Pass holders.  We took a day and decided to drive out and see what access would be like for kayaking.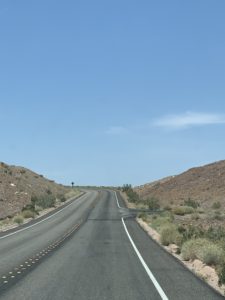 On the first day we went, we drove out to Callville Bay Marina, located in the Boulder Basin.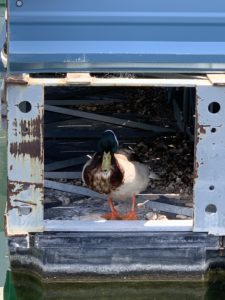 There was a boat launch ramp at this marina, as well as a pier that had a lot of rental boats.  We walked the pier, and noticed there was really no access for putting in the kayaks, other than the boat ramp.  The boat ramp seemed pretty busy, and a little chaotic the day we were there, but we decided if we didn't see a better place, we could make this work.  I decided I needed to take a longer look at a map, and see what our other options were.  If we were looking to fish though, this would have been a great spot!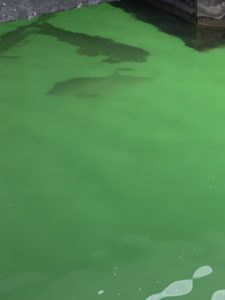 It was while I was looking at the map, that I noticed, you cannot "just put your kayak in and go".  You need to have what they call a "Non Invasive Species" decal for the kayak.  So, after a couple of days of navigating my way through phone calls and websites, I was finally able to get the decals purchased.  Since offices are currently closed, all I would need is my receipt showing that I purchased the decals online.
It was during all of my online decal searching though, that I discovered there is a Personal Watercraft Beach located on Boulder Basin in the opposite direction from which we had checked out earlier.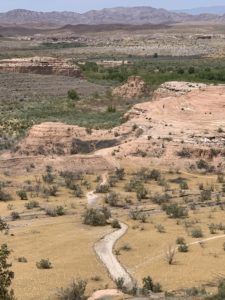 So, the next day, we set out to check out this beach.  The drive was beautiful.  It takes you past so many trails and canyons and places to hike.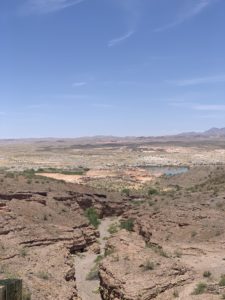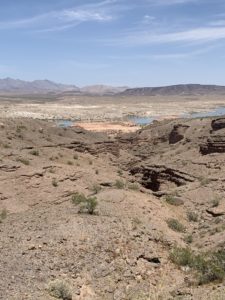 When we got to the beach, it looked like it would be the perfect spot to launch from.  You could drive right up to the water and park.  It was a little later in the day when we got there (on a weekday), and there were a few people set up fishing from the shoreline, as well as a few people swimming.  We would come back the following day, and kayak from here.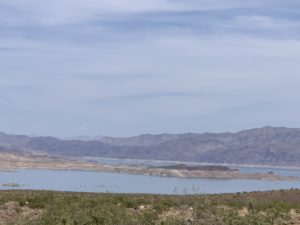 The following day was Saturday.
We set out at around 9 a.m.  As we got closer to where the beach turnoff was, the road rises up and you could see a LOT of cars down on the beach that we were headed for.  We made our turn, and a park ranger was blocking the road.  "The beach is closed – it is full".  Not the words we wanted to hear.  He noticed the kayaks though, and asked if we were just looking to put the kayaks in.  We were.  He directed us just back up the road about a mile, to a spot called Boulder Harbor.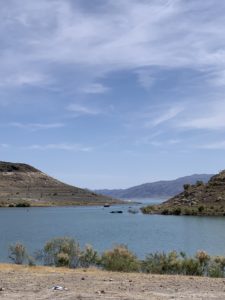 As we approached the harbor, it too was really full of vehicles.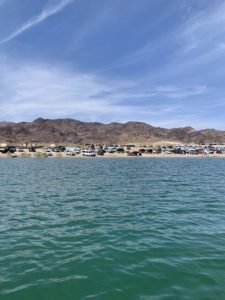 There was a boat launch ramp here, but, you could drive past the boat ramp, and there was beach access with parking close by.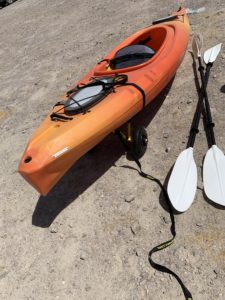 We parked the truck, and unloaded.  Launching was super easy from this spot.  The channel was well marked getting out of the harbor.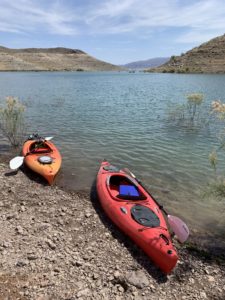 We paddled through the channel, and it opened up before us.  Shoreline to the right, water as far as you could see to the left, and islands straight ahead.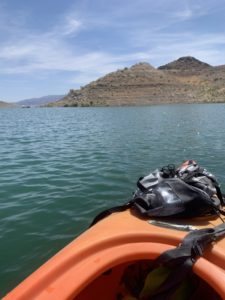 It was our first time out on Lake Mead, so I really had no idea how far off anything was.  The islands looked closer than they actually were, and my first thought was to paddle out and around them, and head back.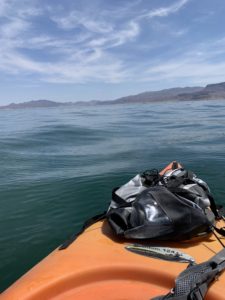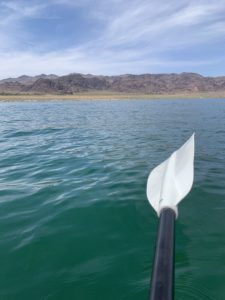 The weather that day was hot and sunny, and the water temp was perfect!  Probably about 70 degrees or more.  Aside from some waves and wakes from the boats, the water was pretty calm.  It was a great day to kayak.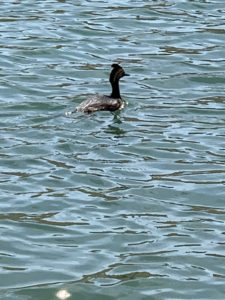 There were a lot of people out on the water that day, fishing, jet skiing, tubing and sailing.  We were definitely not alone, but the Lake is so large, you feel like you are the only one out there!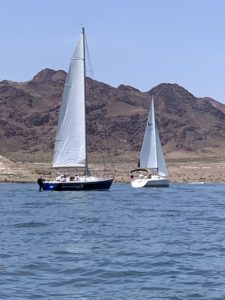 We paddled for a couple of hours, heading towards those islands, and never even got close!  I thought we were right there, but later, when I looked at my paddle map, we were maybe half way when we turned around!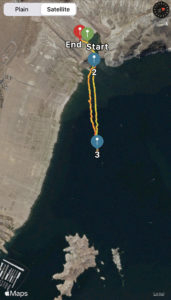 It will be an all day paddle trip to venture out to them – unless we are able to put in at the Personal Watercraft Beach (that is the part of beach right in front of the islands).  They say you can pull up to them and get out and search around.  It is something I have on my list to go back and do.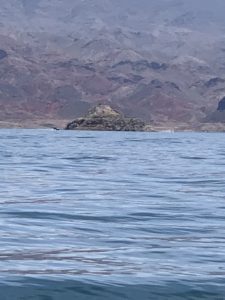 It was a fantastic day on the water.  Kayaking is always so relaxing to me, and to be surrounded by mountains and canyons while you paddle is just a great adventure!
I cannot wait to get back out there and explore other parts of Lake Mead – the adventure is out there!  You just have to kayak to it! 🙂