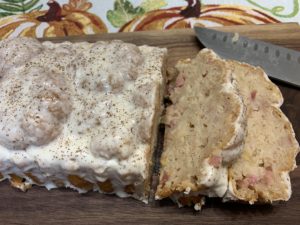 Fall is not only full of color, it is full of flavor!  Some of my favorite things about this time of year, are all of the yummy things we get to bake and cook.  After visiting the apple orchard and coming home with a couple of bags of apples, the next step was to figure out what to make with those apples.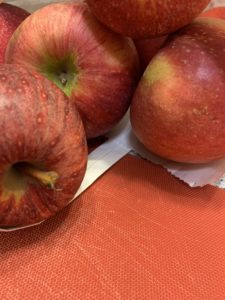 Of course, I made a couple of batches of applesauce, because applesauce is best when it is homemade – especially when you leave chunks of apple in it 🙂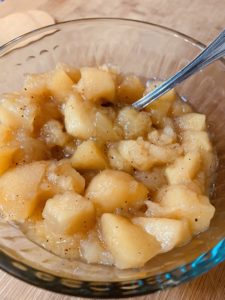 We also ate a lot of apples, just sliced and dipped in caramel – but you can only eat so many apples dipped in caramel.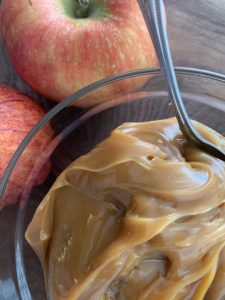 Just kidding!  There is no limit to the amount of apples I could dip in caramel and eat !  🙂
I decided on a spiced apple cake that I had made before, except I wanted to change how I baked it.  Normally, I would bake this cake in a rectangle baking dish, and frost the top of it with a cream cheese frosting.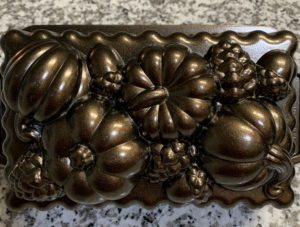 However, this past summer we found a couple of really cute Autumn baking pans.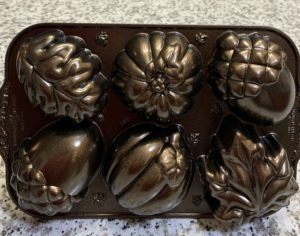 I decided I wanted to try and make my apple cake in these cute pans instead of a rectangle pan.  I wasn't sure how it was going to turn out.  Sometimes, those really cute seasonal pans, are cuter than they are practical – foods get stuck, bake uneven, or just plain don't turn out like you think they are going to.  I was a little nervous to use our orchard apples as the "test cake" for these pans, but, worse case, it would mean another trip to the orchard!  🙂  So I forged ahead, measuring, mixing, pouring and baking.  The result?
Apple cake that not only smelled amazing, and baked up perfectly, it tastes amazing also!  WIN, WIN, WIN!!  I did change up how I finish the cake…normally I will make a cream cheese frosting and spread that over the top.  I really did not want to hide the cute autumn shapes under a batch of frosting though, so I decided to make an icing and finish it off that way.  I think the icing was a great idea!  It added that little bit of sweetness to the cake, but did not take away at all from the apple-y goodness!!
So, if you love apples, and you love cake – this recipe is the perfect way to enjoy them both!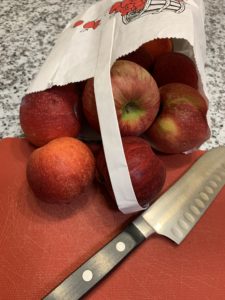 SPICED APPLE CAKE
Ingredients:
Cake
Apples – about 1 1/2 pounds, cut into very small pieces
2 cups sugar
1/2 cup oil
2 eggs
2 teaspoons vanilla
2 cups flour
2 teaspoons cinnamon
1/2 teaspoon nutmeg
1/4 teaspoon cloves
2 teaspoons baking powder
1 teaspoon salt
1/2 cup buttermilk
Icing
2 cups powdered sugar
1 teaspoon cinnamon
5 tablespoons half and half
1 tablespoon vanilla
Directions
Oven- 350
Spray baking pan (s) with nonstick spray.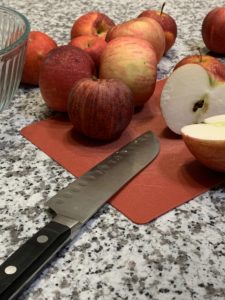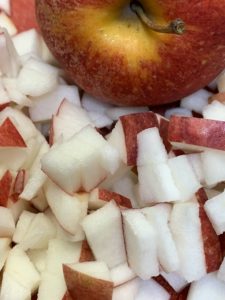 Slice your apples into very small pieces.  You can peel them first if you want to, but I like to leave the peel on – it adds color to the cake.  Set them aside in a bowl while you get the rest of your ingredients together.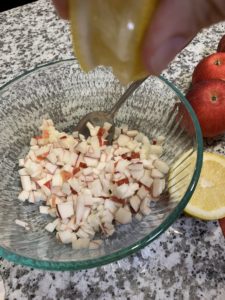 I usually squeeze a little lemon juice over them, just to keep them from turning brown.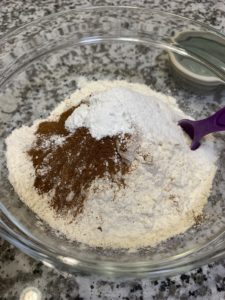 Next, in a separate bowl, add your flour, spices, baking powder and your salt.  Whisk them together.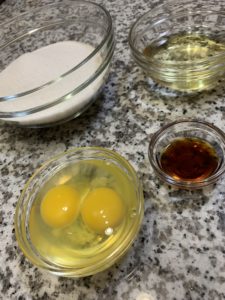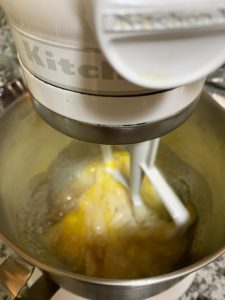 In a large mixing bowl, add your sugar, oil, eggs and vanilla.  Beat until combined.
Alternating between the flour mix and the buttermilk, add them to the egg mixture.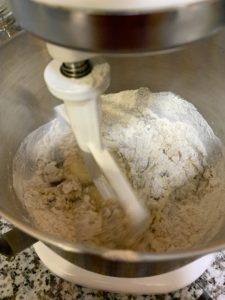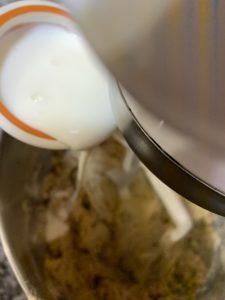 Beat until well combined, scraping sides and bottom of bowl.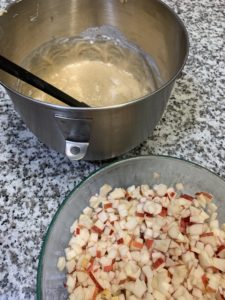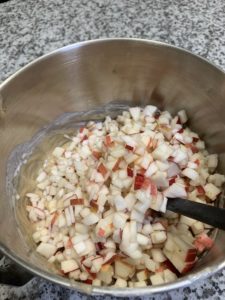 Add the apples to the batter, and fold in using a spoon or spatula.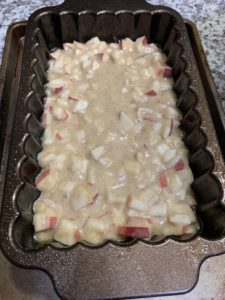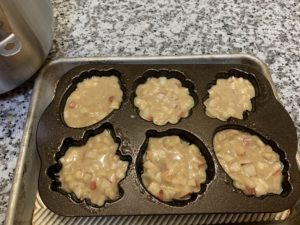 Pour the batter into prepared pan (s).  If you are using a shaped pan like I did, only fill the mold to just over half full.
For a 9 x 13 inch pan, it will probably bake in about 40 minutes.  Because the pan molds that I used were varying depths, it took about 55-60 minutes to bake all the way through.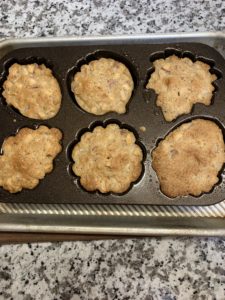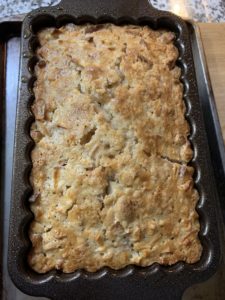 They are done when they are golden brown on top, and a toothpick or knife can be inserted and comes out with no batter on it.  The cake is a very moist cake, so it is okay if there is a little cake stuck to the toothpick.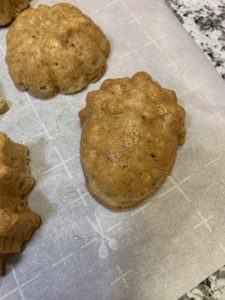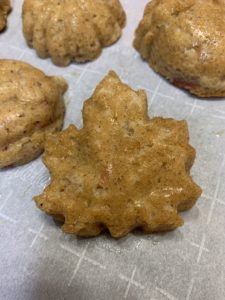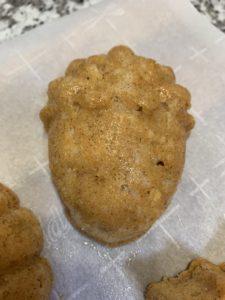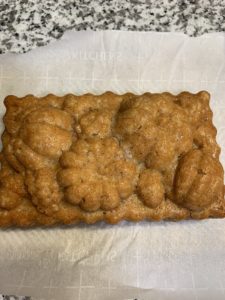 Let them cool about 10 minutes – or until they separate from the edge of the pan – and turn them out on a cooling rack or piece of parchment.  Let cool completely – I wrap mine and put them in the fridge overnight.
The next day (or at least once they are cooled), you can make your icing.
In a medium size bowl, add your powdered sugar and cinnamon.  Add vanilla and half and half, 1 tablespoon at a time, and mix.  Continue adding half and half until you have the icing the consistency that you want.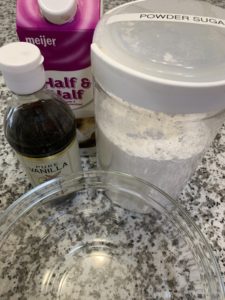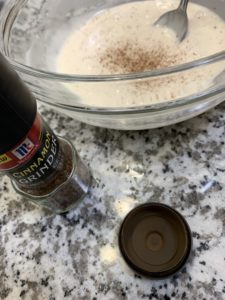 To ice the cake –
If you have small cakes, you can dip them in the icing, let the extra drip off, and set them back on the parchment.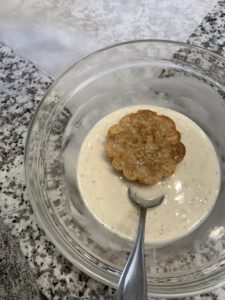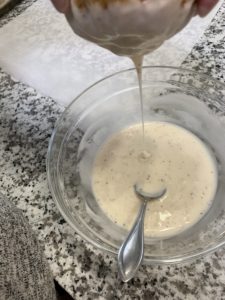 For the larger cake, I drizzled the icing over it, until it was almost completely covered.  This method works great, especially if you are using a mold that you want to keep the shape of after it is iced.  The icing will get down into any grooves that are in the mold, instead of just laying on top of it.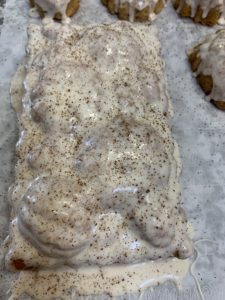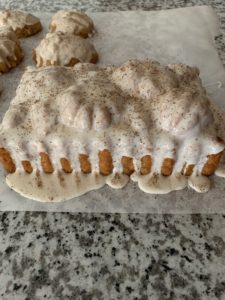 Once I have the cake iced, I like to set it back in the fridge until I am ready to serve it.  This not only helps the icing set well, but I think the apple flavor of this cake really comes out when this cake is cold.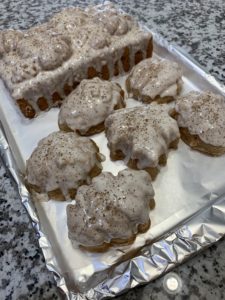 Slice and serve with a nice hot cup of coffee!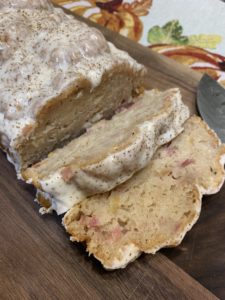 From orchard to oven, apples make some of the best desserts!  I hope you enjoy this one as much as I do!!