The Thundershirt For Dogs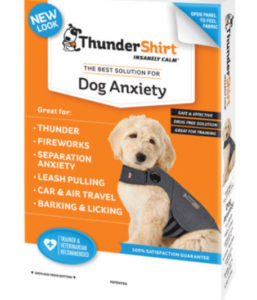 Do you have a dog?  Is he or she anxious, nervous, or a little scared at times?  If you answered "yes" to any of those,  and you are looking for a drug-free solution to help calm your furry little friend, then you may want to consider giving the Thundershirt a try!
We purchased Thundershirts this past winter and have had the opportunity to try them out in a variety of different situations.
Scout is normally pretty laid back, and happy to nap, (unless, of course, she is on an adventure).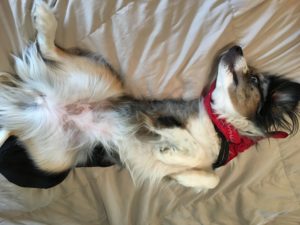 But there are a few triggers that she reacts to, and we decided to hit the pet stores in search of a possible solution.  I was pleased when we came across the Thundershirt, and I decided to give it a try.  Her triggers may be different from other dogs, as well as the way she reacts to those triggers, so keep in mind, that what works for her, may not necessarily work for your pup, and vice-versa.  But here is my take on Thundershirt after 6 months of use…
Effectiveness
What it really all comes down to, regardless of anything else.  Like I said though, this can vary depending on your dog.  Scout is nervous.  She is especially nervous when it comes to riding in a vehicle, or when being approached by strangers.  She is nervous around loud noises, like thunder, loud / rocking wind, gun fire and fireworks.  She was properly socialized with people and dogs, and was driven around in the truck a lot from the time she was 8 weeks old.  She even goes target shooting.  She just never seemed to get over her nervousness, no matter how much exposure she received.  Her nervousness does not prevent her from wanting to participate in absolutely everything we do…except for riding in the truck.  She literally will go and hide if I don't scoop her up before starting the truck.  She will jump in on her own if the truck isn't already running.
She is also excitable when she knows she is going somewhere on her leash.  Reach for her leash, and she will jump 3 feet in the air, and land on the back of your legs.  She knows not to do that, but that initial excitement is, obviously, too much to contain sometimes.  And it is only when you reach for her leash.  If she goes out without the leash, she isn't nearly as excited.
The difference between naked Scout, and, Scout in Thundershirt?  Night and day.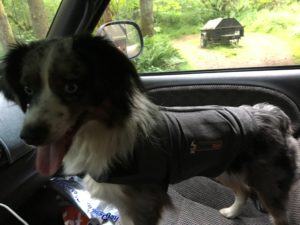 If she is wearing her shirt, she is calm enough to sit and wait to be leashed.  She doesn't jump.  She will (usually) walk to the truck on her leash, even if it is running, and jump in.  She sleeps through storms and fireworks.  She does still occasionally grumble at strangers, but even that is at a minimum.  The shirt really does seem to calm her.
Fit and Comfort
The Thundershirt is designed to wrap the dog snug, but not tight.  The same way you would swaddle a baby with a blanket.  It has a velcro piece that goes around the neck to secure it in the front.  The shirt part has two velcro flaps, one that secures under the belly, and a top piece that folds down over itself to give the swaddled effect.  If the correct size is used, it will fit firm but not tight, and should not move around.  The dog, however, is not restricted in movement in any way.  It should fit like a "hug"!  🙂
It comes in a wide range of sizes to accommodate most breeds.
And because, sometimes, no matter how many times you scroll through all of your photos, you cannot find any of the pictures you took of your own dogs wearing their Thundershirts (and I took A LOT of pictures), it is a good idea to have back-up models…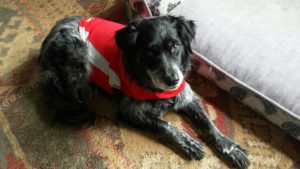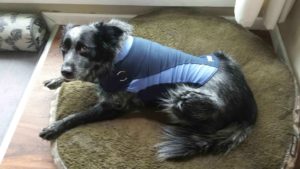 Here, we have Kimber (red) and Sophie (blue) modeling some of the different colors that Thundershirt is available in.
I really can only speculate at the comfort, as I am not the one wearing it 🙂  However, Scout loves to wear her Thundershirt!  She stands patiently while having it put on.  Most of all, she seems to find comfort wearing it, so I have to assume that, yes, it is comfortable.  Also, the material it is made from, is soft.  It is also breathable….she does not overheat in it.
Durablity
The Thundershirt is durable.  It moves with your dog.  Whether Scout is lounging or running, it holds its shape.  She has run through woods and rivers, and it has not snagged or lost its shape.  It goes through the laundry along with the rest of the dog laundry, and has held up fine.
We put one on her sidekick, Levi ( a Weimaraner), and if anything is not going to hold up, he is the one that it is not going to hold up on.  It held up on him, every bit as well as it held up on Scout!  I knew it was durable after one use with him!
Availability
Thundershirts are easy to find.  They can be found at most pet retailers, especially the bigger ones (we got ours at Petco).  They can also be purchased online directly, or through sites such as Amazon.  To  view the Thundershirt website, or to order directly, you can click here.
Affordability
Thundershirt is affordable.  The cost will depend, of course, on where you are purchasing it at.  I feel like it was worth the cost.
So, if you found yourself closed up inside the house last night watching a movie with your little four-legged friend, instead of watching the fireworks display, just so both of you could relax a little (not that that's a bad idea even if they LOVE fireworks!), then Thundershirt might be a product you may want to consider trying.
My personal rating for this product, is a 4 out of 4!

4 Scouts – Loved it,   3 Scouts – Liked it,   2 Scouts – Disliked it,   1 Scout – Hated it